Deck:
KKR's leveraged buyout of TXU might be the first of many private-equity M&A deals, but traditional utility mergers also will increase.
Author Bio:
Richard Stavros is executive editor of Public Utilities Fortnightly.
KKR's leveraged buyout of TXU might be the first of many private-equity M&A deals, but traditional utility mergers also will increase.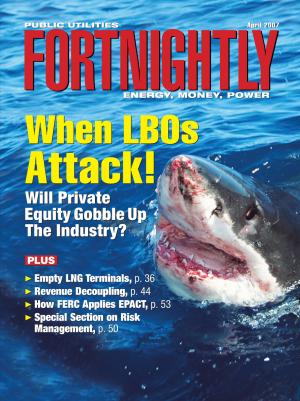 The numbers boggle the mind. Private-equity firms raised $221 billion in 2006 and have $2 trillion in purchasing power combined with their other assets. You read that right: $2 trillion. For perspective, that was the equivalent of the gross domestic product (GDP) of France in 2005. Oui!
Jeffrey Holzschuh, chairman, global power and utility group, Morgan Stanley, stunned the crowd at the Exnet Annual Utility M&A symposium in New York City earlier this year when outlining just how much money financial firms have accumulated for investment in all sectors of the economy. Incredibly, this is an uptick from the previous year. "Last year I spent most of my time talking about alternative investors and alternative asset classes. I wanted to tell you they are bigger and badder than they were last year," Holzschuh said.
He's not kidding. Private-equity deals made up one-fourth of all U.S. mergers and acquisition (M&A) in 2006, Holzschuh said.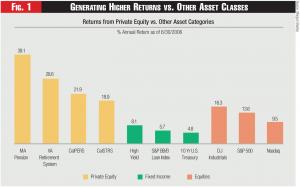 Moreover, financial investors like hedge funds could grow to $4 trillion in assets by 2010, and the new-on-the-scene infrastructure funds (which hold assets longer and have a lower return threshold) have raised between $100 billion and $150 billion globally, according to Morgan Stanley. An estimated $1.6 trillion in infrastructure investment is predicted over the next 5 years.
Holzschuh says some of that money most certainly is eyeing utilities. "Why is all this money coming into the space? If you look at the returns (see Figure 1) , it is all about the returns, which are impressive. The yellow lines represent the disclosed reported returns for financial funds and managers. You see some very high numbers. It is pretty understandable when you are putting up to 40 percent more leverage. The normal corporate structure is represented by the S&P 500. Looking at private equity's returns, you see the affect of both leverage and, obviously, some other skill sets."
Non-traditional players will have an increased role, he says. "There is just way too much money. They will become more activist as [return on investment] comes down in the general market, and they will put more heat on all of you to generate returns."
But that's not all. Holzschuh described how strong performance in stock markets in 2006 drove $3.4 trillion in M&A deals globally, whereas in the utility industry there was $350 billion worth of transactions. "But when you look at the top 10 utility deals in 2006, only two of them were in the U.S.," he said, adding he believes that balance may change as more international utilities look at U.S. investment.
"The asset split and the separations are going to happen. But people can't have a strategy that they call M&A. M&A is not a strategy. It is a tactic. You have to have an idea of where you're going and use it as a tool to get there," he explained, "If you look at how these