Deck:
KKR's leveraged buyout of TXU might be the first of many private-equity M&A deals, but traditional utility mergers also will increase.
Author Bio:
Richard Stavros is executive editor of Public Utilities Fortnightly.
The numbers boggle the mind. Private-equity firms raised $221 billion in 2006 and have $2 trillion in purchasing power combined with their other assets. You read that right: $2 trillion. For perspective, that was the equivalent of the gross domestic product (GDP) of France in 2005. Oui!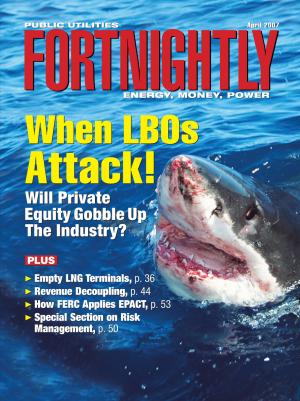 Jeffrey Holzschuh, chairman, global power and utility group, Morgan Stanley, stunned the crowd at the Exnet Annual Utility M&A symposium in New York City earlier this year when outlining just how much money financial firms have accumulated for investment in all sectors of the economy. Incredibly, this is an uptick from the previous year. "Last year I spent most of my time talking about alternative investors and alternative asset classes. I wanted to tell you they are bigger and badder than they were last year," Holzschuh said.
He's not kidding. Private-equity deals made up one-fourth of all U.S. mergers and acquisition (M&A) in 2006, Holzschuh said.
Moreover, financial investors like hedge funds could grow to $4 trillion in assets by 2010, and the new-on-the-scene infrastructure funds (which hold assets longer and have a lower return threshold) have raised between $100 billion and $150 billion globally, according to Morgan Stanley. An estimated $1.6 trillion in infrastructure investment is predicted over the next 5 years.
Holzschuh says some of that money most certainly is eyeing utilities. "Why is all this money coming into the space? If you look at the returns (see Figure 1), it is all about the returns, which are impressive. The yellow lines represent the disclosed reported returns for financial funds and managers. You see some very high numbers. It is pretty understandable when you are putting up to 40 percent more leverage. The normal corporate structure is represented by the S&P 500. Looking at private equity's returns, you see the affect of both leverage and, obviously, some other skill sets."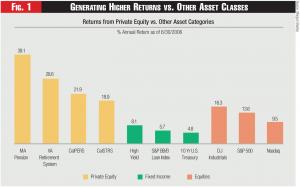 Non-traditional players will have an increased role, he says. "There is just way too much money. They will become more activist as [return on investment] comes down in the general market, and they will put more heat on all of you to generate returns."
But that's not all. Holzschuh described how strong performance in stock markets in 2006 drove $3.4 trillion in M&A deals globally, whereas in the utility industry there was $350 billion worth of transactions. "But when you look at the top 10 utility deals in 2006, only two of them were in the U.S.," he said, adding he believes that balance may change as more international utilities look at U.S. investment.
"The asset split and the separations are going to happen. But people can't have a strategy that they call M&A. M&A is not a strategy. It is a tactic. You have to have an idea of where you're going and use it as a tool to get there," he explained, "If you look at how these splits and separations occur, some of these future mergers will occur along these lines: 1) for regulatory reasons; 2) valuation and credit reasons; 3) environmental pressures; and 4) volatility."
Mergers Won't Be Easy
If you were a utility executive today, what would you think are the odds of success of completing a merger in this environment?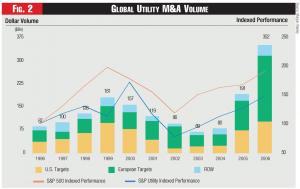 That was the question posed by J.P. Morgan investment banker Eric O. Fornell to the Exnet conference attendees.
A managing director of the bank's Energy Investment Banking group, Fornell guesses the odds of an announced transaction ultimately closing are about 75 percent.
"If you were a management team thinking about, 'do you want to enter in to this,' is clearly something that you are going to have to think about the money, credibility, and time you'll have to invest with investors, regulators, and politicians," he said.
Fornell believes that there may be downward pressure on utility stocks in the next five to 10 years, given current historical highs.
"So, if you think about the future, this is probably a good time—if you're thinking about maximizing value—to be thinking about a transaction just from a valuation perspective."
Lazard's head power and energy investment banker, George Bilicic, also presented at the Exnet conference.
"We continue to believe that the industry will steadily consolidate, while Exelon and FPL are examples of what can go wrong. There are plenty of other examples, such as the Duke-Cinergy deal and the Mid-American and PacifiCorp deal, that stand in stark contrast. Transactions will be able to support only moderate premiums as compared to the high premiums we saw in the late 1990s. We don't see the emergence of a hostile transaction trend or activist hedge fund that were very active in the PSEG transaction," Bilicic said.
Furthermore, he says that the renewables, alternative energy, and conservation efforts will dominate strategic thinking this year in terms of why utilities would conduct a transaction. "We believe more than one non-U.S. company will pursue a deal in the U.S. this year," he added.
Spinoffs and Separations Revisited
Wall Street has been going full-tilt in recommending spinoff transactions. Some conference-goers wondered if Wall Street banks had a meeting on separations. At the conference, bankers from Merrill Lynch, Credit Suisse, J.P. Morgan, Lazard and other firms all expressed the need and advantages of utility separation transactions.
This, of course, drew some skepticism from at least one utility conference attendee, given the industry's past experience with such transactions. Michael Morris, CEO at AEP, said utilities were not really interested in separation transactions from generation from transmission or distribution, or gas from electric. "We don't see a need for that. If you are an integrated utility today, unless you have huge capital needs or a state law that causes you to break apart your asset base, I don't see the logic behind it," he said. Morris predicted one would not see a lot of separation transactions because the aggregated asset base in the vertically integrated model "makes so much sense," he said.
As far as separating gas from electric, as Duke Energy did in the Spectra transaction, Morris said, "It made a lot of sense to them."
But the AEP CEO also showed some skepticism related to the resurgence of such separation transactions being pitched by Wall Street.
"I'm always intrigued by those of you in New York City, particularly those of you involved in the investment-banking business. You talk all of us into merging and cross functionalization and how wise that was. Then you come back about four years later and say the market can't understand the stock and you have to break the company apart."
Of course, for decades corporate America and Wall Street have gone back and forth between the conglomerate and the pure-play models. It appears the utility industry will be no different. Lazard's Bilicic laid out the value of a separation transaction: "Separation is a new topic, as many of you are aware because of the Spectra spin. The circumstances in certain states suggest long-term regulatory strategic tension. We think there are three broad categories of companies where separation is relevant."
The Lazard banker believes separation is warranted for companies that have businesses across the value chain, like Duke Energy with its previous convergence strategy. The second category, Bilicic says, is companies that have deregulated, where the old utility generation is held by a non-regulated affiliate in the same service territory. "The third category is regulated utilities that have built up a non-regulated generation business beyond the regulated service territory," he says.
"There may be a structurally practical way of separating. There may be capital or credit constraints or drivers of this separation. Last, when one looks at the appeal of separation, it ultimately is going to have to beat the standalone case or other alternatives that are possible." And there will be many alternatives in the coming years, as billions upon billions in investment dollars are looking to invest in the utilities industry. Some deals may serve the public interest and some may not (see, "A View on the TXU Leverage Buyout"). What is certain is what choices utilities make will forever change the operational and corporate landscape of the industry.