Deck:
What's the story with AES Ocean Express?
What's the story with AES Ocean Express?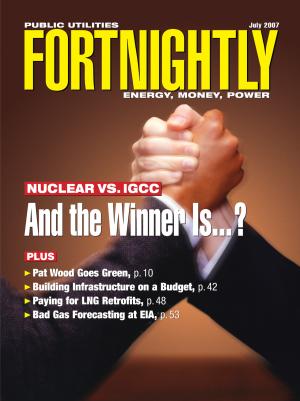 In January 2004, FERC authorized AES Ocean Express LLC (AES) to construct and operate natural-gas pipeline facilities to transport revaporized LNG from an offshore receipt point at the boundary between the Exclusive Economic Zone of the United States and the Commonwealth of the Bahamas to onshore delivery points on the east coast of Florida. AES proposed to connect its planned pipeline to the pipeline system of Florida Gas Transmission (FGT). AES and FGT were unable to agree upon the terms and conditions to be included in FGT's tariff regarding the LNG delivered through AES' proposed pipeline, leading to AES filing a formal complaint with FERC, wherein it alleged that FGT sought to impose unreasonably restrictive gas quality and interchangeability standards on LNG delivered into the FGT system.
In response to AES' complaint, FERC ordered FGT to file quality and interchangeability standards to address the introduction of LNG into the FGT system. FGT subsequently filed its proposed tariff revisions with FERC, requesting, among other things, a Wobbe Index range for receipts of gas into the FGT Market Area between 1,340 and 1,396, which equated to plus or minus 2 percent of FGT's historic Wobbe Index of 1,368, and a minimum HHV of 1,025 Btu/scf and a maximum HHV of 1,100 Btu/scf. As a result of a number of interventions and comments filed with respect to FGT's proposed tariff provisions, FERC ordered a hearing before an administrative law judge (ALJ) to determine the appropriate natural-gas quality and interchangeability standards regarding the LNG delivered into FGT's system.
On April 11, 2006, after a lengthy and heavily contested hearing, the ALJ issued a 65-page initial decision, finding that FGT's proposed Wobbe Index range of 1,340 to 1,396 and proposed HHV limits of 1,025 to 1,100 Btu/scf for deliveries into FGT's Market Area were just and reasonable. However, the ALJ found that the standards should be applied only to imported LNG and should not be extended to domestic natural gas. In addition, the ALJ found that mitigation costs downstream users may incur as a result of the introduction of LNG into FGT's system were speculative, but the ALJ left open the issue of whether actual mitigation costs attributable to the importation of LNG could be recovered in the future, stating: "To the extent that a participant may incur a cost which it attributes to the actual importation of LNG under this decision, it may make an appropriate filing, presumably under Section 5 of the NGA, to recover that cost."1
Most of the parties in AES Ocean Express, other than FGT and the LNG suppliers, requested that FERC establish some method for downstream gas users to recover their costs of testing, remediation, and repair to accommodate the introduction of LNG into FGT's system. The electric generators connected to FGT's system argued that the sponsor of the LNG should be required to bear any costs to install equipment necessary to protect