LNG Mitigation Costs: Who Will pick up the tab?
FERC issues a surprising order regarding responsibility for LNG-related retrofit costs.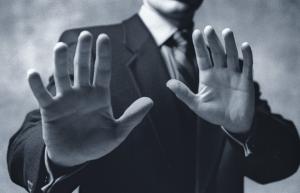 "The Federal Energy Regulatory Commission (FERC) will not accept requests from interstate natural-gas pipelines to compensate customers or other downstream entities for any costs they may incur in using gas supplies that include revaporized liquefied natural gas (LNG) that meets approved standards for gas quality and interchangeability."
This is the lead paragraph from an April 19, 2007, FERC press release announcing FERC's order in AES Ocean Express LLC v. Florida Gas Transmission Co ., which was issued one day later. FERC's order, which many believed would answer some important questions regarding the introduction of LNG into the U.S. pipeline grid, thus left open the most important question on the topic: Who ultimately will be responsible for cost-mitigation measures to accommodate the introduction of large quantities of LNG into the U.S. pipeline grid?
LNG Is Coming, Like it or Not
LNG is still an enigma to many. The term conjures up visions of exploding supertankers with nuclear bomb-like intensity. This is something experts say physically cannot happen. On the other end of the spectrum, some say that LNG will be the end-all to the problem of rising natural-gas prices in the United States. This is something that may be equally unlikely. No matter what your opinion regarding LNG, one thing is clear: LNG has started to wash ashore in the United States in increasing volumes and likely will continue to do so for many years to come.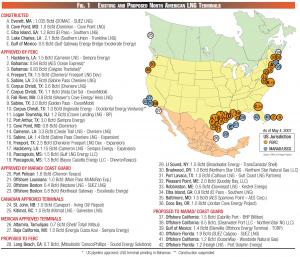 In early 2007, there were five LNG regasification terminals in the United States, with a combined capacity of 5.835 billion cubic feet (Bcf) per day (see Figure 1) . Another 23 terminals, with a combined capacity of 34.72 Bcf per day, have been approved by the relevant U.S. agencies, and an additional 15 terminals, with a combined capacity of 17.3 Bcf per day, have been proposed. During the first quarter of 2007, the United States imported approximately 262.5 Bcf of LNG, a 60-percent increase over the volume of LNG regasified in the United States during the first quarter of 2006. 1 The U.S. Energy Information Administration (EIA) has projected that LNG imports into the United States in 2007 will rise to 790 Bcf and should surpass 1 trillion cubic feet (Tcf) in 2008. 2 EIA estimates that LNG imports into the United States will continue to increase over the next several years, with annual LNG imports reaching 4.5 Tcf in 2030. 3
What's the Big Deal? LNG Is Just Natural Gas, Right?
While many consumers may cheer at the news that increased LNG supplies will be hitting U.S. shores, supplementing the decreasing domestic supply of natural gas and, hopefully, mitigating the price volatility in the U.S. natural-gas market, technical issues arise with respect to the introduction of LNG into the U.S. pipeline grid. The biggest technical issue involving LNG is interchangeability, or the extent to which LNG can safely and efficiently replace gas