Deck:
Price caps, secondary markets, and the revolution in natural-gas portfolio management.
Author Bio:
Bruce W. Radford is editor-in-chief for Public Utilities Fortnightly.
When the Federal Energy Regulatory Commission (FERC) decided in February, in Order 890, to lift the price cap for electric-transmission customers seeking to resell their grid capacity rights in the secondary market, it cautioned against expecting a quid pro quo for gas: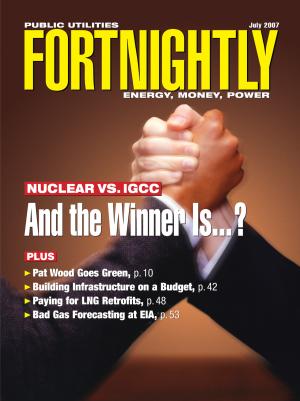 "Our findings here address the particular circumstances associated with the electric-utility industry and are not intended to suggest that corresponding changes should be made to the rate for capacity release by customers of natural-gas transportation capacity.
"Any such changes," FERC wrote, would come "only after notice and comment based on a record applicable to the natural-gas industry." (See Docket Nos. RM05-17, RM05-25, Feb. 16, 2007, 118 FERC ¶ 61,119 at para. 814, fn. 492.)
But wait a minute. Was the commission just teasing?
In fact, FERC already had opened a rulemaking investigation to consider exactly that question—whether to lift the price cap for gas-pipeline capacity releases in the secondary market. And it had done so in January, a good six weeks prior to the release of Order 890. Moreover, this prior investigation, announced as a simple request for comments, has since shaped up as perhaps the most compelling and thought-provoking policy discussion to have hit the natural-gas industry in years.
In this prior case, FERC asked the gas industry for thoughts and ideas that call into question a whole host of key policies that heretofore have stood at the core of how natural-gas pipeline markets have played out over the past 15 years or so:
1. Price Caps. The ceiling on the price that shippers can receive for releasing their firm rights to gas-pipeline capacity into the secondary market for purchase by replacement shippers, which is set at the level of the pipeline's tariff rate, also known as the "recourse rate," or the "maximum lawful rate."
2. Posting and Bidding. Rules that have required releasing shippers to announce certain proposed release transactions on the pipeline company's Internet site, if the release is offered at less than the pipeline's tariff recourse rates, so that other potential buyers can have an opportunity to bid on purchasing the rights offered for reassignment.
3. Shipper Must Have Title. This concept, known sometimes as the SMHT rule, mandates that a customer that acquires pipeline capacity cannot use those rights to transport natural gas already owned by a third party.
4. Buy/Sell Transactions. The prohibition against such deals bars shippers from circumventing the SMHT rule and transporting gas for a third party by simply purchasing title to gas at the top of the transaction, and then selling it back at the end.
5. Tying Arrangements. Such deals also are proscribed. Thus, FERC policy has made it unlawful for those who are selling off capacity rights on a given pipeline from making the deal conditional upon a linked release or transfer of some other right, such as rights to gas supply, or rights to capacity on other pipelines.
These rules, which have formed the backbone of FERC's open-access model for natural-gas pipelines and shippers for nearly two decades now, are all under attack and in play in the commission's gas-rulemaking investigation. (See Request for Comments, Docket Nos. RM06-21, RM07-4, Jan. 3, 2007, 118 FERC ¶61,005.)
FERC's decision to open the door to such a wide-ranging policy discussion stems from a pair of petitions filed last year by companies representing widely different sectors of the U.S. natural-gas industry. First, from the local distribution sector, came Pacific Gas & Electric Co. and Southwest Gas Corp., which joined forces to demand that FERC allow gas shippers to releasing shippers to earn more than the recourse rate. (See Petition for Rulemaking, FERC Docket No. RM06-21, filed Aug. 1, 2006.)
Second came a petition from a number of energy producers and marketers, including Coral Energy, Chevron, ConocoPhillips, Constellation Energy Commodities Group, Tenaska Marketing, Merrill Lynch Commodities, and UBS Energy LLC. In this so-called "marketer petition," the energy companies sought policy guidance from FERC to guarantee that it would allow certain pre-arranged capacity release deals, even if they might appear to violate the price cap, the tying rule, or the posting and bidding rules. (See Petition for Clarification, FERC Docket Nos. RM91-11, RM98-10, filed Oct. 20, 2006.)
The first petition had asked for natural-gas local distribution companies (LDCs) to receive top-dollar market prices for release and resale of their pipeline-capacity rights. Simply put, the LDCs wanted rights comparable to those granted to interstate pipelines. (The LDCs had become dissatisfied after FERC in early 2006 had reversed policy and had allowed the pipes to negotiate market-based rates for transportation service that reflected "basis differentials." (See Docket No. PL02-6, Jan. 19, 2006, 114 FERC ¶61,042.) Such differentials track the gas- commodity price spread between two geographic trading points, such as a supply basis and a city gate delivery point.)
The second request, the marketer petition, asserted that commission policy on pipeline-capacity release, formulated largely during the early 1990s, had failed to keep pace with a major new development in natural-gas markets. That development was the rise of industry service contracts for the management of gas-commodity portfolios held by LDCs, load-serving entities and competitive retail-gas suppliers. In this scenario, a large-scale marketer buys up pipeline-contract rights and then calls on its expertise and economies of scale to earn a higher margin on such assets than would have been available if the LDC had continued to hold the assets. The LDC, retail supplier or load-serving utility continues as before to provide retail-gas delivery service to end users, but essentially exits the business of buying, managing, and selling the physical commodity.
So far, the buzz over this new gas-rulemaking initiative only has increased in intensity, now that FERC has completed work on its electric industry Order 890, and has lifted the price cap for resales of grid rights. New Jersey Natural Gas summed up a common industry opinion in its initial comments filed this spring:
"Given this policy shift in electric regulation, it would be perverse to fail to afford the natural-gas secondary capacity markets—which are more mature, more robust, and more competitive than electric transmission secondary markets—the same degree of flexibility." (See comments, New Jersey Natural Gas, FERC Dockets RM06-21, RM07-4, p. 16, filed Apr. 11, 2007.)
Nevertheless, the story doesn't end here. In fact, various industry players have taken a cue from the two industry petitions, and from FERC's announced willingness to rethink established policy, to suggest even more radical ideas. For instance, some say that FERC should give up on the idea of trying to prohibit the "brokering" of pipeline capacity by third-party shippers. Others go so far as to urge the commission to eliminate the price cap that applies to short-term firm and interruptible transportation (IT) service provided by the pipelines themselves, thus deregulating a significant portion of the primary market.
For example, Kinder Morgan Interstate Pipelines points out that FERC already has recognized—as in its 2005 policy statement on selective discounting by pipelines (111 FERC ¶61,309)—that when pipes offer short-term firm and IT services, they effectively compete against firm capacity that shippers release into the secondary market. On that occasion, FERC declared that the capacity release program "has been successful in creating a robust secondary market where pipelines must compete on price." So if the pipes must compete against a service (capacity release) that is freed of its price cap, then FERC should deregulate the pipeline service as well. (See comments, Kinder Morgan, p. 12, filed Apr. 11, 2007.)
Spectra Energy Transmission (the pipeline recently spun off by Duke Energy) tends to agree. It adds that data from the U.S. Energy Information Administration shows significant growth in the amount of capacity acquired by replacement shippers in the secondary market. (See "Released Capacity Has Increased," Natural Gas Issues & Trends: 1998, EIA 1999.)
Not all agree, however. The American Public Gas Association points out that when FERC last considered deregulating the gas-pipeline primary market, seven years ago in Order 637, it had recognized the importance of maintaining cost-of-service regulation to "protect its primary constituency," that being the captive holders of long-term firm capacity. (See Dkt. Nos. RM98-10, 98-12, Feb. 9, 2000, 90 FERC ¶61,109.)
The APGA thus complains that the pipelines "are engaging in the ultimate bootstrapping, by urging deregulation of the secondary market and then urging, without a scintilla of evidence regarding the primary market, that it be deregulated as well."
Pre-Arranged Deals
When FERC launched its capacity release program in 1992, as part of its groundbreaking Order 636, LDCs held the lion's share of pipeline-capacity rights, which they needed and used to ship gas to the city gate. The commission designed capacity release to provide an outlet in the secondary market for scarce pipeline rights that weren't being used. FERC assumed, quite logically, that LDCs would release only that capacity that they did not need.
Now however, it turns out some LDCs are releasing not just their unused capacity rights, but all of them, even as those rights remain crucial to retail-distribution service. And that also goes for gas-fired merchant-power producers. They have become key players in the pipeline capacity game as their share of the generation sector has grown—from 3 GW out of 778 GW in 1997 (then the total U.S. electric production base), to 192 GW out of 978 GW by 2005. And like the LDCs, merchant gens are releasing not just their unneeded pipeline rights, but all of their rights, leaving them without dedicated transportation contracts to ship gas to their turbines.
As the marketer petition explains, "These arrangements do not arise from a customer's desire to rid itself of capacity; rather, they arise as a result of a customer's desire for efficiency, cost savings, and maximization in the utilization of its capacity."
To do that, shippers use capacity release to exit the business of arranging for and procuring gas supply. They turn the job over to third parties—to marketers and portfolio managers—whose primary job is to supply the customer (the releasing shipper) with gas. Along the way, the manager invests and trades in pipeline capacity, seeking opportunities to optimize profits.
Assistant General Counsel Craig Collins (SCANA Corp.) explains why in written comments he filed on behalf of South Carolina Elec. & Gas Co. and Public Service Co. of North Carolina. Most LDCs, he writes, no longer enjoy the access to market opportunities or the human resources needed to make the best use of their transportation agreements. And that holds true, even when the requirements of distribution service are limited enough to permit them to divert some of those assets to be used for other purposes, through capacity release.
Sarah Tomalty, senior attorney for FPL Energy, writes further on why LDCs and merchant generators find it difficult to manage their gas supplies effectively, and glean the highest market value from the capacity contracts they sign with pipelines:
"Most LDCs and utilities cannot perform a bundled fuel management function themselves to capture the true market value of their pipeline capacity because activities like gas trading, hedging and 'swing swaps' are often discouraged under state regulations."
She explains also why it can make sense for merchant generators to exit the business of gas-supply management:
"Certain generating units are project financed and have limited control over varying their gas asset portfolio through, for example capacity release, because the assets represent financing collateral. …
"Many merchant [gen] plants have been faced with difficulties in executing long-term purchased power agreements and have encountered low average spark spreads for off-peak and peak periods; therefore, they have been unable to generate the cash flow needed to contract for long-term firm natural gas transportation rights. … It does not make sense for a merchant generator that runs for only certain periods of the year to purchase long-term firm capacity on a year-round or even seasonal basis. …
"Also, fuel managers must have strong credit to meet the credit obligations of suppliers, pipelines, bond financiers, and end-users. As such, many end users rely on large suppliers to perform their fuel management function." (See comments, FPL Energy, pp. 9-14, filed Apr. 11, 2007.)
According to written comments filed by the American Gas Association (AGA), such difficulties may arise also from constraints imposed on the LDC itself from geography or weather.
As AGA explained, an LDC in a cold weather region that serves load driven largely by temperature-sensitive residential and small commercial customers with low load factors may find it difficult to manage its pipeline-capacity rights. The problem is exacerbated if the LDC lacks storage capacity in nearby market areas.
The key to the deal is the package, according to Ron Neal, division director for Macquarie Cook Energy LLC. Neal explains that in these pre-arranged deals for beneficial capacity release, "The combination of the transportation capacity and the commodity is essential to the nature of the product; absent such a combination, the LDC would not be releasing the capacity in the first place."
Thus, the replacement shipper that acquires the released capacity will want to acquire as diverse a portfolio as possible, of both supply and capacity, so as to maximize margins through greater economies of scale. The larger the margin, the greater the benefits that will be remanded back to the releasing LDC shipper (with a percentage share flowed back to retail ratepayers, as is typically required by state public utility commissions).
These complex deals may involve payment of a transaction fee to the portfolio manager, who becomes the replacement shipper. Payment may come in the form of a lump sum, or as a share of revenues to be earned in connection with future gas sales. Or, perhaps the releasing LDC shipper may agree to reimburse the portfolio manager for capacity reservation fees that the LDC otherwise would have paid to the pipeline.
These diverse revenue streams and forms of payment demand a key question: Do they count in determining whether the price of the release exceeds the cap?
The marketer petition does not ask FERC for a wholesale rethinking of policy. Rather, it asks FERC only to issue a few simple safe-harbor rules. The petition asks FERC to rule that in the context of a pre-arranged release of pipeline capacity, pursuant to a portfolio management deal and at the maximum lawful rate, that payments will not be treated as exceeding the price cap, if payment is tendered as follows:
As a transaction fee, as a lump sum or as revenues to be earned on or in association with gas sales, to be paid by the portfolio manager (the replacement shipper) to the customer (the releasing shipper).
Second, the petition asks FERC to guarantee that a payment by the customer to reimburse the manager for pipeline-reservation charges will not be treated as a set-off that lowers the effective price of the release, which otherwise would trigger a requirement for competitive bidding.
The marketer petitions urge the commission simply to act quickly on their safe-harbor request, without incurring the delays that would come with issuing a formal rulemaking proposal to revamp policy on price caps, and the tying, buy/sell and SMHT rules.
Legal Framework
Current rules pose problems, especially now that Congress has granted new enforcement powers to FERC in the Energy Policy Act of 2005. Consider a recent ruling that assessed a $1 million civil penalty against Bangor Gas Co. for violating the shipper-must-have-title rule by using gas-pipeline rights to transport gas owned by third parties. (See Docket No. IN-7-23, March 7, 2007, 118 FERC ¶61,186.)
As Chairman Joseph T. Kelliher noted at the time, the Bangor case marked FERC's first-ever imposition of a civil penalty for natural-gas violations under the new enforcement authority. Thus, releasing shippers now must take care to avoid costly fines. But it can prove awkward to structure a pre-arranged deal to release pipeline capacity to a marketer or portfolio manager without running afoul of the SMHT rule, not to mention the prohibitions against buy/sells and tying arrangements.
In practice, each rule seems to conspire against another. For example, as the marketer petition notes, shippers who want to forge a pre-arranged deal to outsource gas-supply oversight to a portfolio manager typically will find it necessary to violate one rule in order to avoid violating another:
"It is in fact essential that this assignment of purchase rights occur in order to ensure that the portfolio manager, in its use of the released transportation and/or storage capacity, complies with the commission's 'shipper-must-have-title' requirement." (See comments, Marketer Petition.)
Marisa Sifontes, senior counsel for Dominion Resources Services Inc., offers a similar explanation in her written comments filed on behalf of Dominion Retail and Virginia Power Energy Marketing Inc. on April 11:
"Thus we have a rule, the prohibition against tying arrangements, which makes a certain transaction structure, a structure which the market demands, arguably unlawful."
Counter to these views comes a curious rebuttal, offered by Thomas Thackston, of PSEG Services Corp., in his written comments for PSEG Energy Resources and Trade LLC:
"Like any other market monitoring mechanism, shipper-must-have-title has been accused of interfering with the marketplace. Such accusations may be accurate, but even if true, they miss the point, since regulatory scrutiny and action is not only appropriate, but necessary."
FERC articulated the SMHT rule in the late 1980s, before Order 636 and open access kicked in, to prevent shippers from locking in capacity rights under the old first-come, first-served priority rule, and then hoarding capacity for months or even years before acquiring gas and initiating an actual shipment:
"All shippers shall have title to the gas at the time that the gas is delivered to the transporter and while it is being transported by the transporter." (38 FERC ¶61,150 at p. 61,408.) Many feel its usefulness has ended.
Part and parcel with the SMHT rule comes the prohibition against buy/sells. In a buy/sell, the shipper acquires title only temporarily, during the shipment, and only to achieve nominal compliance with the SMHT rule. It is understood that the end user retains beneficial ownership throughout, as FERC explained in Order 636:
"An LDC will purchase gas in the production area from an end user or a merchant designated by an end user. The LDC will ship the gas on its own firm capacity and sell the gas to the end user at the retail delivery point."
Then comes the rule against tying arrangements: "All terms and conditions for capacity release must be posted and nondiscriminatory, and must relate solely to the details of acquiring transportation on interstate pipelines. Release of pipeline capacity cannot be tied to any other conditions." (Order 636-A, Dkt. No. RM91-11, Aug. 3, 1992, 1991-96 FERC Stats. & Regs, ¶30,950, at p. 30,559.)
To avoid the risk, shippers may seek a waiver of FERC rules before the fact. And the commission ordinarily has granted such waivers only where a shipper wants to exit the natural-gas supply management business in a rational and orderly fashion. FERC recently denied a waiver for capacity release above the maximum rate cap and tied to a purchase and sale agreement for long-term firm natural gas supplies, where the shipper did not aim to wind up the gas business. (See Louis Dreyfus Energy Services LP, Dkt. RP06-187, Mar. 3, 2006, 114 FERC ¶61,246.)
One idea suggests that FERC need not worry so much about the SMHT rule; the rule would become somewhat irrelevant if FERC instead would simply decide to eliminate the tying rule and the price cap on capacity releases in the secondary market.
Seven years ago, in Order 637, the commission launched a two-year experiment in which it lifted the maximum rate ceiling on capacity release transactions of less than one year's duration. Toward the end of the experiment, the commission staff reported that above-cap releases had accounted for only 2 percent of total transactions and gas volumes released, and for no more than 6 percent of the released capacity volumes in any particular month. Some 76 percent of all above-cap releases had occurred on only four pipelines. (See Staff Paper, Dkt. PL02-4, May 30, 2002.)
Today, five years, later, many still see those findings as encouraging. New Jersey Natural Gas finds it "inexplicable" that FERC eventually abandoned the experiment, having let it lapse in September 2002 "without published explanation or justification." (See Comments, New Jersey Natural, p. 14, filed Apr. 11, 2007.)
Sixteen months ago, in a case reviewing pipeline authority to negotiate market-based rates, then-commissioner Nora Mead Brownell reiterated that the two-year experiment on capacity release pricing had shown "positive results." Brownell thought the experiment had demonstrated that an uncapped capacity release market could be competitive, and produce just and reasonable rates for customers. She added that without the price-cap waiver, the capacity likely would have been sold in the bundled and unregulated "grey market," without public posting of release terms on pipeline Web sites. (See Dkt. PL02-6, Mar. 23, 2006, 114 FERC 61,304, Brownell concurring.)
Note also that Brownell then had called for a reconsideration of FERC policy, including a re-evaluation of interruptible transportation provided by pipelines in the primary market:
"I believe it is time to again consider a wide range of proposals for pricing transportation services in the secondary market, as well as competing IT services."
Market Lessons
The AGA argues that FERC's SMHT rule has become particularly problematic due the development of gas retail choice, and a competitive supplier that procures and manages gas supply for retail choice customers who take delivery from the LDC.
Because of forecasting inaccuracies, or other reasons, notes AGA, competitive retail suppliers on a daily basis often will provide "less gas at the city gate than their retail customers consume, requiring that the LDC provide that gas from its own supplies."
The problem is exacerbated by the multiplicity of competitive retail suppliers, and the diversity of LDC's pre-existing supply portfolio, assembled at least in part before the competitive retailers arrived on the scene.
Thus, as AGA adds, "If an LDC were to release a share of its pipeline and storage capacity to choice providers, the individual released quantities would be so small that the replacement shippers would lose the no-notice flexibility that the LDC enjoys."
Dynegy argues that FERC should reverse course and allow buy/sell transactions, as is the case in Canada, where the Canadian Natural Gas Exchange, an electronic exchange similar to the Intercontinental Exchange (ICE) operates as a clearinghouse for natural-gas transport capacity:
"It is credit-efficient for a market participant to sell delivered product to and buy supply from the same counterparty. No collateral is expended in this instance.
"Under the current rules, even if a market participant has a counterparty with supply zone gas to sell that needs to purchase market zone gas, the market participant is forced to find a third party to buy supply zone gas from in order to avoid a buy/sell. This necessitates additional credit posting or prepayment to the party from which supply is purchased. Moreover, the counterparty with supply zone gas to sell has to look elsewhere in the market rather than efficient transacting with their existing counterparty."
This complicated explanation recalls the early days of the California ISO, when many electric-industry experts faulted the ISO's rule that forced scheduling coordinators to submit balanced schedules.
FERC policy requires releasing shippers in many cases to post their offers on pipeline electronic bulletin boards or Internet sites, so that prospective replacement shippers can bid on the rights if the price on the initial release offer falls below the pipeline's recourse rate. Again, this required practice tends to interfere with the business of pre-arranged deals for gas portfolio management.
Duke Energy highlights how FERC's posting and bidding rules can interfere with pre-arranged deals.
As is explained in Duke's comments, most pre-arranged releases by LDCs to allow for outside portfolio management are closely monitored by state regulators to ensure that any assets needed to serve retail load are conferred to third parties only after a showing of ratepayer benefits. Moreover, state PUCs often will require LDCs to conduct a request for proposals (RFP process) before selecting a portfolio manager, and will issue formal orders authorizing the deals.
Therefore, according to Duke, FERC's bidding requirement "is redundant and tends to compromise the integrity and efficiency of a competitive process that has already taken place." (See comments, Duke Energy, p. 9, filed Mar. 23, 2007.)
Ameren, clearly in the minority, claims that "the vibrancy of the capacity release market has not suffered under the existing rules." As evidence, it claims that its capacity release revenues more than tripled in the three years ending in April 2007, rising by 360 percent.
A majority of the commenting parties appear to favor a lifting of the price cap on capacity release in the secondary market. Some favor that only for short-term releases (less than one year's duration). Still others (including the commission itself) have suggested a different type of price ceiling, using basis differentials from commonly published price indexes to put a value on released capacity.
One objection is that some hubs or market centers lack enough trading volume or liquidity to produce reliable index prices. However, others fault the idea for more fundamental reasons. Marisa Sifontes of Dominion explains in her comments why this idea makes no sense in the real world of markets:
"Using 'basis differentials' to value capacity has at its core a fatal circularity. Any particular 'basis differential is the market-clearing value. … It makes no logical or practical sense to place a ceiling on a market price by reference to that price itself, for surely that would mean that there was no cap at all."