Deck:
Sweating the details for 2009.
The Electric Reliability Council of Texas (ERCOT) introduced wholesale market competition in 1996, following the organizational change of ERCOT from a pure reliability council to an independent system operator (ISO) the same year. This makes ERCOT one of the earliest adopters of competitive electric markets. Senate Bill 7 (S.B. 7) brought about the most fundamental change to the market, opening competitive retail markets by January 2002.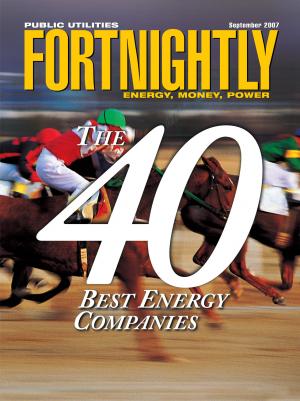 The restructured retail markets use a zonal flowgate model to handle congestion. Since 2002, this system has been hotly debated as local congestion (handled through extensive use of out-of-merit order capacity that is uplifted to the entire market) has become very costly for the system. To bring more efficiency into the planning and dispatching of units in ERCOT, the Public Utility Commission of Texas (PUCT) adopted Substantive Rule No. 25.501 as developed under the market redesign rulemaking proceeding (Project 26376), setting forth a nodal wholesale-market design.
Stakeholders and regulators in ERCOT are trying to work out the details of implementing this market, now not expected to begin in December 2008. Table 1 below presents a history of the major events shaping the ERCOT market.
Texas Nodal Market Design
Congestion pricing in ERCOT has dominated wholesale-market design discussions since 2001. As mentioned earlier, local congestion costs— representing about 82 percent of total congestion costs in the region—are allocated to all market participants on a pro-rata basis in proportion to the amount of load they represent without consideration to the congestion causer. To achieve a more efficient allocation of local congestion costs in ERCOT, the wholesale-market redesign initiative calls for the application of locational marginal pricing (LMP).
During the past few years, Texas regulators and market participants have been involved heavily in developing the design elements and implementation plan for the Texas Nodal Market (TNM), as originally envisioned by the PUCT in 2003.1 As laid out by the PUCT, the TNM paradigm aims at reducing local congestion and market-gaming opportunities, increasing transparency, and making the siting of new resources and transmission facilities more efficient. In August 2003, immediately after the initial approval of the market redesign rulemaking, ERCOT formed a stakeholder group known as the Texas Nodal Team (TNT), to design the elements of the TNM and develop the nodal market Protocols and the cost-benefit analysis of the TNM in compliance with the PUCT order.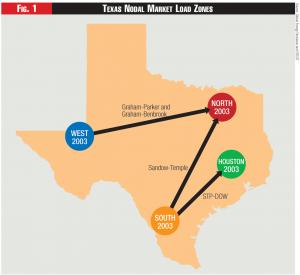 The cost-benefit analysis study was completed and posted on Nov. 30, 2004, and the PUCT approved the final TNM Protocols on March 30, 2006. The PUCT also stressed its interest in moving forward with the now planned 2009 implementation. The TNM as articulated in the PUCT's Substantive Rule 25.501 and described in the TNT documents and the TNM Protocols will represent a change from the current wholesale-market design in several ways, described below.
• Locational Marginal Pricing. LMPs will be implemented in ERCOT to ensure direct congestion cost assignment using nodal prices for generators and zonal prices for load. As such, congestion costs will be assigned to the resources that caused the congestion. The difference between the nodal LMP (at the injection point) and the zonal price paid by load would represent the congestion rent.
• Congestion Revenue Rights. Tradable congestion revenue rights (CRRs) will be auctioned by ERCOT and pre-assigned CRRs (PCRRs) approved by the PUCT—mainly for non-opt-in, municipally owned utilities and electric cooperatives. ERCOT will auction three types of CRRs: point-to-point (PTP) options, PTP obligations, and flowgate rights (FGR). PTP options entitle the holder to the positive difference in LMPs between the sink and source. PTP obligations, like options, also entitle a CRR holder to revenues when the value of the CRR is positive, in addition to the obligation to pay the negative difference. FGRs entitle the holder to the difference in LMPs in a designated direction for flowgates defined by ERCOT Protocols. According to the TNM Protocols, FGRs initially would be available only for flowgates in the McCamey area and allocated to wind generating resources (WGRs).2
• Financial Trading Hubs. The TNM Protocols have identified six trading hubs in ERCOT to be used as settlement locations to establish reference prices for offers and bids into the day-ahead market, common points for bilateral trades and CRR definition: North 345 kV, South 345 kV, Houston 345 kV, West 345 kV, ERCOT 345 and ERCOT 345 Bus trading hubs.3,4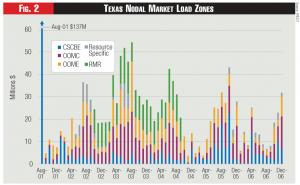 • Day-ahead Market. The day-ahead energy market (DAEM) will be established and operated by ERCOT. Participation in the DAEM will be voluntary for market participants with the possible exception of RMR resources or other reliability needs to be determined by ERCOT. Qualified Scheduling Entities may also submit bilateral or self-schedules to be cleared in the day-ahead period. The resulting day-ahead schedules and prices become binding. The DAEM is cleared using security-constrained unit commitment and security-constrained economic dispatch applications to meet energy demand while minimizing production costs from supply offers. The day-ahead market will be based on the Enhanced-Hybrid Day-ahead Market (E-HDAM) framework, assimilating aspects of integrated and auction day-ahead market models. The E-HDAM will be implemented no later than 12 months after the initiation of the TNM, while the auction model will be applied in the interim.
The E-HDAM will be a daily forward financial energy market where hourly market clearing prices for energy are calculated for each hour of the next operating day based on the DAEM LMPs. As shown in Table 3 (see p. 24), the E-HDAM borrows features from both the integrated day-ahead model (IDAM) and hybrid day-ahead model (HDAM). As shown in the table, resources may submit three-part supply offers for delivery at the node scheduled through their QSEs. The TNM market design includes a multi-settlement system for procuring energy and ancillary services whereby a separate market clearing price would be set for each service procured in the same period.
• Ancillary Services. The wholesale market redesign rulemaking calls for the simultaneous optimization of ancillary services by ERCOT. Ancillary services traded in the DAEM will include Regulation Up service, Regulation Down service, Responsive Reserve service, and Non-Spin Reserve service. Balancing, reliability must-run, black-start, and voltage support services are not procured in this market.
• Day-ahead Reliability Unit Commitment. A day-ahead reliability unit commitment (DARUC) application would be used in the TNM to commit generation as necessary beyond what is already committed in the day-ahead and bilateral markets. Such an approach will ensure that there is enough online generating capacity to meet reliability needs and secure real-time operation. This process, beginning after the conclusion of the day-ahead energy market, will use two-part bids that include start-up and minimum energy operating costs. Market participants will be able to bid into the DARUC market, which is used to commit or de-commit additional resources required to meet real-time operational security issues.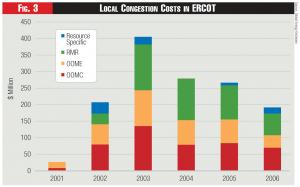 • ERCOT LMP Load Zones. According to the TNM Protocols, the LMP congestion management scheme eliminates the need to delineate the ERCOT Commercially Significant Constraint (CSC) and congestion-management zones every year, thereby reducing the resultant uncertainty and liquidity concerns in the market. The LMP commercial load zones have been defined consistently with the four CSC zones of the 2003 ERCOT market configuration: South, North, West, and Houston as shown in Figure 1.
Congestion Costs
ERCOT currently breaks congestion costs into two broad categories: interzonal and local. The overall level of congestion costs within ERCOT has been an important concern for market participants, especially local congestion costs, which are handled mainly through non-market operations and then uplifted to all load across ERCOT.
Figure 2 shows the monthly congestion costs incurred by ERCOT market participants between August 2001 and December 2006. Congestion costs in August 2001 set the record when they reached $137 million. These significant congestion costs triggered the direct assignment of interzonal congestion costs to all market participants leading to the current interzonal TCR congestion management model. As a result of the direct assignment, interzonal congestion costs have declined significantly. Interzonal congestion costs currently are managed through the BES market and can be hedged using TCRs (or PCRs). If, after settlement, it is found that TCRs were oversold based on actual system conditions (credit payments exceeded congestion rents collected), then an uplift payment amount is assessed to all ERCOT load. This is called the Balancing Energy Neutrality Adjustment charge.
At the same time, local congestion costs including out of merit order energy (OOME), out of merit capacity, (OOMC) reliability must-run (RMR), and resource-specific instructions have risen dramatically between 2001 and 2004. Between January 2002 and September 2004, local congestion costs averaged more than $25 million per month while interzonal congestion costs averaged $2.6 million per month. Local congestion is managed by ERCOT by requesting generators to adjust their output. For OOME, a unit is paid for a quantity of output that is higher or lower than scheduled output (OOME up or OOME down). As shown in Figure 2, local congestion costs generally have declined. According to ERCOT, recent transmission system upgrades and improvements have relieved several transmission constraints, eliminating the need for several RMR contracts as well as other local congestion-mitigation tools.
Table 4 lists annual congestion costs by category and compares the total congestion cost to net energy load. Between August 2001 and December 2006, ERCOT congestion costs exceeded $1.7 billion. Of this amount, about $1.4 billion has been caused by local congestion. In 2004, the average congestion cost was $1.07/MWh. For 2005, average congestion costs have increased by 7 percent. This increase came mainly from zonal congestion costs more than doubling in 2005. According to a recent ERCOT report, the major driver behind the higher zonal congestion costs is an estimated 40 percent increase in fuel costs for the year. In 2006, average congestion costs decreased significantly to $0.93/MWh driven by a decrease in both local and zonal congestion costs as a result of the declining fuel prices in combination with continued transmission-system improvements.
Between the start of the pilot market in 2001 and the present, local congestion costs approached $1.3 billion. This represents about three times as much as the interzonal congestion costs handled through the CSCs, which is less than $380 million. Currently, local congestion costs are uplifted to all market participants regardless of who is causing the congestion. This contentious issue is one of the main reasons ERCOT is restructuring to become a nodal market. After peaking in 2003, local congestion costs seem to have subsided in recent years. As shown in Figure 3, local congestion costs between 2003 and 2006 have decreased by about 53 percent. The biggest decline in 2005 occurred in the RMR costs, which declined by 18 percent. Average local congestion costs in 2006 have declined by almost 19 percent from their 2005 levels. High local congestion costs have been avoided recently through investments in "new transmission and other operational improvements."5
Implementing the Texas Nodal Market
Originally scheduled for implementation by October 2006, the TNM is now not expected until December 2008. While reassuring its support for the nodal market paradigm, the PUCT has indicated that a later implementation date would allow market participants enough time to become educated about the market and prepared for effective participation.
Last year, ERCOT and the TNT created the Transition Plan Task Force (TPTF) to review and approve business requirements and design components related to the transition to nodal pricing. The TPTF's role and structure would be similar to that of the TNT, with ERCOT staff having the final word when issues are not resolved. The transition process also calls for a market participant team to resolve technical issues. The nodal transition plan categorizes activities into four tracks: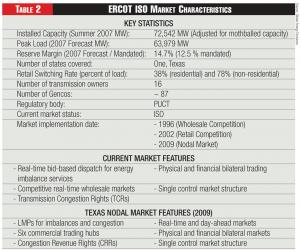 • System specification, procurement and development (ERCOT);
• System procurement and development (market participants);
• Market training; and
• Systems testing and nodal market implementation.

In late March 2006, the ERCOT board of directors unanimously approved a resolution to seek authority from the PUCT to impose a system administration fee surcharge to recover costs associated with the TNM design, based on a "flat-fee option," which would use a blend of borrowed funds (62 percent) and a nodal surcharge (38 percent) to produce a relatively flat fee between 2006 and 2012. In August 2006, the PUCT approved the implementation of a nodal market surcharge of $.0663/MWh (assessed to generators based on their generation ratio share) as proposed by ERCOT. This would be added to ERCOT's existing system administration fee currently set at 42 cents/MWh.
On June 15, 2006, six vendors were selected to perform services related to the implementation of the nodal market design in the areas of: market operations, congestion revenue rights, financial transfer, credit monitoring, outage scheduling, load forecasting, and network model and telemetry. Vendors began their joint requirement development in early July with almost all of the business requirements and most of the conceptual system design documents approved by the TPTF. Further, market participants and ERCOT employees began attending TNM training classes in July.
On Sept. 11, 2006, the TPTF proposed a phased TNM implementation timeline with market elements applied in three phases:
• Release 1, April 2008—Single-entry model: a common information model would be implemented with zonal and nodal markets running simultaneously;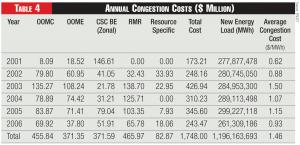 • Release 2, Dec. 1, 2008—Real-time operations: real-time LMPs and CRRs to be introduced replacing zonal market; and
• Release 3, Dec. 8, 2008—Day-ahead market: day-ahead energy and CRR market implemented with full elimination of the zonal market.
According to the TPTP, if ERCOT and its market participants are unable to implement Release 3, the ERCOT market will revert to the zonal market design. This phased-in implementation plan is awaiting approval from the ERCOT board.
Still, some opposition to the transition to nodal markets remains. Opponents include the Committee of Concerned Loads, Constellation Energy, and the city of Garland, Texas, which have expressed concerns to the PUCT about the impact on customers of switching to nodal markets. In response, the PUCT stressed that bilateral markets should remain strong in ERCOT, the market should remain energy-only, and that implementation costs be borne by generators rather than customers.
Endnotes:
1. Substantive Rule 25.501 (Project 26376: Rulemaking proceeding on wholesale market design issue in the Electric Reliability Council of Texas).
2. ERCOT Nodal Protocols, Section 7: Nov. 1, 2006.
3. The ERCOT 345 trading hub price is the simple average of the North 345 kV, South 345 kV, Houston 345 kV, and West 345 kV trading hub prices.
4. The ERCOT 345 Bus trading hub price in the day-ahead is the simple average of hourly prices for all buses included in the North 345 kV, South 345 kV, Houston 345 kV, and West 345 kV. In real-time, it represents the simple average of the time weighted 15-minute bus prices.
5. The Electric Reliability Council of Texas, Report on Existing and Potential Electric System Constraints and Needs, October 2005.