Deck:
Armed with calls for gas price transparency, FERC takes aim at intrastate pipelines—the long-forgotten and largely private preserve of the Lone Star State.
Author Bio:
Bruce W. Radford is publisher of Public Utilities Fortnightly.
The state of Texas stands as the largest producer and consumer of natural gas in the United States—certainly no surprise to anyone reading this column.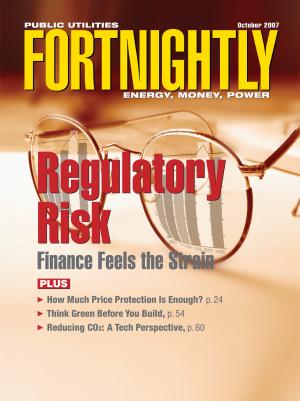 Counting more than 70,000 producing natural-gas wells, according to the state's Railroad Commission (RRC), which regulates the production, gathering, transportation, and sale of natural gas in the Lone Star State, Texas produces approximately 6 trillion cubic feet (Tcf) of gas each year. That represents about 36 percent of the entire domestic onshore-marked gas production in the country.
Also, as the RRC points out, natural gas serves as the number-one fuel for power generation in Texas, both as a percentage of total capacity and actual generation. Gas-fired generation makes up 72 percent of total generating capacity and almost 50 percent of generated energy in Texas.
Supporting all this economic activity are approximately 140,000 miles of intrastate natural-gas pipeline—with the RRC reporting 138 separate intrastate pipes under its regulatory supervision. That represents the greatest gas-industry infrastructure of any state—with virtually all of it ensconced happily in a FERC-free zone, untouched by FERC's open-access regime, adopted two decades ago in Order 636.
Until this year, that is.
Now, in a rulemaking notice issued this past spring, the Federal Energy Regulatory Commission (FERC) has proposed to bring a modicum of federal oversight to the nation's intrastate natural-gas pipelines, sometimes also known as the "Midstream" sector. In particular, FERC's proposed new rule would require intrastate pipelines on a daily basis to post electronic Internet data counting all natural-gas volumes flowing through their "mainline segments" and "major receipt and delivery points." (See, Notice of Proposed Rulemaking, Docket No. RM07-10, filed April 19, 2007, 119 FERC ¶61,068.)
Given the historical structure and regulation of the nation's natural-gas industry, it should come as no surprise that FERC's proposal has polarized the industry in general and the state of Texas in particular.
The Midstream pipes, on one hand, are up in arms, screaming that FERC has absolutely no jurisdiction to regulate intrastate matters, and never has since passage of the Natural Gas Act in 1938, even if only asking for data. On the other side lie the gas producers, royalty owners, and other customers of the intrastate pipelines, praising FERC for its long-overdue attention to what they feel is nothing short of a renegade and largely unregulated monopoly. In fact, the pipeline customers probably would like nothing better than to see FERC stick its nose even deeper into the tent, as they allege that Texas RRC regulation of the intrastate pipelines has failed fundamentally, allowing the Midstream sector to manipulate markets and extract monopoly rents from gas producers.
Steve Howell, president of Howell Oil & Gas Inc., counts himself as one who believes that federal intervention is long overdue, as he explained earlier this year in his written comments to FERC's rulemaking proposal:
"I, along with some others," writes Howell, "have fought many battles over the past 15 years at the Railroad Commission and the Texas Legislature in an attempt to make the natural-gas marketplace in Texas more transparent and therefore more competitive and fair.
"All of our efforts have been thwarted to date. … In Texas, we have the worst of all worlds—monopolies with the color of regulation which shields them from antitrust claims. …
"To many of us in Texas, the FERC is right on the money its analysis of the measures that are needed."
The Midstream Monopoly
Commending FERC for its rulemaking proposal, the Texas Alliance of Energy Producers argues that the Midstream and intrastate pipeline sectors operate in reality as "unregulated regional monopolies." These monopolies, says the Alliance, serve to hide market "dysfunctions" and undermine the success of FERC's open-access regime, which aims to make prices transparent for both the unbundled gas commodity and pipeline transportation service.
In particular, the Alliance has filed with FERC a monumental study conducted by Texas attorney John R. Hays Jr., presented last year at an industry conference. (See, Hays, "The Challenge of Producer Access to Natural Gas Markets: Gathering and Other Pipeline Issues," 57th Annual Conf. on Oil and Gas Law, The Center for American and International Law Institute for Energy Law, attached as Appendix A, Comments of Texas Alliance of Energy Producers, FERC Docket No. RM07-10, filed July 11, 2007.)
Hays argues that lax regulation by the Texas RRC has allowed intrastate gatherer pipelines to deny unbundled transport-only service to gas well owners, producers, and royalty owners, forcing them to sell output directly to the Midstream sector at below-market prices, rather than at trading hubs. They must oblige, Hays argues, or else face the prospect of shutting in their wells, since in most cases producers and well owners remain captive to a single, geographically accessible gathering pipeline, which can use its exclusive control over transport options to extract monopoly rents from the production sector. He claims that producers may realize less than $4/MMBtu for gas that might sell for $8 or more at the hub, and cites estimates that the Texas E&P gas-production sector loses as much as $1.5 billion a year in gas-commodity revenues as a result.
Small wonder, then, as the Texas Producer Alliance points out, that financial institutions such as Morgan Stanley and Warburg Pincus "have so heavily invested in the Midstream sector in recent years."
Hays notes in his study that interstate pipelines have moved to capture this potential stockholder value through spin-downs and spinoffs of their gathering facilities. He adds that such monopoly rents explain "why a large midstream system with a book value of some $21 million could be sold by a major utility in the latter 1990s for over $100 million to an investment partnership … then resold for over $200 million, without a corresponding increase in investment."
At the federal level, such fears led two decades ago to FERC Order 636 and the unbundling of the gas commodity from interstate pipeline transportation service. Yet, at the state level, such unbundling has not occurred.
Hays goes on to document how the Texas Midstream and intrastate pipeline sectors recently defeated state legislation (House Bill 821) aimed at introducing greater competition and price transparency into state gas markets. Similarly, the Texas Producers Alliance claims that the Texas RRC essentially failed to follow through on a study of competition within intrastate gas markets, mandated by Nov. 1, 2006, by a legislative rider attached to a general appropriations bill introduced in the 79th legislative session. As the Alliance points out, that rider had instructed the RRC to compare competition in the Texas intrastate gathering and pipeline industry with FERC's open access-regime for interstate pipelines.
For its part, the RRC states that it convened a "blue ribbon" committee (the Natural Gas Competition Study Advisory Committee) to carry out the law, and later adopted a new informal rule (effective March 15, 2007) to facilitate industry complaints of unfair pipeline practices. It adds that its committee recommendation led to further legislative reform (House Bill 3273) to enhance RRC enforcement authority and add more price transparency to intrastate markets. (See, Comments of Railroad Commission, p. 13-15, FERC Docket RM07-10, filed July 11, 2007.)
Nevertheless, Hays and the Producers Alliance continue to assert that Texas RRC tariff rules and practices largely remain indecipherable, and that enforcement of fair competitive practices and rules is achieved largely through opaque complaint procedures.
The Rulemaking Proposal
The commission's proposal to force intrastate pipelines to report actual gas flows stems from a congressional mandate to "facilitate price transparency" in interstate natural-gas markets, and to disseminate information about availability and prices of natural gas sold "at wholesale and in interstate commerce."
These instructions come from sec. 316 of the Energy Policy Act of 2005 (EPACT) law, adding a new sec. 23 to the Depression-era 1938 Natural Gas Act. But more importantly, Congress in EPACT added curious language stating that FERC may obtain the information in question "from any market participant." This legislative language has spurred considerable debate in the docket about whether Congress intended to grant new jurisdiction to FERC over the intrastate sector. Moreover, the issue arises whether such information must deal directly with interstate flows, or whether, as FERC argues, the law actually allows the feds to collect information regarding purely intrastate flows, on the assumption that such flows, even though technically nonjurisdictional, are still "about" and "pertain to" interstate markets, and so should lie within FERC's prerogatives.
These issues have given rise in turn to all sorts of tedious discussions of legislative history and prior legal precedent.
The Texas Pipeline Association (TPA), in opposing FERC's rulemaking proposal, notes that in hearings on EPACT sec. 316, held before the Energy and Air Quality Subcommittee of the House Committee on Energy and Commerce, FERC's then General Counsel Cynthia Marlette testified only about possible collection of price and transaction information, not pipeline flow information. The TPA adds that when the bill was reported out of the Senate Committee on Energy and Natural Resources, the report noted only that the measure would authorize FERC to establish an electronic information system regarding information about "price or transportation costs of natural gas in interstate commerce."
Lastly, the association notes that when a federal appeals court in 1976 OK'd federal collection of certain intrastate pipeline data, it limited such data collecting to what could be gotten from interstate pipelines or other jurisdictional entities. (See, Union Oil v. FPC, 542 F.2d 1036.) Similarly, in the 2004 Bay Gas Storage order, FERC had denied a staff request to obtain summaries of customer contracts from an intrastate pipeline, as being outside its jurisdiction. (See 109 FERC ¶61,348.)
The student finds no shortage of arguments, pro or con, on whether FERC can lawfully compel intrastate pipelines to file market-related data.
Supporting the rulemaking proposal, the American Public Gas Association calls FERC's right to such data "an open and shut case." It welcomes the addition of new sources of pipeline operational data, beyond what is available currently, such as the gas-storage reports compiled by the U.S. Energy Information Administration:
"For too long, the weekly storage report [from EIA] has been the focus of the bulls and the bears that stand to make and lose huge amounts of money from market volatility. The data that the commission now seeks to elicit from the intrastate market will … provide far more meaningful supply/demand data than has been available to the public to date."
From the other side comes the Louisiana Office of Conservation which, in the same manner as the Texas RRC oversees 6,362 miles of intrastate pipelines in the Sportsman's Paradise. The Louisiana agency points to the EPACT language and remarks, "it seems odd that Congress would have increased the commission's jurisdiction through such an ambiguous manner."
Then comes the Enbridge Energy Co. Inc., an intrastate gas gatherer and processor, answering those who might favor FERC intervention to correct flaws in state regulatory regimes. Enbridge suggests that "it would not be prudent, nor should the commission itself want, to position itself as a 'court of appeals' for those parties dissatisfied from the states' legislative, legal, and regulatory processes."
Market Relevance
Even conceding FERC's authority to collect information on intrastate pipeline flows, there remains the question of whether such flows contain any relevance or shed any light on the supply and price of natural gas traded at wholesale in interstate commerce.
Intrastate pipelines differ markedly from interstate pipelines, not only in terms of geography and topology, but in how they operate. As the case record shows, many intrastate pipelines are configured in a spider-web fashion, with literally thousands of receipt and delivery points. The majority of these points will connect not with mainline interstate pipelines or market hubs, but with city gates operated by local distribution companies (LDCs), or to storage facilities or end users, including (increasingly) gas-fired electric generators. Gas flows may give a distorted picture of market economics, since intrastate pipes may operate bi-directionally on a given day. Their receipts and deliveries often are tied to system balancing or other purely operational needs.
Consider Nicor Gas, primarily an LDC, which operates eight storage fields as a single system, all behind its city gate. Nicor maintains major receipt and delivery points with eight interstate pipelines. Wholesale shippers normally may bring in gas from any of those interstate pipes, but Nicor explains that it cannot track through any meter the actual flows of its wholesale shippers. That's because the gas that flows through Nicor Gas meters, the LDC says, is an aggregate of company use gas, sales to end users, intrastate retail shippers, and wholesale shippers both intra- and interstate.
"It is not a matter of investing in additional equipment," reports Nicor. "Additional meters would not be able to differentiate between the aggregated flow."
And even when intrastate gas flows do connect directly to interstate pipes and hubs, aren't such flows merely duplicative of scheduled flows already reported by the interstate pipelines, as required by FERC Order 637?
Consider also the gathering and processing industries. Hess Corp., a producer, gatherer, and aggregator of natural gas processed at its Tioga gas plant in North Dakota, receives gas deliveries from royalty owners or working interest owners "behind" its processing plant under "percentage-of-proceeds-type" arrangements, that seemingly have no relationship to prices, nominations, or contractual obligations:
"These sellers are not, on their own behalf, active in the daily or monthly gas markets," notes Hess.
"Instead, all of the behind-the-plant sales are computed derivatively and retroactively through plant accounting, which rests on amassing, often manually, wellhead meter runs, measuring the inlet and residue volumes at the plant … and finally arriving at an amount due [the] seller for the gas month.
"Given the small daily production volumes of many of these wells, it simply is not economic to generate accounting reports down to the wellhead level."
In short, many intrastate pipelines appear to operate in a purely physical and operational world that appears quite divorced from regional or interstate markets. Flows on such pipelines appear irrelevant to market prices, and may even distort assumptions about deliveries and receipts at hubs, trading centers, or interstate pipelines.
By contrast, Sequent Energy Management LP suggests that FERC would be better served by collecting relevant, real-time trading data from two of the nation's most active gas trading platforms, the Intercontinental Exchange (ICE) and the Chicago Mercantile Exchange Globex trading platform (CME Globex).
In 2006 alone, as Sequent explains, ICE hosted more than 121 million North American gas contracts with a total aggregate commodity value of $2.289 trillion. Sequent adds that market data produced by ICE "is of sufficient quality to have independent commercial value, as ICE is a wholesale data provider for numerous third-party information vendors, including Bloomberg, CDQ, Interactive Data Corp., and Reuters."
Noting that such platforms collect real-time pricing, volume, and transaction detail, Sequent recommends that such platforms "be the starting point for the commission's new information collection activities."
Metering and Telemetry
Beyond questions of jurisdiction and relevance, however, the primary obstacle facing FERC and its proposed rulemaking stem from the apparently overwhelming cost burden that intrastate pipelines may well face in fashioning compliance.
Simply put, it would be a mistake to assume that Midstream and intrastate pipelines are flush with EFM (electronic flow measurement) devices, or the metering, telemetry, communications, and Internet infrastructure necessary to comply with FERC's proposal.
The Texas Pipeline Association estimates that the ordinary cost of installing EFM meters to measure gas flow accurately on a 24-inch diameter pipe would run at least $2 million per measurement point:
"Thus, for a pipeline with 20 measurement points, the cost would be at least $40 million."
Consider, then, that Enbridge reports it has well over 4,000 receipt meters in Texas alone, and estimates that full compliance with FERC's proposal would cost it more then $32 million on major systems alone. That includes $6 million (at $4,000 per unit) for EFM, plus $18.7 million ($10,000 per unit) for communications devices. (See, Initial Comments, July 11, 2007, p. 11, and Attach. "C", p. 29.)
Atmos Energy estimates new capital expenses of some $13.2 million, plus a recurring incremental operating cost of $60,000 for all the new equipment.
Copano Energy, intrastate pipeline, says it has approximately 2,150 receipt meters and 125 delivery meters on its pipelines, but that only about half have EFM devises, and only 17 percent have SCADA equipment. And even where it does have EFM and SCADA devices, Copano says, it typically "does not have on-line gas chromatographs due to their cost, which can run from $50,000 to $100,000 per meter site."