Deck:
Armed with calls for gas price transparency, FERC takes aim at intrastate pipelines—the long-forgotten and largely private preserve of the Lone Star State.
Author Bio:
Bruce W. Radford is publisher of Public Utilities Fortnightly .
Armed with calls for gas price transparency, FERC takes aim at intrastate pipelines—the long-forgotten and largely private preserve of the Lone Star State.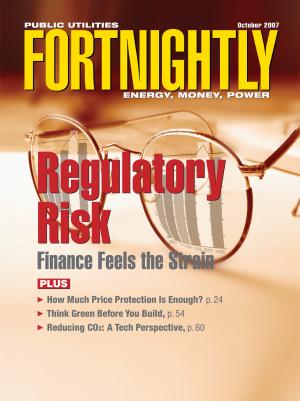 The state of Texas stands as the largest producer and consumer of natural gas in the United States—certainly no surprise to anyone reading this column.
Counting more than 70,000 producing natural-gas wells, according to the state's Railroad Commission (RRC), which regulates the production, gathering, transportation, and sale of natural gas in the Lone Star State, Texas produces approximately 6 trillion cubic feet (Tcf) of gas each year. That represents about 36 percent of the entire domestic onshore-marked gas production in the country.
Also, as the RRC points out, natural gas serves as the number-one fuel for power generation in Texas, both as a percentage of total capacity and actual generation. Gas-fired generation makes up 72 percent of total generating capacity and almost 50 percent of generated energy in Texas.
Supporting all this economic activity are approximately 140,000 miles of intrastate natural-gas pipeline—with the RRC reporting 138 separate intrastate pipes under its regulatory supervision. That represents the greatest gas-industry infrastructure of any state—with virtually all of it ensconced happily in a FERC-free zone, untouched by FERC's open-access regime, adopted two decades ago in Order 636.
Until this year, that is.
Now, in a rulemaking notice issued this past spring, the Federal Energy Regulatory Commission (FERC) has proposed to bring a modicum of federal oversight to the nation's intrastate natural-gas pipelines, sometimes also known as the "Midstream" sector. In particular, FERC's proposed new rule would require intrastate pipelines on a daily basis to post electronic Internet data counting all natural-gas volumes flowing through their "mainline segments" and "major receipt and delivery points." (See, Notice of Proposed Rulemaking, Docket No. RM07-10, filed April 19, 2007, 119 FERC ¶61,068.)
Given the historical structure and regulation of the nation's natural-gas industry, it should come as no surprise that FERC's proposal has polarized the industry in general and the state of Texas in particular.
The Midstream pipes, on one hand, are up in arms, screaming that FERC has absolutely no jurisdiction to regulate intrastate matters, and never has since passage of the Natural Gas Act in 1938, even if only asking for data. On the other side lie the gas producers, royalty owners, and other customers of the intrastate pipelines, praising FERC for its long-overdue attention to what they feel is nothing short of a renegade and largely unregulated monopoly. In fact, the pipeline customers probably would like nothing better than to see FERC stick its nose even deeper into the tent, as they allege that Texas RRC regulation of the intrastate pipelines has failed fundamentally, allowing the Midstream sector to manipulate markets and extract monopoly rents from gas producers.
Steve Howell, president of Howell Oil & Gas Inc., counts himself as one who believes that federal intervention is long overdue, as he explained earlier this year in his written comments to FERC's rulemaking proposal:
"I, along with some others," writes Howell,