Deck:
KCP&L breaks ground on a novel structure for billion-dollar plant investments.
Author Bio:
Scott M. Gawlicki, based in West Hartford, Conn., has been writing about the power industry for nearly 20 years. Contact him at sgawlicki@excite.com.
To the casual observer, the Iatan 2 power plant under construction in Platte County. Mo., is simply another coal-fired facility.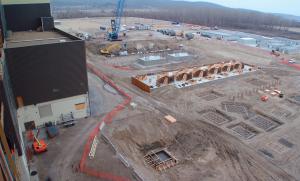 However, when viewed by a utility executive facing seemingly non-stop global-warming headlines and news broadcasts, the 850 MW Iatan 2 looks more like a new regulatory and business model for building coal burners.
A consortium of utilities in the greater Kansas City area is building the plant, which is slated to begin pumping out electricity in 2010. For its majority owner, Great Plains Energy subsidiary Kansas City Power & Light (KCP&L), Iatan 2 is the cornerstone of a $1 billion-plus expansion program.
Known as the Comprehensive Energy Plan (CEP), the program boosts KCP&L's generating capacity while also lowering the utility's emissions profile through energy efficiency, renewable energy, and new equipment investments. The plan took a major step forward in September, when Great Plains sold $100 million in bonds for building the new facilities, especially Iatan 2.
The project represents a new model in multiple ways. First, KCP&L worked collaboratively with local stakeholders to gain their support for a package of environmental and power- generation investments, rather than a single-asset power plant. Second, to reduce the risk of after-the-fact rate disallowances, the utility negotiated a pre-approved return-on-equity (ROE) rate for construction costs. Finally, it developed a novel accounting structure that protects KCP&L's investement-grade ratings.
Grassroots Development
Introduced in 2003 and approved by Kansas and Missouri regulators in 2005, the CEP calls for the development of some 400 MW of wind energy; upgrading emissions-control equipment at the utility's existing generating assets; upgrading transmission and infrastructure; implementing a demand-side management program; and developing Iatan 2 in concert with its other partners.
The linchpin, of course, is Iatan 2. Initially opposed by the Sierra Club and Concerned Citizens of Platte County, it now has the blessing of both groups.
Gaining that approval meant introducing the CEP through a grassroots effort involving a variety of community seminars. KCP&L brought in experts to discuss everything from environmental issues to the future availability and cost of natural gas.
"That was our starting point," says Mike Deggendorf, vice president of public affairs for Great Plains Energy, KCP&L's parent. "We went right to the community and said, 'This is how we see the situation evolving over the next 10 years, and this is our strategy. Now we want your input.' Then we took the input and built it into our regulatory workshops. You have to listen to your customers and make them part of your plan. We wanted their buy-in at the front end of the approval process."
Another key part of the CEP process included soliciting and then working with regulators in both states to address Wall Street expectations and concerns.
First, to reduce risks to investors and protect KCP&L's credit rating, regulators in both states pre-approved the CEP in 2005. The precise rate of return on the new assets would be established in future rates cases as each of the new facilities went into service.
In exchange for pre-approval, KCP&L agreed to reduce its ROE rate for authorized Allowance for Funds Used During Construction (AFUDC) by 250 basis points. For example, instead of a return on equity of 10.8 percent, the utility would accept an 8.3 percent ROE for Iatan 2's costs. The plant carries an estimated $1.6 billion price tag, with KCP&L taking a 55 percent ownership position.
Further, regulators allowed KCP&L to introduce an amortization component into its rate requests to protect the utility's investment-grade rating.
"After meeting with analysts and credit-agency representatives, it was clear there were changing Wall Street expectations around the issue of maintaining our credit quality," Deggendorf explains. "Over the five-year period, the CEP will represent a 60 percent increase in our rate base. The amortization component gives us the ability to cover costs and maintain our credit quality during an aggressive investment period. It makes sense for all the parties."
The amortization approach allows KCP&L to accelerate the rate of depreciation on the CEP assets. That, in turn, allows the utility to recover additional cash through rates—thereby increasing its cash flow—to maintain credit- rating ratios.
"We're increasing rates and accelerating the depreciation of the assets," says Chris Giles, KCP&L's vice president of regulatory affairs. "Accelerating the depreciation—in a sense paying more up front now—will result in lower rates later on. While the approach benefits the company in the short run, our customers benefit in the long run."
Package Deal
Since its initial approval by regulators in 2005, the CEP is thus far proceeding on schedule. In September 2006, the first wind facility, the $166 million Spearville Wind Energy project, went fully operational. Its 67 wind turbines are capable of producing 100.5 MW of electricity.
Then, in December 2006, regulators in both states approved rate increases that took effect in 2007. The Missouri Public Service Commission approved a $50 million, or roughly 10 percent, rate increase; the Kansas Corporation Commission (KCC) approved $29 million, or roughly 9 percent increase.
Then, in 2007, the utility installed a selective catalytic reduction (SCR) system to reduce flue-gas nitrogen oxides (NOx) at its La Cygne plant. In April, it issued a request for proposal for another 300 MW of wind power, with a 100 MW plant to be built in 2008 and the balance to be constructed between 2009 and 2012.
Further, it has applied for another round of rate increases. In Kansas, the KCC tentatively has approved a $28 million increase that also includes formal approval of the 8.3 percent ROE for Iatan 2. A similar request in Missouri still is pending.
Construction of Iatan 2—which features a supercritical design to improve efficiency and reduce emissions—also is underway and on schedule to begin operations in 2010. KCP&L will own roughly 55 percent of the new plant, while Aquila Inc.—a portion of which Great Plains is in the process of acquiring—will own 18 percent. Empire District Electric will own 12 percent, Missouri Joint Municipal Electric Utility Commission will own 11.76 percent, and the Kansas Electric Power Cooperative will own 3.5 percent.
And KCP&L, through its parent Great Plains Energy, has begun its CEP financing process. In May 2006, Great Plains Energy issued 6.3 million shares of common stock at $27.50 a share, and targeted $100 million of the offering to KCP&L for general corporate purposes, including the funding of its new generating facilities. In September, 2007, Great Plains sold $100 million in 10-year notes with a 6.875 percent coupon that's also earmarked for new facilities, especially Iatan 2.
"We're going to issue both debt and equity to finance the cost of the plant over the next three years," Giles says. "We just issued $100 million in notes and there will be more in the future."
New Model?
KCP&L suggests its Iatan 2 project represents a new model for building coal-fired power plants. Some Wall Street analysts agree.
"Utilities are focusing on how they're going to meet the next wave of capacity in the next five to 10 years," says Anthony Ianno, managing director of Morgan Stanley's global capital markets group. "Realistically, there are parts of the country that rely heavily on coal. For everyone else, gas prices are high, so gas isn't the only answer. You have renewables, but there are limitations as to how far solar and wind options can go, and it takes a long time to permit and build a nuclear plant. So coal is an important part of the plan."
And burning coal at a time when climate concerns are growing every day will get more difficult. Whether other companies can repeat KCP&L's success remains uncertain. "KCP&L presented this to regulators before the global warming, anti-coal movement reached the level it's at today," says Caren Byrd, executive director of Morgan Stanley's investment banking division. "I'm not saying others won't be approved too, but they had a slightly bigger window in 2005 that made it easier for them."
Nevertheless, the project exemplifies a much more collaborative relationship with regulators, Wall Street and constituents, an absolute must for developing large generating assets in the utility environment of the 21st century.
"Yes, I think this is the new model," Giles says. "In general, to build something of this magnitude, you need to collaborate up front. The old way just doesn't work anymore. There's more scrutiny from constituents, credit agencies, and investors. Getting the support you need through collaboration is critical, whether it's a $200 million wind plant, or a $1.6 billion coal plant."