Deck:
KCP&L breaks ground on a novel structure for billion-dollar plant investments.
Author Bio:
Scott M. Gawlicki , based in West Hartford, Conn., has been writing about the power industry for nearly 20 years. Contact him at sgawlicki@excite.com.
KCP&L breaks ground on a novel structure for billion-dollar plant investments.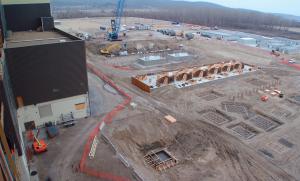 To the casual observer, the Iatan 2 power plant under construction in Platte County. Mo., is simply another coal-fired facility.
However, when viewed by a utility executive facing seemingly non-stop global-warming headlines and news broadcasts, the 850 MW Iatan 2 looks more like a new regulatory and business model for building coal burners.
A consortium of utilities in the greater Kansas City area is building the plant, which is slated to begin pumping out electricity in 2010. For its majority owner, Great Plains Energy subsidiary Kansas City Power & Light (KCP&L), Iatan 2 is the cornerstone of a $1 billion-plus expansion program.
Known as the Comprehensive Energy Plan (CEP), the program boosts KCP&L's generating capacity while also lowering the utility's emissions profile through energy efficiency, renewable energy, and new equipment investments. The plan took a major step forward in September, when Great Plains sold $100 million in bonds for building the new facilities, especially Iatan 2.
The project represents a new model in multiple ways. First, KCP&L worked collaboratively with local stakeholders to gain their support for a package of environmental and power- generation investments, rather than a single-asset power plant. Second, to reduce the risk of after-the-fact rate disallowances, the utility negotiated a pre-approved return-on-equity (ROE) rate for construction costs. Finally, it developed a novel accounting structure that protects KCP&L's investement-grade ratings.
Grassroots Development
Introduced in 2003 and approved by Kansas and Missouri regulators in 2005, the CEP calls for the development of some 400 MW of wind energy; upgrading emissions-control equipment at the utility's existing generating assets; upgrading transmission and infrastructure; implementing a demand-side management program; and developing Iatan 2 in concert with its other partners.
The linchpin, of course, is Iatan 2. Initially opposed by the Sierra Club and Concerned Citizens of Platte County, it now has the blessing of both groups.
Gaining that approval meant introducing the CEP through a grassroots effort involving a variety of community seminars. KCP&L brought in experts to discuss everything from environmental issues to the future availability and cost of natural gas.
"That was our starting point," says Mike Deggendorf, vice president of public affairs for Great Plains Energy, KCP&L's parent. "We went right to the community and said, 'This is how we see the situation evolving over the next 10 years, and this is our strategy. Now we want your input.' Then we took the input and built it into our regulatory workshops. You have to listen to your customers and make them part of your plan. We wanted their buy-in at the front end of the approval process."
Another key part of the CEP process included soliciting and then working with regulators in both states to address Wall Street expectations and concerns.
First, to reduce risks to investors and protect KCP&L's credit rating, regulators in both states pre-approved the CEP in 2005.