Author Bio:
Michael T. Burr (burr@pur.com) is Fortnightly's editor-in-chief. He gratefully acknowledges the contributions of Jean Reaves Rollins at the C Three Group in Atlanta, who provided the methodology and financial analysis for the Fortnightly 40, as well as valuable insights for this report.
The annual Fortnightly 40 always tells many interesting stories about the industry, as well as the individual companies in the rankings. This year the numbers show a multi-part drama that's playing out in the U.S. power and gas industry.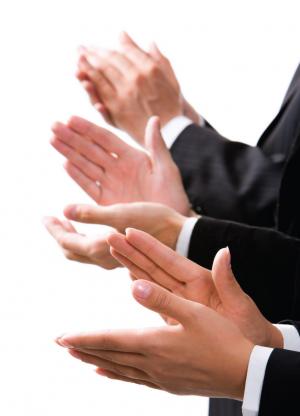 First, exposure to unregulated markets began to help rather than hurt a company's success in delivering shareholder value in 2007 (see Figure 5). As prices increased for all types of energy commodities, companies with major assets in merchant-power generation, coal mining and gas exploration and production tended to perform better than they have in the past.
Second, the industry's T&D and generation construction spending strongly affected companies' financial performance—most obviously their cash flow. "Free cash flow has plummeted," says Jack Azagury, a partner with Accenture and leader of the firm's utility strategy and business transformation practice. "I attribute that to the massive investment our sector is undertaking. We'll be seeing a period of negative free cash flow."
Third, while stock values have appreciated nicely in the past three years for the F40 companies as a group, their equity returns have grown at a sluggish pace—rising by 8.5 percent on average in 2007, compared to a 14.3 percent increase in stock values (see Figure 6). A trend toward weaker ROEs seems to show the effects of increasing economic pressure in utility rate cases.
Taken together, these trends suggest that success on the electricity and natural gas stage increasingly will depend on the ability to play convincing roles in both unregulated and regulated business areas. "Looming over the industry is the question of rate recovery for capital expenditures," says Jean Reaves Rollins, managing partner with the C Three Group, which created the methodology for the F40 rankings. "Managing regulatory relationships is perhaps the biggest challenge utilities will face. Getting those relationships right will determine utilities' financial health in the future."
Big-Build Metrics
One of the biggest story lines in the 2008 F40 centers on the industry's aggregate budget for capital expenditures. Companies in the F40 dedicated $38 billion toward capital expenditures in 2007, for everything from pipelines to power plants, and U.S. investor-owned power and gas companies as a whole spent more than $80 billion on cap-ex (see Figure 4).
These figures quantify the official start of the industry's widely anticipated Big Build. From 2005 through 2007, companies in the Fortnightly survey put nearly $200 billion into capital expenditures. Moreover, cap-ex likely will rise even faster in the years ahead.
"We see significant investment to replace obsolete network infrastructure and meet demand growth," says Paul Farr, CFO of PPL Corp., which grabbed the number-two position in this year's F40 rankings. "Over the next four years, the additional transmission projects we have planned and underway will more than double our domestic transmission rate base."
Other executives report similar plans, along the entire length of the energy value chain, in both regulated and unregulated business areas.
"Our current growth plan is focused on exploiting our mineral acreage position in the Appalachian basin," says David F. Smith, president and CEO of National Fuel Gas Co., ranked number 3 in this year's F40. "For our pipeline and storage segment, along with the $180 million Empire Connector that we'll put into service in November 2008, we have more than $1 billion worth of infrastructure additions on the drawing board."
In addition to focusing companies' attention on new construction and other capital investments, the Big Build is affecting key financial metrics for companies in the F40.
The most obvious example is free cash flow (see Figure 7). As a group, the F40's cap-ex budget exceeded operating cash flow in 2007, resulting in negative free cash flow—the first time that happened in the three-year reporting period. But it won't be the last time—and as a result, free cash flow is becoming a less important measure of company performance.
Similarly, dividend yields have tightened for many companies—especially those with the largest cap-ex budgets, and those whose unregulated earnings have grown to dominate their balance sheets.
"Our earnings have been roughly 50 percent from merchant sales and 50 percent from the wires business," Farr says. "It looks like in 2010 and beyond our earnings will be more like 75 percent merchant and 25 percent wires. As that happens, we'll evaluate our dividends in light of other growth opportunities, and seeking to maintain our solid investment-grade credit rating—which is an extremely important asset."
PPL isn't alone. Lower dividends have developed a significant correlation with higher shareholder value as measured by the F40. Excluding the anomalous El Paso Electric—which paid no dividend in 2007—a company's rank in the F40 shared a 0.4 inverse correlation with its dividend yield compared to other companies in the ranking (See Figur 3).
"This is explained in part by the fact that when stock prices go up, dividend yields go down," Azagury says. "But there's also a negative correlation between dividend yield and return on invested capital, which seems to show two things. First, the market isn't rewarding higher dividend yield, and second, the companies with higher dividend yield seem to be the ones with fewer opportunities to invest capital in ways that drive returns."
Of course earnings growth and dividend yield traditionally distinguish one type of stock from another, and utilities historically have been considered dividend investments. That seems to be changing in the current business cycle, and the inverse correlation between dividends and overall returns seems likely to become more pronounced as the Big Build proceeds. "The gap in dividend payouts between top-10 and bottom-10 companies will be exacerbated in a high capital-investment cycle," Azagury says.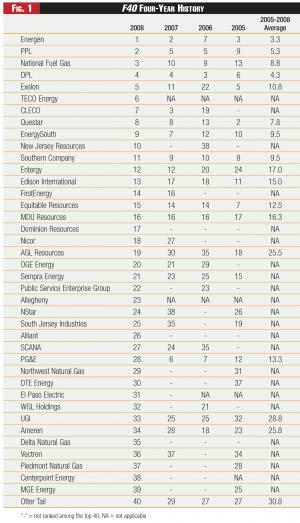 How long unregulated earnings will continue to drive returns—and therefore lower dividends—depends on factors that are difficult to predict. Nevertheless, dividend yield—like free cash flow—is becoming decidedly less reliable as a measure of power and gas company performance, at least during the Big Build. In testimony last November, regulatory analyst Roger Morin told the New Mexico Public Regulatory Commission, "Utilities' dividend policies have become increasingly conservative as business risks in the industry have intensified. Dividend growth rates are unlikely to provide a meaningful guide to investors' growth expectations for utilities in general."
Instead, the most useful metrics will be others that drive a company's F40 ranking—namely profitability from continuing operations, ROE, ROA (return on assets) and sustainable earnings growth (See sidebar, "Behind the Fortnightly 40 Rankings").
Over time, these metrics will be determined by a company's fundamentals, such as its markets, its investment strategy and its ability to execute on that strategy—especially in regulatory affairs, customer service and financial-risk management.
Commodity Plays
Few companies in the F40 ranking are diversified far beyond the traditional power and gas supply chain—and those that are diversified have compelling strategic reasons for those investments.

MDU Resources, for example, earns about a quarter of its income by selling construction materials, such as gravel, cement and asphalt—a business segment that grew out of MDU's nearly 70 years in the coal-mining business. Likewise, MDU has been in the oil and gas E&P business since the 1920s—which it has extended with gas pipelines and distribution companies in seven states, from Minnesota to the Pacific Coast. Last year the company acquired Cascade Natural Gas, with operations in Washington and Oregon, and now MDU is working to acquire Idaho-based Intermountain Gas.
"Our vision is to grow the corporation based on our employees' expertise," says Terry Hildestad, CEO of MDU Resources. "We've never varied from that basic principle. While we've grown in areas that are core to us, both organically and through acquisitions, we've maintained a strong balance sheet." The company's strategy has paid off for shareholders, with earnings growing by 20 percent a year for the past decade. "Our earnings in 1997 were about $54 million, and last year they were more than $431 million," Hildestad says. "That really speaks to our growth story."
Like many other companies that ranked well in this year's F40, MDU sees its best financial prospects in unregulated business areas. That likely will continue as long as current trends in commodity prices persist. Namely, fuel prices are at historic high levels and electricity reserve margins are shrinking, so companies with a long position in energy commodities are outperforming those with a short position. Gas reserves bolster a company's returns, but gas-fired power capacity tends to weaken them—except where long-term fuel supply or tolling arrangements insulate plant owners from commodity-price risk. Accordingly, companies with major coal-fired or nuclear generating assets are well positioned for the near-term future.
"For the first time since the Enron collapse and the industry's refocus on core business, the pendulum has shifted toward commodity exposure driving returns," Azagury says. "We're at the right time of the cycle for merchant companies. If you have gas E&P exposure, or a big merchant-power portfolio, margins will be very strong for the next few years."
Examples of such companies at the top of the F40 ranking include Energen (#1) and National Fuel Gas (#3), both of which are strongly positioned in gas markets from the well to the burner tip. Others include PPL (#2), which controls more than 11,000 MW of wholesale generating capacity, including the Susquehanna nuclear plant in Pennsylvania; DPL Inc. (#4), whose DPL Energy subsidiary owns nearly 3,000 MW of coal-fired power capacity; and Exelon (#5), whose nuclear unit owns 10 stations and is the largest nuclear operator in the United States.
In general, the same economics also apply to companies with nuclear assets in their rate base—such as Southern Company (#11), Entergy (#12) and FirstEnergy (#14). "Integrated companies at the top of the F40 have a big nuclear fleet," Azagury observes. "Clearly with the run-up in gas prices, there's no better place to be in the generation spectrum than nuclear."
Entergy's Options
Given the outlook for nuclear assets in the United States, Entergy Corp.'s announcement in late 2007 that it would spin off 5,000 MW of non-utility nuclear assets into a new company (recently named Enexus) might've seemed contrarian. But in the context of the company's aggressive portfolio-management approach, the spinoff makes sense.
Over the years, Entergy has auctioned or spun off many major businesses—such as its international operations, which it divested in the late 1990s, and its Entergy-Koch natural gas business, which it sold to Merrill Lynch and Loews Corp. in 2004.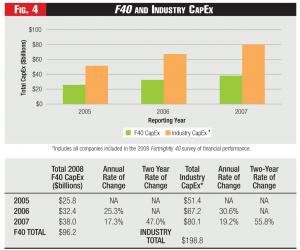 "We look at every asset we run, and we determine whether this is a good day to buy, sell or hold that asset," says Leo Denault, Entergy's CFO. "Our non-utility nuclear operations are a great business for Entergy. Our plants are in favorable markets, they're safe, secure and environmentally friendly—and they have significant upside because of all that. But certain things about the risk profile don't match the utility company."
Specifically, Entergy hopes Wall Street will value the company's wholesale nuclear plants more as a pure-play unregulated investment than as part of Entergy's integrated whole. In principle, separating the nuclear company will increase its option value for shareholders.
"The question of whether to spin off any particular merchant assets depends on whether the company believes the investor community is applying a discount to those elements of the portfolio," says Accenture's Azagury. "Decoupling the merchant fleet to create more investor visibility will add value in many cases."
Entergy also hopes that shedding the higher-risk assets will raise Entergy Corp.'s credit rating and therefore provide access to cheaper debt—which the company expects to need in the years ahead, as its cap-ex plans unfold.
"Going forward, our capital additions will be in new generation that's more efficient and uses lower cost fuel," Denault says. Reducing fuel costs—for example, by converting the Little Gypsy gas-fired plant to burn petroleum coke, and upgrading other plants to improve heat rates—will help Entergy offset some of its capital expenses. "We'll continue to have a clean profile so the environmental cap-ex burden will be much less for us than it will be for others," Denault says.
Courting the Commission
In addition to proving the worth of unregulated assets in today's market, the F40 rankings reinforce the value of solid regulated utility operations—especially those in favorable rate-making environments. Of the companies that moved the most in the F40 rankings (see Figure 2), many went through significant rate cases in 2007.
For example, Virginia lawmakers rolled back retail competition in the state and enacted new policies considered favorable to integrated utility companies. Consequently, Dominion Resources ascended from deep below the rankings last year to 17th place this year. And Alliant Energy, which jumped into the 26th position this year, prevailed in its petition before the Wisconsin Public Service Commission in 2007, securing a $26 million rate increase and favorable clarification of its allowance for funds used during construction (AFUDC).
On the other hand, Ameren Corp.—which slid to 34th place this year, from its number-18 position two years ago—has faced contentious battles with lawmakers in Illinois and Missouri. Last year, the Missouri Public Service Commission approved only $43 million of Ameren's $361 million requested increase, and in late 2006, the Illinois Corporation Commission (ICC) approved less than half of the company's $202 million filing. In 2007 Ameren's Illinois utilities gave up $150 million in rate relief in a negotiated settlement, and the company now is asking Illinois regulators for a $247 million rate increase. Although the Illinois Commerce Commission hadn't ruled on the case at press time, ICC staff reportedly recommended granting only $47 million of Ameren's request. Such an outcome could bode ill for the company's ability to recover $900 million in planned cap-ex in Illinois, and would put further pressure on Ameren's credit ratings—which have fallen to just above junk status in recent years.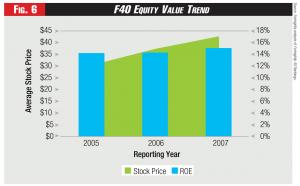 Similarly, citing a combination of poor performance in unregulated markets and regulatory risks, rating agencies have downgraded the credit ratings of PNM Resources multiple times since early 2007. The most recent action, in May 2008, followed an unfavorable ruling by the New Mexico Public Regulation Commission, which among other things denied two-thirds of the company's requested $33 million construction-work-in-progress allowance, and trimmed the authorized ROE in PNM's most recent rate case to 10.1 percent, from the requested 10.75 percent. The commission had contemplated an even skinnier 9.71 percent ROE, which would've weakened the company's already shaky financial position. "PNM's large capital expenditure program over the next several years increases its dependence on capital markets, which have become volatile and more unpredictable," Morin said in his testimony before the commission. "This is certainly no time to recommend what would be the lowest ROE award in the country for a major integrated electric utility." (See "Diminishing Returns".)
PNM has never made it to the ranks of the F40—and won't any time soon, unless its fortunes change dramatically. In August 2008, the company reported a $143.5 million second-quarter loss, after writing off $140.7 million in impaired assets and abandoning plans to expand the Twin Oaks power station.
"Two fundamental elements drive performance," Azagury says. "They are regulatory relationships and commodity linked returns."
Both might become more complicated in the future, as commodity prices and capital spending put increasing pressure on customers' rates and shareholders' returns. The best performers in the energy industry will be those that know how to position themselves in the value chain—delivering strong returns to shareholders, while also addressing the concerns of regulators and the needs of customers.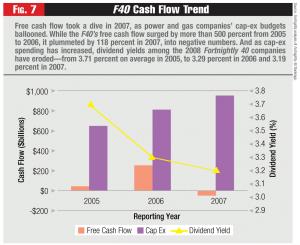 Leading companies also will become more creative about cost control and rate design.
"While we constantly look for cost-cutting opportunities, we also maintain an excellent working relationship with the state commissions," says Smith of National Fuel Gas. "We've employed various rate-making mechanisms to benefit both our ratepayers and shareholders, including a conservation incentive program, a revenue decoupling mechanism, bad debt trackers and weather normalization."
Such structures help regulated utility companies manage the increasingly complex set of risks they face. Ultimately, however, regulated returns alone generally don't deliver top-tier shareholder performance. Accomplishing that requires the willingness and aptitude to manage financial and operational risks in the energy marketplace, as well as regulatory risks in the policy arena.
"Our service territory touches seven states now," says MDU's Hildestad. "Just like geographic diversity and market diversity, regulatory diversity is a good thing for shareholders. We're working hard all the time to provide great service to our customers and maintain our good rapport with regulators."