Deck:
Intelligent networks support better decision making.
Author Bio:
Rick Nicholson is vice president of research with Energy Insights.
Intelligent networks support better decision making.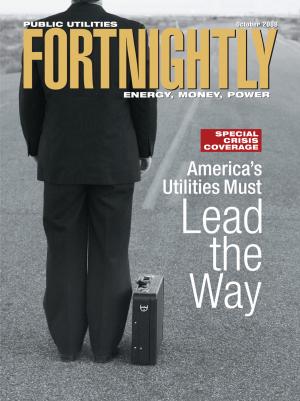 Sophocles once said, "Quick decisions are unsafe decisions." Apparently Sophocles did not work in the utility industry. Utilities must make quick decisions every day to maintain a safe and reliable grid. As they have learned, the key to a quick and safe decision is making a well-informed decision. Yet utilities face challenges in providing enough information for their employees and automated systems to make these types of decisions. To address this challenge, some utilities are looking at intelligent grid analytics to help them more quickly process large amounts of complex data and make better-informed decisions.
Defining Analytics
At their most basic level, analytics applications are fact-based decision-support systems that turn data into information that a company can use to make a decision or take action. According to IDC, analytics applications include: query, reporting and analysis software - ad hoc query and reporting tools, production reporting tools, multidimensional analysis tools, and software dashboards; and advanced analytics— software that uses advanced technologies to discover relationships in data and make predictions that are hidden, not apparent, or too complex to extract using query, reporting, and analysis software.
Intelligent grid analytics can use both query, reporting and analysis software, frequently in the form of dashboards; or advanced analytical software to help utilities make decisions or take action regarding their transmission and distribution networks. However, intelligent grid analytics have some characteristics that distinguish them from typical business analytics, including the need to process large volumes of data (500,000 sensors collecting 15-minute interval data produce approximately 1 terabyte of data per day) that is complex—real-time, interval and time-series data from multiple sources such as smart meters, line sensors, transformer monitors, SCADA systems, weather feeds and GPS receivers.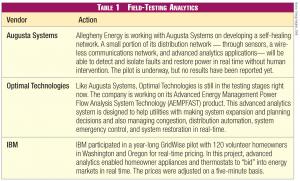 Although there currently aren't a large number of commercially available advanced analytics applications that can handle complex intelligent grid decisions on a large scale, vendors and utilities are developing and piloting them right now. Some vendors have seen success with their technologies, but most are still being tested on a smaller scale ( see Table 1 ).
As the intelligent grid market matures and more intelligent devices are deployed, vendors will make a wider variety of advanced intelligent grid analytics commercially available, making it easier for utilities to visualize and analyze the grid on a real-time basis and at a broader level. The first push for more advanced analytics likely will come from more fully utilizing smart meters, followed by the addition of other sensors and intelligent devices. However, just because truly advanced analytics solutions aren't here yet, it doesn't mean utilities aren't using some form of intelligent grid analytics today. Utilities are taking advantage of numerous intelligent grid analytics options available for more basic decisions and longer-term planning decisions, including dashboards, smart metering analytics and more traditional business intelligence applications.
The Need for Knowledge
As the North American economy depends more and more on utilities to "keep the lights on," any outage can be detrimental to today's economy and a utility's reputation.