Deck:
Economic uncertainties raise doubts about utility returns.
Economic uncertainties raise doubts about utility returns.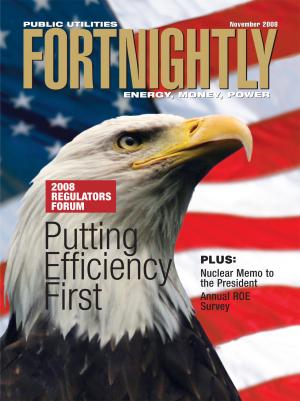 Recent shocking and unprecedented news in financial markets brings to mind several questions about utility rate cases and authorized returns. Given that utility regulators rely on financial models when seeking to determine the cost of capital for a utility, one might ask what effect stock prices and interest rates will have on the process. Will regulators feel a need to consider broader economic effects when engaging in a process that is often closely watched by the investment community?
In this time of economic uncertainty, utility investors are reminded that authorized return on equity (ROE) allowances aren't actual earnings, but rather the rates utilities and regulators use to determine how much money consumers must pay to make it possible for the utility to earn a reasonable profit and to attract investors in the future. As such, the award is not a guarantee. To earn the ROE set by a commission, the utility must keep future expenses and sales at or near the levels as during a 12-month proxy period known as the "test year."
In extraordinary times like these, regulators should expect some extraordinary testimony from the financial experts who appear as witnesses in rate cases.
The Ratemaking Formula
Reported here are results of Fortnightly's annual survey of utility rate cases. The survey, which reports the statistical results of traditional rate proceedings, provides a sample of major retail electric and natural gas rate cases conducted by state regulators across the nation. (And this year, for comparison, we included several Ontario rate cases.)
When setting rates, regulators gather information about what it will cost the utility to run the company, including operating expense, taxes and depreciation, short and long-term borrowing, plus the fair return on investment. To arrive at an amount of money to be collected from ratepayers for the return component of rates, the value of the company's property, or rate base, is calculated and the ROE rate is applied to that figure. The resulting number of dollars is then added to the cost-of-service ratemaking formula to arrive at a total revenue requirement for the utility.
Given this, it's easy to understand why the ROE part of a rate case often is the most contentious. First, while expenses and other costs might be determined with some level of certainty, the amount of profit that's considered "fair" certainly is subject to debate.
Additionally, the second part of the issue—what level of return is necessary to attract investment in the company and provide incentives for managers to make business decisions that benefit consumers—also is a question tailor-made for debate, and for analysis by financial consultants and attorneys.
In a case reported in this year's ROE survey, the Wisconsin Public Service Commission (PSC) discussed the distinction between the "bare-bones" cost of capital, as revealed by statistical models, and the appropriate ROE award for ratemaking purposes. The PSC explained one view: The cost of equity represents the target for the return on equity. According to