Deck:
New geothermal approaches bring massive resources within reach.
Author Bio:
Charles W. Thurston is a Fortnightly correspondent based in Sonoma County, Calif. Email him at: cwthurston@comcast.net.
Geothermal power occupies a unique niche in the renewable energy market. Geothermal projects provide dispatchable baseload power for much lower rates than most other renewable sources of energy. The catch, of course, is that they're economically practical only when located near geologic faults and vents, such as occur in Hawaii, California, Iceland and Indonesia.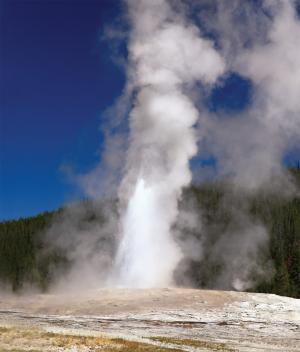 That might be changing, however. Recent developments might be radically expanding the field of commercially viable geothermal sites in the United States. Namely, several geothermal developers are deploying low-temperature, binary-cycle (closed loop) generators to capture geothermal resources previously considered to be low-quality for economic viability. Plus, at existing oil wells, developers are extracting usable energy at low cost.
With enough of these potential sites located near the grid, utilities soon might have more alternatives to choose from in trying to meet renewable portfolio standards (RPS) mandates, and possibly at lower costs than for wind or solar.
Already a $1.3 billion industry, geothermal power generation accounts for 6 percent of the energy produced in California, 10 percent in Nevada and 25 percent on the Big Island of Hawaii. The overall U.S. installed capacity exceeds 2,800 MW electric, according to the Geothermal Energy Association (GEA), a Washington, D.C.-based trade association. With new technologies and new approaches, the geothermal industry might be reaching a critical heat.
GEA says 45 geothermal projects are being planned or developed in nine Western states with the potential to add 2,000 MW. The U.S. Bureau of Land Management projects that 11 Western states could generate 5,500 MW of geothermal energy from 110 plants by 2015, and go on to produce another 6,600 MW by 2025.
"If we are at five percent geothermal in California now, then one could imagine doubling to 10 percent in five years," says William Glassley, executive director of the California Geothermal Energy Collaborative in Santa Fe.
And that's just the beginning. A decade from now, new technologies might cause a massive eruption of geothermal power, opening up 100,000 MW of new geothermal potential.
Cool Heat
Most high-grade U.S. geothermal resources—with water temperatures of 200 to 300 degrees Fahrenheit or above—are located in the West, where the energy conversion efficiency runs in the low double-digit range. The most developed of these is the Geysers field in Lake County, Calif., where Calpine Corp. operates 80 miles of steam lines to feed 19 power plants that generate more than 2 percent of California's electricity. Yet the field is far from tapped out. In May, Vancouver-based Western GeoPower Corp. signed a $500 million power-purchase agreement with the Northern California Power Agency to sell 265,000 megawatt hours a year at a levelized price of $98 per MWh for 20 years. The power will come from a 35-MW geo-thermal plant expected to come online in 2010 at the Geysers field. Similarly, Western GeoPower this spring signed a deal with Pacific Gas & Electric to supply it with 25.5 MW of geothermal energy from the Geysers field.
Such small projects add up, but vastly greater volumes of geothermal resources simmer at temperatures below 200 degrees. With potential capacity in many states of the Union, low-temperature geothermal technology might change the industry drastically. "As production capability goes down to 150-F or lower, it becomes a whole new ball game," says Gawell.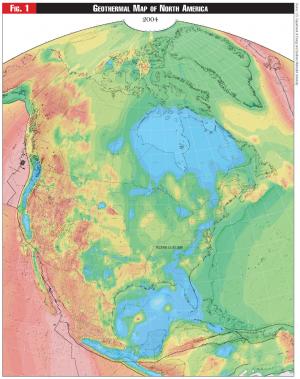 A low-temperature DOE-sponsored geothermal pilot project was installed in 2006 at Chena Hot Springs, near Fairbanks, Alaska, where a 280-kW PureCycle binary generator from UTC Power, of New Windsor, Conn., operates with water that's less than 165-F. Unlike many other U.S. low-temperature fields, the surface water in Alaska is very cold, providing a wide delta for heat exchange. "If you don't pay for the (hot) water, who cares what the efficiency is?" asks Bernie Karl, geothermal project developer and owner of the Chena Hot Springs Resort.
Other developers are spreading out to tap into low-temperature geothermal resources. Nevada Geothermal Power in September hired Ormat Technologies to supply a 49.5-MW geothermal power plant at Blue Mountain, with generation expected to start by December 2009. The power generated by the unit will be sold to Nevada Power Co. under a 20-year contract.
Similarly, Raser Technologies completed in November construction of a $33 million, 10-MW low-temperature geothermal project in Beaver County, Utah, and expects to deliver electricity under contract to the city of Anaheim, Calif., for $78 a MWh. Raser is using 50 modular 280-kW binary-cycle generators from UTC Power, a strategic partner in the project. Raser also has begun building a low-temperature geothermal project at Lightning Dock, near Animas, N.M., and has amassed land rights in several states.
Geo Gusher
Most new geothermal projects being developed today involve new drilling to delineate fields. But by using a hybrid production method involving associated water in existing oil wells, significant power could be generated relatively quickly with much less drilling—and at places never previously considered geothermal hot spots.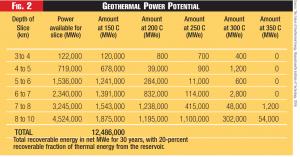 "Geothermal resources could yield several thousands of megawatts in untapped places like the Dakotas, Oklahoma and along the Gulf coast," says Karl Gawell, GEA executive director. For example, Ormat and DOE are developing an oil-well geothermal project at the Rocky Mountain Oil Test Center in Wyoming. The $1 million project involves hot water from an oil field at 190 degrees or more, and utilizes Ormat's Organic Rankine Cycle generator, with an expected output of 200 kW.
Some 8,000 oil wells with similar potential have been identified in Texas by Professor Richard Erdlac of the University of Texas and by DOE's Geothermal Research Project Office. Ormat is assessing the feasibility of some of these wells to support on-site power generation.
"There are 250,000 producing oil and gas wells in Texas alone, and these wells produce about 95 percent water and five percent oil," Karl says. "That could represent 10,000 MW." Karl's resort was the site of a DOE low-temperature geothermal demonstration project, and he's also developing an oil-well geothermal project with Quantum Oil & Gas in Jay, Fla. Beginning in early 2009, the project will start generating power from a single 280-kW module supplied by UTC, but Karl hopes it will grow to 20 MW as Quantum expands the Jay oil field.
Beyond resource locations where water naturally is present, another method of production involves enhanced geothermal system (EGS) technology, which involves pumping water into hot, dry rock to tap the energy potential. A landmark Massachusetts Institute of Technology study commissioned by the Department of Energy (DOE) concluded 100,000 MW of EGS capacity could be developed by 2050 in the United States, but the technology still is in development. "In 10 years EGS might come online, and the geothermal market could grow even faster," Gawell says.
Mapping the Magma
One prerequisite to any geo-thermal project is knowing the parameters of the heat reservoir. With geographically limited, decades-old and spotty mapping of U.S. geothermal resources, developers can find it difficult to locate the most promising spot to drill. "One of the biggest problems in the industry is a lack of basic resource assessment. I wish someone knew what the U.S. geothermal potential was at 150 degrees," says Gawell. "The DOE has done resource assessments for solar, wind and biomass, but it has almost refused to do geothermal because of statutory authority. The USGS used to do it, but now Interior has authority." The net result is insufficient data in many regions.
"If you look at the best geothermal resource map we have now, Kentucky looks cold; but that's because the number of data points we have in Kentucky is zero," Gawell laments.
Among utilities charting geothermal reserve potential is Pineville, La.-based Cleco Corp., which recently entered into a cooperative research and development agreement with the U.S. Army Engineer Research & Development Center to study the potential for geothermal energy in Louisiana. "We don't have an expectation for how much geothermal power we might be able to generate, or know yet how much we plan to spend to do it," says Robbyn Cooper, a Cleco spokesperson. "We're just being prudent in evaluating the resource." While Louisiana has no RPS mandates now, the project could prove to help fill any future requirements, she notes.
Once resources are mapped adequately, that information will be combined with data about accessible transmission capacity to identify the best potential sites for geothermal development. BLM already has conducted some of this work, but more progress is needed. Toward that end, the California Geothermal Energy Collaborative, supported by the California Energy Commission, is trying to pull disparate sources together to yield a new generation geothermal database map of California, which then could be used as a template for other states and regions.
"For a developer to get financing, he has to go to the backer and say, 'Here is the resource and this is its magnitude,'" he says. "Transmission line location also will be an integral part of it. We're hoping to have one region of California complete by 2009."
Such efforts are expected to support geothermal development by better quantifying its potential—particularly for utilities facing RPS requirements. Plus, investments in U.S. geothermal energy might become more popular among non-energy companies committed to a green profile. Google.org, for example, recently began investing an earmarked $10 million in EGS, including funding for Southern Methodist University's resource definition work and for a start-up drilling company.
"I think there will be more investment over the next couple of years, but who knows what the tipper will be," says David D. Blackwell, a professor at SMU's Huffington Department of Earth Sciences in Dallas, which has taken a lead in U.S. geothermal mapping. "It probably will be just having the knowledge that low-temperature geothermal works; that's why we've been trying to get information out on areas beyond the West."
The anticipated success of the first few commercial-scale, low-temperature geothermal projects over the coming months might send a seismic signal that geothermal power's potential is about to explode. "There's a renaissance going on in people's thinking about how to work with this geothermal resource," Gawell says. "Low-temperature, small turbines are shaking people up."