New Opportunities: El Paso Electric (EPE) selected David W. Stevens as CEO, succeeding J. Frank Bates, who served as interim president and CEO. Stevens was president and CEO of Cascade Natural Gas Corp. and Bates remains at EPE as president and COO.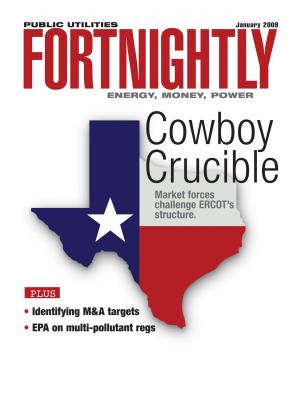 DPL Inc. promoted Frederick J. Boyle to senior vice president, CFO and treasurer of DPL and its principal subsidiary, The Dayton Power and Light Co. He replaces John J. Gillen who accepted a position with a private firm.
Great Plains Energy named Todd Kobayashi v.p., strategy and risk management.
Consumers Energy promoted Richard J. Ford to vice president of energy delivery, succeeding retired Paul N. Preketes.
Black Hills Corp. promoted Jeff Berzina to vice president of finance, prompted by the acquisition of Aquila.
Northeast Utilities named James A. Muntz president, transmission from senior v.p., transmission.
Dynegy named Charles C. Cook executive vice president, commercial and market analytics from senior v.p. strategic planning, corporate business development and treasurer. Mario E. Alonso is v.p., strategic planning and corporate business development from managing director, strategic planning and corporate business development.
Duke Energy announced eight leadership changes. Ellen T. Ruff is president, office of nuclear development from president of Duke Energy Carolinas. Sandra P. Myer is senior vice president of power delivery for U.S. franchised electric and gas (FE&G) from president, Duke Energy Ohio and Duke Energy Kentucky. Brett C. Carter is president of Duke Energy Carolinas from senior v.p. of customer service and business development. Julie S. Janson is president, Duke Energy Ohio and Duke Energy Kentucky from senior v.p. of ethics and compliance and corporate secretary. Gianna M. Manes is senior v.p., retail customer services, FE&G from senior v.p. of regulated portfolio optimization and fuels. Paul R. Newton is senior v.p., wholesale customers and regulated commodity management, FE&G from senior v.p., legal, FE&G. Catherine S. Stempien is senior v.p., legal FG&E from senior v.p., corporate legal services. Jeffery G. Browning is v.p. of audit services and chief ethics and compliance officer from v.p., audit services.
Constellation Energy named Kathleen W. Hyle COO of overall commercial business. She will lead the new management team from the announced merger with MidAmerican Energy Holdings Co. The announcement coincided with the resignations of Thomas V. Brooks, president of Constellation Energy Resources and executive vice president, Constellation Energy, and George E. Persky, senior v.p., Constellation Energy and chief commercial officer for Constellation Energy Resources.
Ameren named Mark E. Blair manager of insurance risk management and president of Ameren's captive insurance company, Energy Risk Assurance.
The American Wind Energy Association appointed Denise Bode as CEO, succeeding the retiring Randall S. Swisher.
The Electric Power Supply Association (EPSA) elected new officers. Bruce L. Levy, president of International Power America, Inc. is re-elected chairman. Clarence (Joe) Hopf, Jr., president of PSEG Energy Resources & Trade, is EPSA's first vice chairman. Jack A. Fusco, president and CEO of Calpine is EPSA's second vice chairman. Robert M. Edgell, executive vice president and COO of Mirant is EPSA's secretary. Zin Smati, president and CEO of GDF Suez Energy North America, will remain as treasurer.
Boards of Directors: Nicor Inc. elected Armando J. Olivera to its board. He is president and CEO of Florida Power & Light.
The Greater Missouri Leadership Foundation elected Carole M. Hunt to its board. She is assistant treasurer and manager of business services at Ameren Corp.
We welcome submissions to People, especially those accompanied by a high-resolution color photograph. E-mail to: people@pur.com.