New Opportunities: AGL Resources created a new office of technology and environmental sustainability, to be headed by Ira Pearl as v.p. He was v.p., engineering services and supply chain. Jay Sutton is promoted to v.p., engineering and supply chain services from v.p. and general manager at AGL's Florida City Gas and coastal Georgia subsidiaries. Melvin Williams is promoted to general manager, Florida City Gas and coastal Georgia from assistant general manager, coastal region.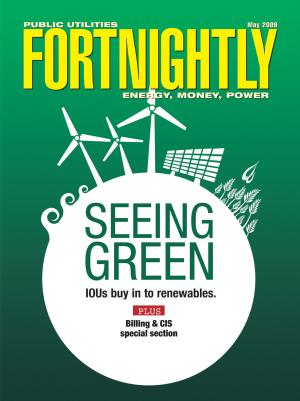 Arizona Public Service named Mark A. Schiavoni as senior v.p. of fossil operations. He was v.p. of Exelon Generation and president of Exelon Power. He succeeds the retiring John Denman.
Exelon named Doyle N. Beneby as senior v.p., Exelon Power and senior v.p., Exelon Generation. He was v.p., operations for Exelon Power and succeeds Mark A. Schiavoni.
Fluor appointed Davee Dunning its new group president of power. He was senior v.p. of sales, marketing and strategic planning for Fluor's global power business.
PPL named James E. Schinski as v.p., chief information officer. He was CIO and v.p. of human resources at Midwest Independent Transmission System Operator.
Dynegy named Carolyn J. Stone as senior v.p. and treasurer, from senior v.p. and controller. She replaces Charles C. Cook, who earlier was named executive v.p., commercial and market analytics. Tracy A. McLauchlin is promoted to senior v.p. and controller from managing director and assistant controller.
Areva opened an office in Idaho Falls for subsidiary, Areva Enrichment Services, and appointed three executives to oversee construction of the Eagle Rock enrichment plant. Robert Poyser was named v.p. of Idaho Falls operations and was Areva v.p. of environmental affairs and sustainable development. George Harper was named v.p. of engineering and was Eagle Rock technical director. Michael French, former Congressional staffer, was named senior policy advisor.
ITC Holdings announced Terry S. Harvill joined the company as v.p. of energy policy, a newly-created position. He was v.p. of energy policy for Constellation Resources.
Entergy named T. Michael Twomey its v.p. of utility strategy. He was v.p. of regulatory affairs for Entergy Louisiana and Entergy Gulf States Louisiana.
Peabody Energy named Delbert Lee "D.L." Lobb as senior v.p. of Mongolian operations. He was president and CEO of Westmoreland Coal.
The law firm Curtis, Mallet-Prevost, Colt & Mosle announced the addition of Roger D. Stark as a partner in its Washington, D.C. office. Stark was a partner with K&L Gates.
Navigant Consulting announced Ralph Torrie is named managing director in the emerging technologies and energy efficiency team.
Boards of Directors: Calpine named Robert A. Mosbacher, Jr. to its board. He was president and CEO of the Overseas Private Investment Corp. (OPIC).
Peabody Energy elected M. Frances Keeth to its board. She was executive v.p. of Royal Dutch Shell and CEO and president of Shell Chemicals.
Exelon appointed Admiral Richard W. Mies to its board. Mies is president and CEO of The Mies Group.
NRG Energy appointed Pastor Kirbyjon H. Caldwell, a former director of Reliant Energy, to its board.
Northwestern Energy announced that Dana J. Dykhouse, president and CEO of First PREMIER Bank joined its board as its independent South Dakota representative.
We welcome submissions to People, especially those accompanied by a high-resolution color photograph. E-mail to: people@pur.com.