Deck:
Renewables attract utility investment dollars.
One year ago, Fortnightly's May 2008 Frontlines column criticized structural barriers preventing utilities from leading the green energy revolution: "Since the 1980s, many utility companies have viewed renewable energy as [a] bitter pill shoved down their throats by do-gooder politicians… While power purchase agreements can transfer some benefits as a function of prices, the production tax credit's structure has sent utilities a clear message: They shouldn't profit from the green energy revolution."
Since then, a wave of policy changes has washed over those barriers and reduced them to rubble.
First, the Internal Revenue Service in July 2008 revised the rule that barred utilities from claiming the production tax credit (PTC) (see IRS Notice 2008-60). As a result, load-serving entities that sell power generated by their own renewable plants now can qualify for the PTC. Second, the Emergency Economic Stabilization Act, the bill that funded the Troubled Asset Relief Program (TARP), expanded both the PTC and renewable investment tax credits (ITC) to include load-serving utilities, and extended the ITC for solar-power investments for eight years, through the end of 2016.
Third, the American Recovery and Reinvestment Act, popularly known as the federal stimulus package, further sweetened the pot for renewable investments. The stimulus package included:
• A three-year extension to the renewable energy PTC;
• An option for asset owners to claim a 30-percent investment tax credit (ITC) in lieu of the PTC;
• A temporary option to convert the ITC into a federal grant; and
• A new DOE loan-guarantee program for investments in renewable power and other green-energy projects.
These policy changes and incentives have spurred some utility companies to consider investing in renewable assets for the first time—and encouraged others to invest in a bigger way than they had previously. "With the recent changes, utilities now have the same type of incentives from a tax standpoint as do third parties," says Roy Kuga, a vice president with PG&E. "So you're seeing a greater amount of activity from investor-owned utilities."
Indeed, news wires recently are filled with announcements of major renewable power projects—many of them sponsored by utilities and utility holding companies. At press time, SDG&E affiliate Sempra Generation announced plans to add 48 MW of photovoltaic (PV) modules to the 10 MW already installed at a site near Boulder City, Nev. In Florida, FPL said it would install 75 MW of PV modules at Babcock Ranch, a "solar-powered city" planned for development near Fort Myers. And in Oklahoma, OG&E began building a $200 million transmission line to bring power from the state's windy panhandle to Oklahoma City. (OG&E also said it would spend $3.75 million to provide habitat for prairie chickens affected by plans to add between 600 and 700 MW of new wind turbines in the state.)
In short, renewable energy is booming in America. But for utilities, the story isn't that simple.
Renewable Rate Base
State regulatory treatment for utility investments varies widely, and it's a moving target.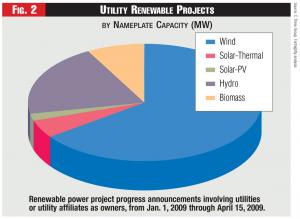 FPL, for example, put three solar energy plants totaling 110 MW into its rate base after the legislature passed a bill specifically giving the company full cost recovery for that amount of solar capacity. But if pending legislation becomes law, the state's utilities wouldn't need such special treatment to rate-base their renewable investments. Two committees in the Florida senate recently approved a bill (SB 1154) that would create a clean energy standard—promoting not only renewables but also nuclear and coal plants that sequester carbon dioxide emissions. The bill also would direct the PSC to provide rate recovery on the same terms as environmental compliance costs for up to 110 MW of new renewable investments—such as FPL's announced 75-MW PV installation at Babcock Ranch.
In other states, unbundling policies prevent utilities from investing significantly in renewable assets. In New York, for example, some investor-owned utilities may own certain micro-scale renewable generators, but in most cases utilities that own transmission and distribution (T&D) assets in New York can't own significant generating assets in the same market. This provision emerged as a significant factor affecting Iberdrola's acquisition of Energy East, because Iberdrola Renewables wants to develop major wind generation projects in New York. Some utilities now find this situation unacceptable, and are lobbying the state government to include exceptions in New York's new state energy plan that would allow T&D utilities to develop renewable power assets.
"Public policy makers must realize that New York's investor-owned utilities possess the singular ability to both construct renewable-source generation and equitably spread the expense of these large projects into the future," stated a Central Hudson Gas & Electric position paper. "Utilities have existing facilities, rights-of-way, and relationships within their long-established, regulated service territories. New York's electric utilities, when provided the opportunity to earn a reasonable rate of return, offer the answer through their ability to plan, finance and construct these projects to benefit their customers."
As the U.S. electric power industry turns its attention toward renewable energy, utility companies are reassessing their roles. To better understand how utilities are approaching the opportunities and challenges, Fortnightly spoke with five executives who are advancing their companies' renewable investment strategies: Andrew Dickson, vice president of wind energy at Duke Energy Generation Services; Owen Smith, managing director of regulated renewable energy and carbon strategy at Duke Energy; Jesse Langston, vice president of utility commercial operations for Oklahoma Gas & Electric; Roy Kuga, vice president of energy supply with Pacific Gas & Electric; and Mark Stoering, Xcel Energy's vice president of portfolio strategy and business development.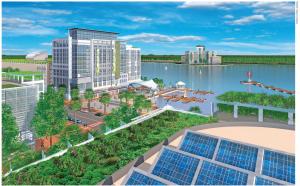 Fortnightly: What's the status of investments in renewable power facilities at your company? What investments have you made recently, and what investments are planned?
Smith, Duke: We're pursuing a lot of things, but we haven't built a lot of our own renewable assets, apart from hydro. Renewable standards are very new in the five states in which we operate. North Carolina passed an RPS in 2007 with the first requirements taking effect in 2010, and Ohio enacted an RPS in 2008 with the first requirements in 2009. In both cases the programs are brand new. We have efforts underway, but we're in a different place than states that have had an RPS in place previously. We're trying to position ourselves to make investments.
On the regulated side, Duke is focused on ensuring we're compliant with renewable energy requirements that we face now or that we anticipate going forward, at the state and federal level. We're doing a variety of things to meet those standards, including entering power purchase agreements (PPA) with third-party generators. We're developing a program to purchase renewable energy credits (REC) from other companies. And also we are pursuing investments the utility would make to directly own and operate renewable energy projects.
We're more inclined to own and operate certain forms of renewables than others. We're particularly interested in solar and wind projects, and we're interested in continuing our investment in hydro projects as well. Within the biomass space, we think co-firing biomass at our base-load fossil stations appears to be highly cost effective, as opposed to building a brand-new biomass-fired facility. We're doing testing and analysis, and getting a handle on the biomass fuel-supply market.
With respect to wind, our most promising areas are in the Midwest as opposed to the Carolinas. We've entered into a PPA with the Benton County wind farm in Indiana. In Ohio, the PUC hasn't established the RPS rules yet, so we're at a bit of a standstill. We're not able to do a whole lot without clarity on the rules.
Building wind facilities is an option we're considering. It's something we'll look at very closely.
Regarding solar energy, we signed a PPA with SunEdison for a 16-MW solar project in Davidson County, North Carolina. That will be one of the largest solar PV facilities in the nation. Also we filed for approvals to build a total of 10 MW of distributed solar generation, in the form of several hundred installations. We've gotten approvals from the North Carolina Utilities Commission, but they include problematic conditions. The stumbling block involves normalization of federal ITCs. Rather than passing tax credit benefits to customers all at once, you have to pass it on ratably through the economic life of the project. So if you have a 30-percent tax credit for a project with a 30-year life span, you account for a 1-percent credit each year. That makes utility-owned projects with federal tax credits less cost-effective than they are for a non-utility entity, where the owner can benefit from the tax credit immediately. Normalization has pushed our costs higher than the commission felt comfortable with, and as a result they've limited our ability to recover costs to the point where we can't execute the program.
Dickson, Duke: I'm in the non-regulated part of the company, the core part of Duke that has invested in renewables. Duke has been pretty active in the last two years entering the renewable energy space, making investments primarily in wind power. In May 2007, Duke acquired the wind-development business of Tiara Energy, based in Austin, Texas, which had about 1,000 MW of wind assets in development throughout the United States. We had three or four projects ready to enter construction, and Duke has successfully put 240 MW of wind assets into the ground in the past 18 months.
The next large investment Duke made was acquiring Catamount Energy, a pure-play wind development shop in Rutland, Vt. Catamount brought additional development expertise and also a nice portfolio of assets and an interest in a large operating wind farm, the 283-MW plant in Sweetwater, Texas, one of the largest wind farms in the United States. Today, Duke has about 500 MW of operating wind capacity and the program is still growing. Construction projects that are now ready to kick off will be commercial by the end of 2009. We'll have 600 MW in the ground by the end of the year, and our stated goal is to add 200 to 300 MW per year on average. We're commercializing our development pipeline.
Langston, OG&E: Of course Oklahoma is very windy, and we have a lot of wind potential. Nationally we might be the second-largest generator of wind power by 2030. We could produce 8 to 9 percent of the nation's energy needs. So Oklahoma and OG&E are looking at wind potential and being as proactive as possible.
We're focused on the underlying need for transmission infrastructure to make wind energy viable. Before we filed our renewable plan, there were a lot of developers standing around saying they want to build wind power. We said, 'We want that too, but there's no transmission.' We were stuck. Which comes first? OG&E had to take a leadership position to build enough transmission capacity for the amount of wind power we need. We worked with the PUC to get approvals for a 120-mile, 345-kV transmission line from Oklahoma City to Woodward. The windiest part of our system is in the panhandle of Oklahoma, so we built transmission lines to access those resources.
Since we started construction on that line, OG&E announced the intention to build or contract an additional 600 or 700 MW of wind energy. We've seen the number of wind developers quadruple, and requests for interconnection have increased sixfold. Today we have 170 MW of wind power on our system. 50 MW of it comes from a PPA with FPL.
Like other utilities, we were learning about wind and how it will impact the reliability of our system. Since then we went out and acquired and completed construction of the 120-MW Centennial wind farm. At the same time, we opened wind up to retail customers and gave them an opportunity to get involved. Before the Centennial project was built, we sold out the maximum amount of wind we had available and had more than 3,000 customers on a waiting list. Our customers were telling us they were attracted to wind, they liked the idea of being energy independent, and OG&E was the one to go out and get it.
We broke ground on a new 101 MW wind farm in April. It's called the OU Spirit wind farm, and the University of Oklahoma contracted to purchase its output. As part of a plan to add another 700 MW, I characterize them as our anchor tenant. They're the first ones in, and they set the stage for us to move forward. The university has committed to be 100-percent renewable by 2013, and we're working with them to make that happen.
Also, we issued an RFP for 300 MW in December and we got a healthy number of bids. When we finish this cycle, we'll immediately issue another RFP for 300 MW.
As we developed our renewable energy plan, we saw three things. First, transmission lines and wind generation provide a hedge against gas prices. Gas prices last year hit nearly $13, and that demonstrates the volatility of gas prices we'll continue to see going forward. Our customers already have benefited from the price hedge of wind power.
Second, with more wind we're positioning ourselves for potential RPS and carbon legislation. We're in the mindset of being leaders in this area, with the stated goal of not building any more fossil plants until 2020. The more you put renewables on your system, the more you protect your customers from CO2 regulation. That may be uncertain, but a national RPS is almost a certainty, and there's nothing wrong with being an early mover. It's the right thing to do.
Third, we realized it's important to get our customers involved, and to let them help us. So when we got our new transmission line approved last year to bring wind to Oklahoma City, we asked the commission to approve new retail tariffs for customer participation. They can be up to 100-percent renewable, or 75- or 50-percent renewable. This is our way of allowing customers to continue participating in wind-development efforts.
The first transmission-line jump started all this, and now working with the Southwest Power Pool we formed a joint venture, the Tall Grass partnership, with AEP and MidAmerican Energy, to build a $500 million, 765-kV line from the Oklahoma panhandle to the Kansas border. AEP brings significant knowledge of high-voltage construction, MidAmerican brings financial strength, and OG&E brings the rights of way and project experience. We expect to move forward with these plans and be done by 2013.
Kuga, PG&E: Over our 100-year history, we've been a pioneer in hydro, both large and small, as well as geothermal. Currently we don't own any geothermal but we've developed an extensive system of geothermal projects. At one time it was well over 1,000 MW. That's now owned by third parties, but we still own a substantial amount of hydro capacity.
Despite that 100-year history, like many utilities we're just beginning to get into the ownership spectrum of [today's] renewable energy business. Our focus has been two-pronged. First, we've made contractual commitments to have more than 20 percent of our future delivered electricity come from renewables. Currently about 13 percent of our actual deliveries are from renewables. That's based on the California definition, which includes hydro plants smaller than 30 MW. A large additional portion of our electricity also comes from non-emitting large hydro and nuclear power.
Our strategy is to focus our investments on proven technologies. We're looking at wind power, as well as concentrating solar power and other proven technologies. We continue to look at small hydro upgrades, where it's feasible and environmentally appropriate. Also, we've filed with FERC to begin feasibility studies to build additional pumped storage on our system, which greatly helps to facilitate integrating renewables into the grid.
The second part of our focus has been on customer-owned facilities, mostly PV. We have about 29,000 customer-owned facilities representing about 290 MW. This comes from a combination of programs we have in conjunction state and federal programs that provide rebate opportunities for customers to make those investments.
Stoering, Xcel: Like most utilities Xcel predominately has contracted for renewables from third parties. Ñow we have almost 3,700 MW of wind in our portfolio. We are a national leader in wind power, and also a leader in solar and other renewable technologies. We see our renewable portfolio probably doubling and then some.
Our most significant wind facility entered commercial operation in December 2008, the 100-MW Grand Meadow wind farm in south-central Minnesota. We announced plans for two additional significant projects—the 200-MW Nobles wind farm in southwestern Minnesota, and the 150-MW Merricourt project in North Dakota. Those projects will become operational in 2010 and 2011 respectively.
We've built a nice pipeline of owned resources to complement our contracted resources, and we've done it in a disciplined way, which over time we've learned is valuable.
We also have a few other renewable projects sprinkled throughout our territories. We have a refuse-derived fuel plant in Minnesota, and we announced a project to convert a facility in Wisconsin to burn biomass. That will be one of the biggest biomass projects in the country if we gain approval.
Our planning horizon looks out to 2020, which is when most of the RPS requirements sunset in their current form. We look to add 7,000 to 9,000 MW of renewables to hit those standards, and we want balance through all of that.
Fortnightly: As a general matter, would your company prefer to own renewable generating capacity or contract to buy power from third-party owners?
Kuga, PG&E: With the change last year in federal law, as well as the economic stimulus, utilities now have the same type of incentives from a tax standpoint as third parties do. So you're seeing a greater amount of utility activity from investor-owned utilities. We're no different. We recently proposed a program to add 250 MW of utility-owned PV on our system, 50 MW a year over a five-year period. That request is pending before the California PUC. What's unique about this is we have a companion program where another 250 MW is available to third parties under PPA at the utility's price, which will be updated for future contracts as PV prices change. The expectation is that PV prices will decline, and we'll reflect that [in future PPA prices].
Dickson, Duke Gen: As a utility company and a long-term operator of assets, Duke always takes the ownership view toward energy infrastructure. There are a lot of small IPPs and development firms in the wind industry. They've been set up and capitalized to a certain point, but they can't take a lot of projects forward at once. They tend to follow the develop-and-flip model. But Duke has an own-and-operate view on the world, and the expertise to manage the assets.
On the non-regulated side, we're planning to build a large portfolio of wind.
Smith, Duke: We have an interest in being a direct owner-operator in solar, wind, hydro and biomass projects. So far our inclination is to sign PPAs with companies that own other types of technologies, such as projects burning swine waste and poultry waste in North Carolina. Those things stray pretty far from the sorts of things we want to be directly involved with.
We like to make capital investments that we can put into our rate base, and generally the types of assets we operate are highly capital intensive with as little O&M as we can manage. Solar and wind fit that description. They fit our business model, and so does hydro. Biomass co-firing is very similar to what we do today, using the same heavy fleet that we now operate, just with a different fuel source. It fits nicely.
Langston, OG&E: I haven't thoroughly reviewed the bids that have come in, but so far we see the benefits of ownership as being better for our customers than buying wind energy through a PPA. Once you own those assets, they're yours for life and the customer can continue to benefit from them. We're about 5 years into a 15-year PPA now, and in 10 years we can anticipate a change in that contract. If it were in the rate base the customer would enjoy the benefits for the life of the product.
We need a mix to optimize the portfolio, and we will select based on the value of options in competitive bidding.
Stoering, Xcel: We seek to balance contracted resources with owned resources. We have such a big appetite that we can't afford to either contract it all or own it all. We want a nice balance. The contracted resources will be a combination of traditional IPPs and community-based energy developments. We're ready to partner with others to build projects.
Fortnightly: How have recent changes in federal law affected your renewable investment plans? Have tax credits, depreciation allowances and other financial incentives changed the economics?
Smith, Duke: The stimulus package makes renewable projects more possible. Obviously it helped late last year when the federal ITC became available to utilities. That certainly helped our solar effort. Also it gives third parties with whom we'd sign PPAs more tools to get their projects financed and delivering renewable power.
We're certainly going after stimulus funds for some projects, where it means we might have a better chance of getting approvals from regulators or where otherwise we might run into hurdles, in terms of cost or timeliness. The stimulus might streamline some of that for us—in terms of motivation from the various state-level decision makers to see investments in renewable energy that aren't necessarily driven entirely by the existing RPS.
There's a lot more money to be spent on renewable energy and energy efficiency, and it needs to get deployed at the state and local levels. You may see some things happen that go above and beyond the near-term requirements for RPS.
Dickson, Duke Gen: The three-year PTC extension provides a longer planning horizon. Previous extensions of one or maybe two years made planning and construction difficult. It meant we had to rush to get something into construction by the end of the year, and that's not efficient. But a three-year extension does help us plan and design our business more efficiently.
The ITC is very interesting. It's a good incentive, and we're evaluating that on several projects. The trade-off between capital costs and capacity factor can make the ITC more attractive than the PTC in certain instances. It will bring some new projects to market that might not move forward otherwise.
The whole industry is evaluating the stimulus grants and loan guarantees. The cash-grant option in lieu of ITC will be beneficial for certain developers to get projects financed in certain situations, but I don't know whether we'd do that.
Langston, OG&E: I have to tell you, it doesn't change our strategy. When you compare the ITC vs. the PTC, the ITC has a finite amount of benefit based on the investment, versus the PTC, which is based on the quality of wind output. The PTC seems more favorable for us because of the quality of production we can get from wind farms in Oklahoma.
We made our decision some time ago to move toward renewables, but the incentives are good for the wind industry. OG&E supports those things and we were very glad to see the PTC extended for three years. Frankly we think it should have been a longer extension. It has to be sustainable so people can plan. These things cost a lot of money, and there needs to be certainty.
Kuga, PG&E: The 2008 legislation extending availability of tax credits to utility applications has been great. It effectively allows utilities to get into the business on equal footing with private developers. I think that's been the main driver for many projects that were stalled. The financial crisis has slowed down progress, but the stimulus plan and tax grants are aimed at helping the industry move forward. As more people get comfortable with the technologies, the more production capacity will increase and bring economies of scale. From our standpoint, if the entire industry moves forward it will bring overall costs down and everyone will benefit—including our customers and the nation.
When you look at the size of the market and the scale of projects that are being considered, there's more demand than supply at this point. So we need multiple players in the market, whether third parties, utilities or customers who own their own facilities. The future portfolio will include all these ownership structures. That's what it's going to take to achieve the goals the policy makers have set.
Stoering, Xcel: The policy changes certainly help project economics and ultimately benefit our customers. But it hasn't changed our plans much. We've got an ambitious state RPS, proximity to great renewable resources, and we've built a system to access those resources. Gas is on the margin in our market, and that allows us to take advantage of renewable resources.
We see solar energy as an emerging priority. At Public Service Company of Colorado, we have RFPs outstanding that target solar specifically, with carve-outs for PV or concentrated solar with potentially some type of thermal storage. Bids were due April 10 and we're excited to see how those bids do in this environment.
Fortnightly: How has the credit crunch affected your outlook for financing renewable power projects?
Kuga, PG&E: In spite of the financial crisis, projects that are far along in the permitting and development process are able to secure financing and get built. In the last four months, four projects for which we signed PPAs became operational and started delivering power to our system. So there hasn't been an absolute shut-out of projects.
With respect to PG&E, the tight credit market has affected everyone. We've been able to access financing with some tightness. Recently we've seen some loosening of the credit markets, although it's nowhere near where we'd like to have it. We don't see the financial situation as an impediment to moving forward, and our access to credit markets should continue.
Stoering, Xcel: Nobody is immune. Capital formation is restrictive and expensive. In the tax-equity investment market, investors are scarce. But there is relief in sight for a few projects. The Treasury Department's grant program and the DOE loan-guarantee program both allow more attractive financing, so projects don't have to rely as much on tax-equity investors. We're waiting to see how they work.
Smith, Duke: Our capital position is sound and we have funds available that we can use to make direct investments in renewable energy. Also we still have the tax appetite at the federal and state levels to take advantage of the tax credits.
Dickson, Duke Gen: It's changed our business slightly, maybe less so than other pure-play wind development companies who rely on project finance and tax equity. Duke is uniquely positioned with a strong balance sheet, investment-grade credit ratings and a large tax appetite. We're in a good position to utilize the non-cash aspects of these assets. We've been impacted less than pure-play independent development companies. We've had to focus harder on project particulars, financeability aspects. It involves belt-tightening around the business to make sure we're doing things in an efficient manner.
To date we've been financing projects on the balance sheet, and that gives us the opportunity to go to market when the time is right, when conditions are right, for a portfolio of assets. That gives us an advantage over others. We can sit and wait until conditions improve without significantly impacting growth in our business.
Langston, OG&E: We're fortunate to have access to public-market equity and debt to finance our projects. We don't anticipate that project financing will be a problem for us either. The recent financial turmoil has restricted the traditional tax equity for developers, but we've also seen a few of those projects start to happen. That's good. It helps our whole industry.
The market impacts the availability of financing for everybody in the short term, but we believe the industry will be solid in the long term. The federal loan guarantees in the stimulus package might open up some additional opportunities for us as well as others. But it underscores how important it is for us to get the regulatory support we need to maintain our credit rating, so we can obtain the financing necessary to continue moving forward with our strategy. Without that, it will be difficult to pull off our objective of adding no fossil generation by 2020. Given our favorable regulatory climate, we'll be in a good position.
Fortnightly: How would a federal RPS affect your company's investment plans?
Langston, OG&E: We don't support mandates. Mandates happened in the cogeneration era and too often they result in not everyone being able to play, such as cooperatives, and it inflates market prices to levels that aren't appropriate. The RPS isn't needed.
We aren't naïve. We recognize this is a national issue, but if you ask me what we need, it's not an RPS. It's more transmission. You can ask people to build more wind farms, but if you have no infrastructure to deliver it, then wind is a non-starter.
If a national RPS creates a standard that's too high or takes effect too quickly to get infrastructure in place to deliver it, that would harm customers. But if it's gradual and reasonable, and it's synched up with construction of transmission, that's a good thing for the long-term. A nationwide RPS puts everybody on a level playing field and puts Oklahoma in the position of being a wind energy exporter. We can't consume all the wind energy that will be created in Oklahoma.
Stoering, Xcel: It won't affect us much, because all eight states we serve have an RPS or some kind of renewable energy objective. All of those states probably exceed any federal standard that would emerge. But if a market for RECs emerges, that might be an opportunity for us if we're ahead of the state standard and we have excess credits.
We support a federal RPS as long as it's crafted properly not to disadvantage utilities with less proximity to renewable resources. If it includes basic fairness, we support it.
Smith, Duke: The way the legislation gets structured will tell us a lot about exactly what we'll do. It's safe to say that given the different bills we've seen circulated, the level of investment in renewable energy will increase if any of them take shape. We'll pursue PPAs and we'll look to invest more as well. And the cost effectiveness of RECs in general will guide what we decide to do. So far, there definitely are RECs available in other parts of the country, but not in the five states where we operate. If you look to the Texas market, for example, very low cost RECs are available. If they could be used to meet a national RPS, we'd look to use that for at least part of our compliance strategy.
Kuga, PG&E: California was an early adopter of some very aggressive RPS policies in the 2002 and 2003 time frame, and the state continues to look at additional aggressive goals. From a national standpoint, having an overall policy will help stimulate the market. It will stimulate innovation. We expect it will increase production and generate scale economies. We recognize a national RPS is part of the solution to climate change.
To the extent we can reap the benefits of innovation and production-cost reductions, that will be great, as will be an overlay of tradable credits, for renewables or CO2 emissions.
Dickson, Duke Gen: We welcome the national RPS. It's a catalyst for growth. State RPS programs have been a key driver in the growth of wind and the renewable energy industry at large. We expect a national-level RPS would accelerate that growth and open new states for renewables that might not be traditionally hot markets.
Fortnightly: What changes would you like to see, to make policies more effective at supporting renewable energy development?
Stoering, Xcel: There's been some debate about a renewable-integration credit, where companies can derive benefits from the costs incurred to integrate renewable generation. Something along those lines could foster renewable development.
We'd like to see anything that will support capital formation. That's a significant roadblock to renewable energy development today. Anything with policy consistency over the long term can help, but short-term cycles in policy, like what we've seen with the PTC, creates boom-bust cycles. When you have policies like that, it does affect project development, as well as supply chains.
Smith, Duke: We'd like to have the IRS Section 48 tax-credit normalization rules modified, so there's some kind of exemption for renewable energy projects. This is particularly important in the near term, to make the playing field more level between utilities and non-utilities. It certainly was helpful to get the ITC opened to utilities, but because we can't pass on the tax benefits all at once the playing field still isn't level. It would require a change in the federal tax code, or it would require the commission to allow us to recover all of our costs. That's the angle we pursued, but if they don't agree another option is to seek a change in the federal tax code, potentially just a short-term change.
With regard to a federal RPS, there's some concern that you'll have a wealth transfer from certain states to other states. We'd like to see some mechanism for ensuring reinvestment of dollars in the states where those dollars come from—maybe an alternative compliance payment.
Dickson, Duke Gen: If the national RPS is designed in the right way, there should be a seamless transition between the expiration of the PTC and the ramp up of energy purchase obligations under a national RPS. That would keep the industry pretty consistent. Depending on how the program is designed, the industry is looking less at tax incentives and more at the RPS as a long-term growth driver.
The number one issue for every wind company right now is transmission—planning and permitting transmission projects. If we're going to get 20 percent of our electricity from wind, we'll need large-scale improvements in the nation's transmission infrastructure. We need carefully orchestrated, streamlined transmission siting and planning.
Langston, OG&E: The current transmission logjam is caused by an inadequate cost-allocation methodology. The existing process just isn't adequate to distribute the cost, and every RTO is different. The Southwest Power Pool (SPP) is different from the Midwest ISO, California and PJM. National policy needs to recognize that. Working through RTOs to set policies is the best way to go, as opposed to federal preemption. I'd hope our federal policy makers would tailor cost-allocations across regions and create a mechanism for regions to work together to solve seams issues.
In the SPP, we believe a postage-stamp rate makes a lot of sense. The SPP would do its job, looking regionally at what transmission needs to be constructed and how to spread the costs and benefits across all customers. If you're a member of SPP you pay those costs. That way no single state or owner bears all the costs.
Kuga, PG&E: We need to start seeing the actual implementation of policies before we can make an assessment. A lot of new policies have been adopted, and we need to give them time to play out.