Deck:
The capital markets have recovered … or have they?
One year ago, pundits were talking about financial Armageddon as a real possibility. Nobody seemed to know exactly what "Armageddon" meant, and that's partly what made it so frightening. The scenarios seemed almost unimaginable: What happens when the financial markets freeze up? What happens when banks stop lending money to their customers—or even to each other? What happens when stock prices plunge by one-third and every day brings news of another massive bankruptcy, from Lehman Brothers to General Motors?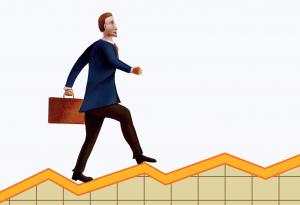 Well, now we know what happens.
In short, life goes on. Yes, the new normal is less exuberant than the old one, but at least it's not the real-life horror show we faced in late 2008. Banks are lending again and investors are buying corporate securities. A series of federal bailouts and stimulus measures have put America's banks and auto manufacturers on life support. And while the economy remains in awful shape, the decline has slowed and overall confidence has returned to the global economy.
Last year, Fortnightly's October issue predicted that utilities would lead the way out of the financial crisis, and to some degree that's exactly what they've done. Although many utilities delayed their capital-spending programs to protect their cash positions, the industry as a whole continued accessing capital markets through all but the worst days of the meltdown. "In late 2008, nobody wanted to buy the bonds of any other sector," says Eric Peiffer, a managing director with KeyBanc Capital Markets. Since that time, lending premiums have fallen dramatically, back to levels not seen for two years, since before the recession began.
That doesn't mean, however, that it's business as usual on Wall Street. Financial executives seem cautiously optimistic about the economy, but in recent conversations with Fortnightly they expressed significant doubts about the pace and strength of the recovery. To the degree a weak economy destroys industrial demand and strains consumers' pocket books, utilities will encounter greater difficulty when seeking the rate treatment necessary to support their ambitious capital spending plans.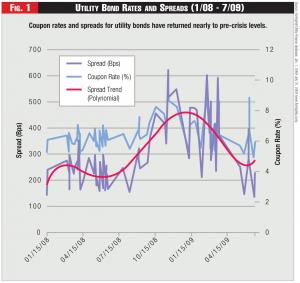 To better understand the view from the capital markets, Fortnightly interviewed five banking executives, including: Eric Peiffer, managing director, KeyBanc Capital Markets; Andy Redinger, KeyBanc managing director and energy group segment leader; David Nastro, managing director and head of the global power and utility group at Morgan Stanley's investment banking division; Raymond S. Wood, managing director and co-head of the alternative energy group at Credit Suisse; and George Bilicic, chairman of the power, utilities and infrastructure sector at Lazard.
Spectacular Tightening
Fortnightly: What's the current status of capital market access for utilities, both in terms of debt and equity? Where are we going, after what's happened in the past year?
Peiffer, Keybanc: The capital markets improved materially by March 2009. The state of the markets today is such that just about any investment-grade issuer can access the market, and the demand for utility paper has never been stronger. It's not unusual to see $2 billion worth of investor demand for a $500 million issue. Issues by single-A rated utilities are trading in the secondary market at 110-basis points over the 10-year Treasury. The last time spreads were that low was September 2007. Spreads went up to about 340-basis points in November 2008, and since then they have tightened markedly. Bonds from triple-B rated utilities, which comprise a greater portion of the universe, are trading at 200-basis points over the 10-year Treasury, and back in November 2008 they were as high as 440-basis points over Treasuries. So we've seen spreads tightening for the market in general, and for utilities in particular we've seen a spectacular tightening in spreads.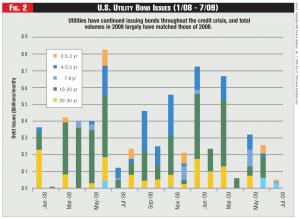 At the same time Treasury rates are at all-time lows. These low rates, combined with lower spreads than we had even a few months ago, have made for an attractive market for companies seeking capital by issuing bonds. We're in a sweet spot right now.
Early in the year, utilities were hesitant to move forward with capital-expense plans, in part because of the recession, and in part because of uncertainty about the direction in federal energy policy. Now that the industry has become more comfortable with what's going on in Washington, they're going to market to finance their future cap-ex needs. The total volume of utility debt issues from January through October 2008 was about $35.9 billion, and so far in 2009 the volume has reached $31.3 billion. It was slow early in the year, but I'm guessing by October we'll catch up.
Nastro, Morgan Stanley: The buy side's view of the broader economy continues driving valuations and access to capital for companies in the utility industry. If it's a short, shallow recession, which we'll come out of more quickly, then the hybrid names—with more non-regulated market exposure—likely will outperform the rest of the industry. But if the economy takes a step back, and we have a longer, deeper recession, then the regulated names will be the beneficiaries.
In terms of the broader equity markets, second-quarter earnings reports were more positive than many analysts anticipated. About 75 percent of the S&P 500 beat earnings estimates—but only 40 percent of these companies beat revenue estimates. This raises questions: How sustainable will these ongoing earnings be? Are cost-cutting measures eating into companies' expectations? People are questioning the timing of the recovery and economic fundamentals going into 2010. Cost cutting alone won't get us there.
At the same time, investors want to deploy the capital that has been sitting on the sidelines. As economic fundamentals continue to improve, we still see high cash positions among major investor groups, and this cash could come off the sidelines to further support a rally. New issues are the beneficiaries of that cash being put to work. However, we believe this is largely a technical rally, with five months of consecutive mutual fund inflows happening after 10 months of consecutive outflows.
Whether regulated or hybrid, at this point valuations are largely on top of each other when you look at forward price-earnings multiples. The market isn't differentiating companies in the sector now based on their business models, and that speaks to the uncertainty in the economic backdrop. People don't know how long this recession will last, and therefore they're reticent to make long-term bets on either the regulated or hybrid names.
Bilicic, Lazard: If you're an investment-grade credit in this industry, you should have good access to the capital markets over time, although companies need to be prepared for intermittent events that impede access to capital markets. If you're a non-investment grade credit, it's much more important to prepare for capital-markets intermittency.
The bank market is more challenging than accessing the capital markets; terms and pricing are difficult. Also, because there are fewer active lending institutions, they have a much more significant influence on terms than in the past. Renewal risk is a concern in the commercial banking market over the next few years.
Wood, Credit Suisse: All the financing markets have recovered dramatically, after being shut for all intents and purposes in the 4th quarter of 2008. The bank market has adjusted to the departure of Lehman and a few European institutions. It's a much healthier market than it was 10 or 12 months ago. While spreads have widened and tenors have declined, utility bank syndications are progressing.
In terms of utility equity issuance, activity is down as utilities have deferred capital investments and managed their cash flow profile.
Fortnightly: Should we expect a wave of new equity issues from utilities to begin now?
Nastro: As it relates to new equity issues, two themes are emerging. One is based on the glass half-empty viewpoint. The industry needs to finance significant ongoing capital expenditures, costs of capital are increasing and, given the economic uncertainty, companies face a challenging regulatory environment. The glass half-full viewpoint sees that utilities have been able to issue through this entire cycle. The capital markets are open, investment funds are growing and dividend-paying stocks are still in demand. There continues to be a fundamental tension between these two competing viewpoints.
From the buy side, we've been getting a number of questions. Why haven't we seen more equity new issues from utilities? If the market window is open now, why aren't companies issuing equity as they look at the enormous amount of capital they need to raise in 2010 and 2011?
Part of the answer is there's a returning focus on earnings per share. If we're coming out of the recession quickly, then buy-side investors will return their focus to EPS growth vs. balance-sheet strength. Companies coming out of this cycle don't need the capital immediately and are delaying their equity issuance to mitigate EPS dilution and enhance EPS growth.
People are looking to third-quarter earnings as a litmus test to see whether the market rally is sustainable and whether we should expect a recovery in the first half of 2010.
Wood: The risk-return construct continues to favor utilities in down markets. Utility stocks did well through the contagion. They didn't fall as far as the Dow Jones Industrial Index. That said, they also haven't recovered as well. Within that, the stocks that were most hurt during the contagion were those that had more sensitivity to commodity prices—companies with large wholesale generation fleets. They underperformed the other utilities on the downswing and have outperformed them on the upswing.
Yield is an important component of investor perceptions of utility valuations. Utilities are regarded as income stocks. Some believe utility stocks are poised to outperform as their dividend yields are higher than the sector's bond yields, and price-earnings ratios are compelling vs. the overall market.
On the other hand, many investors are skeptical about growth with significant declines in industrial demand.
In terms of new issuance, we've seen the return of utility common stock dribble programs, where utilities issue stock continuously to reduce market-access risk and manage price volatility. More traditional issuance activity is being driven from rate-base growth, environmental cap-ex and transmission spending.
Volatile Access
Fortnightly: How have merchant power and midstream gas companies weathered the financial crisis? How do the capital markets look for them?
Bilicic: Unlike in 2002 and 2003, the non-regulated components of the energy industry have been relatively stable as compared to other parts of the economy. We haven't seen the sorts of restructuring activity levels that we have seen elsewhere. Companies in this area have solid capital markets access at the moment, but should be mindful of the volatility of that access.
Nastro: Our industry has been able to finance throughout the cycle. High-yield rates reached their all-time high in December 2008, and since then spreads have tightened dramatically. Both Calpine and NRG have been able to issue high-yield debt at coupon rates better than 9 percent, which speaks to the way the utility space is perceived and differentiated within the high-yield investor universe.
In terms of leveraged loans and loan maturities, if you look out through 2011, not a lot of refinancing needs to be done. But a wave of debt maturities begins in 2012, as financial sponsors begin to refinance debt from recent leveraged buyouts. For example, Energy Future Holdings, the former TXU, faces material maturities beginning in 2013 and 2014.
At this point, the leveraged loan market is still in disarray and may be for some time to come, because the primary buyers—the CLO investors and hedge funds—have seen significant investor redemptions, and that will result in continued market contraction.
Fortnightly: What's the outlook for mergers and acquisitions? If the financial storm is passing, will consolidation resume?
Bilicic: We see all the fundamentals coming into place where there would be robust consolidation, except that, given the way this industry is regulated, it's difficult for companies to pursue consolidation. In particular, the intense rate-case cycle that many companies are in right now will slow the emergence of any consolidation trend. On average, we should see between three and five notable transactions a year. M&A activity was dormant last fall and winter, because, among other things, it was difficult to know what relevant parties were worth in the environment. But now with the environment stabilizing, and with a growing sense that there will be an economic recovery over the next few years, we are starting to see increased interest in M&A activity.
As companies think about how vulnerable they were in the midst of the crisis—and, for example, as they consider the large amounts of money that must be spent to build large nuclear plants and renewable projects—there will be growing acceptance of the idea that a transaction driven by scale benefits is independently justifiable.
Nastro: M&A deal velocity across all sectors is down versus 2008, a decline of approximately 35 percent in dollar terms and 50 percent by volume. Also, the composition of transactions is changing, with all-cash transactions representing approximately one-third of the deals, which is significantly below historic averages in the range of 60 to 70 percent. Companies are hoarding cash as they continue focusing on balance sheet strength. And premiums for acquisitions have increased significantly, to 53 percent from the historic average of 40 percent, as premiums are being paid against depressed share price levels.
M&A activity is largely correlated to equity markets. During the downturn, companies had to finance acquisitions using their stock, and now that equity markets are open again for new issues, companies are able to finance acquisitions using cash.
Also a number of private infrastructure funds continue looking at opportunities in the utility space. They've raised significant amounts of capital they can put to work, and we expect to see more activity from them going forward.
Looking to 2010, M&A activity in the utility industry will be driven by regulated companies continuing to seek scale to finance their cap-ex programs. Size matters, and we'll likely see mergers of equals to build scale. Of course the regulatory backdrop is important. Given the fact we're in a rising price environment, regulators may become more receptive to consolidation as a way to reduce potential rate shock for customers. If the synergies in a transaction can offset price increases, regulators might be more likely to approve that transaction without putting on onerous restrictions.
Also companies will continue to shed non-core assets as a way to finance their significant cap-ex programs.
In the merchant power sector, liquidity and funding pressures could be a potential catalyst for consolidation. But credit-rating pressures are limiting the buyer universe. If rating agencies are going to be punitive in how they assess the business risk profile of a merchant generator, you're less likely to see integrated or hybrid players step in and acquire merchant generators.
Generating assets will continue changing hands, driven in part by liquidity concerns, but many will wait for the perceived bottom to pass before they look to monetize those assets.
Greener Pastures
Fortnightly: What's the outlook for financing renewable energy projects, given the financial market turmoil and the regulatory changes that have happened in the past year or so? How have these changes affected financing structures?
Redinger, Keybanc: Two things happened in the renewable space. First, a lot of the tax equity players that were in the market don't have taxable income anymore, and therefore they stopped investing or decreased it dramatically. Second, power prices have fallen by 20 percent in the past year. So even with all the incentives we have, you need to charge more for the power than where it's trading today. It's difficult to get these projects to work.
The projects that are getting financed are owned by the logical owners—deep-pocketed players, generally utilities, who can digest the tax equity themselves. It's harder for independent developers, because they have to go out and get an above-market power purchase agreement (PPA) and find someone to buy discounted tax equity. Even with the cash grants provided in recent legislation, small developers have a difficult time because they're stuck with the depreciation benefits, which they can't discount and therefore can't sell.
Wood: Wind developers have persevered through a difficult stretch. Many were caught off guard when market conditions deteriorated. Like the developers of gas-fired generation in the 1990s, wind developers have been caught with large turbine deposits for equipment to be delivered through 2011. Not only are some developers facing declining returns on their projects, but the financing landscape has changed. Banks remain interested in renewable projects, but on terms that are much different from what they were before June 2008. Bank deals now come with shorter durations, higher sponsor-equity contributions and wider spreads. Tax equity is available, but at prices that are materially wider than they were a year ago.
The move from the PTC [production tax credit] structure toward the grant structure has reduced tax-investor risk.
The industry is anticipating the DOE loan-guarantee program. The federal stimulus has been much discussed but slow to materialize. On a positive note, improving credit markets bode well for future utility-scale renewable projects. The bond market rally in 2009 makes this market competitive with the bank market. Amortizing project bonds can be issued in the 7 percent area, down from 9 percent six months ago. For the larger issuers who can bundle projects and use the tax attributes, the bond market looks like the superior option.
Fortnightly: Is the trend toward utility ownership of renewable plants sustainable?
Redinger: If you assume they'll be able to put these investments into their rate base, then absolutely I'd expect this trend to continue. The issue is whether they'll be allowed to rate-base the investment. If not, it won't go as well, even if it does make all the sense in the world for utilities to be the owners of these projects because they can digest the tax benefits themselves.
As time goes on, and as utilities have to start meeting RPS [renewable portfolio standards] requirements, they'll become more incented to be the owners of renewable generation.
Nastro: There is significant uncertainty about policies coming out of Washington, D.C., on carbon legislation and clean energy. President Obama needs to take something to Copenhagen [for the U.N. Conference on Climate Change]. The legislation out of the House might be slimmed down to a bill with renewables as the primary focus. If that happens, a number of regulated utilities will need to build up their renewable energy platforms to comply with a federal RPS. Combine that with the fact a number of renewable energy development companies are small and don't have access to capital, and it creates an opportunity for utilities to buy vs. build out those portfolios.
Wood: There's an age-old debate about the best model for renewable energy project ownership. The two camps are utility rate-base ownership vs. independent development of renewable generation with long-term utility off-take contracts.
The U.S. generation market is enormous, and as a consequence there's ample room for both models. The market is open for the small independent developer, the larger integrated power developer and owner, as well as the utility developer. We believe you will see more utilities enter this market. The tax benefits make it easier for them to meet regulatory requirements and customer demands to make sure things are built out. Every utility will decide where it wants to be in the value chain. It will catch on faster in some regions than in others. California is the most vivid example, but whether it's a role model for the country is another question.
Fortnightly: Where do you see the capital markets headed in the mid-term future, in terms of accessibility and pricing?
Peiffer: I think interest rates will stay lower than what the market expects them to be over the next 12 to 18 months. It will be awhile before inflation kicks in and starts pushing rates up. Also, I expect spreads will continue tightening. We've had relatively more positive economic data being announced in recent weeks. Banks and economists are moving up their GDP forecasts, and corporate earnings are more consistently exceeding expectations than not exceeding them. There's still room for spreads to tighten. However the same improvements in the economy that would cause spreads to tighten also will cause Treasury rates to move up, so you'll have some offset between Treasury rates and spreads.
However, technical drivers also will keep interest rates low. No one wants to be left sitting on the sidelines with cash when spreads are tightening. This is especially true for utilities, which are known as a strong cash-flow defensive industry. Many investors view 30-year utility paper as quasi-equity. If they can get 5.75 percent pre-tax, that's a pretty spectacular rate at this point in the economic cycle, where the fundamentals haven't truly turned around yet.
If we're entering a weak recovery, conditions still will be very good for utility financing. There always will be demand for utility bonds, because of the strong cash-flow nature of utilities compared to other sectors, such as retail or manufacturing. In late 2008, nobody wanted to buy the bonds of any other sector.
In a slow-growth scenario, we won't see inflation happening and that's good for interest rates. Spreads won't tighten as much, and they might widen, but we'll still see robust financing for utilities and midstream companies. That's part of the reason there's been such a rush to the market to issue bonds right now; issuers that would have issued at 350-basis points over Treasuries in March—and considered themselves fortunate to get it—now can issue at half that spread or even tighter.
The Treasury sees some probability of a double-dip recession. That means there's a perfect window now, with low rates, tighter spreads and easy access to capital markets.
Bilicic: Everything in the capital markets is reverting to a historical median, and everything is starting to look and feel more normal. But all this feeling of normalcy is sitting on top of a very fragile foundation, and it should make everyone more nervous than they were a few years ago.
Nastro: The outlook for access to capital remains bullish. However, people now are focusing on Treasury rates, which remain close to their all-time lows. There's a growing consensus that the unwinding of loose fiscal and monetary policy will drive rates up on inflation concerns.
Everyone is asking the same question: We put all this stimulus into place, now how do we get out of these loose fiscal and monetary policies? That's a question we'll have to face in the second half of 2010 and early 2011.
In its July 2009 Utility Industry Outlook Report, Moody's Investors Service raised serious questions about the long-term creditworthiness of U.S. utility companies. Notably, the report focused on rising electricity costs as a function of average earnings, and a "theoretical 'inflection point' beyond which consumers will no longer tolerate annual rate increases without protest." The report suggests the industry will reach this inflection point when the average annual electric bill reaches between 5 and 10 percent of a household's disposable income—which under some scenarios could happen as early as 2013.
Jim Hempstead, Moody's senior vice president and co-author of the July report, told Fortnightly how reaching this inflection point might affect utilities' credit and financing strategies:
"The utility sector is well insulated but not immune from economic turmoil. However, companies with big industrial exposure have been really affected by lower industrial demand. They're taking a hard look at capital expenditures and their operating cost structure, and cutting costs to mitigate the impact of lower volumes. This is translating into lower earnings and cash flow.
"The sector has done well, with companies reducing their cost structure to mitigate lower earnings. But if we're in a prolonged economic situation, and if your cap-ex spending can come down only a little because you have to maintain the system, and you don't want to touch your dividend, how are you going to finance your system? If you have a big cap-ex program, shouldn't you be retaining more of your cash flow internally? On the one hand you want to invest it in your system, and on the other hand you want competitive cost of capital to attract investors. That dynamic is getting evaluated."
"In general, we continue to view the utility sector as stable from a credit perspective. That's a function of companies continuing their solid regulatory relationships. Companies continue to get relatively timely recovery on a reasonably good cost basis. Continued regulatory support is the basic premise of our credit thesis." –MTB