Deck:
The capital markets have recovered … or have they?
The capital markets have recovered … or have they?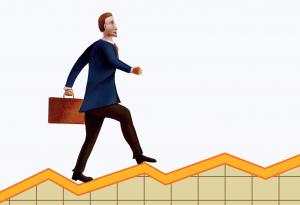 One year ago, pundits were talking about financial Armageddon as a real possibility. Nobody seemed to know exactly what "Armageddon" meant, and that's partly what made it so frightening. The scenarios seemed almost unimaginable: What happens when the financial markets freeze up? What happens when banks stop lending money to their customers—or even to each other? What happens when stock prices plunge by one-third and every day brings news of another massive bankruptcy, from Lehman Brothers to General Motors?
Well, now we know what happens.
In short, life goes on. Yes, the new normal is less exuberant than the old one, but at least it's not the real-life horror show we faced in late 2008. Banks are lending again and investors are buying corporate securities. A series of federal bailouts and stimulus measures have put America's banks and auto manufacturers on life support. And while the economy remains in awful shape, the decline has slowed and overall confidence has returned to the global economy.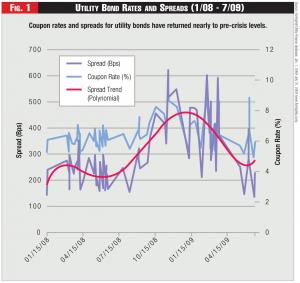 Last year, Fortnightly's October issue predicted that utilities would lead the way out of the financial crisis, and to some degree that's exactly what they've done. Although many utilities delayed their capital-spending programs to protect their cash positions, the industry as a whole continued accessing capital markets through all but the worst days of the meltdown. "In late 2008, nobody wanted to buy the bonds of any other sector," says Eric Peiffer, a managing director with KeyBanc Capital Markets. Since that time, lending premiums have fallen dramatically, back to levels not seen for two years, since before the recession began.
That doesn't mean, however, that it's business as usual on Wall Street. Financial executives seem cautiously optimistic about the economy, but in recent conversations with Fortnightly they expressed significant doubts about the pace and strength of the recovery. To the degree a weak economy destroys industrial demand and strains consumers' pocket books, utilities will encounter greater difficulty when seeking the rate treatment necessary to support their ambitious capital spending plans.
To better understand the view from the capital markets, Fortnightly interviewed five banking executives, including: Eric Peiffer , managing director, KeyBanc Capital Markets; Andy Redinger , KeyBanc managing director and energy group segment leader; David Nastro , managing director and head of the global power and utility group at Morgan Stanley's investment banking division; Raymond S. Wood , managing director and co-head of the alternative energy group at Credit Suisse; and George Bilicic , chairman of the power, utilities and infrastructure sector at Lazard.
Spectacular Tightening
Fortnightly: What's the current status of capital market access for utilities, both in terms of debt and equity? Where are we going, after what's happened in the past year?
Peiffer, Keybanc:  The capital markets improved materially by March 2009. The state of the markets today is such that just about any investment-grade issuer can access the market, and the demand for utility paper has never been stronger. It's