Deck:
Why America's bridge fuel faces a road block.
Author Bio:
Lee Van Atta is vice president–advisors at Ventyx.
Why America's bridge fuel faces a road block.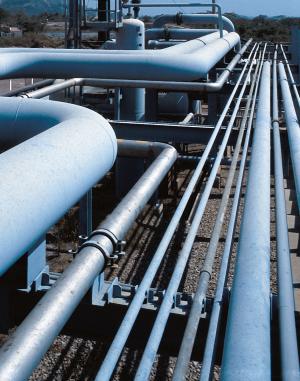 In 2009, unconventional shale gas emerged as the dominant driver in North American natural gas markets. Rapid increases in shale gas production and shale-driven upward revisions to the U.S. natural gas resource base have reversed the outlook for the U.S. natural gas supply. In contrast, the economic recession and growing uncertainties around the role of natural gas in power generation have clouded the outlook for natural gas demand. Natural gas has been called the "bridge fuel" for its potential to support the transition to a low carbon U.S. economy. But without a growing market, natural gas could be on a bridge to nowhere.
After peaking in July 2008 at around $13/MMBtu, U.S. natural gas prices fell dramatically in 2009, reflecting oversupply conditions caused by surging shale gas production and the sharp impact of the recession on industrial gas demand. At their lowest, cash prices at Henry Hub fell below $2/MMBtu in September 2009 and the low natural gas prices over the summer caused significant displacement of coal-fired power generation. U.S. natural gas prices rebounded in the second half of 2009 and ended the year in the $5 - $6/MMBtu range.
The power generation sector will be the primary driver for future U.S. natural gas demand. The power generation sector comprises over 50 percent of the total gas demand increase from 2010-2034 in our forecast. It isn't a stretch to say the natural gas market is dependent on the power generation sector.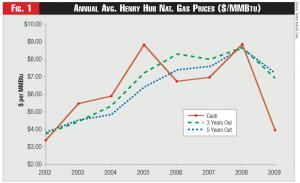 The residential, commercial, and industrial sectors for natural gas are mature or declining. These sectors face a combination of increasing efficiency of natural gas use and static consumption. Two exceptions prove the rule. First, ethanol refineries were only a significant factor for growing natural gas demand in a handful of corn-producing states. Second, while much has been said about using natural gas in the transportation sector, today the amount of natural gas used in that sector is barely noticeable and almost exclusively limited to fleet vehicles. Support appears overwhelming for all-electric and electric hybrid vehicle technology and not for direct use of natural gas as a transportation fuel for passenger vehicles.
Given this dependence on the power generation sector, the outlook for natural gas hinges on a small set of key power industry issues, including the timing of economic recovery and load growth; federal carbon policy and support for renewables; and investments in baseload power generation. There are uncertainties around each of these issues and the overall impact clouds the picture for natural gas market growth.
Price Rebound
Natural gas prices fell dramatically in 2009, reflecting oversupply conditions. Annual average Henry Hub prices were below $4/MMBtu in 2009— a level not seen since 2002 (see Figure 1) . Average annual prices on the NYMEX natural gas forward curve out three to five years averaged near $7/MMBtu in 2009, which is fairly consistent with expectations in 2006 and 2007 and serve to highlight the degree to which the market expected the natural gas