Deck:
Utility deals resume after 18 months of austerity.
There's a buzz growing in the industry. You hear it at trade shows, where product and service companies are talking about RFPs and contracts again. You hear it at conferences and meetings, where executives and regulators are discussing plans for big-ticket capital expenditures and corporate mergers. And you hear it on Wall Street, where finance executives are managing a steady pace of deals.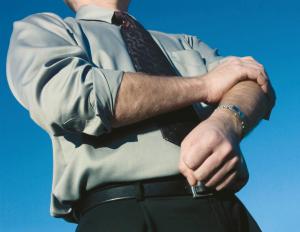 The buzz is growing because people see a light at the end of the tunnel. The Great Recession officially ended sometime in 2009, and America seems to be moving forward again.
Arguably, utility companies are the first to know about any big turn in the economy. And indeed, utilities are reporting a substantial uptick in electricity demand—among residential consumers, and even more encouraging, among industrial customers. The U.S. Energy Information Administration reported on September 8 that total U.S. electricity consumption in the first half of 2010 rose 4.2 percent, compared to the first half of 2009, with annual industrial sales projected to increase 6 percent this year.
As a bellwether of economic health, rising energy demand provides strong empirical evidence of a sustainable recovery. This is especially true for growth in commercial and industrial (C&I) consumption. "C&I customers that have made it through the past two years are likely here to stay," says Frank Napolitano, managing director at RBC Capital Markets.
But of course the buzz isn't all optimistic. The renewable energy business in particular seems headed for a bust, in an environment of waning political support and tough competition from cheap natural gas-fired generation. But nobody knows whether gas prices will remain low, or whether the shale-gas bubble will burst. And more broadly, overall economic indicators carry an undertone of caution, with muted consumer confidence and stubbornly high unemployment rates.
In the context of this fragile economic environment, the U.S. policy outlook also is shifting in a direction that's difficult to predict. The November elections might bring some clarity around legislative priorities, but they seem unlikely to eliminate the biggest overhanging policy questions:
• Will companies face tougher federal air emissions regulation? Will the EPA attempt to regulate greenhouse gases (GHG) under its Clean Air Act authority?
• Will Congress allow the Bush-era dividend tax rates to expire?
• Will Congress impose a national renewable energy standard (RES)?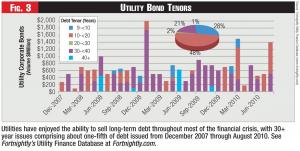 • How will state regulators treat utilities' plans to increase capital budgets and customer rates?
Even the energy trading and risk management landscape is shifting, with new federal rules on the way (see "Energy Trading Under Dodd-Frank").
"In my 24-year career, this sector has never faced more uncertainties or larger moving parts due to politics and the nature of regulation than it faces now," Napolitano says. "This uncertainty causes utility company management to take a very pragmatic approach. The industry has financial strength and has some choices to make. But most companies won't choose to bet the farm on any particular strategy."
A few more quarters of strong economic signals, combined with federal clarity on energy and environmental policy, could allow the industry to move forward more confidently on some key strategic priorities—most notably infrastructure investments and mergers and acquisitions (M&A). In the meantime, utilities are finding easy access to the public capital markets—which we'll definitely need to keep the buzz going.
Open Markets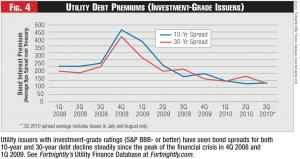 In the depths of the financial crisis, corporate bond issues virtually stopped as banking institutions circled the wagons. But except for a few anomalous days, when the markets seized up in apparent panic, investment-grade utility companies had little trouble obtaining the debt funds they needed.
"The utility sector has distinguished itself throughout the financial crisis as having access to the capital markets even during the worst of times," says Tim Kingston, managing director at Goldman Sachs. "That's unusual compared to other sectors, where access was shut. And now, with historically low interest rates and relatively attractive spreads, issuers are getting some of the lowest all-in rates on borrowing that we've ever seen. Many CFOs and financial teams are taking advantage of that to finance their capital needs."
This continued access bodes very well for the industry's plans to invest some $1 trillion in infrastructure during the next decade. Low costs of capital will improve the business proposition for the full range of planned construction projects, from gas pipelines to smart-meter rollouts.
Among the various companies in the U.S. electric and gas industry, regulated utilities are the greatest beneficiaries today. Buy-side analysts and investors view the utility sector as a low-risk, cash-flow haven during troubled times. "Investors today are in a defensive position, given the shaky economic backdrop," says David Nastro, managing director at Morgan Stanley. "The market is rewarding companies with a pure-play, regulated business model."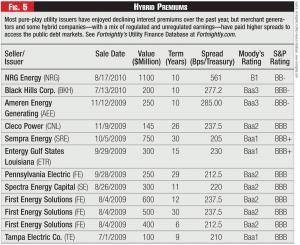 As a result, many utilities have been going to market sooner than they otherwise might, to refinance existing debt and also to pre-fund future financing needs. "We see this as an opportunistic grab of low-cost capital," says James Hempstead, senior vice president with Moody's. "Companies that were otherwise planning on going into the market later are pre-funding, issuing debt now at attractive rates."
At this writing, the trend was accelerating, with an unusually large volume of bonds being issued in August—traditionally a slow month on Wall Street—and even more going to market in September (see Figures 1, 2 and 3).
Banks similarly are welcoming utility industry borrowers.
"Spreads haven't returned to where they were before the financial crisis, but they've tightened a lot," says Andy Redinger, managing director at KeyBanc Capital Markets. "Banks saw how well utilities did during the financial crisis, and now they want to provide capital to this space."
In particular, lenders and investors are heartened by utility regulatory structures that have kept companies financially strong through a bad recession. "Coming out of this economic cycle, utilities stayed on an even keel because they had regulatory mechanisms that assured quick recovery of costs," says John Whitlock, a managing director at Standard & Poor's. "Tracking mechanisms and fuel-adjustment clauses are very good for credit quality, and have helped to keep utilities from getting stressed."
The picture is somewhat different for merchant power companies and also hybrid issuers that earn their revenues from a blend of regulated and unregulated businesses. Unexpected volatility in gas prices, combined with sinking electricity demand and a shifting regulatory landscape, put many wholesale operations in a weak position. As such, while investment-grade utilities have been selling bonds with interest-rate spreads below 200 basis points (see Figure 4), riskier issuers are paying higher premiums—sometimes substantially higher (see Figure 5).
"Investors are tending to discount non-regulated growth, because of the perceived volatility in cash flow and earnings," Nastro says.
Even so, quality issuers across the industry are finding a ready appetite on Wall Street for their paper—as well as their stock. "Even with all the speculation and uncertainty, there's a lot of capital available, in both the debt and equity markets," says John Lange, head of power investment banking at Barclays Capital. "This might end up being one of the biggest years ever for equity issuance among utility companies. The high-yield markets also are back, after being closed during some periods in the financial crisis. There's no problem with access to the capital markets."
Conditions might not remain this favorable for long, however. Today's uncertainties eventually become tomorrow's market realities, driving changes in market risks and investor appetites. And with interest rates as low as they are today, money seems unlikely to get much cheaper—which means the current sweet spot can't last.
"Utilities may face headwinds going into 2011," Nastro says. "We see the potential for a rising interest-rate environment, and uncertainty around dividend tax rates coming out of Washington, D.C."
The expiration of Bush-era tax cuts could spur investors out of their defensive posture and into more risky investments—especially if the economy rebounds faster than expected. Thus, the current seller's market for utility securities might not last too far into 2011—which in part explains the flurry of bond issues that went to market in late summer and early fall.
Companies are getting ready for change.
Cap-Ex Coming
Even if costs of capital move upward, Wall Street has shown a consistent willingness to finance utility companies' needs. That's a good thing, because those needs seem unlikely to decline any time soon; in fact, capital expense budgets are set to increase next year as companies move forward with a variety of construction programs.
Exactly how much capital spending will rise, and when, depends on a slew of economic and policy questions. But a ballpark figure of $1 trillion through 2020 seems plausible, considering the major cap-ex programs already in the works, and the industry's recent history. In 2009, for example, the investor-owned power and gas industry in the United States spent about $84 billion—a decline from 2008's $94 billion, according to the September 2010 Fortnightly 40 Report (See "The 40 Best Energy Companies," September 2010 ).
"We're beginning a construction cycle that's bigger than any we've seen since the 1970s and 1980s," Redinger says. "It's kind of a perfect storm. A lot of old coal-fired power plants are quietly being retired, and that capacity needs to be replaced. On top of that, utilities need to satisfy RPS requirements in many states, and the T&D system needs to be upgraded. And at the same time, many utilities have postponed their cap-ex programs to avoid going in for large rate increases during an economic downturn. As soon as the economy starts to take off, utility capital requirements will increase."
Precisely how companies allocate that spending will depend, at least in part, on trends in regulation and commodity prices. Changes in air-emissions standards and green-energy mandates will affect the number of coal-fired plants that need upgrading or replacing. "Some new EPA rules could add $30 to $40 billion to the industry's cap-ex budget," Lange says. "That's additional spending for pollution control equipment on top of already-planned maintenance cap-ex for the rest of the system."
Additionally, continued success at domestic shale-gas developments will keep fuel prices low, making other generating options less competitive by comparison.
"Natural gas supply is the big wild card," Redinger says. "I don't think anybody expected the amount of gas that's been discovered over the last 12 to 18 months. Renewable power developers didn't expect it."
Cheap gas—and by extension low marginal power prices—have contributed to what seems like an impending bust phase in the renewable energy industry's perennial boom-bust cycle. Wind projects in particular have been sidelined by low gas prices. At the same time, weakening government support has effectively increased the relative cost of renewable power capacity—and made financing more difficult to find. Specifically, the investment tax credit (ITC) cash-grant provisions of the American Recovery and Reinvestment Act (ARRA) are set to expire at the end of 2010, leaving project owners to compete for a limited supply of tax-equity financing. Morgan Stanley estimates between 20 and 25 projects, totaling 3 GW of capacity, will be canceled for lack of equity funding when the ITC cash-grant expires.
Additionally, some renewable developers face a shortage of long-term debt financing, because most of the institutions in the market provide only short-term construction loans, and not permanent debt.
"The renewable energy market in this country is still in its infancy," says Anton Cohen, audit principal at accounting firm Reznick Group. "Although we're seeing some pension funds and other investors come in to make construction loans, small to mid-sized projects are waiting for a permanent financing platform to develop."
Arguably America's on-again, off-again federal tax policies have kept the wind and solar industries from maturing. The industry's predicament is exacerbated by economic hardship; some states, balking at the cost of some renewable energy proposals, are moving to scale back or even suspend their RPS requirements. A ballot measure in California—Proposition 23—would cancel the state's RPS entirely until unemployment in the state drops from the current 13.2 percent to 5.5 percent for four consecutive quarters. And earlier this year, Connecticut state legislators came close to adopting a bill that would have cut the state's 20-percent RPS down to 11.5 percent. Other states reportedly are considering adding safety-valve provisions to RPS mandates that don't already have them, with language protecting consumers from costs that exceed a defined figure.
At the same time, however, the U.S. Congress is once again contemplating a national RES, which could remove some of the perennial uncertainty and patchwork policies that have stunted the growth of renewables. But even if such legislation can make it to the finish line during the coming lame-duck session, renewable energy developers still face the near-term challenge of competing in a market seemingly flooded with cheap gas.
"Prices for renewable energy are going down, especially for solar PV. But still, natural gas is a big hurdle to overcome," Cohen says. "Without a big stimulus it will be a struggle for a lot of renewable energy deals, especially smaller projects." The same can be said for the developers in the market; the coming down cycle could consolidate the business, with better capitalized players acquiring those that can't find financing to continue development.
On the other hand, low gas prices—along with declining coal-fired capacity and continued transmission constraints—are setting the stage for a boom in construction of combined-cycle gas turbine (CCGT) power plants, particularly given the long lead time for other base-load construction options, such as nuclear and coal gasification.
"When the economy rebounds, electricity demand likely will be right back where it was before the recession," Napolitano says. "Many coal plants have fallen out of the queue, and something needs to fill the gap. At today's prices, that something is CCGT."
The most recent EIA Annual Energy Outlook anticipates more than 20 GW will be built through 2020, and by some estimates more than half that amount already has begun development. Because they're so competitive in an environmentally constrained power market, gas-fired projects are well positioned to obtain financing, whether they're built within the utility rate base or an unregulated portfolio.
"The project financing market has re-opened," Nastro says. "Liquidity has improved substantially in the capital markets, as project investors seek new and diversified asset classes. And as a result, clean energy is dominating the project debt pipeline."
M&A Synergy
The same market trends that favor construction of new CCGT plants also make existing gas-fired capacity more attractive; the previous glut of gas-fired power seems likely to disappear in many regions as more coal plants retire and as electricity consumption rises. And indeed, many recent M&A transactions have revolved around existing gas-turbine capacity—including individual plants and also entire portfolios. Examples include Constellation's offer to acquire the bankrupt Boston Generating; Blackstone's planned acquisition of Dynegy and subsequent sale of several gas-fired plants to NRG; and Calpine's $1.65 billion buyout of the former Conectiv generating assets owned by PEPCO.
"We're seeing acquisitions happen where it's cheaper to buy than build," says John McConomy, a lead partner at Pricewaterhouse Coopers LLP. "We'll see a significant number of merchant plant sales in the next 15 months or so. This is driven by timing. When the economy went bad, commodity prices and industrial demand went down, and the owners of plants that were only five or six years old didn't have what they needed to finance their debt."
Now, strategic buyers and some private equity and institutional investors are buying generating assets while they're still relatively cheap—especially, but not only, gas-fired plants. "Across the generation sector, valuations have been down in large part because of the cost of gas," says Bill Lamb, a partner at Dewey & LeBoeuf.
In recently announced transactions, for example, CCGT plants have been valued between $300 and $500 a kilowatt—a huge bargain considering new capacity can cost $1,200 or more to build.
"Companies are buying merchant plants at half cost today, and getting ahead of the demand curve," Napolitano says. "They're making a bet that capacity tightness will drive power prices up, and they'll see a fair return for their investment."
The value of generating assets also has factored into strategic deals involving companies such as Sempra Energy, which in late September announced a deal to sell its RBS-Sempra Commodities joint venture to Singaporean commodities trading company Noble Group Ltd. At press time, Sempra was negotiating to sell its Connecticut-based wholesale power and gas business. The sales are part of Sempra's strategy to exit the commodities business.
"Companies are unlocking value by reducing their overall risk profile, with an emphasis on business model clarity," Nastro says. "Hybrid companies continue to review their business mix, with a focus on non-core assets, in order to make sure they're fairly valued in the equity market."
Additionally, many recent M&A deals seem aimed at reducing risks through market diversification, and capturing scale economy and cost synergy. Examples include the mergers of integrated utilities FirstEnergy and Allegheny, as well as merchant generators Mirant and RRI; United Illuminating's planned acquisition of three gas utilities from Iberdrola; Chesapeake Utilities' acquisition of Florida Public Utilities; and PPL's bid to acquire E.On U.S.
"Resource uncertainties play a significant role in most transactions," McConomy says. "But the underlying theme is that if you're going to grow your company and increase shareholder returns, you have to find a way to generate more bottom-line income. One way to do that is by becoming a bigger company that can deliver synergies, and that theoretically has better access to the capital needed to build assets."
Whether the recent series of M&A announcements portends a coming wave of transactions, however, depends in part on the fate of the current deals—particularly those involving regulated utility assets. Ironically, the shaky economy might actually help some companies make their case to regulators. Where state PUCs previously killed some deals by demanding large ratepayer concessions, regulators today might be more receptive to mergers that simply reduce or delay the need for future rate hikes. PPL, for example, has overcome some objections to the E.On U.S. acquisition by pledging to hold rates steady until at least 2013.
"To the extent two companies can merge together and have rates increase less than they would if the companies continued on a stand-alone basis, regulators should view that as favorable," Hempstead says.
Further, if some of the current deals make it all the way to the finish line, they might provide a roadmap for others to follow. For instance, merging companies might find greater success by being more conservative and less specific about the dollar value of synergies they expect transactions to deliver. "The environment for consolidation is better now than it's been for a few years," McConomy says. "Companies are looking at who to team up with, and how to bring the best value to shareholders. But regulated utilities have to be careful to understand the mindset of PUCs."
Thus as a general matter, corporate-level M&A seems unlikely to accelerate very dramatically in the United States, mostly because deals remain complex and difficult to sell to state regulators.
"There are so many different pieces that must line up to make deals worthwhile, I don't see the floodgates opening," Lamb says. "I wouldn't expect to see more than a few deals in the $2 billion-plus range in the next 12 months."
Building the Buzz
Even if M&A announcements aren't coming fast and furious, the increased pace of deals this year compared to the previous two years signals a decidedly improving outlook for the U.S. power and gas industry. Companies have gained enough confidence about the future that they're considering strategic moves—mostly aimed at strengthening core businesses and achieving greater scale and market diversity. These are all good things, and Wall Street seems ready to reward companies for making such moves.
Accordingly, companies that are planning to increase their capital spending programs can expect a warm reception—at least on Wall Street. Whether regulators and customers embrace the higher prices that result from higher cap-ex likely will depend on how effectively utilities make the case for such investments—and how they fit into the evolving regulatory and economic picture. In the meantime, power and gas companies are dealing with uncertainties in the market by raising capital and making strategic moves that seem rational in the context of today's changing outlook. Infrastructure investments likely will grow apace as that outlook solidifies.
"The longer the industry faces uncertainties, the harder it will be to plan for the future," says Mike Haggerty, a senior credit officer with Moody's. "Companies can plan strategically for six months or a year, but planning beyond that will depend on the answers to long-run questions."