Deck:
Utilities prepare for a bumpy road.
Author Bio:
Ed May is Itron's director of business development and Stephen Johnson is a product line manager for Itron.
Electric cars are expected to account for 64 percent of U.S. light vehicle sales by 2030, according to a study commissioned by the University of California-Berkeley. It's safe to say that in the next 20 years the odds are high that a typical electric customer will maneuver an electric car into the garage and plug it into the nearest outlet. As a result, customers' reliance on the electric grid will double.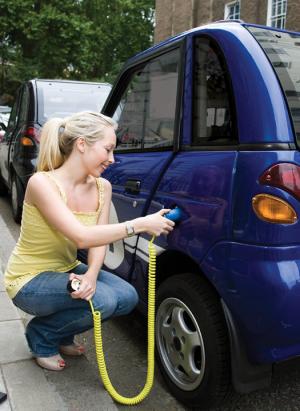 Along with this promise of electric transportation widely disbursed across the electric distribution system comes a significant new load that our grid wasn't designed to accommodate. The act of simply plugging-in might seem to be a benign routine, but beneath the surface is a complex problem that hasn't yet been solved. 
The electric vehicle (EV) is far from a simple plug-in electrical appliance. But to promote adoption and drive our society to transform long-lived addictions to fossil-fueled transportation, the act of charging will have to appear as simple as plugging in a toaster. With new market forces at work, the EV paradigm will demand that significant change occurs within the utility, automotive supplier, car manufacturer and investor communities, requiring a clear vision, unprecedented collaboration—and a sense of reality.
As the utility industry contemplates the onset of the EVs plugging into their respective electricity distribution system, 10 challenges stand out as being most critical. They can be divided into factors involving grid operations, policy choices and customer service (see Figure 1).
EVs and the Grid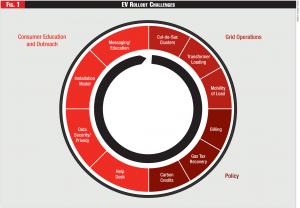 #1—The Cul-de-Sac Factor: Central correlation, also referred to as the "cul-de-sac factor" or "clustering," reflects the fact that the EV consumer purchase distribution won't be the same as internal combustion engine (ICE) vehicles. EVs will gravitate to the wealthy neighborhoods and environmentally conscience communities. This variety of mass-market demographics might not be completely understood, but has been preliminarily correlated with the purchase history of the Toyota Prius.
Many can relate to the natural instinct of trying to keep up with the Joneses. A neighbor buys the latest and greatest plug-in hybrid. Someone sees this, and wanting to demonstrate their green conscience for the environment and the green in their bank account, they decide to follow suit. Then another neighbor joins the action and so forth. The block or cul-de-sac quickly becomes a social network of influence.
If all these trophy-cars in a condensed area are plugged-in overnight—or worse, if a few are fast-charged during the day at periods of peak electricity demand—a new challenge of optimized energy delivery could arise for the utility. For most utilities, the delivery system can accommodate this new load if it's evenly distributed, but they might face a rude awakening if a more closely coordinated collaboration with this concentrated segment of consumer isn't established.
Why is this projection an issue? The answer is: electricity distribution transformer loading.
#2—Transformer Overload: Clustering of EV ownership could quickly over-extend electricity distribution assets. To put this into perspective, consider that the Nissan Leaf charging on a 240 v, 15-amp circuit generates a 3.3-kW load, which is greater than the average home in Berkley, Calif. The Chevy Volt, at 240 v on a 30-amp circuit, draws 6.6 kW, equal to the average San Roman home load. The problem isn't a lack of generation or transmission capacity, but capacity in the last 50 feet of the distribution system. Secondary transformers have been properly sized to accommodate the load of between three and six homes on average in the United States.
Consider a hot, humid day with air conditioners blazing. At the same time, not one, but multiple EVs are pulling into the garages, feeding from the same distribution transformer—each with the equivalent load of a single home—plugging-in and requesting a rapid charge. These are the makings for a localized brownout.
Some might believe this is the perfect storm that will drive the long-overdue overhaul of our nation's grid. Others believe the odds of that storm occurring are slim to none, and it's too costly to build a distribution system for worst-case scenarios. In either case, the problem has the potential to arise much sooner in older, established neighborhoods where transformers were sized for small homes (100 amp service versus the typical 200 amp service in newer homes) or in areas of the country where the peak demand of air conditioning wasn't a distribution system design requirement.
In some areas of the country, a single level-1 EV charger (i.e., a slow charger, using a 120 v circuit) per transformer won't be an issue as long as the charging occurs during off-peak periods. Add a second level-1 charger and an overload condition will arise in a few areas. Introduce a level-2 charger (i.e., a fast charger, using a 240 v circuit) and the issue has the potential to escalate.
Now add two EVs per home. Will neighbors be expected to negotiate who charges when? Will they have to choose between charging and keeping their home air conditioners running during EV charge times? When should EVs be charged if many people are plugging in at the same time, and how can the charging be smoothed out to avoid blowing a transformer or contributing to a peak event?
A Department of Energy study found that the idle capacity of today's electric power grid could supply 70 percent of the energy needs of today's cars and light trucks without adding to generation or transmission capacity—if the vehicles charged during off-peak times, somewhere between the hours of 9:00 p.m. and 6:00 a.m. However, currently nighttime rates aren't low enough compared to daytime rates to change habits. Incentive-based pricing to motivate off-peak charging is important but not sufficient. Consumers will plug-in whenever they get the chance due to fear of a depleted battery—a phenomenon referred to as "range anxiety."
Pure battery electric vehicles will serve as a secondary vehicle for most households, while plug-in hybrids, with their long driving range, can serve as the primary vehicle. Pike Research states that demand for EVs will begin increasing in 2012 as owners begin to travel further with their vehicles and become more familiar with where and how often to charge.
#3—Mobility of Load: Even if the proper collaboration and planning between EV owners and their utilities allows for proactive right-sizing of assets, another issue arises from the fact that this significant new load can move unpredictably throughout the delivery system, and across utility service territories. How do utilities plan and forecast for the equivalent of a whole home load that isn't stationary?
Public charging infrastructure has the advantage of imminent coordination among stakeholders, but 80 percent or more of EV charging likely will occur at a private residence—mostly the EV owner's, but not always. Charging at home presents a different set of ramifications than does paying at the pump.
Policies and Practices
#4—Billing: The mobility concern also applies to billing. This is also referred to as the charge-roaming factor. EV charging is faced with the big issue of who should be billed? Identifying energy consumption and billing customers accurately will be a challenge. For private residential charging, disaggregating EV energy consumption from the whole home consumption and crediting the charging host can vary from one home to another home and one utility to another utility, interstate or intrastate, and differing rate structures.
If someone plugs in at a public charging station, how does the bill get back to the vehicle owner? A number of payment methods could work, including a pay-at-the-pump service, in which the user adds credits to a personalized key fob or prepaid card. Alternatively, costs could be automatically added to the consumer's household utility bill, or the balance settled remotely with the user paying via SMS text messages. All these mechanisms are being tested, and they all present challenges.
Utilities will need to modify their billing systems, if they own the public charging infrastructure, to calculate energy usage rates and generate bills more frequently than the current practice of 24 hours. In a public-charge event, as many as five factors might need to be settled: the amount of energy consumed, distribution fees, charging station surcharges, new tax implications and possibly even parking fees. Additional costs might arise from credit card readers, transaction fees and terms. Mobile billing could evolve into a completely new transaction model, with sales managed through a scalable clearinghouse system.
#5—Gas Tax Recovery: The price of each gallon of gasoline includes federal excise taxes and state sales and road taxes. As EV adoption increases and replaces ICE transportation, electricity energy providers will be responsible for metering, assessing, administering and collecting equivalent tax revenues. As yet, no one knows how these taxes will be calculated and levied, or whether they'll be affected by clean fuel credits.
#6—Carbon Credits: Some states plan to give emissions credits to utilities for supporting rechargeable cars, but these credits could go to automakers instead. Since car companies absorb the costs to develop advanced vehicles to meet local requirements, policy makers might ascribe societal benefits from EVs to auto manufacturers. As a result, automakers rather than utilities might earn credits for the low-carbon fuel aspect of EVs.
Full Service Island
#7—Helpdesk Support: As both consumers and electricity providers transform solutions and processes in support and management of EVs, the impact to the utility's help desk can't be ignored. Will EV owners know who to call regarding various aspects of their new vehicles? Which questions should be directed to the carmaker, and which to the utility? What if the consumer forgot to opt-out of a demand response event and subsequently discovered that his EV didn't fully charge? Such scenarios have the potential to significantly increase call volumes—and the complexity of issues that customer service representatives might be asked to address.
#8—Data Security & Privacy: For EV distribution tracking and proactive electric distribution asset management, utilities will reach out to consumers and EV dealers for information collaboration regarding EV purchases—e.g., purchaser, type, addresses, drive patterns, location and tracking of charging locations and events, etc. This ideal measure of proactive vehicle-to-grid management, while voluntary, will raise concerns about the privacy and security of this data.
#9—Installation Model: When a consumer purchases an EV on Friday and picks it up from the dealer on Monday, he will expect to be able to simply plug it in at home to charge and take advantage of specific EV electricity rate structures. Discovering that a new electrical circuit and even a separate meter might be required won't provide a positive consumer experience.
One of the most important decisions a plug-in electric vehicle owner will make is how to charge their vehicle. Most plug-in electric vehicles will charge at home on one of two charging levels. Depending on which charging level is selected, the home electrical system might need to be upgraded, which could cost in the neighborhood of $2,000.
At this juncture, a utility's common practice includes the installation of a second meter and dedicated circuit. While some utilities subsidize this expense for their customers, the installation can still be costly. In addition to installation cost, permits for the electrical work and inspections will be prerequisites. This process must be handled carefully to ensure the new EV-customer relationship begins with satisfactory service.
#10—Messaging and Education: As the number of EVs grows over time, how customers charge their vehicles—at home and using public charging infrastructure—will become a significant factor in determining the impact to the electricity grid. Avoiding spikes in electricity demand as a result of charging patterns will be an important policy objective. Utilities will need to reach out to customers to understand their interest in plug-in electric vehicles, including intent to purchase, to more effectively assess and plan for potential upgrades.
Consumer segmentation is complex and not yet clearly understood by utilities. An entire range of motivations and attitudes exist. Hence, not one messaging strategy fits all. The industry is just beginning to understand the complexity of consumer attitudes relative to the smart grid.
The consumer segment isn't monolithic, but quite complex in its attitudes. In the end, the largest segment of people tends to be motivated by comfort and convenience. Positions span from diehard green enthusiasts to conditional green supporters; from off-the-grid individualists to traditionalists who want no change at all.
Messaging to consumers must account for this variety, using carefully targeted messages that resonate with each of segment. A single message, whether it's "save money" or "save the planet," won't suffice. Messaging must combine the rational with the emotional. In order to make this happen, much more market research into consumer attitudes is needed. Program design and messaging is every bit as important as technology.
Addressing EV Challenges
There's little question that EVs represent significant opportunities for utilities, including increased energy sales and accelerated transformation of passive energy consumers to collaborative stakeholders. To fully realize these benefits and create a healthy market for both EVs and associated energy services, the industry must first overcome a substantial set of challenges. Given the breadth of those challenges, solutions will need to come from many industry constituents in a collaborative fashion. These stakeholders will need to embrace a shift in thinking, from grid operations and public policy, to consumer engagement and outreach.
The vision of smart grid technology is currently focused on a ubiquitous network of monitoring and metering assets delivering multiple applications that optimize the delivery and use of energy. To address the challenges of EVs, flexible infrastructure is needed, as mobile loads will dynamically place constraints on various nodes of the electric distribution grid. The ability to proactively monitor where on the grid problems might arise requires a focus on integrated solutions that allow for flexible communications and data delivery.
In the back office, data delivered from the smart grid network must be aggregated and analyzed in a timely fashion to identify and respond to issues before they escalate into service disruptions. This level of integration requires a network that dynamically prioritizes traffic to deliver the right information at the right time. Scalable, secure integration of systems—including advanced metering infrastructure (AMI), distribution management systems, outage management systems and demand response management systems—is necessary to extract maximum benefit from grid-connected assets, and reliably deliver energy to electric vehicles.
The political and regulatory environment will also need a shift in thinking to address several of the top 10 challenges. How electricity used for EVs will be billed and taxed remains an open question in many jurisdictions. Application of federal road taxes, as well as incentives to charge vehicles during off-peak hours, may require separate billing of energy consumed by EVs. Additionally, the mobility of EVs means that consumers might need to buy electricity from energy retailers and distributors that aren't their household utilities. It remains to be seen whether public charging infrastructure will embrace prepayment of energy consumption, or whether utilities will establish reciprocal agreements to deliver energy to a roaming consumer on demand, and then reconcile to consumer accounts later.
Applying special billing determinants to EVs points to the need for revenue-grade metrology in public charging infrastructure and residential charging stations. While these charging assets won't support standard ANSI meter sockets, there's still a need to establish a boundary between the utility and consumer domain. Metrology onboard EV charging stations must be accessible to utility inspection and maintenance, and use standard interfaces such that meter manufacturers and charging station vendors can easily integrate and interoperate.
A central focus of the smart grid is engaging energy consumers in a collaborative partnership to ensure that supply and demand are continuously balanced across the grid. Consumer price signals, demand response, distributed generation and voltage conservation are all key aspects of this balancing act. The emergence of EVs into this dynamic dramatically increases the potential, as well as the need, for collaboration between utilities and their consumers.
Consumers will look to utilities for answers and solutions for EV charging. Residential rates, demand response programs and grid protection initiatives will rely on engaged consumers who are aware of programs and incentives. Whether charging at home or on the road, outside of their home utility's territory, EV consumers need to be aware of how their vehicle energy will be replenished, and at what cost and timing. For utilities, grid operations and billing solutions will be meaningless unless they connect with the needs and concerns of consumers.
A New Way of Thinking
By embracing a new way of thinking about energy delivery, utilities can transform the top 10 EV challenges into substantial opportunities. The utility of the future must be able to meet the energy consumer of the future where they are—which will increasingly be on the road. Smart grid solutions must provide the flexibility to deliver applications and functionality to all levels of the grid, to deliver energy to mobile assets, while increasing reliability. Doing so will allow the market for EVs to flourish, realizing the opportunity not only for additional electric sales, but for an integrated energy services economy.