Deck:
Business models are evolving to suit a shifting industry landscape.
Author Bio:
Andre Begosso (andre.p.begosso@accenture.com) is a senior executive in Accenture's utility strategy practice and is located in Detroit. Jack Azagury (jack.azagury@accenture.com) is a senior executive at Accenture and leads Accenture's management consulting business for the resources industries; he is located in New York. Tim Porter (timothy.p.porter@accenture.com) is a senior executive in Accenture's utility strategy practice and the retail lead for utilities. The authors acknowledge the contributions of Curtis Bech, manager in Accenture's utility strategy practice.
The next 10 to 15 years will be among the most disruptive the U.S. utility industry has witnessed in more than 50 years. While utilities have faced change in the last three decades, including deregulation, re-regulation, the rise and fall of the merchant model, and new Clean Air Act regulations for SO2 and NOx, the structure of the industry has remained fundamentally unchanged. In addition, all of these changes have been mostly sequential, allowing utilities to focus on the one issue at hand.
Today, the reality is different. There are many forces at play simultaneously—for example, mergers and acquisitions, smart grid development, customer activism, environmental regulations and new technologies—and the industry is being forced to confront these trends, while at the same time facing unprecedented political and regulatory uncertainty.
Utilities will need to undergo significant change in order to respond to this challenge, but many will be hampered by a lack of long-term planning, a disbelief among C-Suite executives that the future will truly be different (namely "we've heard this all before!"), an economic recovery fraught with uncertainty, and a regulatory and legislative framework that's ill-suited to driving the required level of change.
The Age of Uncertainty
The age of uncertainty is characterized by four main forces: Unprecedented consolidation of the industry; a shift in the demand-supply balance; a tipping point in the take-up of smart grid technologies; and increasing downward pressure on returns on capital.
The first force, consolidation, is characterized by the increased pace of M&A activity. The utility industry has seen more acquisitions in the last 24 months than in the previous six years. The number of shareholder-owned electric utility companies has dropped approximately 41 percent in the past 15 years from 98 to 58.1 We expect this trend to accelerate over the next decade and the number of public utilities to halve over the next 10 years. This trend isn't only a response to escalating cost pressures and the need for stronger balance sheets to accommodate growth in capital expenditures (cap-ex), it's also a result of a lack of organic growth options for utilities, making M&A one of the few attractive EPS growth options in the short term. The market has priced-in this trend with potential targets commanding a P/E ratio that, on average, is one point higher than the ratios of potential acquirers; this P/E differential seems unlikely to slow down M&A activity.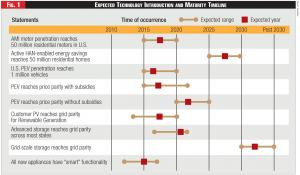 The effectiveness of these M&A deals at driving value is significantly constrained by regulation, labor rules and approvals. Recent mergers have, for the most part, been characterized by low premiums and low post-merger savings in exchange for more rapid regulatory approvals. While utility mergers have, on average, destroyed shareholder value, the latest wave of mergers is likely to be, on average, shareholder-neutral, and will result in stronger balance sheets to tackle cap-ex investments.
The second force is characterized by a shift in the demand-supply balance. The most immediate supply-side shift is new environmental regulation currently being reviewed by the Environmental Protection Agency (EPA).2 The North American Electricity Reliability Council (NERC) estimates that the four rules being considered by the EPA have the potential of lowering U.S. grid capacity between 33 GW and 77 GW by 2015, or 10 percent to 20 percent reduction in coal capacity in just three years. This capacity reduction would result from the retirement of small and mid-size coal units as well as some derated capacities across the U.S. coal fleet. This reduction in capacity will mostly be replaced by natural gas combined cycle units—existing or new—and could increase the overall demand of natural gas from existing plants by an expected 1.9 to 2.8 Tcf per year.3 This is in addition to a predicted 8.8 to 10.3 Tcf per-year increasein natural gas consumption from gas fired plants planned or under construction. In total, this will drive a 150 percent to 200 percent increase in natural gas demand from the electric utility industry in the next 10 years, which will put significant upward pressure on the price of natural gas—even assuming continued growth in shale gas exploration.
In addition to these rules, the EPA also announced in December 2009 that it considers greenhouse gas emissions an endangerment to public health. This finding was driven by the U.S. Supreme Court decision that greenhouse gas (GHG) emissions should be covered under the Clean Air Act and defined as air pollutants. Today, there's no specific regulation, but the ruling is expected to be a catalyst for potential new GHG emission regulations for utilities in the near future. Additionally, 29 U.S. states are mandating renewable portfolio standard (RPS) programs. Utilities will have to build 250 GW of new generation capacity to offset retirements and meet new demands through 2035, and this new supply will be primarily comprised of natural gas and renewable capacity.
The third force is the introduction of smart grid systems and other new technologies that will significantly alter the current structure of the value chain. Accenture's analysis, summarized in Figure 1, predicts that we will witness a tipping point in the take-up of this technology 10 to 15 years from now. Once this inflection point is achieved, take-up will be very rapid, as is the case with digitally based technologies that follow an exponential evolution. Progress toward this tipping point will be heavily driven by deployment in such emerging markets as China, which will take the lead in smart grid investments over the next five years.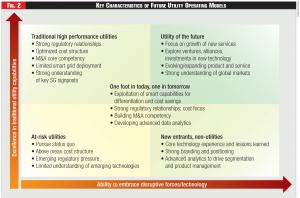 The introduction and growth of smart grid and other new technologies, such as distributed generation, renewable energy, home area networks, non-AMI dependent home automation technologies and electric vehicles, will lead to two key risks:
* Disintermediation of the customer from the utility as new entrants, including non-utility retailers, technology companies, and manufacturers, seek to sell energy and energy based products to end users. Despite the pullback from Microsoft and Google in the energy efficiency space recently, we believe this trend will continue and new entrants will eventually succeed.
* Disruption of the distribution grid as more intermittent, variable and unpredictable sources of generation come online, many of which bypass the grid altogether.
Not surprisingly, utilities are now being asked by regulators to develop plans to deal with all of these variables and to integrate these new technologies. The traditional integrated resource plan (IRP) framework is obsolete and can't effectively deal with all these variables. Furthermore, most utilities currently employ grid designs—with limited visualization and automation—that aren't suited to supporting such complexities, including wide-area coordination of distributed generation assets and two-way power flow. New capabilities are needed and it's critical for utilities to start developing a deep understanding of these technologies, their market potential, emerging business models, and the strategies that will be needed to effectively leverage or accommodate new technologies as they are adopted and achieve scale over the coming decades (see Figure 1).
The final force is related to the ability of utilities to earn a return and recover their capital investments. The cost to upgrade the grid and support new technologies is estimated to be between $250 and $350 billion4 over the next 20 years. An additional $700 to $800 billion5 investment in generation will be needed to replace and increase the capacity required to serve the projected load. Customers will ultimately have to foot a bill that can easily exceed $1 trillion over the next two decades.
Not surprisingly, customer advocacy groups aren't thrilled about this prospect. They're demanding that utilities accept a lower rate of return on their invested capital or reduce their capital spending and O&M levels so that inflation adjusted rates will remain flat. This pressure is intensified by persistent economic weakness and high unemployment rates, which will take years to improve as the economy de-leverages itself. Another complicating factor is that utilities will continue to face rising construction costs as well as pension and benefit costs. While construction costs have historically tracked inflation, from 2000 onwards total costs have increased roughly 42 percent6 versus inflation of approximately 17 percent.7 A major driver for increased costs is the rise in raw material commodity costs—cement, steel, copper, etc.—which has been accentuated by the depreciation of the U.S. dollar. Utilities will have to be even more diligent with their capital efficiency, supported as always by a solid regulatory foundation.
The New Business Models
In order to survive and thrive through this period of intense turbulence, the winning utilities will need to focus on two key dimensions: a focus on operational excellence, and an ability to embrace new and disruptive technologies (see Figure 2).
Operational excellence can be defined as the ability to deliver a desired outcome—such as a level of service, safety or quality—in the most cost effective and efficient manner. The regulatory framework in the U.S. hasn't encouraged companies to drive operational excellence within regulated operations. The industry doesn't benchmark well against other industries or against utilities in countries that have implemented a performance-based regulatory framework, such as the UK utility industry—which some argue has led to excessive cost cutting.
Given supply and demand pressures, plus the need for increased capital expenditures and growing downward pressure on allowed ROEs, consolidation alone can't guarantee the levels of operational excellence and capital efficiency that will be required to keep consumer rates low. Utilities will need to focus both on O&M and capital efficiency by optimizing processes, improving their use of technology, and re-prioritizing and improving the way they deploy capital. In addition, consolidators will need to be aggressive in driving synergies and moving merged organizations onto common process and technology platforms. Although most utilities are primarily focused on maximizing their regulatory allowances, a number of utilities have successfully implemented operational excellence or business transformation programs and worked within the regulatory compact to balance shareholder and customer benefits.
Regulators will need to play a very active role in this necessary evolution of the industry and encourage performance-based regulation and incentives to drive O&M and capital efficiency. This will allow utilities and their shareholders to reap the benefits of efficiency efforts.
The second dimension for industry focus is the ability to embrace new and disruptive technologies. Over the past two years the industry has benefited from an injection of federal stimulus dollars in the form of grants or tax incentives to support the development of new technologies, such as electric vehicles, solar power, smart grid and smart metering and many others. This support from the federal government will be significantly reduced, and in many cases nonexistent, over the coming years. The industry will have the responsibility for driving innovation and maintaining its leadership position in smart grid technologies.
Many in the industry assume that new technologies are a passing fad—for example electric vehicles were favored by Thomas Edison in the early part of the 20th century, and moreover, that the trend toward distributed generation has been discussed for more than a decade and yet hasn't materialized, and that the utility will always own the relationship with its end customers. The fact remains that no company or industry has escaped technology disruption—including sectors that were thought to have a monopoly over their market, such as the post office or telephone companies. The utility industry will be no different; it's a question of "when," not "if." Utilities that fail to embrace new technology will find their role in the value chain diminished as new entrants seek to capture the customer relationship and bypass the utility.
Successful utilities will need to embrace new technologies either as a first mover, or most likely as a fast follower. They will seek partnerships, invest in new technologies and treat this evolution as an opportunity to drive new revenue growth. They will ensure they're at the forefront in terms of understanding new technologies by partnering with other players, conducting well-structured pilots to learn, and moving aggressively when it makes sense. In most cases utilities need to have a clear owner in their organization who is responsible for developing and driving a technology roadmap for the company. The industry will need to seek ways to learn from technology deployments in other countries, such as China, that will be the leaders in terms of deployment scale.
This isn't only critical to drive a company's competitiveness; a failure to do this will put the U.S. utility industry at risk of falling behind other countries and will impact our competitiveness as a nation, as energy-related technologies are the foundation for the economy of the future, much like information technology has been over the last 20 years.
In order to do this, the industry will need a more certain and progressive regulatory and legislative framework. To date, that framework has been ill-suited to making long term technology bets.
The Bottom Line
The next 10 to 15 years will be very disruptive ones for the utility industry. Utilities will face concurrent forces of change, many of which will fundamentally alter the industry landscape. Failing to recognize this new reality today will limit the options a utility will have to shape its own future.
These disruptions will create significant opportunities for new revenue streams for utilities that are able and willing to react constructively to the forces of change. Leading utilities will be able to deliberately shift their business models to meet these challenges and capture significant value—either in existing businesses or by offering innovative products and services. As the cost effectiveness of emerging technologies continues to improve, the associated disruptive forces will intensify, increasing the gap between leaders and laggards. The time to recognize this new reality is now. The road ahead won't be an easy one for traditional utilities because a significant level of effort and commitment will be needed to successfully compete and cope with these changes.
Utilities can't accomplish this transition alone. The regulatory and legislative compact will need to evolve and create an environment that provides greater certainty and direction, and rewards companies for their ability to transform and embrace operational excellence and innovation. This journey won't only impact individual companies' competitiveness, but will shape the U.S. economy as a whole.
What is clear is that there's no better time than now for utilities to begin planning for the journey ahead.
Endnotes:
1. Source: Edison Electric Institute Index Group of Electric Utilities; Accenture Analyses
2. Clean Water Act, Section 316(b); Clean Air Act, Title 1; Clean Air Transportation Rule; Coal Combustion Residuals Disposal Regulations
3. Accenture estimates, EIA
4. Accenture estimates
5. Accenture estimates
6. Federal Reserve of St. Louis
7. U.S. Department of Labor, Bureau of Labor Statistics