Deck:
How we got here and what to expect.
Author Bio:
Jean Agras is vice president of the Ventyx Advisors environmental markets practice. Contact her at jean.agras@abb.ventyx.com.
Over the past few years, new regulatory requirements from the United States Environmental Protection Agency's (EPA) Clean Air Act (CAA) and recently the Cross-State Air Pollution Rule (CSAPR) have led U.S. electric generators to make substantial investments in emission control upgrades to reduce emissions of sulfur dioxide (SO2) and nitrogen oxides (NOx). Continued EPA activity, including anticipated regulation of mercury, toxins, cooling water and ash residue, is leading to even more significant action, such as the cancellation and delay in construction of new coal generation.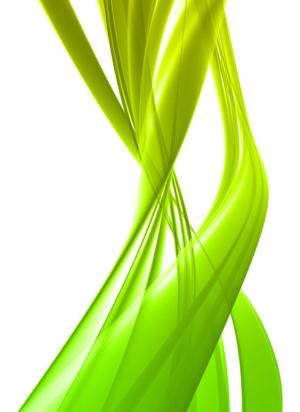 Understanding the current and forthcoming emission regulations—and accurately forecasting emissions prices and energy prices—will help electric generators make the correct investment decisions today.
Clean Air Past and Present
In emission markets, as with anything, to fully comprehend our current situation and accurately forecast the future, one must understand the past. Therefore, let us cast a backward glance over the last few years to outline the process that has led to today's circumstances.
Historically, both EPA regulations and congressional legislation have focused on the use of cap-and-trade mechanisms to reduce emissions. Based on experience with these mechanisms in both small and broad scales, it's an economically more elegant way to achieve reductions in a least-cost manner than the command-and-control type of measure put forth recently by the EPA. For instance, despite issues around price stability and abatement results in the first year of Europe's Emissions Trading System (ETS) begun in 2005, in recent years the ETS has produced promising results. Prices of allowances have stabilized—especially relative to major fuel sources like coal, oil and gas. And, investments in clean energy in European countries such as Germany—whose clean energy sector grew by more than 75 percent in the last five years—clearly demonstrate that EU nations are making significant moves to reduce carbon emissions.1
We don't have to look to the European continent to see examples of successful cap-and-trade programs in action, however. There are numerous examples here in the US.
• Acid Rain Program: Title IV of the CAA, the Acid Rain Program (ARP), was initiated in 1995 to reduce emissions of SO2 and NOx, the primary precursors of acid rain, from fossil fuel-powered generators. The first phase affected the 110 highest emitting plants in the United States. Phase II started in 2000 with tighter emission limits and extended the program to include nearly all fossil fuel-burning generators with a size of 25 MW or larger. The ARP's main vehicle for implementation is a cap-and-trade program for SO2 under which individual generators may exceed their emission allocation, but the system as a whole remains below the cap. Emission reductions achieved can also be banked for use in later years, allowing for a gradual adjustment of emissions for individual generators.
According to the latest results from the EPA, ARP units have reduced annual SO2 emissions by 70 percent compared with 1980 levels and 67 percent compared with 1990 levels. Sources emitted 5.2 million tons of SO2 in 2010, well below the current annual emission cap of 9.5 million tons, and already below the statutory annual cap of 8.95 million tons set for compliance in 2010.2
• NO SIP Call: On Sept. 24, 1998, EPA finalized a rule known as the NO SIP Call, requiring 22 states and the District of Columbia to submit state implementation plans (SIPs) that address the regional transport of ground-level ozone. In 2003, EPA began to administer the NO Budget Trading Program (NBP) under NO SIP Call. The NBP was a market-based cap-and-trade program created to reduce emissions of NOx from power plants and other large combustion sources in the Eastern United States. The NBP was designed to reduce NOx emissions during the warm summer months, referred to as the ozone season, when ground-level ozone concentrations are highest.
Since the NBP began, it has successfully reduced ozone season NO emissions throughout the region. According to most recent data from the EPA3, in 2008 NBP ozone season NOx emissions were 9 percent below the 2008 cap; 62 percent lower than in 2000 (before implementation of the NBP); and 75 percent lower than in 1990 (before implementation of the CAA).
• CAIR/CATR/CSAPR: The Clean Air Interstate Rule (CAIR) was promulgated by EPA on March 10, 2005, to reduce SO2 and NOx emissions in 28 states across the Eastern U.S. The intent of CAIR was to reduce pollution in non-attainment areas that are affected by emissions from stationary sources. The implementing vehicle was a cap-and-trade program under which individual generators could exceed their emissions allocations, but the system as a whole was required to remain below the cap. In 2010, CAIR SO regulations replaced the Acid Rain Program in the applicable states, while non-CAIR states continued to be regulated by the Acid Rain Program.
Although the U.S. Court of Appeals for the D.C. Circuit vacated the rules in 2008, CAIR remains in place while EPA finalizes new regulations (see "From CAIR to CSAPR"). The EPA's latest statistics show that the program has reduced ozone concentrations by 16 to 18 percent in CAIR states, as well as improved air quality and reduced the transport of fine particulate matter (termed "PM" in the EPA standards) by as much 18 percent.4
Figure 1 shows the significant drop in NOx emissions since the start of the NOx SIP Call and CAIR, as compared to the new targets set by the CSAPR. (Editor's note: At this writing, EPA was considering public comments on proposed changes to its CSAPR targets for several states. The agency proposed to increase emissions budgets to "address discrepancies in unit-specific modeling assumptions.") Prior to 2009, these states only faced ozone season caps under the NO SIP Call. With the inception of CAIR, units began running NOx control technology year round, causing the large decrease from 2008 to 2009.
Not only have these programs accomplished their goals in terms of emissions reduction; they have also proved to be economically feasible as well, despite initial volatility in some market-based programs. Consider the history of the ARP, CAIR, and CATR. Figure 2 shows the initial allowance allocations and subsequent year allocations plus bank as compared to actual emissions.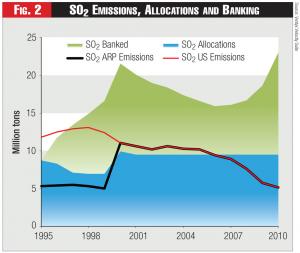 The initial allocation of SO allowances under the Acid Rain Program was 8.74 million tons to the Phase I facilities. In the first year, actual SO2 emissions from these units were only 5.3 million tons, creating an initial bank of 3.44 million tons of SO allowances in the second year of the program. The cap for the Phase I units decreased from 1995 to 1999, but never was lower than actual emissions from these facilities. This allowed the bank to continue growing.
Once the Phase II units were added in 2000, the bank began to decrease as total SO2 emissions were greater than the total cap. This remained the case until 2006, when the SO2 emissions became lower than the cap. This was due to a large number of SO2 control systems installed at facilities in the 2004 through 2008 time frame, as well as a switch to lower sulfur coal. At the end of 2008, the bank of SO2 allowances was just under 7 million tons. In 2009, it was expected that the bank would increase further due to more scrubber installations and no lowering of the cap. Under the CAIR program, this bank could have been used in that program. With the introduction of CSAPR, this bank will continue to grow as the SO2 allowances are greater than current emission levels.
The NOx history is similar to SO2, but not as extreme, and demonstrates the ability of these systems over time to stabilize prices. There was a bank of NOx allowances in the second year of the SIP Call program, but the ozone season NO bank never represented more than 18 percent of total allocations in the market. The SO2 bank of allowances was as high as 50 percent of total allocations in the market.
Figure 3 illustrates historical emission prices for SO2, NOx ozone season, and NOx annual. Most of the volatility in prices came at the time the new CAIR rule was being debated. The uncertainty around what the rules would look like drove SO2 prices as high as $1,600 per ton. Prices stabilized in 2007 once the rule was finalized, but then dropped again in 2008 when the courts vacated the ruling. With the introduction of CSAPR, these prices won't rebound.
GHGs and Regional Regulation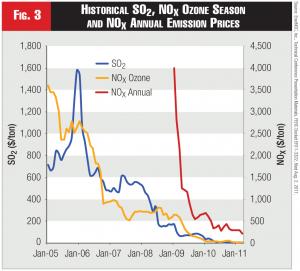 Until the very end of 2009, national greenhouse gas (GHG) regulation seemed inevitable. With the 2010 campaign and subsequent election of a Republican majority in the House of Representatives, the likelihood of federal GHG legislation passing has drastically decreased. Still, while legislation has foundered on a national scale, regional initiatives to reduce GHG emissions are being deployed in the Northeastern U.S. and in California. Both of these programs utilize cap-and-trade mechanisms.
Initiated in 2003, membership in the Regional Greenhouse Gas Initiative (RGGI) includes 10 Northeast and Mid-Atlantic states, including Maryland, New York, Massachusetts, and New Jersey. In January 2007, RGGI released its revised draft model rules for a carbon cap-and-trade market. The primary elements of RGGI's model rule were: CO2 cap-and-trade with the cap initially based on 2000-2002 emissions; a flat cap between 2009 and 2014 declining by 2.5 percent per year during 2015-2018; and at least 25 percent of the permits (allowances) to be auctioned by each state with proceeds going to "consumer benefits or strategic energy purposes," such as efficiency programs, consumer rebates or other related public benefits.
As mentioned above, the RGGI allocations were based on 2000 through 2002 emission levels. Since that time, modern combined-cycle generation has been displacing oil-fired generation. Since oil-fired generation is more carbon-intensive than natural gas is, this ongoing shift in the generation mix alone might keep CO2 emissions below the RGGI targets well into the next decade. Figure 4 shows historical CO2 emissions in the RGGI region versus the cap. The bottom line is that RGGI is over-allocated, and the traded price for allowances is expected to continue clearing at the floor price. Additionally, some states have begun using the revenues from the program to offset budgetary shortfalls instead of using the proceeds to achieve further CO2 reductions.
On the West Coast, GHG emissions are being addressed through the Western Regional Climate Action Initiative (WCI), and in California specifically through state legislation, Assembly Bill 32 (AB32).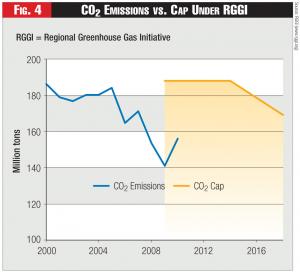 In December 2010, the California Air Resources Board (CARB) finalized the draft resolution establishing state cap-and-trade regulations as one of the strategies to meet California's AB32 requirements, reducing CO2 emissions so that 2020 levels are equal to 1990 levels. The regulation will begin in 2012, but it's expected that emission obligations won't begin until 2013.
California continues to work with the other six states in the WCI to design regional programs to further reduce CO2 emissions. In February 2007, the Western Governors Association signed the WCI, a memorandum of understanding to develop a regional target of lower GHG emissions and create a market-based approach to achieve that target. Although this group is a few years behind RGGI, it's following a very similar path. It's possible the WCI could learn from the Eastern states' action and develop an RGGI-like plan in fairly short order.
In August 2007, WCI announced a goal of reducing GHG emissions to 15 percent below 2005 levels in WCI partner states by 2020. On March 3, 2008, WCI released a draft update to its cap-and-trade point of regulation for the electricity sector. While the WCI partners are still evaluating different approaches (retail, "first seller," load-based, etc.), they currently agree that a generator-based option is preferable. There are also efforts to expand the WCI to include generators within the entire Western Electricity Coordinating Council (WECC) region. To prevent leakage, WCI is evaluating several plans to ensure that all electricity consumed within WCI's jurisdiction is subject to the same CO2 costs.
In July 2010, WCI partners released the design for the WCI program. The first phase of the cap-and-trade program is scheduled to begin on Jan. 1, 2012, covering emissions from electricity, including imported electricity, industrial combustion at large sources, and industrial process emissions for which adequate measurement methods exist. The second phase would begin in 2015, when the program expands to include transportation fuels and residential, commercial and industrial fuels not otherwise covered. However, no U.S. state other than California currently has plans to implement the cap-and-trade program in 2012.
EPA Command and Control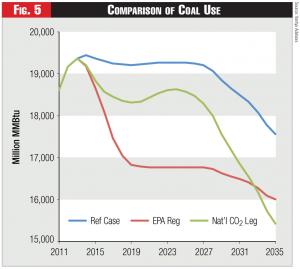 The EPA has promulgated GHG regulations under the Clean Air Act, most recently for medium- and heavy-duty vehicle engines. However, on Sept. 15, 2011, the agency said it would miss its September deadline for proposing new source performance standards (NSPS) limiting GHGs for new and expanded power plants. EPA hasn't issued a new timeline for developing the rules, which were supposed to be finalized in May 2012.
In the meantime, EPA is moving forward with other regulations that will affect power generators.
• Utility MACT Rule: On March 16, 2011, EPA issued its Utility Maximum Achievable Control Technology (MACT) rule, which aims to reduce toxic emissions from coal- and oil-fired power plants. The rule, which covers mercury and other toxic metals, acid gases, and organic air toxins, resulted from a consent decree with the D.C. Court of Appeals requiring EPA to determine whether standards for hazardous air pollution from power plants are "appropriate and necessary." EPA did so in 2000. The agency ended its comment period on the proposed rules in August, and is expected to issue final rules in mid-November, setting emission caps for power plants that require them to meet or exceed the performance of the top 12 percent of units in the industry. (In May 2011, EPA issued an order delaying the implementation of a similar set of rules affecting industrial and commercial boilers, after identifying discrepancies in the data it used in establishing emissions targets.)
• Ash Disposal Rule: The Coal Combustion Residuals (CCR) Rule, commonly referred to as the "Ash Disposal Rule," regulates the handling, use and disposal of ash residuals at coal-fired facilities. It's the result of the failure of ash impoundment facilities at TVA's Kingston plant and resulting release of CCR in 2009. The rule would establish regulatory requirements under the Resource Conservation and Recovery Act (RCRA) for disposal of CCRs using one of two options proposed by the EPA—either Subtitle C or Subtitle D. Subtitle C would regulate CCRs as a "special waste," regulating them from the point of generation to the final disposal site, with disposal facilities subject to requirements including liner installation, groundwater monitoring, dam stability and safety, corrective action, and financial assurance. Under this option the requirements would apply to existing impoundments and all new impoundments and landfills.
Subtitle D would regulate CCRs as solid waste, as they are currently regulated, and the handling and disposal requirements would be similar as with subtitle C, but the regulating authority of the EPA would be limited and enforcement would be enacted at the state level, requiring no federal permits. Lawmakers in the House have introduced two separate bills as an attempt to block the EPA's ability to regulate CCRs under subtitle C. The EPA decided in April that it would allow a new period of public comment on the analysis it has collected regarding CCR regulation after stakeholders' criticism that it didn't properly weigh risks and economic impacts. The EPA has estimated that CCR regulation would cost between $600 million and $1.5 billion annually and wouldn't result in any additional retirements.
• Cooling Water Intake Rule: The EPA's proposed rule for cooling water intake establishes an upper limit for impingement—when fish are trapped against an intake screen—and establishes a process to determine best technology available (BTA) for entrainment—when fish are pulled through intake screens. The rule will affect 1,200 operating coal-fired units, 150 oil-fired units and less than half of the existing nuclear fleet's units, where intake flow is greater than 2 million gallons per minute. The final rule is scheduled to take effect in July 2012 and will require implementation of mitigation technology for impingement within eight years of the rule coming into effect, while the requirements for entrainment will be based on the timing of the permitting authority review and recommendation process. The EPA estimates that this rule will result in 9 GW of retirements of primarily older oil and gas-fired steam units and an annual total compliance cost of $400 million.
Intended and Unintended Consequences
No doubt these new EPA regulations have the potential to significantly improve the quality of our air and water. However, how these goals are achieved and what impact they have on the power generation industry—e.g., generation investments, emission prices, etc.—remains unanswered.
Based on extensive and ongoing research, as well as advanced modeling applications, forecasts suggest the new regulations will have some potential unintended consequences. For instance, the new EPA regulations would require electricity generators to make decisions on the individual unit level. EPA regulators most likely anticipate that these new rules will result in increased investment in scrubbers, instead of other "clean coal" technology such as carbon capture and sequestration. However, with the layering on of multiple regulations, the costs can rapidly add up for coal units and likely result in their retirement rather than retrofitting. In fact, based on our latest research, approximately 8,000 MW of coal-fired generation capacity has been retired in the U.S. in the last five years, and generators have announced they plan to retire another 17,000 MW over the next five years. Announced retirements are due to a combination of low gas prices and uncertain EPA regulations.
Additionally, with no price signal for the development of carbon capture and sequestration, emissions of CO2 may be reduced to a certain extent. However, they will almost certainly not be reduced as much as they would have under a national CO2 cap-and-trade scenario with established caps and set emission prices.
Furthermore, with NOx and SO2 caps, regulators have basically set the level of emissions that will be allowed in total. However, with retirement of coal plants due to costs incurred under other programs, we likely won't see lower levels of SO2 and NOx, just the need for less control equipment.
The Ventyx Spring 2011 Reference Case modeled the electric industry under current finalized regulations, including the Transport Rule, RGGI, and AB32, but didn't include the newly proposed EPA regulations. Additionally, the Spring 2011 Reference Case included a scenario that implemented a national CO2 cap-and-trade program beginning in 2015. To better understand how newly proposed EPA regulations would affect coal burn and CO2 emissions, additional modeling analyzed an EPA case where significant coal reductions occurred from 2013 to 2017 due to impending regulations.
Figures 5 and 6 show the comparison of coal use and CO2 emissions under the three scenarios. In Figure 5, the reduction in coal use declines much more rapidly with the heavy retirement due to new EPA regulations. With federal carbon legislation, the retirements are more gradual in the early years, but increase rapidly past 2020 CO2 prices begin to increase dramatically to meet the standard. However, the difference in CO2 emissions between the cases tells a different story, as shown in Figure 6. With significant CO2 prices, there's incentive to develop carbon capture and sequestration technology.
To meet a national CO2 cap, many coal plants continue to run, but reduce their emissions through control technology. In both cases, reductions in coal generation are offset with new gas generation, which is still a significant contributor to greenhouse gas emissions. Even with a 55 GW reduction in the U.S. coal fleet, emissions drop in the early years, but then continue to grow. To reach significant CO2 reductions, other measures need to be taken.
So, what are we to make of this and what can we expect in terms of future regulation and legislation? Will our leaders in government return to cap-and-trade mechanisms? There are too many variables in this equation to calculate a probable scenario. One thing is certain, however; the trend toward cleaner and "greener" fuel sources will move forward, regardless of the regulatory scheme put in place.
Endnotes:
1. "Should America Follow Europe's Lead on Energy?" Jennifer Morgan, World Resources Institute, July 12, 2011.
2. "Acid Rain and Related Programs: 2009 Highlights," EPA, Dec. 20, 2010.
3. "NOX Budget Trading Program 2008 Progress Reports," EPA, Oct. 08, 2009.
4. "EPA's NOX Reduction Program and Clean Air Interstate Rule," EPA, Feb. 02, 2011.