Deck:
PJM and MISO ran from the altar once before. Now there's talk of a shotgun wedding.
Author Bio:
Bruce W. Radford is publisher of Public Utilities Fortnightly.
Recall that just 10 years ago, the Federal Energy Regulatory Commission (FERC) had called for a unified dispatch with a single energy market across all of PJM and the Midwest ISO, merging the two grids into a single mega-region. Such a marriage, as ruled then, was needed to fully realize efficiencies promised by the commission's standard market design, as well as to counteract the negative effects of the ragged territorial seam that was created when AEP and Commonwealth Edison threw in with PJM. (See, Alliance Cos., Docket EL02-65 et al., July 31, 2002, 100 ¶FERC 61,137.)
FERC eventually gave up that dream, but only after MISO and PJM had signed joint operating protocols to capture the low-hanging fruit. As the two regions reported in 2005, and as FERC later confirmed, the market efficiencies still to be had by merging the two regional markets and creating a single, joint and common dispatch no longer seemed substantial enough to merit the cost. (Wisc. Pub. Serv. Co. et al. v. MISO, Dkt. EL06-97 et al., Feb. 8, 2007, 118 FERC ¶61,089.)
Of course, no one today suspects FERC will go "back to the future." Yet the commission could find itself heading down that road, on sheer momentum.
The opening of the door, even if just a crack, occurred earlier this summer, when FERC launched a formal inquiry to solicit industry comment on whether rules that now govern physical transfers of bulk power between MISO and PJM have created institutional "barriers" to the sale and delivery of capacity across the RTO seam, and if so, how to fix them. (See, Capacity Deliverability Across MISO/PJM Seam, Dkt. AD12-16, notice issued June 11, 2012, 139 FERC ¶61,200.)
To gain perspective, understand that this seam—the one with supposed barriers—is the very one that spawned merger talk a decade ago: the seam that Ameren highlights today as "illogical," since it allows easy capacity transfers from downstate Illinois into Wisconsin and Michigan, but not to metro Chicago. (See Figure 1.)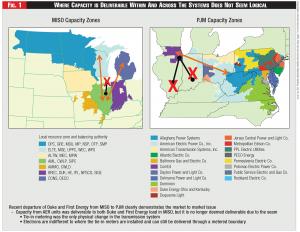 PJM, meanwhile, sees red. If any barriers exist, say its members, that's only because of requirements imposed across the region to maintain reliability—both grid security and resource adequacy.
At one point during the debates, PJM's senior vice president Michael Kormos became so exasperated that he took the unusual step to write a personal letter to FERC Chairman Jon Wellinghoff, defending those barriers as vital safeguards to ensure that any capacity bid in from out-of-region is deliverable in all events to PJM load, whenever called upon:
"MISO capacity resources aren't automatically interchangeable with PJM capacity resources," he wrote. "The fact is you can't simply replace a capacity resource located in New Jersey with a capacity resource located, for example, in Missouri."
But Ameren was ready and loaded for bear in its comments filed in August, in response to FERC's inquiry:
"There are other generating resources in Illinois and located in MISO's footprint that very much 'could replace' a capacity resource in the ComEd/PJM territory.
"Indeed, given the irregular RTO configuration, there are Ameren resources four miles away from PJM territory [and] they are connected to the same substation as the PJM resources that are deliverable throughout PJM."
Commenting on behalf of P3, the PJM Power Providers Group, consultant Roy Shanker says that to create what MISO wants—a network-like transmission right that would treat any generator qualifying as a deliverable capacity resource in one region as automatically qualified and deliverable in the other—would require nothing less than a return to FERC's decade-old vision. Grid operators would need dispatch control over two combined regions, with the power to optimize any and all capacity resources "around" any constraints or emergencies, as MISO and PJM do now, but only separately, within their own independent balancing areas:
"The simple answer," Shanker notes, "would be 'draw straws,' get rid of one of the RTOs and its overhead … and dispatch as a single system."
Caving to Pressure
For PJM, what's most alarming is FERC's use of the term "barriers," which comes straight from the MISO playbook. FERC simply repeats verbatim the pet phrase that MISO and its independent market monitor, Potomac Economics, have been circulating the past two years, ever since the Duke debacle.
That's when Duke Energy announced, in May 2010, that its Ohio and Kentucky utility subsidiaries would quit MISO and join PJM.
The motives were clear. Duke's move, completed January 1 of this year, was widely ascribed as a bid to cash in on the substantial revenues available in PJM's capacity market, the RPM (Reliability Pricing Model), which has proven much more lucrative than MISO's much less formal and voluntary capacity auction. FirstEnergy already had sought the same advantages, causing its transmission subsidiary ATSI to jump as well from MISO to PJM, and asserting that "ATSI's entry into PJM will allow customers to participate in PJM's programs [and] this includes RPM auctions."
This crisis led MISO to raise the issue of capacity portability at a June 2010 meeting of its Supply Adequacy Working Group, as a fundamental element of a new and reformed MISO capacity market the group even then was working on with other regional stakeholders. (See, Comments of Duke Energy, FERC Dkt. AD12-16, filed Aug. 10, 2012, citing aff. of Kevin Larson, ¶62, p. 25, FERC Dkt. ER11-4081, filed July 20, 2011.)
The idea was simple: make it easier somehow for MISO member utilities—still largely vertically integrated and in possession of their historic generating fleets—to sell more electric capacity across the seam and into PJM, to snag a bigger piece of pie.
Three months ago FERC finally OK'd MISO's newly revised capacity market, known as the RAR (Resource Adequacy Requirement), but calling it a "market" is a bit of a stretch. In reality the RAR serves only as an adjunct to MISO's long-established bilateral trading model: a sort of residual balancing market to fill in the gaps not covered by contracts. The auction is voluntary—load-serving utilities can choose not to bid—and is conducted only two months forward of the capacity delivery year, versus 36 months in PJM. As a result, some say it denies merchant generators from any real chance to participate, since two months of revenue can hardly attract the capital needed for infrastructure development.
Moreover, the auction sports a vertical demand curve, meaning it's designed to close at a zero price when dedicated capacity satisfies MISO's planning reserve requirement. And the exemption for those wanting to self-provide their own capacity, known as FRAP (fixed resource adequacy plan), allows utilities to "toggle" in and out of the auction, year-by-year—a strategy that PJM bars under its similar FRR exemption (fixed resource requirement), of which AEP has availed itself.
Finally, to add insult to injury, MISO's new auction provides for no mitigation of buyer market power. In truth, MISO had proposed a form of MOPR (minimum offer price rule)—a less rigorous feature of the strict price floor that FERC approved last year for PJM. (See, Battle Lines: Top Ten Legal Decisions of 2011 (#4), Fortnightly November 2011, p.28.) But FERC had found MISO's MOPR so riddled with holes that it threw out the provision entirely, putting nothing in its place. That has alarmed Dynegy, Calpine, Exelon, NextEra, and other capacity suppliers, who say that FERC "forsakes all law and precedent." (See, Capacity Suppliers' request for rehearing, p.12, FERC Dkt. ER11-4081 filed July 11, 2012, citing Order on Resource Adequacy Proposal, Dkt. ER11-4081, June 11, 2012, 139 FERC ¶61,199.)
Many observers still assert that if institutional barriers in fact have impeded capacity portability, then MISO's voluntary capacity auction might bear much of the blame. As NextEra noted in its comments filed at FERC in mid-August—contributed in part by former FERC Chairman Joe Kelliher, now the company's executive vice president for federal regulatory affairs—"NextEra has been disappointed in the tepid development of a robust capacity market in MISO…
"This was a severely flawed proposal that will do nothing to induce development of future capacity in the MISO region."
MISO's market monitor seemed to fire the first salvo a year ago when, in the midst of discussions over the new Midwest auction, Potomac Economics President David Patton claimed that firm network service into PJM was "rarely available," as it was held by parties that didn't utilize it fully. Patton eventually claimed that PJM OASIS ATC postings (available transmission capacity) were "frequently inaccurate" and "inconsistent" with results of system impact studies, and that PJM's reservation of 3,500 MW for capacity benefit margin (CBM) had reduced ATC further. (See, Answer of MISO IMM, FERC Dkt. ER11-4081, filed Jan. 26, 2012.)
Amazingly, Patton wrote then that PJM should give up the CBM reservation and make it available to external capacity suppliers "to the maximum extent possible." CBM of course denotes intertie transmission capacity reserved for importing out-of-region generation during a reliability emergency, and FERC has expressly declined to eliminate it as a reliability tool. Without it, as FERC has held, ISOs and other planners would need to increase their generation reserve margins, "which may result in higher costs without additional reliability benefits." (See, Order 890, 118 FERC ¶61,119, ¶256.)
And now the story gets interesting.
Last winter it became known that MISO had based some of its allegations on a paper prepared in December by The Brattle Group—a paper later discovered to have included an oversight. (See, Preliminary Issue Description: MISO-PJM Capacity Market Seam, December 2011, by Samuel A. Newell and Kathleen Spees.) Among other things, the Brattle study had found underutilized transfer capacity between the two regions—a charge that PJM denies. But the study omitted any accounting for the CBM offset, which if recognized would have forced Brattle to rethink ATC and its claim of underutilized capacity.
PJM was quick to pounce. In a letter—sent on December 15 to all RTO members and posted on its website, with a cc: to MISO, Brattle, and the study authors—PJM gloated: "Given the depth and rigorous analysis that Brattle performed recently for PJM, we were surprised at the premature release of their admittedly incomplete work with MISO…"
That letter in turn elicited a hasty mea culpa from the Brattle authors, in a letter released initially via Googledocs: "We understood that our analysis was intended to introduce the issues … and serve as a starting point for discussions… Now that our preliminary report has been publicly released by MISO, we are concerned that it is being referenced inappropriately as drawing definitive conclusions." (See, "Clarification about Scope of Preliminary Brattle Analysis of MISO-to-PJM Capacity Portability," by Sam Newall & Kathleen Spees.)
If anything, this tempest seemed to energize the PJM membership, which up until then had been knocked on its heels. Calpine later advised in its comments to FERC that MISO's analysis was "not ready for prime time," as it had been prepared ahead of a full stakeholder review:
"MISO rushed to bring its concerns to the commission's attention," Calpine wrote, "apparently caving to pressure from just a small group of MISO stakeholders that are anxious to make sales into PJM."
Seeking Convergence
Even as these charges and countercharges flew back and forth, participants from both regions met in Chicago, on July 16, for a joint stakeholder meeting to discuss PJM-MISO seams initiatives. At press time, a follow-up meeting was set for August 24, in Philadelphia.
As Ameren explained, the Chicago meeting featured discussion of at least a half-dozen topics, including coordination of PJM and MISO regional processes for: 1) analysis of long-term transmission service requests; 2) modeling and assumptions for capacity deliverability; 3) joint deliverability analyses; 4) capacity product definition; 5) timing of capacity auctions; and 6) combined capacity markets.
Ameren added that MISO and PJM could agree on priorities for items 1, 5 and 6, but disagreed on items 2, 3, and 4. (See, Comments of Ameren Services, FERC Dkt. AD12-16, p.12, filed Aug. 10, 2012.)
Other issues reportedly discussed include improved outage coordination and data exchange. But as Ameren added, "further agreement among MISO and PJM (and their stakeholders) in the absence of commission action is highly unlikely."
One issue worth noting is whether efficient capacity transfers can take place without price convergence in the capacity markets on either side of the seam. PJM's market monitor voiced reluctance at the Chicago meeting to pursue this question unless MISO should first revise its voluntary auction to align more closely with PJM's design. MISO argued such concern was a "red herring." (See, Comments of MISO, pp.13-14, FERC Dkt. AD12-16, filed Aug. 10, 2012.)
Yet Dynegy begs to differ, claiming that lack of capacity price convergence is itself a barrier: "Today," as Dynegy wrote in its comments, "energy is traded in both directions across the seam because price convergence for energy occurs at the seam. This is not an accident—the market rules and the administration of the Joint Operating Agreement by MISO and PJM promote price convergence for energy. This is simply not yet the case for capacity."
Nevertheless, one expert believes that prices have in fact converged.
Commenting on behalf of Duke Energy, Robert Stoddard, CRA International's practice leader for energy and environment, suggests that you can find price convergence if you know where to look.
As Stoddard notes, PJM capacity prices in its Base Residual Auctions have been running about $30 per kW-yr above MISO prices. That's $82/MW-day in PJM parlance. But as Stoddard explains, that doesn't compare apples to apples, as PJM's BRA occurs three years ahead of the capacity delivery year, versus only two months forward for MISO's voluntary capacity auction. In other words, one region runs a futures market, while the other runs a spot cash market.
However, as Stoddard notes, "were we to compare PJM's spot capacity price—set in the Third Incremental Auction [three months forward]—with MISO's spot price from the VCA, we would find that this purported difference largely vanishes."
Over the past four years, as Stoddard testifies, the PJM 3rd Auction price has averaged $25.63/MW-day, or $9.35/kW-yr—"effectively the same as the $7/kW-yr value [for MISO] cited by The Brattle Group." (See, Affidavit of Robert Stoddard, p.12, attached to Comments of Duke Energy, FERC Dkt. AD12-16, filed Aug. 10, 2012.)
Stoddard concludes: "Thus the purported price differential … appears to derive almost entirely from the difference in product definition… Consequently, the purported 'billions of dollars' in benefits from greater capacity portability is largely illusory."
Missed Opportunity
One of the common notions that FERC's inquiry has exposed as myth is the idea that Duke and FirstEnergy somehow each gained extra capability to sell capacity in PJM, simply by moving out of MISO. The myth goes like this, as explained by the Indiana Utility Regulatory Commission:
"Evidence of these artificial barriers showed itself in the transfers of membership from MISO to PJM. Ostensibly, one of the reasons Duke Energy Ohio withdrew from MISO and joined PJM was that its energy and capacity was not considered deliverable by PJM into the PJM markets. As soon as the membership change occurred, and without the building of any additional transmission facilities, deliverability of electricity and capacity was no longer an issue." (See, Comments of Indiana URC, FERC Dkt. AD12-16, filed Aug. 10, 2012.)
David Patton, the MISO IMM, also agrees: "thousands of megawatts … became immediately deliverable." (IMM comments, p. 3, filed Aug. 10, 2012.)
Yet according to FirstEnergy, which also jumped, these comments overlook the fact that utility load—not just capacity—also moved to the new RTO. Consultant Roy Shanker explains that if the ratepayers hadn't come along for the ride, PJM would have measured deliverability as against the utility's gross generation, thereby yielding a smaller percentage, as there would've been no native load for that generation to serve.
"Under those conditions," he writes, "not surprisingly, deliverability into PJM is limited."
But with the load moving as well to the new ISO, deliverability is expressed as a fraction of the utility's net generation—net of load—and thus rises to a higher percentage. (Shanker comments, p. 24.)
And Duke adds that while its Ohio and Kentucky companies jumped, Duke Energy Indiana chose to remain in MISO because it was "well-suited to the needs of a vertically integrated utility such as DEI."
Another possible myth states that the alleged EPA train wreck, with all its threats of coal-fired capacity getting shut in, makes it all the more important for FERC to take action right away to boost capacity delivery capability from MISO into PJM. But CRA's Stoddard disagrees:
"Under MATS as it currently stands, any generator that will remain in operation in 2015 must have [already] installed a suite of pollution control equipment… In PJM, these decisions had to have been largely finalized before the most recent BRA [base auction], conducted in May 2012 for the delivery year beginning June 1, 2015. Similarly, the opportunity for MISO resources to rely on PJM as an export market to support the capital cost of required retrofits has also passed.
"This horse," Stoddard writes, "has left the proverbial barn."