Deck:
Lessons from New England on electric-gas market coordination.
Author Bio:
Bruce W. Radford  is publisher of  Public Utilities Fortnightly . Contact him at radford@pur.com.
Lessons from New England on electric-gas market coordination.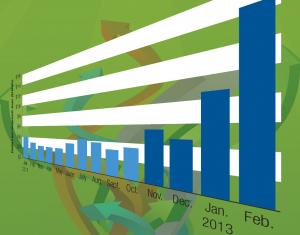 Grid operators in New England had warned for months about relying too much on electric generation fueled by natural gas, yet it came as a rude shock when gas spot prices twice topped $35 this past winter at a key regional pricing hub, the Algonquin Citygate, first during a somewhat abnormal cold snap from January 21 through 25, and then again when winter storm Nemo dropped record snowfalls across New England over the two-day period (Friday and Saturday), February 8 and 9—each time due to constraints and stresses that occurred simultaneously on the delivery systems for both gas and electricity.
But things might have been worse than reported.
When interviewed for this column in mid-march, ISO New England CEO Gordon van Welie went further: "We were seeing intraday prices into the $60 range," he said.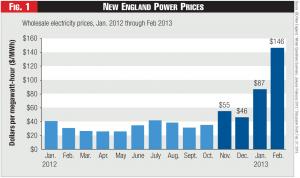 Compare that with the $3 to $4 price range (per million Btu) that has generally prevailed in the rest of the country over the past year.
As the ISO reported in a recent discussion draft, more than 6,000 MW of gas- and oil-fired generating capacity in New England became unavailable on Saturday, Feb. 9, "either because of storm-related outages or because of the uncertainty of their fuel supply." During the Friday-Saturday overnight period, in fact, as recounted in the draft, "more than a half a dozen" generators had informed ISO system operators they could not get gas—primarily, it seems, because they hadn't made forward gas procurement arrangements before the weekend.
In one case, as the draft explains, the operator of a single large resource had actually asked ISO system operators to intervene with the interstate pipeline on the plant's behalf so that the plant could obtain fuel. ( Winter Operations Summary: January-February 2013, pp.6-7, issued Feb. 27, 2013, available on the ISO website.)
These events, as van Welie explained in his interview, follow directly, if not entirely, from the mismatch between the minute-by-minute, 24/7 nature of electric system operations, versus a gas commodity market and pipeline delivery scheduling regime that operates only five days a week, and largely from 8 a.m. to 5 p.m., during business hours only. This situation, he added, creates a major strategic risk going forward for the New England electric industry.
A New Strategic Risk
Thirteen years ago, in 2000, gas-fired generation supplied about 15 percent of New England's electricity. By 2011, that figure had risen to 51 percent. That has made it much more vital—and at the same time more difficult—for New England's gas-fired generators procure fuel, especially as they tend to rely on interruptible (IT) or capacity release for pipeline delivery service, albeit for well-grounded economic reasons.
To be sure, this dash to gas has won plaudits from ratepayers, forcing power prices in New England to their lowest levels in years—that is, if you don't consider the last several months. (See Figure 1.) And the ISO trumpeted this fact as recently as mid-January, just two