Deck:
Lessons from New England on electric-gas market coordination.
Author Bio:
Bruce W. Radford is publisher of Public Utilities Fortnightly. Contact him at radford@pur.com.
Grid operators in New England had warned for months about relying too much on electric generation fueled by natural gas, yet it came as a rude shock when gas spot prices twice topped $35 this past winter at a key regional pricing hub, the Algonquin Citygate, first during a somewhat abnormal cold snap from January 21 through 25, and then again when winter storm Nemo dropped record snowfalls across New England over the two-day period (Friday and Saturday), February 8 and 9—each time due to constraints and stresses that occurred simultaneously on the delivery systems for both gas and electricity.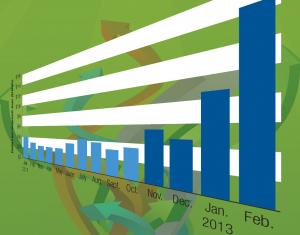 But things might have been worse than reported.
When interviewed for this column in mid-march, ISO New England CEO Gordon van Welie went further: "We were seeing intraday prices into the $60 range," he said.
Compare that with the $3 to $4 price range (per million Btu) that has generally prevailed in the rest of the country over the past year.
As the ISO reported in a recent discussion draft, more than 6,000 MW of gas- and oil-fired generating capacity in New England became unavailable on Saturday, Feb. 9, "either because of storm-related outages or because of the uncertainty of their fuel supply." During the Friday-Saturday overnight period, in fact, as recounted in the draft, "more than a half a dozen" generators had informed ISO system operators they could not get gas—primarily, it seems, because they hadn't made forward gas procurement arrangements before the weekend.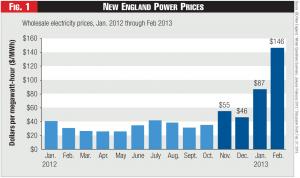 In one case, as the draft explains, the operator of a single large resource had actually asked ISO system operators to intervene with the interstate pipeline on the plant's behalf so that the plant could obtain fuel. (Winter Operations Summary: January-February 2013, pp.6-7, issued Feb. 27, 2013, available on the ISO website.)
These events, as van Welie explained in his interview, follow directly, if not entirely, from the mismatch between the minute-by-minute, 24/7 nature of electric system operations, versus a gas commodity market and pipeline delivery scheduling regime that operates only five days a week, and largely from 8 a.m. to 5 p.m., during business hours only. This situation, he added, creates a major strategic risk going forward for the New England electric industry.
A New Strategic Risk
Thirteen years ago, in 2000, gas-fired generation supplied about 15 percent of New England's electricity. By 2011, that figure had risen to 51 percent. That has made it much more vital—and at the same time more difficult—for New England's gas-fired generators procure fuel, especially as they tend to rely on interruptible (IT) or capacity release for pipeline delivery service, albeit for well-grounded economic reasons.
To be sure, this dash to gas has won plaudits from ratepayers, forcing power prices in New England to their lowest levels in years—that is, if you don't consider the last several months. (See Figure 1.) And the ISO trumpeted this fact as recently as mid-January, just two days before the first gas price spike. ("2012 Wholesale Electricity Prices in New England Fell to Lowest Level Since 2003," ISO-NE News Release, Jan. 23, 2013.)
But this paradigm shift poses new risks for the region, and not just because New England's wholesale power prices ran three times as high this past February compared to the same month in 2012.
According to the region's ISO, gas-fired generators "in various instances" have failed recently to provide energy when dispatched, claiming they were unable to procure either the natural gas commodity or pipeline service for its transportation, or else that the gas was just too expensive in real time. (See, Comments of ISO-NE, FERC Dkt. AD12-12, filed Jan. 7, 2013.)
Moreover, ISO-NE confirmed recently that, in examining the dispatch response performance following the 36 largest electric system contingency events over the last three years, it has found that, on average, the response rate for New England's non-hydro-generation resources that were dispatched to meet these contingencies—largely fast-starting resources and spinning reserves—was less than 60 percent of the what the ISO had requested. (See, FERC Dkt. ER13-895, ISO Transmittal Letter at pp.3-4, filed Feb. 7, 2013.)
Take a look and you'll find the ISO's website filled with white papers, reports of strategic initiatives, and stakeholder give-and-take on "addressing gas dependence." In point of fact, ISO New England is, has been, and will be considering some half-dozen various changes in dispatch scheduling practices and market rules, including, among other ideas, 1) boosting the 10-minute non-spinning reserve requirement, 2) tightening auditing requirements and procedures regarding resource capability, 3) sharing of certain ISO information with interstate pipelines about output schedules of individual gas-fired generation units, 4) accelerating the closing times for its day-ahead electric energy market, 5) allowing market participants to change day-ahead power price bid offers in real time, and 6) redesigning performance penalties in its forward capacity market.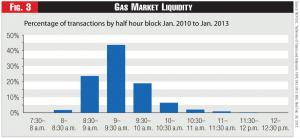 Yet none of these moves will put more steel in the ground New England, where it it's needed to relieve pipeline delivery constraints that have proven particularly acute, driven both by a flood of nominations for transport of cheap Marcellus shale gas from Pennsylvania and the West, and declining supply from the North and East, including both LNG imports from overseas, and conventional gas imports from Canada, through the Maritimes and Northeast pipeline.
As the U.S. DOE Entergy Information Administration reported some 12 weeks ago, key gas pipelines leading into New England from major supply areas in the West and Southwest "are full or nearly full."
The Algonquin system, noted EIA, has run at high utilization (load factor as a function of average daily flows divided by peak use) since mid-2012. Secondly, LNG shipments into Boston and New Brunswick declined in 2012 "because global market conditions have directed shipments elsewhere." Third, offshore gas wellhead production from the Sable Island field in Nova Scotia has declined "to a small fraction" of previous levels, owing in part to required repairs to a subsea flow line, which might not be completed until possibly mid-year 2013. (Short-Term Energy Outlook Supplement: Constraints in New England likely to affect regional energy prices this winter, pp. 2, 4-5, U.S. EIA, Jan. 18, 2013.)
None of this, meanwhile, has escaped the attention of the U.S. Federal Energy Regulatory Commission.
More than a year ago, ahead of the recent events in New England, FERC commissioner Philip Moeller had asked for industry comments on how to improve coordination between gas pipeline and electric system scheduling, prompted, he said, by the Southwest cold weather event of Feb. 1 through 5, 2011, which affected pipeline gas deliveries and knocked out over 200 individual generating units in ERCOT, leading to widespread power outages in Texas, New Mexico, and Arizona.
That request led in turn to five regional conferences in August 2011, in such cities as St. Louis, Boston, Portland, Ore., and Washington, D.C., culminating in a staff report that provides must-reading for anyone eager to delve into the fine print of FERC Orders 698 and 717 (gas- and electric-sector Standards of Conduct), the bar against undue discrimination in sec. 4(b) of the Natural Gas Act, and the secrets of the "Gas Day," with its four nomination cycles—"Timely," "Evening," and "Intra-Day" 1 and 2, the last of which is governed by the so-called "no-bump" rule.
For our purposes, we'll begin with FERC's sixth and most recent conference, Feb. 13, 2013, addressing the question of information sharing between electric system operators and interstate gas pipelines. The idea is to give pipelines a better idea of what demands gas-fired generators will place on gas delivery schedules and, more importantly, to allow pipelines to advise the electric grid operators whether the gas-fired generators they plan to dispatch can be counted on as promised.
If anything, the February conference proved that New England is ground zero for the gas-electric coordination problem, and could prove very difficult to resolve.
A conference speaker in February was Peter Brandien, v.p. of system operations at ISO New England, in charge of dispatching power plants, maintaining reserves, and generally keeping the lights on across New England, but who nevertheless finds it necessary these days to keep at least one eye peeled on the gas supply situation.
Brandien gave the conference audience an inside view of just what that takes:
"We scrub every bit of info we can. I got an email this morning telling me where the LNG tanker was that's traveling to Canaport [the LNG import hub near Saint John, New Brunswick].
"We've been tracking that tanker all the way across the Atlantic."
Closer to home, Brandien explained how he frequently seeks information from gas-fired generators:
"There's times the generators have told us they're out to get gas. And they get gas. There's other times they're out to get gas, and four hours later they don't get gas, and they have to shut down."
Brandien kept his audience riveted as he spoke of his late-night phone calls with generators, trying to get a sense of what reserves might be available to back up the early morning ramp coming a few hours later:
"We just had a snowstorm in New England, Friday night into Saturday. Nothing really started happening until almost 7 o'clock. … Then things started falling apart …
"We called a number of gas units through the night [at 2 in the morning] … right down the list, in accordance with our market rules, the most economic first:
"No gas.
"No fuel.
"No fuel.
"No fuel."
Sharing Intelligence
One of New England's first proposed solutions has been to allow controllers at the ISO to share confidential information concerning the forecasted schedules and actual operation of gas-fired generating resources with the operating personnel of the interstate natural gas pipelines serving the region, providing that each sector would sign the necessary nondisclosure agreements (NDA).
FERC OK'd the idea, on a temporary basis, through the end of April, but only after refereeing a fight between the region's generators and pipelines. The power producers wanted to be recognized in those NDAs as third-party beneficiaries, so they could sue the pipelines to recover any commercial losses suffered if this private data fell into the wrong hands. The pipelines, on the other hand, refused to sign any such NDA with the ISO if it might mean exposure to liability—such as under the gas industry standards of conduct approved by FERC in Order 698, or the "no undue preference" prohibition in Sec. 4(b) of the Natural Gas Act. (See, Dkt. ER13-356, Jan. 23, 2013, 142 FERC ¶61,058.)
Yet this approval didn't really settle the question. As FERC acknowledged in its order, "the pipelines have not specified exactly what information they would provide to ISO-NE." This uncertainty was then confirmed the next month at the February conference, where the commission had hoped the industry would provide insight on what sorts of information should be shared, among which parties, and for what purposes.
What we learned from the conference was this:
First, electric grid operators agree that it's no longer enough just to trade aggregate data with pipelines on system status; rather, you need to know unit-specific intelligence, and dynamic capabilities.
Second, the pipelines—and generators, too—concur that FERC shouldn't leave them caught in the middle, forced to speculate on which gas-fired generators might succeed in obtaining gas, especially since so many of them turn to storage, marketers, or other sources of supply.
Third, FERC perhaps ought to provide more guidance on how far pipelines and generators can go in leaning on the system—i.e., whether pipelines can allow non-ratable takes by generators who are essential to electric system reliability without violating their FERC-filed transportation tariffs, and whether generators can treat the fines and penalties they must pay for those excess takes as just one more gas procurement strategy, weighed for merit against the alternative of paying ultra-high spot prices to marketers.
As was highlighted during this and prior conferences, most gas-fired generators in New England rely on IT pipeline service or capacity releases to ship their gas purchases. Eschewing firm service allows generators to minimize costs to compete in the region's day-ahead energy market. Also, tariff rates for firm pipeline transportation are designed with long-term, 20-year contracts in mind, whereas gas-fired generators can't obtain price certainty for more than one delivery year at a time through the region's three-year-forward capacity auctions.
And there's also no doubt that pipelines are constrained in New England, putting a premium on scheduling flexibility. Speaking at FERC's February conference, Richard Kruse, vice president for Spectra Energy Transmission, put the two facts together to illustrate the problem facing gas-fired generation on his company's Algonquin pipeline system:
"On Algonquin, to be blunt, if you are relying on IT, you haven't flowed for over a year. If it's not secondary, within path [secondary firm service is characterized by alternate receipt or delivery points], you have a very low probability of flowing."
Yet his Algonquin system received high marks from Jim Ginetti, senior v.p. at EquiPower Resources, which manages 5,700 MW of gas-fired generation:
"Sometimes we may have a need arise at noon, but the next change of schedule on a particular pipeline is 6 p.m., and the gas won't actually flow until 10 p.m.
"We have found Spectra to be the most flexible. We had some extra gas at Algonquin where they could have moved it in the next hour intra New England, from one pipe to another, but the other pipe did not have a new scheduling hour for several hours, so we could not respond to ISO directions."
Nevertheless, Ginnetti said that if FERC should adopt standards governing info sharing between pipelines and electric system operators, it shouldn't impose burdensome obligations:
"I don't see a need for the pipelines for filling in information, telling the ISO whether or not the generator can run."
Kruse and the other pipeline representatives at the conference all seemed to agree, preferring to convey to electric system operators only such information that the pipeline has posted publicly.
The question arose, however, as to whether the pipelines should be asked to divulge the simple geographic location of flows, which might allow the ISO to identify the specific generator in question, or even divulge behavior that might violate a tariff, such as when a generator draws gas beyond its contractual allotment, creating what's known as a non-ratable take.
FERC staffer Michael Glendenning asked Spectra's Kruse: "If a generator started pulling gas, forcing the pipeline to address that question to the shipper about their intention, does the pipeline convey that question to the ISO?"
Kruse answered "no," suggesting that the ISO could discover that fact independently, or that the generator already should be providing such information to the ISO.
And Ginetti agreed: "That should be the generator's duty."
But Kruse did ask FERC for more guidance on how pipelines should manage non-ratable takes by generators that are dispatched and vital to system reliability.
"FERC rules don't allow us to loan gas, even for reliability's sake," Kruse noted. "But we can give customers a margin for error as long as the customer will be in balance by the end of the day.
"I'm not so concerned about non-ratable takes early in the gas day, because the customer has the opportunity later in the gas day to rebalance and get their takes in line with the contract entitlement."
But Kruse also recognized that gas-fired generators might come to see such non-ratable takes as normal:
"I've heard penalties described as the ability to purchase a service at a higher cost."
But even if FERC could provide such clarity, the fact remains that what the ISOs want from the pipelines is not a static view of operational gas flows, but a dynamic view of what changes in schedules are possible to accommodate rapidly changing conditions on the electric grid.
ISO New England's Brandien explained:
"Our gas fuel supply system in the aggregate can deliver the fuel we need for a day. That's fine. But I need to understand right now whether I need to do something different a couple hours from now."
"We need to be able to talk freely," Brandien added, "not just in emergencies. If you restrict it to emergency conditions, the only thing you're doing is inviting emergency conditions."
Clair Moeller, executive v.p. for transmission and technology at the Midwest ISO echoed that thought, his gruff baritone heard plainly throughout the FERC meeting room:
"What we're interested in isn't so much what is going on, as how risky what's going on is.
"Status isn't really the question. The question is what else could you do if I get in trouble."
Price Discovery and Bid Timing 
On February 7, ISO New England and the New England Power Pool (NEPOOL) participants committee filed competing "jump ball" tariff proposals at FERC, each of which would revamp the timetable for the region's day-ahead (DA) energy market, including the deadline for generators submitting price offers, when market-clearing results are posted, and the hour (after market clearing) when the ISO lines up reserves it will need to back up the dispatched resources, through a process known as the Reserve Adequacy Analysis. (See Figure 2).
The goal in each proposal is two-fold: A) To clear the DA market around mid-day to give gas-fired generators more time in late afternoon and early evening to prepare possible gas scheduling nominations in the Intraday-2 cycle (6 p.m. Eastern Time); and B) to complete the RAA process in late afternoon, early enough so that the ISO will still have time to go through normal channels (using its software algorithm) to designate and commit oil- or coal-fired plants with slower startup times to serve as reserves available for tomorrow's electric day.
As the ISO's Brandien testified in his affidavit filed at FERC, only 500 MW of the ISO's available 6,000-MW fleet of off-line coal- and oil-fired conventional steam generators can be available within 8 hours from a cold start. Some 2,000 MW of additional capacity is available within 12 hours, and 5,000 MW within 16 hours. With the RAA completed by 4 p.m. on the day ahead, the ISO would have enough time to commit 2,500 MW of steam generation for the early morning ramp that begins around 4 a.m. on a cold winter day. (See, ISO-NE & NEPOOL, Filings of Market Rule Changes, Attach. I-1b, Testimony of Peter Brandien, p.16, FERC Dkt. ER13-895, filed Feb. 7, 2013.)
By contrast, with RAA finalization at 10 p.m., as per the current timetable, the ISO to get the same result has had to commit coal- and oil-fired steam generation as next-day reserves through a manual process, outside of its software algorithm. That has created uplift, in the form of Net Commitment Period Compensation (NCPC), representing make-whole payments to resources whose output was in shortfall (compared to bid) because the ISO dispatched a different, out-of-merit resources due to reliability needs. NCPC payments represented as much as 1.1 percent of total energy market payments in 2011. (See, Comments of ISO-NE, pp.3-4, FERC Dkt. ER13-895, filed Feb. 28, 2013.)
But there's a catch. The ISO's effort to get reserves committed at 4 p.m. for the next electric day requires it to cut off DA supply offer bids from generators by 9 a.m. on the day ahead—way too early, as NEPOOL complains, to allow owners of gas-fired turbines to take advantage of liquid trading volumes in gas commodity markets to discover what gas prices are in order to formulate an electric price offer.
According to NEPOOL and its many supporters, gas commodity trading doesn't really get going until about 8:30 a.m. Eastern Time (See Figure 3). On most days, according to Leslie Dedrickson, managing director of wholesale trading for Exelon Generation, it is only by 9 a.m. that there's been enough trading in the gas market to provide sufficient pricing information for generators to estimate the ICE daily price index, "which many generators use in formulating bids" [in the day-ahead energy market] to ensure recovery of the cost of gas needed to produce power. (ISO-NE & NEPOOL, Filings, Attach. N-1b, Testimony of Leslie Dedrickson, p.8.)
Accordingly, NEPOOL proposes a more forgiving 10-a.m. cutoff for DA supply bids, so as to allow gas-fired generators to get a better sense of how gas prices are trending. That means also that NEPOOL would propose an RAA closing at 5 p.m., one hour later than desired by the ISO. But as NEPOOL argues in its reply comments, the single hour of delay in committing reserves isn't particularly meaningful, and pales compared to what would be lost in gas price discovery if FERC approved the ISO timetable:
"To gain that extra hour, ISO-NE would redefine the markets to essentially lose the entire benefit of actual next-day gas pricing data to inform DA market offers."
According to EquiPower's Jim Ginnetti (Market Filing, Attachment N-1d), that loss of gas price intelligence would force gas-fired generators to incorporate a price-risk premium in their electric DA market offers—a premium that Richard Tabors (Charles River Associates) and Seabron Adamson (an independent consultant) estimate could run from $36 to $86 million annually for the New England region. (NEPOOL Reply Comments, Attach. 1, p.23, FERC Dkt. ER13-895, filed Feb. 28, 2013.)
Interestingly enough, the New York ISO cuts off its DA supply bids by 5 a.m.—clearing and posting its DA energy market by no later than 11 a.m.—removing any chance for the gas price discovery deemed so vital to NEPOOL, and thus forcing New York gas-fired generators to rely on the prior day's gas market to formulate their electric supply offers. But as NEPOOL argues, what NY ISO generators lose in gas price discovery, they gain back through New York's greater bid flexibility: as NEPOOL notes, "NY ISO permits generators to adjust their offers hourly during the day for dispatch decisions in the real-time market." (See, NEPOOL Reply Comments, p.18.)
So which is more important: Generators knowing gas prices first before assembling their electric market bids, or generators learning their electric dispatch instructions earlier—so they have more time to find the gas they need, before gas markets dry up and go to sleep in the evening hours?
For generators represented by EPSA and NEPGA, the Electric Power Supply Association and the New England Power Generators, the verdict is clear:
"Power market liquidity depends on gas market liquidity," they say, "particularly so in new England, where gas-fired generation most often sets the DA market-clearing price." (Comments, p.6, FERC Dkt. ER13-895, Feb. 28, 2013.)
"Liquidity in the power markets, therefore, does not occur until after gas market liquidity, which typically does not occur until after 8:45 to 9 a.m."
Regarding Next Winter 
On March 19, the Energy and Power Subcommittee for the U.S. House Energy and Commerce Committee grabbed its share of the debate over electric-gas market coordination, inviting FERC commissioners Moeller and Cheryl LaFleur, plus New England's van Welie and MISO's Clair Moeller, and others, to testify in a hearing with the rather ungainly title, American Energy Security and Innovation: The Role of Regulators and Grid Operators in Meeting Natural Gas and Electric Coordination Challenges.
Of that hearing, which soon devolved into a critique of EPA's takeover of the country's energy policy, this columnist heard little to warrant remembering.
Nevertheless, the hearing prompted Don Santa, president and CEO of the INGAA, the interstate pipeline trade association, to issue a news release describing the market coordination problem not in terms of infrastructure or capacity, but as a failure of electric markets to take fuel supply surety into account in supplier bid offers.
In fact, during the interview with Gordon van Welie, this columnist asked the ISO chief whether New England might be able to tweak its DA energy market-clearing algorithm to give priority to supply offers from gas-fired generators if the bid could prove that gas supply was backed by a contract for firm pipeline capacity.
Van Welie said no: "It's not feasible to reward firm gas supply in the day-ahead market."
But he continued, "perhaps it might be possible in the forward capacity market."
As noted earlier, van Welie and ISO New England are considering a generator performance incentive mechanism for the FCM, perhaps taking the form of a liquidated damages clause.
And though van Welie agreed it would be helpful to get more scheduling options from gas pipelines and LDCs, he conceded that "the starting point for this discussion needs to be on the electric side."
And do we need a national solution?
Again, van Welie remained open—"anything FERC can do would be helpful," he said—but emphasized that a national solution "will have a timeline that is longer than we can deal with, so we need to move ahead with our own proposals."
Yet van Welie also warned: "We have recently told our stakeholders that these changes won't be enough for the coming winter.
"We'll need to do more."