Transmission
ABB delivered the East West Interconnector, a 500-MW capacity HVDC-light underwater power link, to EirGrid, the Irish transmission system operator. The new line connects the Irish and U.K. grids, enabling cross-border power flows to enhance grid reliability and security, and to facilitate power trading between Ireland, England, and the European grid. As Ireland expands its wind power capacity, it's expected to export surplus electricity, and import power when required. 
Ameren Transmission Co. of Illinois (ATXI) received approval from the Illinois Commerce Commission (ICC) to build the majority of its 400-mile, $1.1 billion, Illinois Rivers transmission project. The project consists of a new 345-kV transmission line crossing the Mississippi River near Quincy, Ill., and continuing east across Illinois to the Indiana border. ATXI expects to begin acquiring rights-of-way for the approved portions of the project immediately, with construction proceeding in 2014.  
The Midcontinent Independent System Operator (MISO) became one of the first grid operators to use new synchrophasor technology in its real-time system operations for grid monitoring and analysis. Synchrophasor technologies use phasor measurement units, or PMUs, to collect data from more than 344 installed devices, 30 times per second, compared to traditional technology, which records measurements every four seconds. The data is GPS time-stamped, enabling measurements from different locations to be time-synchronized and combined to create a detailed, comprehensive, wide-area assessment of system conditions. With the data MISO can better detect, diagnose, and prevent system disruptions, in effect, creating a smarter grid. 
Also, MISO launched its new locational marginal pricing (LMP) contour map, providing market participants with tools for detailed visualization of real-time market conditions. The new map provides more detailed information and interactive tools than MISO's old map did. It also includes a historical playback feature, allowing users to review the past 48 hours of market conditions.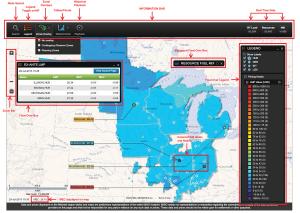 Xcel Energy plans to spend $108.9 million on high-voltage transmission line projects to boost reliability and capacity to serve growing demand in the eastern and northeastern Texas Panhandle. These and other transmission enhancement projects across the region were identified as necessary improvements in a 2010 study by the Southwest Power Pool (SPP). By 2015, the company expects to spend more than $2 billion upgrading generation, transmission, and distribution facilities in the area.
Electric Transmission Texas (ETT) energized the first of seven 345-kV transmission line projects associated with the Competitive Renewable Energy Zone (CREZ) initiative in west Texas. The 345-kV Riley-to-Edith Clarke transmission line is 41.6 miles long and runs from the Vernon area in Wilbarger County to the Crowell area in Foard County. This phase of the ETT CREZ program comprises approximately $141.5 million of ETT's estimated total CREZ investment of approximately $1.5 billion. The overall CREZ initiative involves eight different transmission service providers, including ETT, constructing 2,400 miles of transmission lines to carry 18,500 MW of west Texas wind generation to eastern load centers in ERCOT. All CREZ projects are scheduled for completion by the end of 2013.
M&A
NRG Energy closed on its acquisition of the Gregory cogeneration plant in Corpus Christi, Texas. NRG paid about $244 million in cash for the plant, excluding working capital adjustments. The cogeneration plant provides steam, processed water, and a small percentage of its electrical generation to the Corpus Christi Sherwin Alumina plant, leaving the majority of the base-load generation available for sale in ERCOT. The current operator, DPS Gregory, will continue to operate the plant until NRG operators take over. NRG acquired the plant from a consortium of Atlantic Power, John Hancock Life Insurance, and Rockland Capital.
Three commercial nuclear power plants operated by the Constellation Energy Nuclear Group (CENG) are expected to be operationally integrated into the Exelon Generation nuclear fleet over the next nine months. The plants include the R.E. Ginna plant in Ontario, N.Y., Nine Mile Point station in Scriba, N.Y., and the Calvert Cliffs plant in Lusby, Md. Under the terms of the agreement, the CENG plant operating licenses will be transferred to Exelon; Exelon will integrate the CENG fleet into its management organization; Exelon will lend $400 million to CENG to support a special dividend to Électricité de France (EdF); and EdF will retain an option to sell its CENG stake to Exelon at fair market value between 2016 and 2022. CENG will remain a legal entity governed by a board of directors comprising five EdF and five Exelon board members. Exelon will continue to own 50.01 percent of CENG, and EdF 49.99 percent. The companies filed an application with NRC to transfer the operating licenses from CENG to Exelon. Review and approval is expected to take six to nine months. 
EdF Renewable Energy entered a membership interest purchase agreement with Lincoln Renewable Energy to acquire the first, 200-MW phase of the up-to 500-MW Hereford wind project in Texas, with an option to acquire the second phase of the project. Construction is expected to commence on the first phase later this year in order to qualify for federal tax credits. The project, covering approximately 15,000 acres in Deaf Smith County southeast of the town of Hereford, will connect with CREZ (Competitive Renewable Energy Zone) transmission lines to bring wind generation from the Texas Panhandle to load centers across the state. EdF Renewable Energy is negotiating to secure a long-term, fixed-price hedge agreement for the expected output of the first phase of the project.  
ABB completed its previously announced acquisition of Power-One, a provider of renewable energy and power conversion and management systems. ABB says the Power-One portfolio of technologies complements ABB's business. Power-One employs almost 3,500 people, mainly in China, Italy, the United States, and Slovakia. 
Mainstream Renewable Power closed a deal to sell its 7.65-MW Carrickeeny wind farm to IKEA Ireland. The project, located in Leitrim in the northwestern part of Ireland, is now under construction. Startup is expected in early 2014, at which point IKEA will purchase the plant. As part of the deal Mainstream will continue operating and maintaining the wind farm on behalf of IKEA for its 20-year lifespan. The acquisition will increase to 137 the total number of wind turbines that the IKEA Group has committed to owning and operating. 
NRG Energy acquired Energy Curtailment Specialists (ECS), a private demand response (DR) provider. The company says it manages more than 2,000 MW of DR resources across the country for more than 5,000 customers.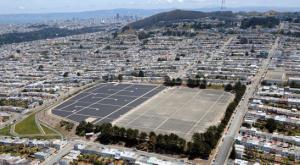 Vivint Solar secured two new tax equity funds contributing a total of $200 million for solar leasing programs. Terms and identities of the equity investors weren't disclosed. The funding will be used to deliver solar systems to homeowners inside and outside of Vivint's 775,000 home automation customers. Vivint Solar currently operates in California, Hawaii, Maryland, Massachusetts, New Jersey, New York, and Washington D.C. Vivint is owned by private equity firm Blackstone.
Metering
Sensus was selected to provide the core communications technology to support the U.K. government's plan to put smart meters in millions of homes and small businesses by 2020. Sensus technology will support the rollout of electric and gas smart meters to 10 million locations in the northern region of Great Britain, subject to contract. The U.K. Department of Energy and Climate Change (DECC) announced that communications company Arqiva has been selected to provide the smart metering communications service for Northern England and Scotland. In conjunction with Arqiva, Sensus will provide the long-range radio technology for a private communications network.
Generation
Siemens received an order for two power plant blocks for the Liberty combined-cycle power project in Pennsylvania, owned by Panda Power Funds. Siemens is expected to deliver two H-class gas turbines, two heat recovery steam generators, two steam turbines, and two generators, as well as the electrical equipment and control system. Panda's engineering, procurement, and construction contractor is Gemma Power Systems. The order includes a long-term service agreement and has a total value for Siemens of approximately $400 million. 
Panda Power Funds also plans to build, own, and operate an 859-MW combined-cycle power plant in Brandywine, Md. Panda says the Mattawoman plant will be a zero-liquid-discharge plant, returning no waste water to a treatment facility, subsequently preventing discharge into the Chesapeake Bay. Construction will take approximately 30 months from the completion of financing, regulatory approvals, and other conditions.
Calpine began commercial operations at its Russell City and Los Esteros Critical Energy gas-fired combined-cycle power plants, both located in the San Francisco Bay area. Pacific Gas and Electric (PG&E) is expected to purchase the plants' 900 MW-output under 10-year agreements, and also will supply their fuel.
Ur-Energy announced that uranium production activities began at its wholly owned Lost Creek in-situ recovery project in south-central Wyoming, after the company received notice of final operational clearance from the U.S. Nuclear Regulatory Commission (NRC). Construction of the project facilities was fully authorized in October 2012. Ur-Energy engaged Wyoming-based general contractor Groathouse Construction to build the plant and other infrastructure facilities.  
The Lincoln (Neb.) Electric System finalized a power purchase agreement (PPA) that add 100 MW to its existing 30 MW of wind power capacity by January 2016. The Nebraska utility will receive all 100 MW of wind energy from EdP Renewables' Arbuckle Mountain wind farm, located in south-central Oklahoma.
The National Nuclear Security Administration (NNSA) broke ground on construction of the Pantex wind farm. NNSA awarded a contract to Siemens Government Technologies to build and operate the facility, which will consist of five 2.3 MW turbines located on 1,500 acres of government-owned property east of the Pantex plant. Siemens will provide a turnkey wind system with a five-year service, maintenance, and warranty agreement, and with operating and maintenance options from years six through 10. Siemens will provide an energy savings contract and an annual energy production guarantee. Construction is expected to be completed by the summer of 2014. 
Duke Energy Renewables acquired the 4.5-MW Sunset Reservoir solar power project, the largest solar generation facility in San Francisco, from Recurrent Energy. The San Francisco Public Utilities Commission (SFPUC) will purchase the energy under a 25-year PPA. The facility provides electricity for the city and county of San Francisco's municipal services and facilities.  
EdF Renewable Energy started commercial operations at the 143 MW (DC), 110 MW (AC) Catalina solar project, located in California's Mojave Desert. The project is comprised of 82 MW of Solar Frontier and 61 MW of First Solar PV modules. EdF Renewable Services will operate and maintain the plant, with output provided to San Diego Gas & Electric (SDG&E) under a 25-year PPA. 
DTE Gas is providing pipeline-quality landfill gas to its residential natural gas customers. DTE Gas' BioGreenGas program contributes to the development of pipeline-quality biogas at the Sauk Trail Hills landfill in Canton, Mich., where Clean Energy Renewable Fuels (CERF) built a plant to purify the landfill gas. DTE Pipeline invested about $2 million to build a pipeline and a meter station at Sauk Trail Hills. 
Siemens Energy received an order from Portland General Electric to supply and install 116 wind turbines. The 2.3-MW, 108-meter turbines are to be installed at the Tucannon River wind farm in Washington state. Siemens is responsible to service the turbines for five years. The Tucannon River wind farm, formerly known as Lower Snake River Phase II, is adjacent to the Lower Snake River Phase I
project, a 343-MW wind facility completed in 2012, also using Siemens wind turbines. The new project is expected to come online in 2015.
REC developed, built, and sold four solar power installations with a total capacity of 7.87 MW on the island of Sardinia. The four ground-mounted plants – in Villacidro (4,986 kW), Pischedda (996.4 kW), Ulmos (901.6 kW), and Lula (990 kW) – were sold to IKAV Global Energy of Luxembourg. The projects include approximately 31,000 REC solar panels, covering about 40 acres of land. 
Public Service Company of New Mexico (PNM) contracted First Solar to build three solar power plants totaling 23 MW (AC) of generating capacity. Under the agreement, First Solar is expected to provide EPC services and supply its PV modules. Pending approval from the New Mexico Public Regulation Commission, the three projects are expected to begin construction and be completed in 2014.
Xcel Energy plans to expand its wind generation. The company submitted to state regulators proposals to purchase at least 1,500 MW of wind resources, a 30 percent increase in overall wind capacity. Xcel is seeking approval of the following projects: three 200-MW projects in Minnesota and North Dakota; three projects totaling almost 700 MW in New Mexico, Oklahoma, and Texas; and one project totaling approximately 200 MW in Colorado. Once approved, construction will begin immediately in order to qualify for federal tax credits. All projects are scheduled to be in service by the beginning of 2016.
EVs & Storage
Connecticut Light & Power (CL&P) opened a new information center at its call center in Windsor to answer questions and provide information to customers about electric vehicle technology. CL&P expects to provide customers with information and advice about vehicles and related equipment, payment options, optimal placement of charging equipment, and best industry practices. The information center also will provide cost estimates for operating and charging electric vehicles, and will offer referrals to other companies for additional information.