Generation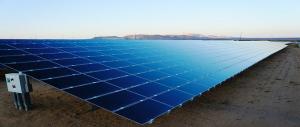 EDF Renewable Energy dedicated the 143-MW Catalina Solar Project in Kern County, Calif. Located on 900 acres of privately owned land southwest of the Tehachapi and Piute mountains, the thin-film PV project is comprised of 82 MW Solar Frontier and 61 MW First Solar PV modules. EDF Renewable Services is providing long-term operations and maintenance. San Diego Gas & Electric will purchase the plant's output under a 25-year agreement. 
Abengoa announced that Solana, the world´s largest parabolic trough plant and also the first solar plant in the United States with thermal energy storage, has successfully passed commercial operation tests. A thermal energy storage system allows Solana to generate electricity for six hours without the concurrent use of the solar field. The plant consists of parabolic shaped mirrors mounted on structures that track the sun and concentrate the sun's heat, later transforming water into steam and powering a conventional steam turbine. Arizona Public Service (APS) will purchase the output under a 30-year agreement. The total investment of the plant is approximately $2 billion. Solana received a federal loan guarantee for $1.45 billion from the United States Department of Energy Federal Loan Guarantee Program. Solana is located near Gila Bend and about 70 miles southwest of Phoenix, Ariz., and began construction in 2010.
Southern Company subsidiary Southern Power, in partnership with Turner Renewable Energy, began commercial operation on the Spectrum Solar Facility, located in Clark County, Nev. The 30-MW solar PV installation uses tracking technology that enables greater efficiency by directing solar panels to track the sun as it moves across the sky. The 311-acre site was built and will be operated and maintained by SunEdison. Southern Power and Turner Renewable Energy acquired the project from SunEdison in September 2012. Nevada Power will purchase the output under a 25-year contract.
AEG Power Solutions and its subsidiary Skytron Energy successfully deployed a 5.8-MW commercial PV installation for PPA Partners, a national renewable energy development company in Yuma, Ariz. The PV installation covers four individual sites, each divided into multiple sub-sites, and a mix of rooftop, ground, and carport installations. The system included AEG PS Protect PV.500 inverters, which feature power stacks with advanced measuring and control technology to enable input voltages of up to 1,000 volts DC. Skytron provided a complete monitoring, control and supervision package which includes the PVGuard control room platform. The PVGuard software integrates all sites into one visualization platform. 
Green States Energy engaged S&C Electric for a $9.7 million project to build a 4.1-MW solar PV farm in Sandwich, Mass. S&C will lead the project team and provide engineering, procurement, and project management services for both the AC and DC portions of the project. Charlotte, N.C.-based Green Earth Developers is providing physical construction services, installing the racking systems and solar panels, and managing construction of the DC systems and AC interconnection.
Enphase Energy completed a 125-building distributed solar project developed by Main Street Power that uses Enphase microinverters. The project was spread across 29 facilities in the San Diego Unified School District, with individual system designs varying in size and orientation. Enphase microinverters allowed Main Street Power and the school district to rely on one type of inverter technology to support 3.1 MW of arrays and more than 125 different systems designed using different orientations and sizes. 
Entergy Gulf States Louisiana signed a commercial and contractual agreement with Methanex USA to supply up to 30 MW of power to Methanex's new methanol facility in Geismar, Louisiana. The contract specifies 10 years of energy sales, and may continue thereafter on a year-to-year basis. Entergy plans to upgrade its transmission system to meet increased demand from the system. Methanex's first plant is expected to be operational by the end of 2014, and the second plant is expected to be operational by early 2016.  
The Department of Energy's Office of Fossil Energy awarded ION Engineering $15 million to support a CO2 (carbon dioxide) capture 1-MW equivalent pilot project at Nebraska Public Power District's (NPPD) Gerald Gentleman Station in Sutherland, Neb. ION Engineering and partners will contribute an additional $4 million in matching funds bringing the total to $19 million for the 45-month project. In addition to NPPD, partners include the University of North Dakota Energy & Environmental Research Center (EERC) and the University of Alabama Department of Chemical and Biological Engineering.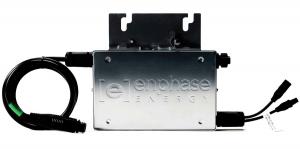 Duke Energy Renewables will build two large-scale wind power facilities in South Texas. Duke will build, own, and operate the Los Vientos III and IV wind projects, about 100 miles west of Brownsville near Rio Grande City in Starr County. Each will produce 200 MW of electricity. Austin Energy will purchase the output and associated renewable energy credits from the wind farms under two 25-year agreements. Construction was scheduled to begin in the fourth quarter of this year, with an in-service date expected in early 2015 for Los Vientos III and mid-2016 for Los Vientos IV.  Vestas will supply 200 2-MW turbines for the two projects.
Distributed Resources
AES began commercial operation of its 40-MW grid-scale storage system. Located at Dayton Power and Light's (DP&L) Tait generating station in Moraine, Ohio, the project is providing fast-response frequency regulation services to PJM Interconnection to stabilize the grid that serves more than 60 million people. The facility is the largest of its kind in Ohio and helps to meet the needs otherwise provided by power generation from inefficient or retiring power plants. This operating system, called SOS, is a fast-response control architecture that applies performance algorithms to automate the operation of AES-delivered, battery-based energy storage arrays, optimizing performance and efficiency, and extending battery life.  
Aquion Energy signed a memorandum of understanding with Siemens Industry under which both parties will test the integration of Aquion's AHI batteries and Siemens' Sinamics S120 drive technology. As part of the MOU, Siemens purchased an initial set of Aquion batteries for immediate shipment to their manufacturing and test facility in Alpharetta, Ga. Siemens' Sinamics S120 inverter solution and Aquion's AE12 battery system are currently under high voltage test at Aquion's R&D facility in Pittsburgh, and will undergo additional joint testing at Siemens' Alpharetta facility. 
As part of its Clinton Global Initiative (CGI) Commitment to Action, Enphase Energy partnered with Beacon Power Services to provide a solar microgrid in Abuja, Nigeria. The project will seek to prove the scalability of a solar microgrid system in a country with unreliable and high-polluting energy supplies. The microgrid system will use Enphase microinverter technology, allowing local non-specialist electricians and laborers to install and maintain all aspects of the system. Beacon will manage the local training and installation, as well as provide ongoing support for the project.   
Transmission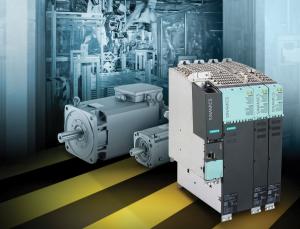 The California Public Utilities Commission (CPUC) directed Pacific Gas and Electric (PG&E) to keep out of service its natural gas pipeline #147, which runs through the City of San Carlos, pending safety review by CPUC staff. The CPUC's safety and enforcement division has initiated a staff investigation to determine whether the pipeline poses any immediate safety concerns. The investigation will result in public findings, required corrective action if necessary, and citations for any violation of law or regulation. 
The PJM Interconnection board of managers authorized $1.2 billion in upgrades and improvements to the high-voltage electric transmission system that serves the Mid-Atlantic region and all or parts of other states between the Mid-Atlantic and Chicago, Ill. The announced changes call for upgrades and improvements to transformers, substations and other transmission facilities throughout the region served by PJM. With these changes, the PJM regional transmission plan includes more than $24.2 billion of transmission additions and upgrades since the first plan was approved by the board in 2000.
The Calfornia ISO Board of Governors approved the ISO's design framework for an energy imbalance market (EIM). The EIM will allow Western balancing authorities to voluntarily participate in California ISO's real-time energy market – but not its day-ahead market. The ISO's first EIM participant, PacifiCorp, has been working with the ISO to prepare for market implementation on Oct. 1, 2014.
Smart Grid
Siemens and Accenture formed Omnetric Group, a joint venture to provide smart grid system integration and data management services, aimed at helping utilities improve efficiency and achieve greater supply security. Headquartered in Munich, Germany, the company's business operations will focus initially on Europe and the U.S., with further global expansion planned in the future. It's expected to employ approximately 100 people in its first year. Financial details weren't disclosed. 
Separately Accenture released the results of its "Digitally Enabled Grid" survey of 54 utilities in 13 countries. Among other findings, the survey showed that 98 percent of respondents ranked asset management analytics among the two most important investments to create value from smart grid systems. 
Echelon and its partner Kapsch Smart Energy won several key pilot projects with leading Austrian utilities Wien Energie, IKB, and Steiermark. The pilots were prompted by a new edict in Austria that requires utilities to achieve specific grid modernization goals by 2019. The Echelon NES platform will operate together with the Kapsch meter data management software. The pilots are scheduled to take place through 2014, and utilities are expected to begin rolling out smart meters throughout Austria in high volume beginning in 2015.
CenterPoint Energy's natural gas distribution business will install Itron RF meter-reading technology across the utility's six-state service territory by the end of 2015. Communication modules to nearly 1.3 million gas meters have already been installed in parts of the company's service territory in Minnesota, Oklahoma, Louisiana, and Texas. Upon project completion, 3.3 million communication modules will be installed in these states as well as Arkansas and Mississippi. The Itron communication modules attach to customers' existing gas meters, allowing meter readings to be collected once a month by a mobile meter reading device mounted to CenterPoint Energy vehicles. 
Memphis Light, Gas and Water (MLGW) selected Elster's EnergyAxis advanced metering infrastructure and EIServer meter data management systems for the first phase of its smart meter deployment. EnergyAxis enables meter data collection, analysis, reporting, and network management for all three services using a single head-end system. The first phase encompasses approximately 60,000 electric, gas, and water endpoints, and is expected to be completed by the end of 2014.
M&A
TransAlta Renewables, through a wholly owned subsidiary of TransAlta, acquired a 144-MW wind farm in Wyoming for approximately $102 million from an affiliate of NextEra Energy Resources. The wind farm is fully operational and provides power under a long-term contract until 2028 with Rocky Mountain Power. Subject to regulatory approvals, the acquisition is expected to close by the end of December 2013. 
NRG Energy agreed to acquire substantially all of the assets of Edison Mission Energy (EME) for $2.635 billion (or $1.572 billion net of $1.063 billion retained cash within EME). The purchase price, subject to post-closing adjustments, will consist of approximately 12.7 million shares of NRG common stock.
Google partnered with Silver Ridge Power, formerly known as AES Solar, to invest approximately $103 million in Silver Ridge Power's 265.7-MW Mount Signal Solar project. The project, also known as Imperial Valley Solar 1, is a utility-scale solar PV generating plant under construction in Imperial County, Calif. Mount Signal Solar is expected to be fully operational in 2014 and will sell its output to the San Diego Gas & Electric under a long-term PPA. Google's obligation to provide a significant portion of the committed funds is subject to customary conditions precedent, including the commencement of operations at Mount Signal Solar. 
Sempra U.S. Gas & Power acquired and will develop the Broken Bow 2 wind project in Custer County, Neb. Sempra also executed an agreement to purchase 43 1.7-MW General Electric wind turbines to power the 75-MW wind farm. Construction was expected to begin in December 2013 with commercial operation by late 2014. Nebraska Public Power District will purchase the output under a 25-year contract. The terms of the transaction weren't disclosed.
People
ABB realigned responsibilities within its group executive committee (EC) to focus on acquisition integration and its expanded North American business portfolio. Under these changes, Greg Scheu, who is currently responsible for marketing and customer solutions on the EC, will lead the group's acquisition integration efforts and take over responsibility for North America. Scheu joined ABB in 2001, and previously worked for Rockwell Automation and Westinghouse Electric.
Babcock & Wilcox appointed William A. Fox III as senior v.p. and COO of its majority-owned subsidiary, Generation mPower (GmP). Previously Fox was v.p. and project director in the Shaw Power Division for Shaw Group.