Deck:
Our largest utility commission
Author Bio:
Steve Mitnick is Editor-in-Chief of Public Utilities Fortnightly and author of the book "Lines Down: How We Pay, Use, Value Grid Electricity Amid the Storm."
PUF Editor-in-Chief Steve Mitnick crossed the continent to connect with our largest utility commission, the California PUC. With a budget of $267.6 million, and 1,030 full-time equivalents on board, it has considerable capacity and responsibilities.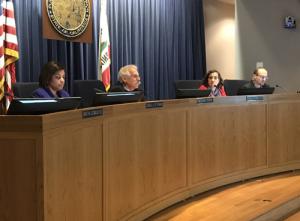 Here we feature extensive interviews with PUC President Michael Picker, and Commissioners Carla Peterman, Liane Randolph, Clifford Rechtschaffen and Martha Guzman Aceves. And with Executive Director Tim Sullivan (now retired), Deputy Executive Director Maryam Ebke, Director - Energy Ed Randolph, Commissioner Randolph's Chief of Staff Rachel Peterson, Director - Safety & Enforcement Liza Malashenko, Deputy Director - Safety & Enforcement Lee Palmer, and Public Advisor Allison Brown.
Mitnick also attended the Fire Safety and Utility Infrastructure En Banc. Four panels and a wrap-up session considered proactive and practical steps that can be taken to lessen the risks of fires from energy infrastructure, and best practices in responding to such emergencies during them and afterwards. 
View seven videos of the California Public Utilities Commission in session here.