Author Bio:
Michelle Malloy is NARUC's Director of Meetings.
A huge success with some four hundred and fifty online participants, NARUC's Director of Meetings Michelle Malloy in June kicked off the virtual MACRUC twenty-fifth Educational Conference, 25 and Live! The panels were educational, yes, but entertaining too, and held the attention of eager attendees, who have been missing out on the regulatory dose of camaraderie combined with edification that only comes from attending these gatherings.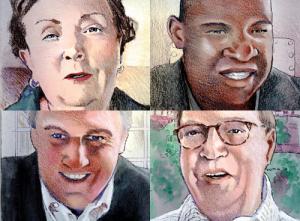 While participants missed out on the face to face amity, the pandemic would have required masks anyway, so here in these pages, PUF brings you MACRUC's meeting, sans face coverings. You can see your regulatory friends, who never stopped working in the public interest during the coronavirus crisis and read excerpts of what went on at what proved to be a scintillating conference.
A lot happened in MACRUC's three days. It started with MACRUC President and West Virginia Commissioner Brooks McCabe introducing FERC Chair Neil Chatterjee and ended with the installation of incoming MACRUC President Willie Phillips, also Chair of the District of Columbia Public Service Commission. What transpired in between? Listen in.
25 and Live! articles:
Lead image: PUF artist Dennis Auth draws a virtual MACRUC conference session. Top row: West Virginia Consumer Advocate and NASUCA President Jackie Roberts and Incoming MACRUC President and District of Columbia PSC Chair Willie Phillips. Bottom row: National Association of Water Companies CEO Robert Powelson and EEI Executive Vice President, Business Operations Group and Regulatory Affairs, Phil Moeller.