Author Bio:
Calvin Butler is the CEO of Exelon Utilities.
Calvin Ball is County Executive for Howard County, Maryland.
Utilities and customers are increasingly collaborating to accelerate decarbonization. Exelon Utilities CEO Calvin Butler and Howard County Executive Calvin Ball discussed their collaboration with the PUF team.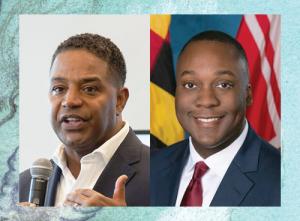 PUF's Steve Mitnick: What are your organization's goals in the transformation to a cleaner economy?
Calvin Ball: We took office in Howard County at the end of 2018. Shortly afterward, during 2019, we established a performance management system to benchmark and track our goals. We set ambitious goals to reduce the government's greenhouse gas emissions with what we call HoCo DASH, Data Analytics and Statistics Hub.
That included a new goal to reduce greenhouse gas emissions of county government operations to five percent below 2010 levels by 2030. We want to reach zero emissions by 2050.
We are implementing strategies and targets such as, obtaining twenty percent of the power needed for local government operations from renewable sources, reducing petroleum fuel consumption in the county's fleet by twenty percent, and reducing electric use of county government facilities by twenty-five percent.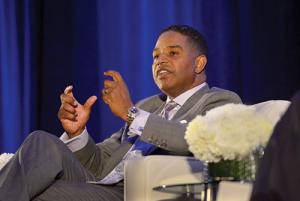 We've already made tremendous progress on energy conservation, working with BGE on building the tune-up and energy conservation measures, installing energy efficient heating and cooling equipment, and implementing the energy cap, which we're in the process of.
Calvin Butler: When you look at Exelon's mission, we're committed to powering a cleaner and brighter future for our customers and communities. Then it goes to, how do we effectuate that, how do we make that happen?
Our utilities are located in and serve major cities, some in areas that are among the most dense, such as Philadelphia, Baltimore, Chicago, Atlantic City, Wilmington, and D.C. Howard County is a significant player from not only a population standpoint, but also in economic growth development.
We are committed to standing with the majority of our customers who want cleaner air and want us to take action on climate change. We can only do that by setting meaningful and practical goals that further our work in combating climate change. This is the right thing to do.
Similar to County Executive Ball, we've put some ambitious actions in place. Let me just run off a couple. One, we have said we're going to reduce our operations driven emissions by at least fifty percent by 2030 and support our customers in reducing their emissions through access to clean and affordable energy solutions.
Another major example is we announced we're going to electrify thirty percent of our combined vehicle fleet by 2025 and fifty percent by 2030. I'm pleased to tell you that the first milestone is close to being met and the second is clearly in our sights.
Electrification is integral to Exelon's plan to create a cleaner economy. It helps meet environmental goals, reduces carbon footprints, brings healthier air to our communities, and creates opportunities through job creation and reduced energy costs.
Another important goal is achieving equity in clean energy. We are building a smarter, cleaner, energy grid and are working to reduce local air pollution to improve the health of the communities we serve.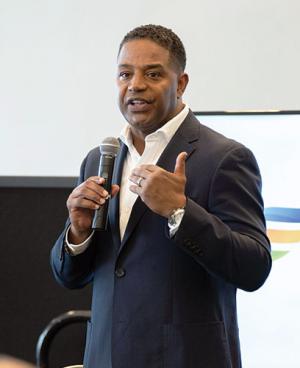 We are especially recognizing need in the communities of color, which disproportionately suffer from the effects of poor air quality. The bottom line is everyone must have access to clean transportation options, breathe cleaner air, and have opportunity for jobs in this new clean economy.
PUF: Is there cooperation between the County and Exelon? How are you collaborating, and how do you view that from your standpoint?
Calvin Ball: It's a pleasure to be here with Calvin Butler, who is a leader, a visionary, and has always helped steer the company toward collaboration. Through the years, we've partnered with BGE-Exelon, to move the county and state forward.
Howard County was the first county to work with BGE-Exelon on EV charging stations. We've worked together to install twenty-nine and more are underway. We're replacing all county streetlights with high efficiency LED.
I'm proud that we're replacing all of our LED lights across the county. This is a bold step and a collaborative project with BGE, that's been converting the streetlights they own within Howard County to LED.
We contracted with BGE to replace the county owned lights. This project started January 2021, and a thousand streetlights have been upgraded. 
Switching all ten thousand county streetlights to LED will allow Howard County to reduce electricity use by over two hundred and twenty-five thousand kilowatt-hours per year and reduce greenhouse gas emissions by three thousand and forty-five metric times over the project. That's an equivalent carbon emission reduction of planting fifty thousand trees.
We're also working to ensure that families are educated through programs like EV Smart, or EmPOWER. We're staying connected with BGE customers, participating in quarterly meetings for large customers in Howard County and building a cleaner and greener culture. We have some of our Howard County Public School System electric buses in a pilot program, beginning soon.
Powered by electricity, the two zero emission vehicle ZEB school buses and charging stations will replace two diesel powered vehicles currently in use. BGE-Exelon has been a strong partner, and that partnership has been a great example for our state, region, and country.
PUF: Calvin Butler talk about how you're collaborating and cooperating with Howard County and other places too.
Calvin Butler: It's important to know what the County Executive wouldn't share with you is he had been in the office not even a couple of weeks. I had the pleasure of being a CEO at the time, I stepped into his office, and we talked about what was his agenda.
I knew on his platform, he was talking about being environmentally conscious, climate goals, and so forth. We asked, if we have an opportunity to work together, would you be interested? He said, absolutely. These conversations started years ago, but it's important to note, we started these conversations with many others. But Howard County said, we want to be a leader.
If you can understand what that means by being a leader, you're first, but you also take some risk of the unknown. If you're a leader, you set the pace and the standard for everyone else. I give credit to the County Executive in Howard County for stepping up. He gave you a couple of examples and let me piggyback off of the buses.
That's important to note because, several years ago BGE was the first utility in the nation to utilize all electric buses. We were using them to shuttle our employees back and forth, and the reason was we wanted to be an example to others.
When our conversation with Howard County materialized and kept developing, we talked about that. This is what we've learned, but now being able to partner with Howard County in this effort, guess what? We get to see it in a larger program.
We get to collect data and use it as a lab to continue to build off what we were doing in shuttling our employees back and forth. That's partnership. That's where you sit back and say, what else can you do?
The charging stations was one, the LED light replacement was another, but the buses go to that transportation of the electrification sector to drive it and sit back and say, now we're making a broader impact in all of our communities, and we can take that to the next level.
That's what I'm excited about. The partnership is beginning, but it's a deep one, and this is what I also know. Other municipalities, cities around the country, are looking at it, saying, why aren't we doing this with our home utility? What has been the holdup? Because, again, Howard County is leading by example.
PUF: County Executive, where's this all going in the next five to ten years?
Calvin Ball: In Howard County, as Calvin Butler thoughtfully and graciously noted, the environment is a priority. We see it as something we are not inheriting from previous generations but are protecting for future generations.
We've become a cleaner county, signed the Paris Climate Agreement, and are the first county to join up with the Working Lands Challenge. In the next year, we're going to be creating a new climate action plan so we can target the actions to fight climate change.
We're going to be updating our General Plan, and we're going to have new focuses on climate adaptation, resiliency, equity, and social and environmental justice. We're going to continue to increase our solar capacity within Howard County through a solar power purchase agreement that will build twenty-four megawatts of new solar.
Beyond that, we're going to continue our energy efficiency. We're going to continue embracing renewable power, such as through microgrid planning, increasingly looking at those microgrids to increase reliability and continuity of the critical public safety functions of local government, and prioritizing resiliency so we improve on being ready for emergencies exacerbated by climate change, such as flooding or power outages. 
We are excited about our vision, about building upon the foundation of being an environmentally friendly county and continuing to be environmental leaders for our state and nation.
PUF: You have to worry about schools, the budget, and healthcare, and more.
Calvin Ball: The environment should permeate every decision we're making. Whether it's in Howard County planning fifty thousand trees, or looking toward EVs, we should be looking at how we are being more environmentally friendly. This is embedded in how we do business in Howard County and we build this better brighter future for current and future generations.
PUF: Calvin Butler, where's this going in the next five or ten years?
Calvin Butler: We're just getting started. For our foundation, we set an aggressive goal on electrifying our transportation fleet but then we have our "Path to Clean" efforts to reduce our greenhouse gas emissions by fifty percent from our 2015 base.
We understand that is the foundation and over the next several months, I expect to come to you and others and let you know our goal is much more aggressive. That's where we're going. That's where we are committed to getting with our customers, with our communities.
The bottom line is over the next five to ten years, we will continue advocating for equity in the health and well-being of communities we serve. That's going to be the core underpinning of everything we do. 
If asked, what are you doing to that end to help get there right now, we're currently in a pilot with other organizations to sit back and talk about your drive from D.C. to Kansas. We're looking at what we can do across the Mid-Atlantic in creating charging station pipelines.
Charging stations with all the utilities. It was said, Exelon Utilities you don't have to do this alone, you can partner with other utilities and regulatory bodies and get this done across the Mid-Atlantic, and because our footprint is so large, why not be a part of this collaborative effort to get there? 
Two, we're partnering and building out ride share programs. We'll initiate that in low to moderate income communities. We know private enterprises won't go there on their own. They have to be taken there by legislators, regulators, and utilities. That lays out the blueprint for our next five to ten years and beyond.
PUF: It's a little harder for Exelon because you are one of the cleanest utilities to begin with from your nuclear power.
Calvin Butler: With our new nuclear power plants, we generate slightly above twelve percent of all clean energy that's produced in the United States. When you look at our standards, you do not get to the standards that we talk about as a country going net zero without nuclear energy.
That is what we're seeing. Everyone is in love with solar and wind. It's part of the equation, but you don't get there when the sun doesn't shine and the wind's not blowing. You need that baseline of energy, which nuclear provides to guide us there.
The Biden administration has realized that, so the conversation is real now, but we have to continue that discussion, move us beyond and say, let's get these programs and plans put in place, and save our nuclear plant, but more importantly, build a zero-emission economy and drive it forward.
Looking at the intermittency of solar and wind, in 2020 or even the first quarter of 2021, our nuclear plants ran ninety-four and a half percent of the time. That's the best in the world in terms of the run ratio for our plants, which are operating at world-class levels. We'll continue to make the case that they're an important part of the solution and overall equation.
PUF: What advice would you give to utilities, counties, or cities around the country as to, here's what Exelon and Howard County have been doing. Here are some things you can look at that might work too.
Calvin Ball: First is building upon a solid foundation. One of the first things that we did once I became County Executive was to create pillars. These pillars are the seven pillars upon which our administration is built. Those pillars include things like having ready and successful students, and safe and engaged communities, but also one of our pillars is a clean and sustainable environment.
It's important to have that as a foundation and then build communication on collaboration, on being goal oriented, such as doing our part to address climate change, continuing to increase that support for renewable power and increase it beyond the fifty percent state standards.
We not only aspire for more, but in that aspiration, we inspire others to do more and then we're expanding community solar, making it more accessible, especially to different socioeconomic incomes, making it so when families are thinking about basic needs, putting food on the table, we can all thrive because it's acceptable to have clean energy technologies, and that makes it easier for others. 
We're continuing to engage with our utility partners early on in the process so we can do these things together, because only together will we accomplish the big, meaningful things.
PUF: Calvin Butler, what advice could you give?
Calvin Butler: We recognize that all of us in the utility industry take responsibility for the grid very seriously. At our core, we are about safe operations of the grid. We should be thinking about how we take that same grid founding fundamental principles and say, let's think about all segments of the communities we serve and how we can lean in and impact the quality of their lives.
I believe that by supporting the expanded adoption of EVs, while also providing incentives and customer rebates to encourage easy use is something a utility can step into and with a straight face, be in that space.
No one will sit back and think they're only doing it for increasing their usage on their grid. They're doing it for the quality and the life of the communities they serve. We believe that reducing the transportation emissions is critical, but I also believe to get there, there are a few things I would say to roll out to them to facilitate our jurisdictions in driving clean energy solutions.
Our utilities need to be doing a few things. One, consider the role of distributed energy resources, DER, like battery energy storage and what it can do, how it can play a part in addressing grid needs.
Microgrids are critical as we continue this journey to a clean society, investing in systems that allow for advancing grid monitoring control and automations that also better allow for service reliability as more DER is attached to the grid. We must be part of that conversation. There are catalysts to that modernizing and investing in the grid to increase hosting capacity. That is important as we work to increase resiliency.
In light of the increased instances of severe weather, Ellicott City in Howard County, had its hundred-year storm two years in a row. You can no longer sit back and say, oh, that is a fluke.
Those storms are occurring more regularly, and we have to be prepared for them as utility companies. We must be part of delivering on the distributed energy resources. I love the fact that the County Executive talked about community solar.
Community solar is going to be key in our underserved communities. We must be part of that solution and help drive our regulators and legislators in coming up with ways to get it enacted.
Partnerships are key. The school bus program is just one example. We're proud to be working with Howard County. We consider it as one of our communities, but it's also one of our largest customers.
I sit back and say, I'm no longer CEO of BGE. I'm so proud of the BGE team, Carim Khouzami as a new CEO, and the leadership team stepping in, not missing a beat, and working with the County Executive because it's that important to us.
 
Decarbonization Converations: