Deck:
Illinois Commerce Commission
Author Bio:
Ann McCabe is a Commissioner at the Illinois Commerce Commission. Former NARUC President Paul Kjellander, also former Idaho PUC President, is Senior Advisor at Public Utilities Fortnightly.
The Inflation Reduction Act's $370 billion in clean energy investments, effective August 2022, are designed to accelerate private investment in clean energy solutions in all sectors of the economy. That includes strengthening supply chains from critical minerals to efficient electric appliances, and ensuring the U.S. leads the way in climate change efforts.Public Utilities Fortnightly's Paul Kjellander examines the federal funds coming into the energy and utilities space and how State Energy Offices are playing a role. Listen in as he talks to the experts who are already dealing with the big funding issues, for there is much to learn.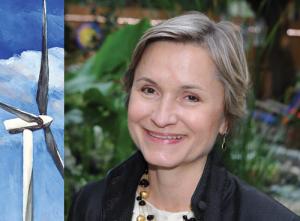 PUF's Paul Kjellander: Why is it important for state utility regulators to be following federal energy dollars and incentives coming from IIJA, the Infrastructure Investment and Jobs Act, and the Inflation Reduction Act? 
Commissioner Ann McCabe: For several reasons, including that the IIJA and IRA are helping us develop standards and best practices as we move to an electrified transportation sector.
With decarbonization goals, federal funds will help us implement clean energy goals set by major legislation in 2021. We're striving to be net zero by 2050 and have an electric vehicle goal of one million electric vehicles by 2030.
PUF: Could you elaborate on how those federal funds are helping with some of those standards and best practices?
Commissioner Ann McCabe: That's still a work in progress. We are working with utilities and state agencies to identify opportunities. In Illinois, we have an Illinois Finance Authority.
They're our green bank and were awarded a big chunk of money over the next few years. They're providing technical support for grants, such as the 40101(d), GRIP, HOMES, EPA Greenhouse Reduction Fund, and other programs that directly relate to the grid's energy efficiency, renewables integration, and electrification.
The IFA is involved in our state's interagency EV working group that includes our Environmental Protection Agency, Department of Natural Resources, Department of Transportation, the ICC, and state EV coordinator, among others.
This group is identifying and applying for as many grant opportunities as possible in the IRA and IIJA that can promote deployment of EVs and EV charging infrastructure. This group is collaborating to identify state-owned sites to deploy EV charging and to accelerate the process of electrifying the state's vehicle fleet.
PUF: It sounds like the Illinois Commerce Commission is playing a facilitative role with other state agencies that are seeing some of this money coming in.
Commissioner Ann McCabe: The ICC staff sit on the inter-agency electric vehicle working group. Our staff regularly meets with other states and the federal government to learn about new funding opportunities.
The ICC can't apply directly for grants, but we're working closely with other agencies to provide the technical assistance needed as they apply for those grants.
PUF: You want to ensure they're aware of broader policy implications of importance to the State of Illinois as it relates to energy and the utilization of these funds.
Commissioner Ann McCabe: Yes. There's a lot that various groups have written about the states' and PUCs' roles on IIJA and IRA. I particularly like the point that Advanced Energy United made, that states can be effective by focusing on a few things and looking for ways to weave multiple federal and state programs together.
PUF: It's what can we target?
Commissioner Ann McCabe: Right, and that's going to vary from state to state depending on their priorities.
PUF: The Illinois Commerce Commission is one of a long list of states that have opened official dockets related to this funding and potential impact. What's behind the need to create a formal process?
Commissioner Ann McCabe: Over a year ago, we did a notice of inquiry on the IIJA in part to find out what other groups, utilities, and stakeholders were thinking about applying for, as well as to ask them what we should be thinking about, both as the Commission and as the State, and eleven entities responded.
That information helped inform us of the opportunities for the state, investor-owned utilities, munis, co-ops, and provided more information on the different kinds of grants for which the state was eligible, and what grant opportunities can help with our CEJA — Climate and Equitable Jobs Act — legislation goals.
In addition to that NOI report, we also have inter-agency work groups that are talking regularly and working with the Illinois office in Washington.
PUF: As an individual Commissioner, what do you hope can come out of this in three, four, five years? 
Commissioner Ann McCabe: We're hoping that utilities, agencies, and other organizations seek and secure some of these grant opportunities, which will help the state do a lot of what we're trying to do and supplement existing funding.
PUF: What do you see as the highest priorities as you look forward and perhaps what this money could do for the State of Illinois?
Commissioner Ann McCabe: Help on electric vehicle infrastructure and other measures that help achieve our clean energy and decarbonization goals. EV infrastructure alone is complex and requires different solutions.
Fast charging on highway interstates could have different impacts on the grid than installing chargers in multifamily buildings in urban centers like Chicago. The federal funding will make this work possible, but still requires significant effort by state, utility, community, and consumer advocates. Coordination is crucial.
At the same time, we have to ensure that this new charging infrastructure coming on the grid doesn't threaten the cybersecurity of the grid. Our Director of Cybersecurity and Risk Management has been working closely with the federal government, utilities, and other states to develop best practices for utility vendor screening processes to ensure that any chargers deployed through utility programs don't pose a threat.
PUF: What's your sense as your utilities are looking at this unprecedented opportunity for funding?
Commissioner Ann McCabe: It varies. One large utility submitted four concept papers under the IIJA and we're encouraging another one to think about opportunities.
PUF: Are there words of caution or encouragement that you could offer?
Commissioner Ann McCabe: I encourage states to coordinate with their sister agencies and their Washington office, if they have one. There are great resources and analyses coming out of various groups on what the states can be thinking about due to this influx of federal funding.
PUF: Energy efficiency is a big piece of this. How important is it to see more money coming in for energy efficiency?
Commissioner Ann McCabe: Well, we often hear efficiency is the first fuel and there's still a lot more to do on energy efficiency. I'll give you an example.
In Illinois, before we passed CEJA, The Cook County Community and Economic Development Association, CEDA, said that the deferral or walkaway rate from energy efficiency applicants was up to thirty-nine percent. That's due to needs for things like roof repairs or mold reduction, and CEJA provided funding in those areas.
We call it health and safety funding. That helps low- and moderate-income homes and multi-family buildings qualify for weatherization and efficiency that they wouldn't otherwise be eligible for. My understanding is that federal funds do not include health and safety-related support.
PUF: Some of this money may prompt trying to find additional funding for some of the first line of activities that need to occur so you can more fully take advantage of federal funds that are coming.
Commissioner Ann McCabe: Right.
IRA-IIJA Funding articles at fortnightly.com: