Author Bio:
Phil Moeller is Executive Vice President at EEI. Former NARUC President Paul Kjellander, also former Idaho PUC President, is Senior Advisor at Public Utilities Fortnightly.
The Inflation Reduction Act's $370 billion in clean energy investments, effective August 2022, are designed to accelerate private investment in clean energy solutions in all sectors of the economy. That includes strengthening supply chains from critical minerals to efficient electric appliances, and ensuring the U.S. leads the way in climate change efforts.Public Utilities Fortnightly's Paul Kjellander examines the federal funds coming into the energy and utilities space and how State Energy Offices are playing a role. Listen in as he talks to the experts who are already dealing with the big funding issues, for there is much to learn.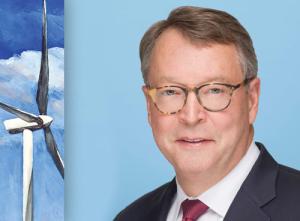 PUF: There are a lot of federal funding opportunities and incentives that could impact some of your members. How do you keep that straight?
Phil Moeller: We have a team at EEI focusing on that, as there are many new programs being implemented. The Department of Energy is reorganizing and staffing up to help facilitate them all.
Our team is following all the developments, whether requests for information or proposals, guidance, and rules that come out of various agencies. They are on it almost full time in keeping our members updated as to what's happening, and when and how to be involved in the process.
PUF: Which one of these incentives and funding opportunities seem to be generating the most interest with EEI member utilities?
Phil Moeller: The National Electric Vehicle Infrastructure — NEVI — program for charging infrastructure got a head start on some of the others. Our team has been working with the Joint Office of Energy and Transportation to make sure we're facilitating relationships with the states that will be dispersing those funds and setting the policies for EV charging.
That one got a quick start from the beginning. Also, a lot of progress on efforts to bring broadband to unserved and underserved communities.
PUF: For broadband, you are talking about the middle mile piece of the puzzle?
Phil Moeller: Yes. That's the middle mile, where our member companies could, at low incremental costs, add additional capacity for fiber optics that then can be used for the last-mile companies that would be providing the service.
A lot of times though, there are state policies involved — they could be related to rights of way or easements — and sometimes those require state legislation to be clarified so this can be done. But there has been progress made in several states to resolve that potential set of conflicts and move forward with making broadband access more universal.
PUF: People may look at some federal funding mechanisms and if it doesn't say energy, may not look further. Not all the incentives in these packages are perceived to be intuitive funding mechanisms for energy utilities.
Phil Moeller: That's why it's important that we have a team that knows the details, can follow up, and provide information to our member companies and the state regulators, who of course have a critical role in the implementation process.
Not just state regulators, but other state agencies, some of whom may not have experience in this area. A lot of these opportunities are ones where you must partner with a third party, so facilitating those conversations and making those connections is critical to ensuring states are ready to apply for funding opportunities when the application windows open.
PUF: How is EEI helping members navigate through funding opportunities?
Phil Moeller: As soon as the Bipartisan Infrastructure Law passed, EEI quickly shifted our focus to becoming the central hub where our member companies can learn about and keep track of all the funding opportunities. We've been sending our members weekly updates, hosting webinars, and are about to host our third in-person Implementation Summit.
These resources are helping our members easily navigate this set of new opportunities that may require developing new relationships with state agencies that our member companies aren't necessarily used to working with.
PUF: With state energy officials, state energy offices, some states running programs through their Department of Commerce or elsewhere, it could mean new relationships for utilities. Is it time for utilities to pay more attention to other state agencies?
Phil Moeller: I think it is, and electric companies are quite aware of that. The challenge is that each state is going to do things its own way, and that may involve agencies that companies work with on a regular basis, or ones they've worked with but never on significant funding opportunities under tight deadlines.
So, making sure that each company approaches their state in the way that their state is approaching these funding opportunities is part of the challenge, but ultimately, it's a good situation to have versus not having it.
PUF: Public service commissions have open dockets related to funding opportunities and are looking to the utilities. What are you seeing?
Phil Moeller: Our state regulatory team has been following this very closely, and we have a compilation of what various states have been doing. About half the states have opened an inquiry or a formal docket in looking at this. There are other states that they're paying attention to, of course.
PUF: What are you seeing as far as state regulators who have open dockets related to the funding and the utilities they regulate?
Phil Moeller: State economic regulators, roughly half of them, have had some kind of open proceeding that, as of now, deals with these issues. It's important that our member companies continue to keep that information coming as these programs are developed.
PUF: It's clear that one size doesn't fit all and that's making it more complex.
Phil Moeller: That's right. States are taking their own unique approaches toward these. Some of them, again, without even having the formal type of proceeding open, are still interested in what the opportunities are as they develop.
PUF: What are your thoughts as far as how utilities need to be interacting with state regulators, whether there's an open docket or not?
Phil Moeller: It's going to probably depend on the specifics of each program. As I mentioned earlier, some of these will require partnerships, either with agencies or with third parties, and so knowing what opportunities are out there and with who, is going to be important.
PUF: Are you seeing any numbers come in, anything encouraging in relationship to how all this is coming together with utilities and states?
Phil Moeller: Well, we're talking about a lot of money here, and twenty percent, which is thirty-four billion of the one hundred seventy-one billion dollars in electric sector-relevant, five-year funding opportunities that were released in calendar 2022. Sixty percent of which electric companies were directly eligible to apply.
That's quite a lot of funding. Also, notable electric sector-relevant grant programs included the middle-mile broadband grants, one billion dollars for regional clean hydrogen hubs of seven billion, and 3.8 billion dollars in fiscal year 2022-'23 funding for grid resilience and innovative partnerships, often called GRIP funding.
PUF: You mentioned a lot of these funding opportunities require partnerships, and I'm assuming EEI is being approached by vendors. What are you seeing to help navigate that space?
Phil Moeller: There are some unique areas required that have been embraced in the past by electric companies but are more formalized now. For instance, some of these issues related to cost sharing, the Justice40 initiatives, and the public-private partnerships.
There're the Buy America provisions and investing in the U.S. workforce requirements. So, those are areas that are very important and may require a renewed effort to ensure that the requirements in the funding packages are met.
Again, even though many of these areas are ones that electric companies have prioritized in the past, the more formal nature of addressing these issues is new and will require focus to make sure that they're complied with.
PUF: As the money and programs develop and mature over several years, there are unknowns that could be a niche that EEI can help navigate through.
Phil Moeller: Absolutely. Overall, whenever there's a new federal program, and in this case, there are lots of them, EEI's team gets to work evaluating and summarizing the opportunities for our member companies and the customers and communities they serve.
Also, making sure the expectations of regulators and customers are aligned with the required legal implementation of these programs so that everything is done correctly. But again, newness, and need for the federal government, and in some cases state governments, to increase staffing to manage these programs, and so realize it may take some time to get things rolling.
The great opportunity in these projects is that the funding is out there, but patience will be important so that expectations are in line with the reality of how these programs are implemented.
PUF: What do you hope this new era of funding might result in, and are there any words of caution?
Phil Moeller: The caution, as I mentioned earlier, is to make sure that stakeholders have the right amount of patience as these programs get up and running. Of course, we all want these programs to be effective and we want to ensure these investments are responsible, since they are taxpayer dollars.
My hope is that the focus will be on infrastructure, both at the transmission level and increasingly at the distribution level. That is as we look toward a future of more electrification, more demand on the system, and the need to build out the infrastructure, while having the visibility into the systems, notably the distribution system, so we can assure that, as the system evolves, we can maintain reliability.
Then there's always that issue of the right structures, if customers are given the right rate signals. This can be a huge opportunity where it's a win for everybody, using our infrastructure more efficiently.
In other words, shaving peak load, moving that load into low-peak times when prices are typically lower. That is so we can maximize use of the existing and expanded infrastructure in the most efficient way, which has the potential, particularly with electric transportation, of lowering overall household energy expenses by shifting largely from petroleum to electricity in the transportation sector, but it's not limited to that.
So, it'll be a lot of work for a lot of people to make sure that customers get the right signals to consume at the most efficient and appropriate times as we electrify more of the economy.
IRA-IIJA Funding articles at fortnightly.com: