Deck:
Which is the best energy company?
Author Bio:
Richard Stavros is Fortnightly's Executive Editor.
What might have been a seemingly simple question to answer in the energy industry of 20 years ago is today fraught with difficulty. With the divestitures, spin-offs and convergence mergers of the late 1990s and early 2000s that were spurred by deregulation, no longer do we have cookie-cutter, vertically integrated utilities in all parts of the country (if we ever did).

Rather, some of what we do have today includes E&P (exploration and production) firms that own electric or gas utilities, pipelines that own power plants, and electric utilities that have entered the E&P business.

With the August signing of the Energy Policy Act of 2005, which includes repeal of the Public Utility Holding Company Act, many industry watchers say further consolidation is all but assured.

In fact, many predict the energy industry not only will consolidate, but will converge as well with outsiders such as investment banks, insurance companies, private equity firms, oil majors, and retailers. And it is this continued consolidation trend in the industry that demands a new grounded in finance to discuss and identify industry performance and value.

One method, known as operational benchmarking analysis, while still effective at making comparisons of individual assets, has become increasingly difficult to use in comparing companies with ever-changing asset mixes. Thus, our readers have asked for a type of analysis that more truly communicates value to future investors, future owners, energy asset operators, regulators, and consumers.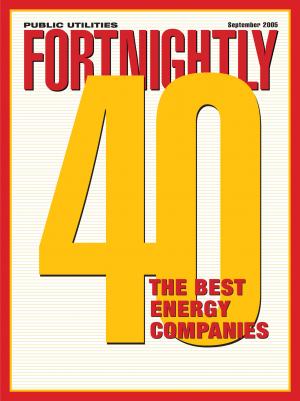 With that aim, in this issue, Public Utilities Fortnightly introduces a new standard for excellence in the energy industry. Presenting the Fortnightly 40 financial energy rankings of electric and gas utilities, pipelines and distribution companies: a benchmark that highlights the industry's leading companies—its brightest stars proven in performance and exceptional corporate management.
On Top of the Energy World
What did it take to make it to this year's list? We looked at hundreds of performance measures and settled on a handful of highly touted metrics. We then shared our model with some of the greatest energy finance minds, tweaked it, and this is the result.
Being on the 40 means the company is among the highest in profit margin, dividend yield, free-cash flows as a percentage of revenue, return on equity, and return on assets. (See Sidebar "A New Performance Standard.") 
But Fortnightly didn't stop there. The winners also are companies that are g-r-o-w-i-n-g.  Most utility executives told the Fortnightly that it shouldn't be enough to pay a large dividend and then go home. There must be a viable business with evidence of future growth, they said. The story of Sempra Energy illustrates the type of company that made it to our rankings. Neal E. Schmale, executive vice president, chief financial officer and a member of the board of directors of Sempra Energy (No. 16), recalls the days before his company became a super  conglomerate.
"When Sempra was first formed back in 1998 we were paying out effectively almost 100 percent of our earnings as dividends. One of the things we did in 2000 is we simultaneously repurchased stock and lowered the dividend—that in turn preserved some of the cash that was being generated internally for reinvestment, which in turn allowed us to make the type of investments that have succeeded," he says.
Like Sempra, many of the companies that made the 40 are companies that effectively tapped in to new revenue and new businesses following the restructuring of the industry.
"If you look at the $895 million in earnings we had last year, almost exactly half of that was from [utilities] San Diego Gas & Electric and SoCal Gas combined. The other half was from businesses that were developed since the merger in 1998," says Schmale. The Sempra CFO explains that its successful investments in energy trading and the generation business now make up more than half of earnings. But such success hasn't stopped the company from looking ahead. Sempra, he says, also is investing heavily in liquefied natural gas terminals, which he believes has a lucrative future.
"…The trading business is closer to a $200 million per-year business. LNG certainly has the capability to be in the $150 million per-year range. It could be many, many years from now [Sempra's LNG terminals do not come on line until 2008]. But it has the potential to be in the same league as the generation business and maybe the commodity business," he says. Certainly, Schmale has good reason to believe in the future prospects of imported natural gas. Those companies that had natural gas to sell or move this year, danced all the way to the bank, and dotted the top ranks of this year's Fortnightly 40.
A Gas Man Prospers
Keith O. Rattie, chairman, president and CEO of Questar (No. 3), is having a good year. In Questar's second quarter 2005, the company reported net income was up 43 percent compared to a year ago. "The key drivers were higher production and realized prices for natural gas, oil and natural gas liquids and increased volumes and improved margins in gas gathering and processing," said an earnings release.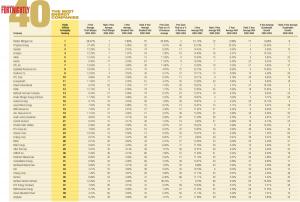 Rattie believes that his company's current success comes from the transformation the company has gone through over the last 10 years.
"We anticipated that the fundamentals for natural gas were strong and it was likely that it was going to be better to be a producer of energy than a pure consumer," he explains in an exclusive interview. Questar, he says, is viewed today largely as an E&P company. But that was not always the case. "Investors thought of Questar as a utility that also had a fledgling E&P business. Today, many investors see us as an E&P company that also owns an interstate pipeline and a regulated utility," Rattie notes.
Moreover, the CEO says that soaring natural gas prices are not going to his head. He points out that at the end of the day the winners are going to be those companies that consistently generate the best returns on reinvested capital: "Companies that run their businesses mindful that natural gas is a commodity business," he warns.
"To be successful in the commodity business you have to understand that high prices don't last forever. I think some companies are sowing the seeds of their own demise by betting that energy prices are going to remain high," predicts Rattie.
He notes that in the 150 years of history in the gas industry there never has been a period of time that prices have moved as far and as fast without crashing. "High prices cause new supply, discourage demand and ultimately cause prices to retreat. It happened every time in the past and I think it will happen in the future," he says, dryly.
He believes Questar's more conservative risk management, and a portfolio including pipeline and utility businesses makes the company more stable than others. "We are offering investors … better potential for return and growth and long-term price appreciation than pure utilities. But less commodity price risk and exposure to falling commodity prices than pure E&P companies."
Geoffrey S. Chatas, executive vice president and chief financial officer of Progress Energy (No. 2), also attributes some of his company's high earnings in the last few years to natural gas operations. "We have very niche operations in natural gas. These are all efficient operations with proven reserves. We have about 225 billion cubic feet of proven reserves." But unlike Questar, he says, the biggest contributor to the bottom line is Progress Energy's electric utility operations, in North Carolina, South Carolina and Florida, which have some of the highest growth rates in the country. The other contributor to the company's earnings is the synthetic-fuel business. Chatas also says his company's ability to avoid many of the "melt down scenarios" that others did not, has contributed to the company's overall financial health.
Certainly, it is the conservative approach to operating assets that distinguishes many of the winners, even when their earnings are anything but. Just listen to what we heard from this year's Fortnightly 40 winner.
Enter the Transporter
Kinder Morgan, No. 1 in this year's ranking, bills itself on its Website as, "A Different Kind of Energy Company." Certainly, the company's financial performance distinguishes itself from its peers. It hasn't been just different, but effective at producing a high return on investment.
C. Park Shaper, president of Kinder Morgan, Inc., attributes the company's success not only to the company's assets, which include pipelines, terminals, gas distribution and gas-fired power plants, to name a few, but also to the structure of the company itself. Kinder Morgan is one of the first companies to make effective use of a corporate structure known as the master limited partnership (MLP).
"Back in 1997, [founders Rich Kinder and Bill Morgan] made a conscious decision to try something different. They wanted to use a master limited partnership as a growth vehicle," Shaper says, explaining that at the time it was an unusual choice.
According to a report written in early July by Gary M. Vasey, vice-president, trading and risk management, UtiliPoint International, MLPs were created by Congress in the 1980s primarily to stimulate oil and gas exploration.
He writes that the MLP corporate structure is designed to allow energy companies to spin off their production and transportation assets in separately managed companies. By creating an MLP, the energy company benefits by raising cash to pay down debt or invest in other businesses, he writes, and the assets packaged in an MLP generally are considered to be a slow-growth or even declining-value asset, but with a steady cash flow, such as producing properties, pipelines or gathering systems.
"Since the MLP pays out all of its earnings to MLP unit holders, the corporation therefore pays no taxes on those future earnings. Essentially, the MLP structure allows companies to sell their assets to investors at a market price in return for a promise to pay out the cash flow, after maintenance expenses, while maintaining a degree of control over the assets," writes Vasey. He also notes the advantage of an MLP is that it only pays taxes once at the unit-holder level. By contrast, most corporations are taxed twice, once at the corporate level, and once at the shareholder level.
But in the beginning, Kinder Morgan's Shaper says the very reason people thought an MLP structure wouldn't work was because, "the MLP actually pays out all of its cash flows to its partners every quarter… So, the question is where does the cash come from for new investment?"
Shaper says that essentially [Kinder Morgan] believed that it would be able to raise capital for new investment projects from the capital markets if the assets were attractive, and demonstrated that it could be done.
Moreover, in addition to having a "low-cost" corporate structure, Shaper says his company's high-quality assets are the reason for Kinder Morgan's performance.
"The growth comes largely from just normal internal growth. It comes from increased utilization of our assets, which is largely driven by incremental demand for the products we handle. Demand for refined products (gasoline, diesel fuel, and jet fuel) across the nation generally grows at about 2 percent. We tend to serve higher growth areas on the West Coast—California, Arizona and Nevada. We tend to get three-percent volume growth out of those assets," he says.
In addition, Shaper says growth at the company comes from tariff increases from the pipeline business. "We'll get four percent growth in revenue every year," he says of the pipeline business. Vasey point out in his report that an MLP usually contains assets generally that are of diminishing value, so an MLP usually maintains growth by acquiring more assets.
"We [do] also look to expand our assets. Whether that is build a new pipeline, expand a storage facility, add tanks, add a terminal facility, generally with contracts from customers that support that investment. So, that is the other component of that growth," says Shaper.
In fact, in early August, Kinder Morgan dominated the headlines after announcing plans to buy Canada's Terasen Inc. in a $5.6 billion deal that would expand the company's natural gas and petroleum-pipeline operations in North America.
The transaction is the second-biggest U.S. buy of a Canadian firm behind Duke Energy's $8.2 billion acquisition of Westcoast Energy in September 2001, according to Thomson Financial. Will this acquisition keep Kinder Morgan on the top of the next year? Certainly, the MLP structure will be very competitive with other types of corporate structures. In 2004, total returns for pipeline MLPs were 23 percent, while the Standard & Poor's 500 was up 11 percent, according to SmartMoney.com.
Of course, the result of financial performance of this type is that many utility CEOs may be thinking of changing their corporate structure.
Unfortunately, most utilities thinking of becoming an MLP simply can't. Shaper points out that retail sales of electicity or gas do not qualify for MLP treatment. (According to experts, the Internal Revenue Service has very specific guidelines over what type of assets will qualify.) Shaper, meanwhile, seems set on the concept.
"In terms of total return to shareholders," Shaper explains, "MLPs offer a very attractive proposition," But will that be enough to keep his company atop the 40 in 2006?
Many industry watchers say that with the completion of mergers such as that of Duke Energy-Cinergy, Exelon-PSEG and MidAmerican-PacifiCorp, plus other expected consolidations, it may be difficult for Kinder Morgan to hold on to the crown. Furthermore, many companies that have fixed their balance sheets and gone back-to-basics after the merchant overbuild of the early 2000s have been gaining momentum on the financial tables. As for Shaper, we know whom he's betting on. Watch these pages to find out who makes next year's Fortnightly 40.
Editor's Note: The financial model, underlying assumptions, and performance criteria of the Fortnightly 40 financial rankings is the sole intellectual property of Public Utilities Fortnightly and its holding company, Public Utilities Reports Inc. Any attempt to reproduce, copy, modify, alter or use the Fortnightly 40 financial model without the express permission of the publisher is prohibited.
Correction: In the 2005 financial rankings of the Fortnightly 40, Progress Energy's 2002 net income was overstated because of a data-entry error by financial data provider C Three Group LLC. The net income of Progress Energy for 2002 should have been $528 million, which ties the utility for 37th place with DTE Energy on the Fortnightly 40. Fortnightly regrets the error.