Deck:
By opening the field to far-flung deals, PUHCA's repeal changes the merger game.
Amid all the provisions of the Energy Policy Act of 2005, the repeal of the 1935 Public Utility Holding Company Act (PUHCA) has attracted a surprising amount of attention in the business and consumer press. In some circles, it has been portrayed as a starting gun for a mergers and acquisitions (M&A) free-for-all.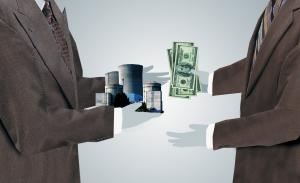 "I would go so far as to say that within the next five to 10 years, the current number of electric utilities—which numbers more than 100—could shrink to 10," Ken Hurwitz, a partner with Haynes & Boone in Washington, D.C., told the in late July.
But while some analysts predict a wave of utility M&A activity in the wake of PUHCA's repeal, others are more sanguine about the change. For example, Edward Tirello, the Berenson & Co. managing director known for foretelling the merger wave of the 1990s, expresses skepticism about PUHCA's repeal releasing a deluge of utility M&As.
"The repeal of the holding company act removes a barrier, but only one of many," Tirello says. "I don't see this as opening the floodgates to anyone who wasn't already interested in doing mergers and acquisitions."
However, by eliminating the contiguous-path requirements, PUHCA's repeal changes the regulatory framework for deals involving far-flung suitors. "It's almost certain there will be M&A activity that wouldn't have occurred without the repeal of PUHCA," says Carl Wood, formerly a commissioner with the California Public Utilities Commission and now a consultant in suburban Los Angeles. "PUHCA's repeal is profound, because in some respect under PUHCA, mergers had to make technical sense, with contiguous territories."
Until PUHCA's repeal, for example, the American Electric Power/Central & South West combination—consummated in June 2000—was facing potential unwinding at the hands of a reluctant SEC. The commission had given AEP and CSW wide latitude in approving their contract-path work-around to PUHCA, which a federal court and SEC administrative law judge later ruled was not justified. So not only can AEP breathe easier as a result of the repeal, other companies that viewed its saga as a cautionary tale can re-evaluate their merger prospects.
"Congress has opened the door to area-hopping," says Adam Wenner, a partner with Chadbourne & Parke in Washington, D.C. "If you can't merge with your neighbors because of market-power issues, you can hop over them."
PUHCA's repeal also eliminates some disincentives to new market entrants, including private-equity firms, offshore utilities and integrated oil and gas companies, who previously were loath to be regulated as utility holding companies under PUHCA (see sidebars "Private Dancers" and "PUHCA, Pipes, and Power"). While the federal government retains authority over holding companies—and FERC's merger-review authority was solidified by the new act (Section 1289)—the SEC's oversight is nowhere near as burdensome as it was before.
But how much M&A activity will rise as a result of PUHCA's repeal is uncertain. Although the fragmented U.S. utility industry doubtless could be more efficient if it were consolidated, various factors continue to complicate utility M&A transactions. Most notably, state utility commissions have proved to be a tough sell for utilities seeking merger approvals, and this regulatory overhead can make transactions too expensive to justify.
To learn what the financial community is thinking about utility mergers, Fortnightly spoke to several leading bankers, investors, and finance lawyers. Their insights suggest PUHCA's repeal indeed will influence utility asset sales and mergers. But the effects of that influence might be more subtle and complex than a perfunctory analysis might suggest.
Beating the Street
In some sense, a merger wave already began in 2005, with three merger announcements involving leading utilities: Exelon and Public Service Enterprise Group (PSEG); Duke Energy and Cinergy; and MidAmerican Energy and PacifiCorp.
The fact these mergers were proceeding before PUHCA's repeal suggests the 1935 act wasn't necessarily a major deterrent to utility consolidation. "The contiguous-network impediment was stretched," says Mike Haggerty, vice president and senior credit officer with Moody's Investors Service in New York. "It was out there as an issue, but wasn't really enforced. Duke and Cinergy aren't interconnected, and nobody questioned it."
Notwithstanding AEP/CSW's dilemma—which arose because of the one-way contract path they had arranged—the contract path concept already had emerged as an acceptable way to create a "single area or region" to comply with the '35 act. For example, if PUHCA's repeal had failed, Duke/Cinergy and MidAmerican/PacifiCorp were expected to secure contract paths as token solutions for a regulatory problem that even the D.C. Circuit Court of Appeals acknowledged "might well be … outdated." (NRECA and APPA v. SEC, No. 00-1371 (U.S. Ct. of Appeals, D.C. Circuit, Jan. 18, 2002). Thus PUHCA's long-anticipated repeal is being favorably received.
"We have a lot of fiefdoms in the country," Wenner says. "Absent PUHCA, I doubt any Business 101 student would say we want separate back offices for 200 different companies. The utility's headquarters doesn't need to be in your state any more than the phone company's does."
The quest for greater scale economy and rationalized business processes have long been the primary motivations for utilities considering M&A transactions, and they remain the foundation of most M&A business cases. But PUHCA's repeal opens up the field and forces companies across the industry to re-think their market positions. In the post-PUHCA world, size likely will matter more as time goes on, and the scale for measuring U.S. utilities might need to be redefined.
"People say 'small is beautiful,' but bigger companies can achieve greater scale economy," Tirello says. "As companies mesh, competition will increase and the drive toward economies of scale will get stronger."
Consolidation pressures are being felt along geographical, strategic and financial tangents, and PUHCA's repeal changes the direction of these pressures.
"There will be capital-market pressure for companies to look for earnings growth," says Ken Marks, managing director in Morgan Stanley's global power and utility group in New York. "We've come out of the period of back-to-basics and we're still in a period of low interest rates. It's likely that interest rates will move upward and investors will have higher return expectations." This trend might be exacerbated by Hurricane Katrina, which added inflationary pressures by constraining fuel supplies.
Over time, inflation translates into scarcer and more costly capital for utilities, as investors shift their money toward investments that are more attractive. To avoid this outcome, utilities are seeking ways to bolster their earnings, and M&A transactions rank near the top of the list of alternatives.
Consolidation likely will occur first among top-tier utilities with balance sheets and credit depth sufficient to support major transactions. "We don't think consolidation is unique to larger companies, but major transactions may happen first," Marks says. "Small, medium and large companies will see increased consolidation over time."
In theory, these transactions will be driven by peer pressure, as utilities and their investors see better performance at larger, merged entities. "The concept of mergers comes into the psychology of small and medium-sized companies when they begin asking how they will produce the returns the Street wants," says Frank Napolitano, managing director with Lehman Brothers in New York.
The trick, of course, is turning theory into reality—and that's not a trick many utilities have fully mastered. "Our perspective and experience has shown that utilities haven't achieved the synergies they set out to achieve," says James Hempstead, Moody's vice president and senior credit officer. "They tend to come up short and the synergies take longer to realize than expected."
Dancing Partners
While companies have migrated away from growth-oriented businesses in the past few years and toward dividend-oriented areas, this trend seems to be reversing itself as more companies emphasize growth expectations in response to investor pressures. "It's not just about dividends," Napolitano says. "Companies will bifurcate into those that have a good earnings-growth story and those that don't."
Companies in the latter category seem unlikely to sit around waiting to become acquisition targets. Instead they will target other companies that have even lower earnings growth, and that provide a good match in terms of operational, financial or strategic characteristics.
"For them, the PUHCA question is very important," Napolitano says. "Their likely dancing partners aren't next door, but maybe two wheels away. PUHCA's repeal creates a regulatory option they didn't previously have."
In the post-PUHCA era, more utilities will consider long-term consolidation strategies that begin with mergers between relatively far-flung companies. Over time, such merged companies will seek to incorporate intervening territories. "A prime example is Ameren," Tirello says. Ameren was formed through the merger of Central Illinois Public Service Co. and Union Electric Co. in 1997. Ameren later bought Central Illinois Light and Illinois Power. "Illinois was fragmented before, but now the southern half of Illinois is under one management structure," Tirello says. "This is more efficient in a million ways. Instead of the truck driving 50 miles to get to the next part of the territory, it's all one."
Recent proposed mergers fit the same mold, only on a bigger scale. After Exelon merges with PSEG, subsequent mergers with First Energy and NiSource would result in a single territory from Chicago to New Jersey. Similarly, a merged Duke/Cinergy could acquire LG&E from Germany's E-On.
"It would be a perfect fit in-between those two guys," Tirello says. "This makes a lot of sense, and people are starting to look at plans for methodically expanding the company in a smart way. They will merge and then fill in the spread over time."
On the other hand, not all utilities are in a geographic position that allows them to "fill in" with a far-flung suitor, because they are blocked by large neighbors or the territories on their boundaries are not attractive. Such companies still might contemplate mergers with distant companies on the basis of benefits other than geographic proximity.
"If companies aren't contiguous, there are still some synergies, but they might not be as compelling as they are for utilities next to each other," says Raymond Leung, a managing director with Bear Stearns in New York. The flip side of contiguity is geographic diversity. "The biggest variables in the utility sector tend to be regulatory issues and fuel sources. You can be on different coasts, and that potentially will help smooth out peaks and valleys in your earnings."
Indeed, complementary positions on generation, fuels and other characteristics can drive mergers for many companies, contiguous or not. For example, a utility that is long on coal-fired generation can achieve greater fuel diversity by combining with a utility that has a lot of gas-fired capacity. In other cases, a company with a lot of cash on hand but nowhere to invest it might benefit by merging with a utility that faces large capital expenditure needs, whether for upgrading transmission and distribution systems or installing environmental controls on coal-fired power plants.
Again, the large mergers proposed this year exhibit various non-geographic synergies. PacifiCorp needs to spend an estimated $5 billion through 2010 on transmission systems, and Berkshire Hathaway, which owns MidAmerican, is well positioned to raise the capital. Exelon's experience operating nuclear power plants was attractive to PSEG, and the companies' past co-ownership of nuclear facilities lent a degree of comfort to the match-up. And one factor in the Duke/Cinergy merger is succession planning, which could become a major issue for many companies as Baby Boom-generation managers and executives begin retiring.
In any case, M&A options mushroom with PUHCA's repeal, as companies can look further afield for potential suitors. "It changes the planning dynamic," Tirello says. "A utility's possible map is no longer just three states, it's the whole country."
Facing the States
Utilities might have a bigger planning map, but that doesn't necessarily mean the repeal of PUHCA will make mergers easier to accomplish. All the major complications and challenges facing utility mergers remain in full force, irrespective of PUHCA.
"We'll see utility consolidation go forward, but deals that succeed are special transactions that address a bunch of issues," Hempstead says. "The fundamental questions affecting utility mergers still apply. How do you make it work from an earnings perspective? You have to work through synergy and growth questions. Where will the headquarters be? Who will sit in the corner office? Who will get laid off?"
Financing is a fundamental issue as well. While some deals likely will be fairly straightforward stock-for-stock transactions, the strong performance of utility stocks recently might complicate matters for would-be acquirers.
"From a bondholder's perspective, we'd prefer the stock-for-stock transactions," Leung says. "But a lot of fallen angels have improved their balance sheets, and stock prices have appreciated considerably. I wouldn't be surprised if there were some component of debt in the next phase of mergers."
If high price-to-earnings ratios force companies toward leveraged buyouts, credit ratings and capital costs could suffer. This is especially true in an environment of rising interest rates. As a result, rating agencies will be watching merger trends closely.
The real battle over utility mergers, however, will take place at state public utility commissions. "Regulators won't be shy about stopping mergers and acquisitions they don't like," Wenner says. Recent examples involved private-equity firms that sought to acquire Portland General Electric in Oregon and Unisource Energy in Tucson, Ariz. "The state commissions have said they don't want funds coming in to buy, hold and sell off a utility," Wenner says. "But those may be the exceptions; Lots of funds will be big buyers, and I don't see any reason that would stop."
However, PUCs seem certain to scrutinize any utility M&A transactions, whether the buyers are private-equity firms or other utilities. While federal authorities seem comfortable removing barriers to the formation of regional utilities, state regulators remain wary about the effects on consumers.
"Utilities that function in multiple states and regions are complicated for state regulators to oversee," says former CPUC Commissioner Wood. "Regulators in states with multi-jurisdictional utilities express a great deal of frustration in trying to penetrate the accounting to make sure costs aren't being shuffled around."
Such concerns undoubtedly will slow down any merger wave that PUHCA's repeal might have triggered. Nevertheless, the utility M&A landscape has changed in potentially dramatic ways, and companies' strategies and tactics are certain to change along with it. Utilities that figure out how to take advantage of those changes while protecting ratepayer interests seem likely to emerge as the leading energy and utility companies of the 21st century.