Deck:
By opening the field to far-flung deals, PUHCA's repeal changes the merger game.
By opening the field to far-flung deals, PUHCA's repeal changes the merger game.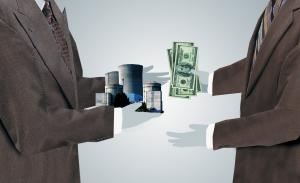 Amid all the provisions of the Energy Policy Act of 2005, the repeal of the 1935 Public Utility Holding Company Act (PUHCA) has attracted a surprising amount of attention in the business and consumer press. In some circles, it has been portrayed as a starting gun for a mergers and acquisitions (M&A) free-for-all.
"I would go so far as to say that within the next five to 10 years, the current number of electric utilities—which numbers more than 100—could shrink to 10," Ken Hurwitz, a partner with Haynes & Boone in Washington, D.C., told the in late July.
But while some analysts predict a wave of utility M&A activity in the wake of PUHCA's repeal, others are more sanguine about the change. For example, Edward Tirello, the Berenson & Co. managing director known for foretelling the merger wave of the 1990s, expresses skepticism about PUHCA's repeal releasing a deluge of utility M&As.
"The repeal of the holding company act removes a barrier, but only one of many," Tirello says. "I don't see this as opening the floodgates to anyone who wasn't already interested in doing mergers and acquisitions."
However, by eliminating the contiguous-path requirements, PUHCA's repeal changes the regulatory framework for deals involving far-flung suitors. "It's almost certain there will be M&A activity that wouldn't have occurred without the repeal of PUHCA," says Carl Wood, formerly a commissioner with the California Public Utilities Commission and now a consultant in suburban Los Angeles. "PUHCA's repeal is profound, because in some respect under PUHCA, mergers had to make technical sense, with contiguous territories."
Until PUHCA's repeal, for example, the American Electric Power/Central & South West combination—consummated in June 2000—was facing potential unwinding at the hands of a reluctant SEC. The commission had given AEP and CSW wide latitude in approving their contract-path work-around to PUHCA, which a federal court and SEC administrative law judge later ruled was not justified. So not only can AEP breathe easier as a result of the repeal, other companies that viewed its saga as a cautionary tale can re-evaluate their merger prospects.
"Congress has opened the door to area-hopping," says Adam Wenner, a partner with Chadbourne & Parke in Washington, D.C. "If you can't merge with your neighbors because of market-power issues, you can hop over them."
PUHCA's repeal also eliminates some disincentives to new market entrants, including private-equity firms, offshore utilities and integrated oil and gas companies, who previously were loath to be regulated as utility holding companies under PUHCA (see sidebars "Private Dancers" and "PUHCA, Pipes, and Power") . While the federal government retains authority over holding companies—and FERC's merger-review authority was solidified by the new act (Section 1289) —the SEC's oversight is nowhere near as burdensome as it was before.
But how much M&A activity will rise as a result of PUHCA's repeal is uncertain. Although the fragmented U.S. utility industry doubtless could be more efficient if it were consolidated, various