Deck:
Incentives for transmission investment could boost postage-stamp pricing over license-plate rates.
Author Bio:
Bruce W. Radford is editor-in-chief for Public Utilities Fortnightly .
Incentives for transmission investment could boost postage-stamp pricing over license-plate rates.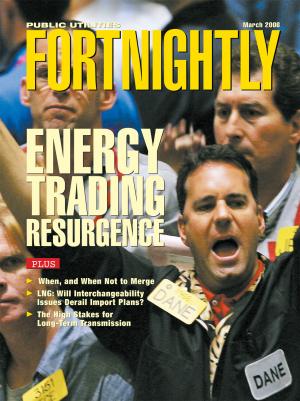 Last year, when a federal court rebuffed the Federal Energy Regulatory Commission (FERC) on its efforts to reward electric utilities with a higher return on equity (ROE) as a bonus for joining a regional transmission organization (RTO), the judge ruminated on the difficulty of designing incentives for transmission owners: "Calculating this rate [ROE] would be relatively easy," the judge declared, "if a utility's interest in its grid—its business as a transmission owner (TO)—were publicly traded."
However, as the judge then noted, "There are no publicly traded independent pure electric transmission companies." (See, Kentucky PSC v. FERC, D.C. Cir., Feb. 18, 2005, 397 F.3d 1004.)
But what a difference a year can make. Just last summer, on July 26, 2005, according to reports, the standalone transco known as International Transmission Co. (a spin-off from Detroit Edison) launched an initial public offering (IPO) of a minority stake in the company. That IPO, which reportedly garnered $287.5 million on 12.5 million shares (a minority stake of approximately one-third—the balance of 33.22 million shares remaining in private hands), had exceeded the then current value of all of ITC's shareholder equity as of the end of the prior quarter, according to the IPO prospectus. Given this success, the idea of a publicly traded, for-profit company devoted entirely to the electric transmission business might soon become commonplace. And to help the grid business get on its feet, Congress declared last fall in section 1241 of its landmark Energy Policy Act legislation (EPACT) that FERC must soon establish "incentive-based rate treatments for the transmission of electric energy in interstate commerce." The concept of transmission as a business was now ensconced in the federal statute books.
Within weeks, FERC itself had proposed a new set of regulations, under the new section 219 of the Federal Power Act , explaining in broad outline how it might approve generous financial incentives for new investments in transmission—incentives once dubbed as "candy." Citing widely available data, the commission reiterated how transmission investment had declined in real dollar terms throughout most of the 1970s, '80s, and '90s (despite huge increases in load), and how the Edison Electric Institute (EEI) had estimated that capital spending on the grid "must increase by 25 percent, from $4 billion annually to $5 billion annually," to ensure system reliability and to accommodate wholesale electric markets.
"The 2.5 percent growth rate in transmission mileage since 1999," the commission added, "is insufficient to meet the expected 50 percent growth in consumer demand for electricity over the next two decades."
Armed with such numbers (and impelled by Congress), FERC said it would consider awarding incentives through a number of well-known rate-making techniques:
• accelerated depreciation;
• hypothetical capital structures;
• single-issue rate cases;
• cost recovery for projects abandoned or canceled for reasons outside the utility's control;
• deferral of cost recovery to a future date for utilities under a rate freeze (or if forced to wait an inordinate