New Opportunities: Kinder Morgan Inc. named Steve Kean executive vice president and COO. Prior to assuming his current duties, Kean served as executive vice president of operations. Garner Dotson was named vice president, internal audit. Dotson joined Kinder Morgan in 2002. Larry Pierce was named vice president, corporate communications. Pierce has been with Kinder Morgan since 1998.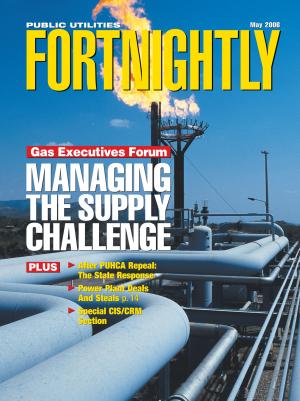 MidAmerican Energy Holdings Co. completed the purchase of PacifiCorp from ScottishPower and announced new staffing. The company has been organized into three business units. PacifiCorp, the corporate parent of PacifiCorp Energy, Pacific Power, and Rocky Mountain Power, will be led by Greg Abel, who has been named chairman and CEO of the company. Bill Fehrman, recently hired as senior vice president for MidAmerican Energy Holdings Co., was named president of PacifiCorp Energy. Prior to joining MidAmerican, Fehrman was president and CEO of Nebraska Public Power District. Stan Watters, currently senior vice president for PacifiCorp's commercial and trading group, was named president of Pacific Power. Richard Walje was named president of Rocky Mountain Power and will remain president of Utah Power.
Progress Energy named Jeffrey J. Lyash president and CEO of Progress Energy Florida, effective June 1. The date coincides with the previously announced retirement of H. William Habermeyer Jr., who has led the company's Florida organization as president and CEO since 2000. Lyash joined Progress Energy predecessor Carolina Power & Light in 1993.
Westar Energy Inc. announced several changes in leadership. William B. Moore was named president and COO. His former title was executive vice president and COO. Douglas Sterbenz was named executive vice president, generation and marketing. He formerly was a senior vice president. Kelly B. Harrison, formerly vice president, regulatory, assumed responsibility for transmission operations, a function led by Doug Henry, a Westar officer who died suddenly Feb. 9, 2006. Harrison will retain responsibility for environmental services. His new title is vice president, transmission operations and environmental services.
The board of Oglethorpe Power Corp. elected Benny W. Denham to a fourth term as chairman, and J. Sam L. Rabun to a seventh term as vice chairman.
The American Gas Association appointed Greg Pruett vice president, communications. Pruett recently spent a year managing public affairs for Bechtel Corp.
Resigned: DPL CEO James Mahoney informed the board of his desire to step down and has agreed to continue serving until July 31.
Retired: Don K. Davis, executive vice president for diversified operations at Progress Energy, will retire April 14. Davis has been with Progress Energy since 2000. Paula J. Sims, currently vice president for fossil generation at Progress, will succeed Davis as a senior vice president. Replacing Sims as vice president for fossil generation is Charlie Gates, 55, who has served as a coal-fired power plant manager in the Carolinas and as general manager of each of the company's three fossil plant regions.
Awarded: Electric Power Research Institute (EPRI) Founder and President Emeritus Chauncey Starr received special recognition for his outstanding contributions to the energy industry. The American Nuclear Society selected Starr for the 2006 George C. Laurence Award for Pioneering Contributions to Nuclear Safety. Starr established EPRI in 1973.