Deck:
Not in all cases, or for all stakeholders. Here's why.
Author Bio:
Prescott Hartshorne is a managing director and James Coyne is a senior managing director for FTI Consulting's electric industry strategy practice. Contact Coyne at james.coyne@FTIConsulting. com.
The past 10 years have seen more than 50 utility mergers in the United States. Punctuated by the recent National Grid/Keyspan and FPL/Constellation announcements, the industry appears at another inflection point in its march toward consolidation.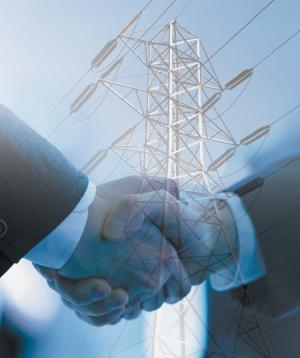 Given the cost and complexity of such mergers, these events indicate that the industry perceives substantial benefits from consolidating. But what is the track record, and does the regulatory and strategic landscape suggest these mergers are beneficial?
Utility mergers are rationalized based on growth, business scale or cost synergies, but an objective analysis of the impacts on utility customers, rates, management, employees, service quality, and financial performance has not been performed. Using mergers consummated to date, let us examine the evidence for the benefit of prospective merger partners, regulators, and other utility stakeholders.
While recent studies point to a mixed track record for corporate mergers from a shareholder perspective, we have taken a more holistic approach. Specifically, we have researched the effects of a group of six mergers on shareholders, employees, and customers over a period of five years since their respective merger closing dates.
Table 1 shows the six utility combinations selected for this assessment. This sample group, while far from comprehensive, is a representative cross-section ranging from a smaller scale roll-up to full-scale combinations. Each of these merged companies has had sufficient history to enable post-merger analysis with some degree of perspective, although these combinations ideally are evaluated over an even longer period.
Impacts on Shareholders
Figure 1 shows the change in total shareholder return for each company in the sample group for five years following the corporate combination, adjusted for the total return of the Dow Jones Utility Index as a whole. One take-away is apparent: Five of the six merged companies matched or beat industry returns during the two years immediately following the merger. The performance of the exception, Sierra Pacific Resources, was more a factor of regulatory exposure to Western power markets than direct impacts from the merger. Figure 1 also shows that after this two-year period, other industry- and company-specific events may have more influence over the stock than the merger. For example, Xcel Energy made a strong start in 2001 through early 2002, but soon was drawn into the merchant generation collapse through its ownership of NRG. Merging arguably created greater merchant exposure for New Century Energies, but it was merchant exposure, and not the merger per se, that was responsible for Xcel's financial challenges.
Measured over the longer term, however, the success of these utility mergers has been mixed. Energy East has brought together several smaller utilities in the Northeast in a "roll-up" under one corporate umbrella. This intuitively appealing strategy has yet to provide positive returns in relation to the broader utilities market. Conversely, Exelon, Progress Energy, and AEP have outpaced the broader market since their mergers. Measured at the end of the five-year period, only Exelon has outpaced the broader utility index to any significant degree.
Impacts on Employees
No stakeholder group in a merging company is affected more directly by the merger than are employees. Significant financial impacts may be experienced by shareholders, but these effects usually are distributed over a very large number of investors, and gains or losses usually occur on the margin of their portfolios. Employees, on the other hand, may have a great deal more at stake, ranging from their livelihood to opportunity for advancement in their careers.
To this end, a merger often is a mixed blessing. While it may forge a stronger and broader foundation from which an employee can grow, a merger often is an unsettling experience for employees.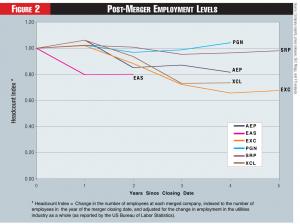 Figure 2 shows employee headcount at each company in the sample group relative to the headcount at the date of the merger. Employee levels are adjusted for overall utility industry employment levels, such that a level of 1.0 indicates the utility's corporate headcount matches that of the industry.
From this perspective, the history of utility mergers may be a source of concern for utility employees. Four of the six companies in the sample group significantly reduced the number of employees following the closing date. The notable exceptions are Progress Energy and Sierra Pacific Resources. Not coincidentally, these companies operate in two of the faster-growing electric markets in the nation.
Note that this chart reflects changes in headcount from all corporate activities, including the sale of assets or divisions wherein the associated employees may well retain their jobs with the acquirer. Nonetheless, changes of this magnitude suggest that the ultimate impact may be significant reductions in post-merger employment levels. It should not come as a surprise that elimination of duplicate jobs and adoption of cross-company best practices are the deliberate result of post-merger integration. Cost savings for customers and shareholders originate from these actions, but may pit employees and unions against mergers by their employer.
While it is relatively common for merging companies to shed overhead over time through employee attrition, more aggressive actions also have taken place. At the announcement of the Unicom-PECO merger, Exelon stated that the company would reduce its workforce by 5 percent through a combination of attrition and separation packages. This reduction indeed took place within the first two years following the merger. But Exelon's headcount continued to shrink, amounting to a more than 40 percent overall workforce reduction since closing. Exelon has been the most successful of the sample group in post-merger stock performance.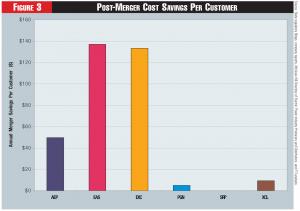 Four of the six companies in the sample group maintained their headcounts for just over one year since closing, followed by reductions thereafter. This one- to two-year period of stable headcount followed by workforce reductions likely is attributable to the implementation of merger integration plans over time, asset rationalization, and any employment conditions of the merger.
Mergers can bring a host of benefits to employees, including broader career opportunities and improved benefits packages afforded by the better negotiating power of their employer. Nonetheless, the record of headcount reductions within our sample group suggests there will be an overall outflow of employment in the U.S. utilities sector as consolidation continues.
Impacts on Customers
When one cuts through the mounds of filings on proposed mergers at the Federal Energy Regulatory Commission (FERC) and state commissions, the ultimate question being addressed is: How will it impact electric consumers? From the FERC market-power test to the public interest test at the public utility commission, this is the central question. FERC is most concerned with the impacts on competition and transmission, reinforced by the underlying policy position that competitive wholesale markets ultimately will benefit consumers. State commissions are concerned with preservation of regulatory authority, merger savings for the benefit of customers, maintenance of service quality, local utility presence, and progress toward state-specific policy goals, such as low-income assistance or renewables development.
Merger approvals by state commissions often are preconditioned on the promise of cost, or "synergy savings" to be passed along to consumers. This is a relatively narrow lens through which to view a merger, but it offers tangible evidence of a short-run benefit. In reality, the tools we have to measure consumer impacts are challenged by the complexity of the industry. One would expect that over time, economies of scale and operational best practices would deliver long-term benefits.

Figure 3 illustrates the annual merger-related synergy savings for the specifically affected utility subsidiaries. These savings are reported in the merger filings, approval orders, or SEC filings for the companies. We are expressing savings on a per-customer basis for cross-company comparisons. Five of the six companies committed to specific savings levels over time.1 At the upper end of this range was Energy East, committing to rate reductions of $164.3 million annually, equivalent to $137 per customer. In close proximity, Exelon committed to a $200 million annual rate reduction for PECO customers, equivalent to $133 per customer. AEP committed to $84.4 million in annual savings for CSW, equivalent to $50 per customer. At the lower end of the spectrum, Xcel Energy and Progress Energy committed to customer savings of less than $10 per customer, while Sierra Pacific Resources made no specific rate-reduction commitments.2
With the exception of savings levels committed to by Energy East or Exelon, these savings are quite modest in contrast to a typical customer's annual bill. These numbers suggest that while customers may see some direct rate savings negotiated from the regulatory approval process, this generally is not a compelling case alone for a merger from a customer perspective.
Are there other benefits for consumers? At the regulatory altar, merging companies will commit to programs for the benefit of consumers and the region. Concessions in these six mergers included rate freezes, rate caps, generation divestitures, expansion of low-income assistance programs, environmental improvements, service-quality commitments, and economic-development funding.
Recently closed and pending mergers include substantial rate concessions to attain commission approval. Duke conceded to a $117 million cut for its North Carolina customers, while Cinergy provided a $40 million credit for Indianans. Substantial merger-linked concessions like these are becoming more commonplace as regulators look for any available path to soften the blow of recent step-function rate increases caused by higher fuel prices. Constellation has proposed to link a rate phase-in directly to its proposed merger with FPL to compel merger approval from the Maryland Public Service Commission. Maryland customers are facing a 72 percent rate increase as Constellation shifts to market-based pricing.
Mergers also may be approved in the context of broader settlements, and it is therefore difficult to measure with precision the ultimate customer impact. Of longer-term importance are the company's business decisions, credit quality, and operational changes that affect the cost and quality of service provided. These factors must be weighed by regulators without the benefit of programmatic commitments. Rather, the regulator must examine the track record of the management team and the consistency of the merger proposal with the industry environment and broader policy objectives.
Benefit or Bust?
So, do utility mergers deliver? Not in all cases and not necessarily for all stakeholders, evidence from these mergers suggests. Shareholder returns likely will beat the industry over the year following closing, but thereafter will be affected more by events outside the merger than by the merger itself. Electric and gas rates may benefit in the near term from committed cost synergies or rate freezes, but likely will not change significantly.
The probable effect on employees is clearer. While a merged company may bring with it a host of career-boosting opportunities, employment at the merged utilities we studied fell by an average of 15 percent during the four years after closing, even after adjusting for the recent decline in employment at all utilities.
In past research, we have reported that corporate scale has not been an identifiable factor in superior utility financial performance.3 This is a surprising result in a capital-intensive industry. Since achievement of scale is one of the driving forces behind utility mergers, scale may emerge as a key driver of returns in the future. We believe this is not so much a condemnation of mergers, but may indicate that strategic positioning of the merged entity and post-merger decision-making by the management team are more important. For example, Unicom's merger with PECO brought the largest nuclear operating position in the country into Exelon just prior to the significant run-up in fossil-fuel prices. The combination of assets and strength of the management team likely will far outweigh the more modest changes in day-to-day operations resulting from any given merger.
Successful mergers ultimately need to satisfy shareholders, regulators, customers and employees. Given a mix of historical merger results for shareholders, management will need to continue to provide assurance that any proposed merger is based on a sound strategic rationale. As many utilities have retained generating assets, FERC likely will continue to wrestle with market power while promoting its policies on transmission and wholesale market development. State regulators will look to the track record of merged companies, and likely focus on maintenance and innovation in service quality, competitive rates, financial stability, and corporate progress toward economic and policy objectives.
The management of merging utilities will be well served to maintain clear and open dialogue with employees so they understand both the opportunities and risks associated with any merger transaction. Achieved with even modest success, these activities will serve to support the current trend to merge. Over time, and especially if multistate or regional regulatory compacts evolve, larger utilities should be better positioned to site regional transmission lines, support large-scale generating projects, implement smart-grid technology, or make meaningful contributions to regional economic development.
Endnotes:
1. It is common practice for merging utilities to project synergy savings. We have included only those associated with specific rate-reduction commitments.
2. Sierra Pacific Resources' merger with Nevada Power did not contain a specific merger savings in the regulatory approval. The Nevada commission's approval was conditioned on divesture of generating assets (subsequently reversed) to promote wholesale competition, and was subject to goodwill recovery over time with offsetting merger savings.
3. "Winners and Losers: Utility Strategy and Shareholder Return," James Coyne and Prescott Hartshorne, Public Utilities Fortnightly, October 2004.