New Opportunities: Patricia Chadwick, president of Ravengate Partners LLC, has been elected to the board of directors of Wisconsin Energy Corp. Chadwick, 57, founded Ravengate Partners LLC in 1999 after a 25-year career on Wall Street.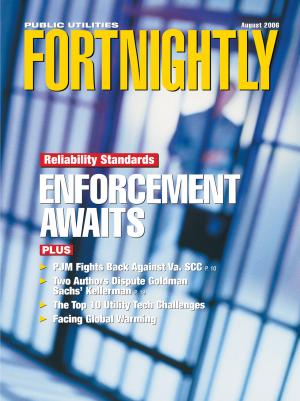 Pacific Gas and Electric Co. elected Sanford L. Hartman as vice president and managing director, Law, effective July 1. He was vice president and general counsel at U.S. Generating Co., a PG&E subsidiary, and held senior legal positions in PG&E National Energy Group. Most recently, Hartman served as managing director and counsel at Pacific Gas and Electric Co. The company also elected Brian K. Cherry as vice president, regulatory relations, effective July 1. He began his career with Southern California Gas Co., moved to Sempra Energy, then joined Pacific Gas and Electric Co. in 2000.
Jessie J. Knight Jr. was named to the newly created position of executive vice president of external affairs for Sempra Energy. Knight, 55, joined the company Aug. 1, 2006. He has served as president and CEO of the San Diego Regional Chamber of Commerce since 1999. From 1993 until 1999, he was a commissioner with the California Public Utilities Commission.
Dwight H. Evans joined the Cellnet Technology Inc. board of directors. He is currently executive vice president of Southern Co. and president of Southern Co.'s external affairs group. From 1995 until 2001, Evans served as president and CEO of Mississippi Power.
Piedmont Natural Gas hired Bill Williams, formerly general manager—gas supply and sales for PSNC Energy, to the position of managing director—transportation and major account services at Piedmont. Williams assumed responsibilities previously held by Ken Valentine and George Baldwin, who were promoted to new positions within the company.
The California Independent System Operator board of governors selected electricity industry veteran and author, Mason Willrich, as its new board chair after current chair Ken Wiseman announced he was stepping down from the post.
PPL Corp. announced that William H. Spence, a 27-year energy industry veteran, is joining the company as its executive vice president and COO. Spence comes to PPL from Pepco Holdings Inc. in Washington, D.C., where he served as senior vice president, as well as president, of Pepco Holdings' competitive businesses, which include Conectiv Energy and Pepco Energy Services.
Dennis Wraase, chairman of the board, president, and CEO of Pepco Holdings Inc. (PHI) announced several personnel changes. David Velazquez, currently vice president, Strategic Planning, and chief risk officer, assumed responsibility for the day-to-day operations of Conectiv Energy, PHI's competitive merchant energy subsidiary. Velazquez replaces Bill Spence, who has accepted a senior executive position with PPL Corp. Charles Dickerson, currently vice president, Gas Delivery, will assume the position vacated by Velazquez. Hallie Reese, currently vice president, Business Systems, Planning and Budgeting, will replace Dickerson.
Dr. Dale E. Klein, designated by President Bush as chairman of the Nuclear Regulatory Commission (NRC), was sworn in July 1. Klein is a professor of mechanical engineering at the University of Texas at Austin. As a commissioner, Klein will serve a five-year term on the NRC. He previously served as assistant to the secretary of Defense for nuclear and chemical and biological defense programs.