Deck:
Critics say its new budget and business plan could simply duplicate the work of RTOs.
Author Bio:
Bruce W. Radford is editor-in-chief of Public Utilities Fortnightly.
Last winter, when the Federal Energy Regulatory Commission (FERC) was considering the criteria needed to qualify as the nation's one-and-only Electric Reliability Organization (ERO), some industry players had thought the commission should favor regional transmission organizations (RTOs) for the job of regional enforcement of reliability standards.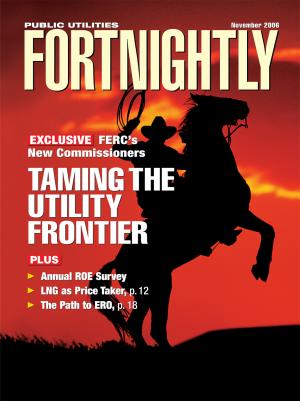 FERC demurred.
On one hand, the commission did recognize the "potential benefits" of drawing boundaries for regional reliability zones that would match the footprints of the existing RTOs, or independent system operators (ISOs). After all, Congress itself had not barred ISOs or RTOs from serving as an "RE"—that being any "regional entity" to which the ERO would delegate enforcement authority—as the term is defined in sec. 1211 of the 2005 EPACT law, now codified as Federal Power Act sec. 215.
Nevertheless, FERC saw an inherent conflict of interest in allowing RTOs to oversee their own compliance with reliability standards. It acknowledged that it could not legally exclude RTOs or ISOs, but ruled that any regional grid system operator would have to meet a heavy burden to prove its mettle to take on the additional job of regional reliability enforcement. (See Docket No. RM05-30, Order No. 672, Feb. 3, 2006, pp. 263-269, 114 FERC ¶61,104.)
Later, in July, as had been widely expected, FERC granted formal certification to NERC, the North American Electric Reliability Council, as the nation's sole ERO and reliability czar, making it inevitable that NERC would delegate the job of regional enforcement to its various regional reliability councils, already constituted. (See Docket No. RR06-1, July 20, 2006, 116 FERC ¶61,062.)
Backward Glance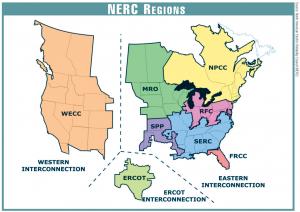 To understand why FERC acted as it did, turn back the clock nearly a decade, to November 1997, and the sixth gathering of the Task Force on Electric System Reliability, at a hotel in Washington, D.C. There, sitting at the press table, this reporter watched carefully as lobbyist and task force member John Anderson stood up suddenly, halfway through the meeting, and proceeded to walk around the room, handing out copies of some mystery document.
That document, as it turned out, was a 13-page legal opinion, prepared for the Electricity Consumers Resource Council (of which Anderson was executive director), and prepared by the law firm of Cleary, Gottlieb, Steen & Hamilton. Quite simply, the memo implied that NERC violated antitrust law because, as opposed to other groups like the New York Stock Exchange, for example, or Major League Baseball, for another, the electric utility industry lacked necessary statutory authority allowing it to police itself. (See, "Reliability In Flux," Fortnightly, Jan. 1, 1998.)
Since then, few have doubted the conventional wisdom urged by Anderson: that electric restructuring could not proceed without federal legislation to anoint NERC as a self-regulating reliability organization, complete with independent enforcement authority, and subject to government oversight. NERC itself embraced the idea and pursued a multi-year lobbying effort for enabling legislation that spanned entire terms of FERC commissioners. After a long wait, Congress eventually enacted EPACT, turning NERC's dream into reality. FERC put the icing on the cake when it certified NERC as ERO.
Hitch in the Plan?
But a funny thing happened on the way to the dance. During the nine-year wait for EPACT, and with no mandate from Congress or FERC, the utility industry on its own created a parallel network of a half-dozen or more regional independent system operators (ISOs) to run the transmission grid and organize wholesale markets. Today, these ISOs and RTOs have come to perform a lot of the functions that one might once have associated with NERC, or with any regional enforcement arm of the new ERO:
• Coordinate regional operations of grid assets owned by individual local utilities;
• Conduct regular, long-term regional assessments of generation adequacy;
• Perform minute-to-minute evaluations of grid conditions, to provide a near-instantaneous situational awareness;
• Evaluate grid capabilities and award "must-run" status for power plants essential to grid operations;
• Choose which power plants to certify as "system" resources, based on capacity, availability, and grid access (i.e., reliability);
• Set minimum requirements for load-serving entities (LSEs) for supplies of electric capacity (consider programs such as New York ISO's ICAP plan, ISO-NE's Forward Capacity Auction, and PJM's proposed RPM plan);
• Conduct stakeholder sessions to develop and plan new additions to infrastructure; and
• Mandate transmission expansions where merchant investment has been found insufficient to guarantee reliability, or where grid congestion cannot be hedged through the market (think PJM's Regional Transmission Expansion Plan [RTEP] plan).
Thus, during the last decade, while NERC was waiting for Congress to act, the ISOs and RTOs quietly were acquiring the characteristics thought to be required for a lawful reliability czar: (a) regional coordination of control areas; (b) full and impartial stakeholder accreditation; and (c) complete financial independence from market outcomes.
This is not to say we don't need reliability standards, but rather, why not choose RTOs for their enforcement?
Final Word
Nevertheless, FERC has spoken. The conventional wisdom has prevailed. Reliability enforcement will come from NERC and its associated regional entities—not from the RTOs themselves. So let's skip ahead to Aug. 23, 2006, when NERC unveiled its proposed budget and business plan for calendar year 2007, in its new role as the FERC-certified ERO.
NERC (the North American Electric Reliability Council) projects a net funding requirement for its national organization of about $22.5 million, plus another $52.6 million for activities of its eight proposed regional entities (REs), and to recover those costs through assessments allocated among all load-serving entities (LSEs) across the country. These sums, in numerical terms, appear quite reasonable. Rounded off, the average assessment would run between about 1.1 cents/MWh (for the Southeast) to as much as 2.6 cents/MWh (for the West).
To calculate those assessments for its 2007 operations, NERC would rely on statistics showing utility deliveries of "net energy for load" (NEL) for calendar year 2005, which, as NERC explains, "is the most recent calendar year NEL data available." That means, according to a protest filed by transmission-owning utilities in New York, that NERC's use of historic NEL data for allocating ERO cost assessments to individual LSEs would be "nearly three years old" when the budget year ends—a situation the utilities say would be "unworkable and inequitable."
By contrast, consider this magazine's most recent October issue, containing a series of interviews with RTO CEOs, where PJM president Phil Harris recounted how FERC commissioner Jon Wellinghoff had visited PJM's operations center and was "flabbergasted" at what the RTO software could reveal:
"How much is flowing, where the flows are going, what's happening to load, what the prices are. It's all updated every 5 minutes."
In short, it is the ISOs and RTOs—not NERC—that have their fingers on the pulse of the nation's bulk power system.
The Scope of Statutory Functions
Perhaps the problem of estimating utility load-share ratios, in calculating funding assessments represents but a minor quibble in the larger scheme of things, and in deciding who should enforce reliability.
In its 40-page letter announcing its 2007 budget and business plan, NERC argued that load-share ratios won't vary much from region to region over a couple of years. It explained that if individual LSEs within regions should gain or lose customers and load in the interim, rendering assessment to individual companies outdated, then it (NERC) could simply adjust the allocation for "known and measurable changes" as rate-making commissions typically do to update test-year data in rate cases.
Yet larger questions remain. What functions are relevant to the concept of "reliability standard," as that term is defined in EPACT? What jobs do FERC and the utility industry expect of the federally certified ERO?
Consider this: NERC says it will continue to prepare three key reports each year, much as it has always done, including (1) a long-term reliability assessment, (2) a summer assessment, and (3) a winter assessment. These reports, it says, "will analyze electricity demand and adequacy of supply," as well as examine the adequacy of transmission. These assertions don't square very well with the new statutory framework.
Congress took pains in EPACT to limit the ERO's enforcement of reliability standards to matters of design and operation of bulk-power systems. It stated explicitly that the term "reliability standard" (and hence NERC's role as enforcer) should not include any requirement to enlarge the facilities of the bulk-power system, or to construct new transmission or generation capacity. (See Federal Power Act, sec. 215(a)(3).)
At the very least, NERC's promised reports and assessments on generation and transmission adequacy might now extend outside the ERO's statutory authority. And even if not, how would such assessments mesh with RTO practice, where adequacy of generation supply or grid capacity is increasingly a matter for markets and pricing?
In the Northeast, for example, how would assessments of generation adequacy add much to the data and understanding already available through the New York ISO's market for installed capacity (ICAP), or New England's Forward Capacity Market, with its price-setting auction? PJM's proposed and pending Reliability Pricing Model (RPM), a variant of ICAP/LICAP markets, would rely on a dynamic auction-clearing process to set the level of resource capacity deemed adequate for the region.
And regarding transmission adequacy, it bears repeating (as was mentioned in this column in the October issue) that PJM now has proposed to revise the rules by which it decides to initiate its own RTO-sponsored grid expansion projects through its RTEP regime. This revision appears to give greater consideration for grid expansions aimed at increasing market efficiency. According to the RTO, the new rules will help "eliminate artificial distinctions between planning for reliability and planning for economics." (See, FERC Docket No. ER06-1471, filed Sept. 8, 2006.)
Of course, PJM has given no indication that it will stop considering reliability needs in choosing which projects to add to its RTEP queue. However, in deciding whether to accelerate reliability-based grid enhancements, PJM says it now will compare costs and benefits with and without such projects by reference to a wide range of market metrics, including:
• Total costs of energy production, including fuel costs plus O&M;
• Total payments of locational marginal prices by customer loads;
• Total revenues payable to generators;
• Availability of financial transmission rights (FTRs) and allocable auction revenue rights; and
• Total capacity payments anticipated through PJM's capacity market (presumably, the RPM construct still pending approval at FERC as of early October).
PJM says it will organize its new RTEP regime around a 15-year planning horizon—meaning that market considerations will become deeply embedded in multi-year infrastructure commitments. It remains to be seen how NERC would propose to facilitate this type of process with its plan for regular, annual surveys of transmission system adequacy, grounded on engineering principles.
Readiness Assessments
In its 2007 business plan, NERC has budgeted funds for a number of national and regional activities that some observers say should not qualify as statutory functions, including training, education, and operator certification, plus something that NERC terms a "reliability readiness audit."
NERC distinguishes a readiness audit from an actual assessment of reliability or compliance enforcement. It describes this function as "focused on addressing the capabilities of entities." Among other things, NERC explains in its budget proposal, a readiness audit would "communicate to the industry at least 30 examples of excellence."
Writing for aluminum producer Alcoa, which purportedly represents more than 2,700 MW of electric demand nationwide, corporate counsel Max Laun likens such programs to a "preview" of issues, and questions their purpose:
"The objectives of the readiness audits," he writes, "are not clearly delineated from the normal auditing process regarding compliance … since any actual issues of noncompliance that are uncovered would have to be acted upon."
Moreover, Alcoa worries about potential conflicts of interest:
"The ERO," writes Laun, cannot wear two hats, one for enforcement and one as a consultant for advice on how to avoid enforcement—the potential for abuse is simply too great.
"This is a classic conflict of interest, similar to what was uncovered and later outlawed with respect to accounting firms providing both auditing and consulting services to the same client."
Laun and Alcoa explain further that in helping to prepare their own regional budgets, neither the Florida Reliability Coordinating Council, nor the Northeast Power Coordinating Council (two likely REs) had considered that readiness improvement could qualify as statutory reliability functions, as NERC itself has acknowledged. Alcoa adds that education and training should not qualify either, since the ERO "could place its stamp of approval on college education classes or industry classes that meet the criteria for accepted training, rather than increase staffing." (See, Comments of Alcoa, FERC Docket No. RR06-3, filed Sept. 13, 2006.)
For its part, NERC protests Alcoa's insinuation of a conflict of interest, insisting that it would not be tempted to compromise its primary enforcement function, since "NERC does not and will not receive consulting fees from owners, operators, or users of the bulk- power system."
NERC offers no rebuttal in its answer filed at FERC to Alcoa's charge that readiness audits are merely duplicative of actual enforcement audits. However, it suggests that "proactive" steps, such as training, instruction, and guidance, should rank alongside actual enforcement:
"To suggest otherwise," writes NERC in its answer filed Sept. 26, "would be nonsensical—like suggesting that the police department should not give tips on safe driving to motorists because those tips might result in motorists driving in a manner that reduces the number of tickets the police force issues."
Situation Awareness
A more serious concern, perhaps, is that NERC's business plan budgets funds for something called "situation awareness." The plan states that NERC will "maintain real-time situation awareness of conditions on the bulk-power system." This item has drawn protests from the ISO/RTO council, the association for the regional grid operators, which raised this same objection in ERO certification proceeding—that such endeavors will interfere with grid operations.
NERC answers that it has "no intention of inserting itself" into such matters, nor "to duplicate or infringe on existing arrangements," but that it will simply "maintain," "notify," "enable," and "facilitate," by providing leadership, coordination, and expertise:
"The fact that NERC has allocated only 4.5 full-time equivalent staff members to the situation awareness and infrastructure security program ought to be conclusive proof [of] no intention of crossing the line into the operations arena." (ISOs and RTOs typically employ staffs of 50 or more grid system operators.)
In NERC's defense, the largest budget item for the situation awareness program will go toward contracts and consultants. That will help fund such items as NERCnet (a tool for real- time data exchanges among reliability coordinators), contracts for ICCP (Inter-Control-Center Communications Protocol), and tools for frequency monitoring and power-flow modeling and control, such as IDC (Interexchange Distribution Calculator) and NAPP (North American Phasor Project).
Moreover, such projects may well prove worthy, as the nation's policymakers have assigned to NERC the task of investigating and reporting on the feasibility, cost, and likely timeline for building a transmission monitoring system. The TMS would yield real-time information on the functional status of all transmission lines within an entire grid interconnection—for both the Eastern and Western Interconnections. Congress first had asked FERC and the Department of Energy for an initial scoping report (see EPACT, sec. 1839). That initial report, submitted in February, instructed NERC to take the lead and proceed with using technical conferences, industry meetings, and independent studies. In addition, the joint U.S. and Canadian task force on the August 2003 Northeast Blackout already had recommended that NERC should adopt better real-time tools for grid system operators and reliability coordinators, plus better-quality tools for power system modeling and data exchange. (See, "A Report to Congress Pursuant to Sec. 1289 of the Energy Policy Act of2005," www.ferc.gov/legal-stsff-reports/trans-mon-rpt.pdf.)
Yet the ISO/RTO council urges FERC that NERC's activities in this area only should "supplement" the resources of grid operators. And the council continues to warn against allowing NERC to get its foot in the door of grid operations:
"If the new system merely duplicates arrangements that already exist," says the council, "it will be expensive, redundant, and provide few benefits."