Deck:
PJM loses luster in a squabble over market monitoring.
Author Bio:
Bruce W. Radford is editor-in-chief for Public Utilities Fortnightly .
PJM loses luster in a squabble over market monitoring.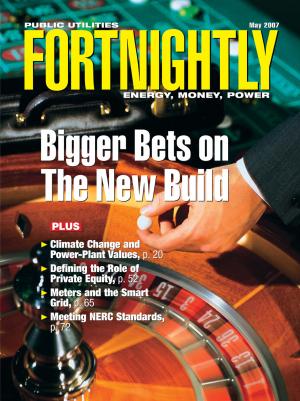 The bottom fell out in the hearing room at the Federal Energy Regulatory Commission (FERC) on April 5 when witness Joseph Bowring let it slip that, yes, he might well prefer more independence from his employer in his role as chief of the market monitoring unit (MMU) at the PJM Interconnection.
But he almost lost his chance, as he had to ask for extra time from Steve Harvey, the FERC staffer in charge of sounding the buzzer when each witness reached the end of his allotted time.
MR. HARVEY: Dr. Bowring, your time is up.
MR. BOWRING: Okay. Can I just make two points that I wanted to get to?
MR. HARVEY: Very quickly.
FERC CHAIRMAN JOSEPH KELLIHER: Very quickly.
MR. BOWRING: The first is that my experience — and it's in my written document, as well — my experience at PJM is that we have not been permitted to be independent and there have been — we've seen significant issues with conflicts with PJM, and where there were conflicts, our independence has at times — not all the time, obviously — but has, at times, been compromised. ( See, Review of Market Monitoring Policies, FERC Docket No. AD07-8, Technical Conference, April 5, 2007, transcript, p. 75. )
Well, then. That's not your typical testimony at a FERC technical conference. But in fact, however, Bowring was not yet done. He continued that at PJM, the only regional transmission operator with an in-house unit for market monitoring (MMU), "it can happen" that RTO management might require the market monitor to alter the contents of an official report, presumably for political reasons.
Bowring's written testimony was not available on the FERC Internet site as of April 18 (where the meeting transcript can be found), but someone somewhere did find the original and included a copy in the public record. (It's from a photocopy. You can still see the shadow of someone's highlighting marks in the margins.)
Thus, the complaint filed April 17 by the District of Columbia Office of People's Counsel, and a host of other public advocates and public power utilities included Bowring's original written testimony as an attachment. The complaint then cites that testimony as providing evidence of several concessions made by the PJM's MMU staff. One was having to modify PJM's recent "state of the markets" report. Another was delaying release of an MMU report because management had disagreed with its conclusion. The complaint and the cited testimony also suggested that PJM may have taken steps to deny access by the MMU to certain market databases, or at least to have begun pushing the MMU out by preparing to transfer access to a third party. (See, Allegheny Elec. Co-op., Inc. et al. v. PJM Interconnection, LLC, FERC Docket No. EL07-56, filed April 17, 2007.)
The purported written testimony is particularly interesting for its many real-world-sounding anecdotes.
For example, as reported by that complaint, the Bowring written testimony claimed that