Deck:
Where are prices going, and where have they been?
Author Bio:
Caroline Gentry is senior editor at Argus Air Daily. Jamie Webster is senior editor of Argus Competitive Fuels.
Where are prices going, and where have they been?
With the Supreme Court's April decision that the Environmental Protection Agency has the authority to regulate carbon dioxide as a pollutant under the Clean Air Act, momentum shifted dramatically toward a mandatory program to cap greenhouse-gas (GHG) emissions in the United States. While the ruling initially covers only emissions from mobile sources, eventually there will be huge implications for power generation.
Shifting Tactics
In the absence of federal action, states have led the charge on greenhouse-gas controls, with the Northeast's Regional Greenhouse Gas Initiative covering 10 states due to begin in 2009 and Western states building a program around California's developing model.
Sensing the inevitable, trade associations and U.S. industry have begun to change strategy. Rather than relying on the usual delay tactics, various groups have issued a set of criteria outlining policies they would be prepared to support. Most notably, the U.S. Climate Action Partnership, a coalition of U.S. companies and non-governmental groups including four utilities, is calling for a federal cap-and-trade program to cut GHG emissions by up to 80 percent by 2050.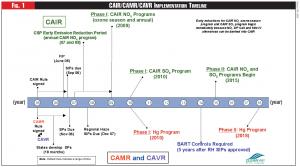 Scientific reports such as the recently released UN International Panel on Climate Change fourth report are narrowing the uncertainty held up by the Bush administration as one of the reasons to proceed cautiously with limiting GHG emissions. The question now is not whether to regulate, but how to regulate, and how much.
Pending Legislation
The pace of work on climate legislation has accelerated quickly since Democrats took control of Congress this year. But a slew of bills with varying degrees of stringency and widely divergent methods of control must be whittled down to a smaller package to foster constructive debate.
Former Vice President Al Gore's visit to Congress in March served to highlight several issues lawmakers will have to consider. Legislation may move first in the House, as the rules there will make it easier for Democrats to take action without the threat of a filibuster. But most of the proposals to date have come from the Senate.
The Climate Stewardship and Innovation Act, introduced in January by Sens. John McCain, R-Ariz., and Joe Lieberman, I-Conn., covers 85 percent of U.S. emissions. It has the longest history of any existing proposal, with earlier legislation defeated twice before, in 2003 and again in 2005. The new bill has a declining cap that would cut economy-wide emissions by 65 percent of 2004 levels by 2050.
Sen. Bernie Sanders, I-Vt., introduced another economywide bill, the Global Warming Pollution Reduction Act. It calls for an 80 percent reduction in GHG emissions from 1990 levels by 2050, one of the most stringent climate-change proposals. Sen. Jim Jeffords, I-Vt., first introduced the bill last year. Specific provisions to attain those targets include mandatory GHG standards for all electric power plants built after 2012, with a compliance date of 2016. Finalized GHG standards for the electric sector will apply to all facilities