New Opportunities: Avista Corp. announced two changes in its financial leadership. The board of directors elected Vice President Ann Wilson as vice president and treasurer. Wilson previously was vice president and controller. Vice President Christy Burmeister-Smith will take over the post of vice president and controller. Previously, Burmeister-Smith was vice president and treasurer for Avista Corp.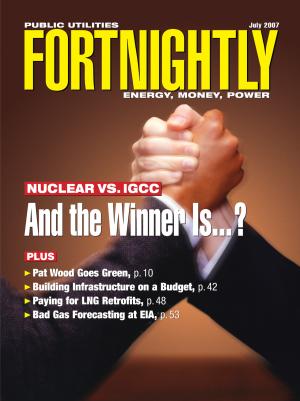 UniSource Energy shareholders voted to extend the service of UniSource Energy's current board of directors, including James S. Pignatelli, Unisource Energy chairman, president, and CEO; Law-rence J. Aldrich, president, Aldrich Capital Co.; Barbara M. Baumann, president and owner, Cross Creek Energy Corp.; Larry W. Bickle, executive in residence, Haddington Ventures LLC; Elizabeth T. Bilby, former president, Gourmet Products Inc.; Harold W. Burlingame, former executive vice president, AT&T ; John L. Carter, former executive vice president and CFO, Burr-Brown Corp.; Robert A. Elliott, president and owner, The Elliott Accounting Group; Daniel W. L. Fessler, professor emeritus, University of California; Kenneth Handy, retired CPA, former financial executive with Kaiser Permanente Medical Care Program; Warren Y. Jobe, former senior vice president, Southern Co.; Joaquin Ruiz, dean, College of Science, professor of Geosciences, University of Arizona.
Sierra Pacific Resources elected Glenn C. Christenson, recently retired executive vice president and CFO of Station Casinos Inc., to its board of directors. Christenson retired from Station Casinos after 17 years.
Pacific Gas and Electric Co. appointed John T. Conway site vice president of the Diablo Canyon Power Plant in San Luis Obispo County, Calif., effective May 29. Conway most recently was site vice president of the Monticello Nuclear Plant in Minnesota.
Dominion announced the following promotions and appointments: Virginia M. Board is promoted to managing director—Community Affairs & Philanthropy, from director—Community Affairs; James W. "Jim" Beamer will become managing director—Legislative Outreach, moving from his role as chief Virginia lobbyist for Dominion; William L. "Bill" Murray, currently legislative director for Virginia Gov. Tim Kaine, will join the company as managing director—Corporate Public Policy; and Ann W. Loomis, currently chief of staff for U.S. Sen. John Warner, R-Va., will join Dominion as director—federal public policy.
Puget Energy and its utility subsidiary, Puget Sound Energy (PSE), announced the elections of Eric M. Markell to executive vice president and CFO, Bertrand A. Valdman to executive vice president and COO, and Kimberly J. Harris to executive vice president and chief resource officer. Markell succeeds Valdman as CFO for Puget Energy and PSE, and also will oversee Regulatory Policy for PSE. Markell most recently was senior vice president of Energy Resources. Valdman has served as CFO since joining the company in 2003. Harris most recently was senior vice president of Regulatory Policy and Energy Efficiency.
Retired: The Sierra Pacific Resources board of directors elected Michael W. Yackira CEO, effective Aug. 1, 2007. Walter M. Higgins, the current CEO, is retiring from employment with the company, effective July 31.
Nathan Langston, senior vice president and chief accounting officer at Entergy Corp., will retire from Entergy in August 2007. Theodore Bunting Jr. will succeed Langston. Bunting most recently served as vice president and CFO of Entergy's utility and nuclear businesses.