Deck:
Tech experts weigh the options for improving power delivery.
Author Bio:
Christian Hamaker is managing editor of Public Utilities Fortnightly.
We've heard it all before, but the issue isn't going away: Reliability of power, from generation to distribution, remains a primary concern of the utility industry. But the current verdict is mixed, depending upon which experts you talk to. Aging equipment is a ticking time bomb—except when it isn't. NERC CIP standards are driving reliability improvements—except when they aren't. Maintenance is key—except where monitoring and automation are more important. And regulators should stand aside and let the market drive reliability improvements—but economic incentives wouldn't hurt.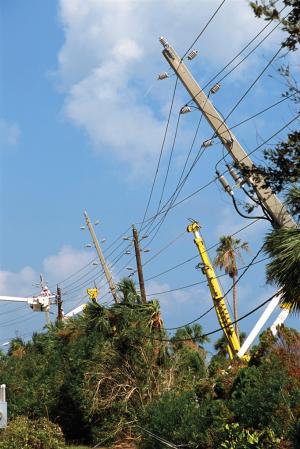 Experts disagree—sometimes with themselves—about which aspect of reliability should drive the next wave of utility improvements.
"The whole issue of reliability has been elevated to the CEO level within [utilities]," says Jeff Lewis, a member of PA Consulting's management team. "Many of these companies have incentive compensation directly tied to reliability standards and performance metrics. You're starting to see a culture of reliability in those companies, from top to bottom."
SAIDI Specs
Concerns over electric reliability are not new, but they appear to be more top of mind now than in the recent past. A recent Black & Veatch survey conducted by The Sierra Energy Group, "2006 Strategic Directions in the Electric Utility Industry," said that all 240 survey respondents ranked reliability as their number-one concern. Meanwhile, the 2006 Long-Term Reliability Assessment from the North American Electric Reliability Council cites declining electric capacity margins, obstacles to construction of new transmission, the importance of fuel-supply and delivery, and the implications of an aging workforce.
In 2006, NERC proposed to FERC 107 Reliability Standards, of which the Critical Infrastructure Protection (CIP) standards are now approved and enforceable. With violations of those standards now potentially leading to major fines, one might think that the CIP standards are indeed driving reliability improvements.
That would be wrong.
"I absolutely take exception that that's the driver," said Gregg Edeson, also a member of PA Consulting's management team. The driver, instead, is "utilities' quest to address the heightening of customer and stakeholder expectations, specifically around reliable service for the price the people have to pay for the commodity today," Edeson says.
"With all of us having new gadgets in our home or equipment in our businesses, or production times that otherwise demand a constant, reliable, quality source of power, those expectations are constantly being reinforced through customer feedback to these utilities. That's not to say the outcomes of the 2003 [Northeast blackout] on the transmission system doesn't have some impact, with people paying attention where they might have not previously."
NERC is responsible for reliability of the bulk-power system, but PA's Lewis says reliability problems too often originate on the delivery side. "The bulk-power system is a tiny fraction of the outages that customers experience. Utilities are focused on the distribution side very heavily."
The reason? One of the three main reliability measurements for the average customer on the system, SAIDI—system average interruption duration index—measures how long a customer's power is out during a given year, excluding major outages. The average for the industry, Lewis says, is 120 minutes, but only 3 to 10 minutes of that is attributable to transmission and generation interruptions. "All the rest is on the distribution side," Lewis says. "So we talk less about transmission and generation as it relates to the reliability that the end customer sees, because those are tiny fractions of the outages that they experience."
Distribution Automation
Think of a Hollywood movie in which the villains remotely tap into a citywide grid and alter traffic lights and traffic patterns so as to pull off a heist. It's that vision of remote access—without the nefarious intent, of course—that utilities are seeking to expand upon in making power distribution smoother for customers.
Via remote control, utilities can isolate a section of line, restore it, or switch around it to relieve load. The ability to restore service more quickly is attractive to utilities, which are "absolutely investing in that from a reliability perspective, a productivity perspective, and an effectiveness perspective," Edeson says.
In addition to automation, Edeson says maintenance, monitoring and control and are essential to reliable power distribution. With newer equipment now able to interface either wirelessly or via hard-line connection to a utility's SCADA system, monitoring that extra data becomes exponentially more important. "[It] can process more data and understand what to do safely, and without consequence," Edeson says.
He sees automated metering infrastructure (AMI) as a big step in the right direction, because AMI allows customers to connect to the utility's monitoring and control systems, and to send pricing signals and other clues back to the utility, ultimately becoming a piece in the chain from customer home to the utility's GIS, operations system, SCADA system, and automation systems.
Best Maintenance Practices
A third crucial aspect of reliable power delivery is maintenance. Of the Black & Veatch study respondents, between 40 and 54 percent believe various capital replacement and maintenance programs will increase their related asset base by 5 percent.
In addition to securing more consistent power delivery to customers, utility investments make a positive impression on regulators.
Utilities are trying to stay on the good side of their state public utilities commissions, as PUCs push for better service. More reliable service leads to increased customer satisfaction and better relationships with regulators. Increased expenditures on reliability can lead to an improved bottom line, assuming the investments show positive results.
First-tier investments target aging transformers and vegetation management. Although many transformers have been in the field for half a century, they are "holding up just fine"—as long as utilities don't overload them, says Gene Shlatz, associate director at Navigant Consulting.
"It really becomes an issue of planning criteria," Shlatz says. "How much are utilities willing to load these transformers up to and beyond their loading capabilities? Utilities now are being more aggressive in transformer loading as they try to conserve capital."
Vegetation management also has come under the microscope, as utilities become more judicious in spending decisions. However, Edeson sees vegetation management as one essential aspect of maintenance.
"When I talk maintenance, it's about maintaining the system to sustain itself," he says. "That takes the form of vegetation management, breakdown overhauls, inspection, condition-based maintenance, or reliability-centered maintenance. There's preventive [maintenance], there's reactive, there's condition-based. They're all applicable and used by utilities. They're all part of a utility's asset-management strategy, of which maintenance is a big part."
Although monitoring accounts for the biggest chunk of maintenance expenditures, vegetation management is next, preventing faults that would result from downed trees or unhindered plant growth. The latest threat, Edeson says, comes from "danger trees"—potential threats that can be identified, and removed, before they become major problems.
Utilities have developed expertise and processes—internally and within contractors—to improve vegetation-management practices. They are working with customers and state and local authorities to identify sick and deteriorating trees, and get those trees removed—and sometimes replaced with slower-growing, less-hazardous trees. "Hazardous tree removal is one of the best practices introduced in vegetation management in the past few years, along with understanding your growth patterns, the impact of rain, and trimming," Edeson says. "It is a very expensive piece of the utility's maintenance spend. You want the best value out of what you spend to keep the highest reliability."
Tried and True
The best way to ensure reliability is not necessarily to look at newer technologies, but to ensure the best use of what's already online and available. Innovative products are sexy, but they may distract utilities from proven steps that can add to reliable energy delivery and efficiency.
"We still see a lot of low-hanging fruit in conventional methods for improving reliability, such as improved analysis and planning, project prioritization, and condition monitoring," Shlatz says. "For many companies, improvements in these areas will yield better returns than investments in technology in the near term. We really haven't seen utilities rely on these non-traditional means for improving reliability, although long-term, these all offer potential."
For now, concentrating on the basics may pay off with customers, who simply want to keep their lights on.
"I think the senior leaders at many of the top utilities have focused more and more on customer satisfaction and customer service, and reliability is a big piece of that," PA Consulting's Lewis says. "They've focused on that not only for the reliability requirements they have to meet, but because it's good business."