Deck:
Tech experts weigh the options for improving power delivery.
Author Bio:
Christian Hamaker is managing editor of Public Utilities Fortnightly .
Tech experts weigh the options for improving power delivery.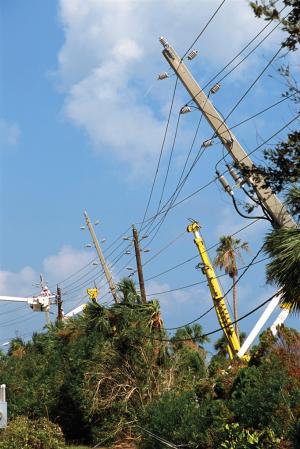 We've heard it all before, but the issue isn't going away: Reliability of power, from generation to distribution, remains a primary concern of the utility industry. But the current verdict is mixed, depending upon which experts you talk to. Aging equipment is a ticking time bomb—except when it isn't. NERC CIP standards are driving reliability improvements—except when they aren't. Maintenance is key—except where monitoring and automation are more important. And regulators should stand aside and let the market drive reliability improvements—but economic incentives wouldn't hurt.
Experts disagree—sometimes with themselves—about which aspect of reliability should drive the next wave of utility improvements.
"The whole issue of reliability has been elevated to the CEO level within [utilities]," says Jeff Lewis, a member of PA Consulting's management team. "Many of these companies have incentive compensation directly tied to reliability standards and performance metrics. You're starting to see a culture of reliability in those companies, from top to bottom."
SAIDI Specs
Concerns over electric reliability are not new, but they appear to be more top of mind now than in the recent past. A recent Black & Veatch survey conducted by The Sierra Energy Group, "2006 Strategic Directions in the Electric Utility Industry," said that all 240 survey respondents ranked reliability as their number-one concern. Meanwhile, the 2006 Long-Term Reliability Assessment from the North American Electric Reliability Council cites declining electric capacity margins, obstacles to construction of new transmission, the importance of fuel-supply and delivery, and the implications of an aging workforce.
In 2006, NERC proposed to FERC 107 Reliability Standards, of which the Critical Infrastructure Protection (CIP) standards are now approved and enforceable. With violations of those standards now potentially leading to major fines, one might think that the CIP standards are indeed driving reliability improvements.
That would be wrong.
"I absolutely take exception that that's the driver," said Gregg Edeson, also a member of PA Consulting's management team. The driver, instead, is "utilities' quest to address the heightening of customer and stakeholder expectations, specifically around reliable service for the price the people have to pay for the commodity today," Edeson says.
"With all of us having new gadgets in our home or equipment in our businesses, or production times that otherwise demand a constant, reliable, quality source of power, those expectations are constantly being reinforced through customer feedback to these utilities. That's not to say the outcomes of the 2003 [Northeast blackout] on the transmission system doesn't have some impact, with people paying attention where they might have not previously."
NERC is responsible for reliability of the bulk-power system, but PA's Lewis says reliability problems too often originate on the delivery side. "The bulk-power system is a tiny fraction of the outages that customers experience. Utilities are focused on the distribution side very heavily."
The reason? One of the three main reliability measurements for the average customer on the system, SAIDI—system average interruption duration index—measures how long a customer's power is out during