New Opportunities: The Interstate Natural Gas Association named Richard R. Hoffmann executive director of the The INGAA Foundation. Hoffmann replaced Mark Shaffer who retired in January.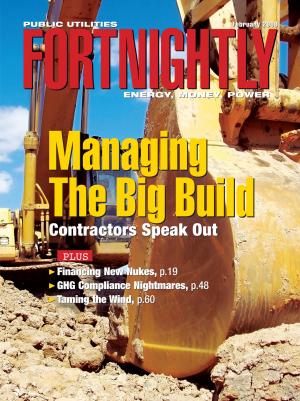 E. Kevin Bethel joined Sierra Pacific Resources as chief accounting officer. Joseph Orfano was promoted to director, capital markets and treasury operations.
Dominion East Ohio promoted Bruce C. Klink to president. Previously he served as vice president of gas regulation for Dominion's natural gas distribution companies in Ohio, Pennsylvania and West Virginia.
American Electric Power announced several changes. Carl English, formerly president—AEP Utilities, was named the company's chief operating officer. Robert P. Powers, executive vice president—AEP East Utilities, assumed English's post, and was succeeded by Brian Tierney, formerly senior vice president-commercial operations. Barbara Radous was promoted from vice president, commercial and financial analysis to senior vice president, commercial operations.
Calpine Corp. promoted Michael Rogers to senior vice president and president of power operations.
Susan Ham Martin was appointed vice president, corporate secretary and associate general counsel of Wisconsin Energy Corp. Martin succeeds Anne Klisurich as vice president and corporate secretary, who retires in February.
NiSource Inc. named Eileen O'Neill Odum to the new position of executive vice president and group CEO for NiSource's Indiana business segment.
Ross Ridenoure was elected by the Southern California Edison board of directors as vice president and will oversee operations and regulatory affairs at the company's San Onofre Nuclear Generating Station.
Mark Crisson, former director of Tacoma, Wash., Public Utilities, was named president and CEO of the American Public Power Association. He succeeds Alan H. Richardson who retired after serving 12 of his 30 years at the association in the top position.
Jon Worthington became administrator of the Southwestern Area Power Administration. He replaced Mike Deihl who retired at the end of 2007.
Stephen A. Furbacher, president and CEO of Dynegy Inc., retired at the end of 2007. Bruce A. Williamson will continue as chairman and CEO and will re-assume the position of president. Other Dynegy announcements: Lynn A. Lednicky was named executive vice president, asset management, development and regulatory affairs; Holli C. Nichols, currently executive vice president and chief financial officer, will expand her responsibilities to those involving strategic planning and corporate business development; and Charles C. Cook was named senior vice president of strategic planning, corporate business development and treasurer.
Retired: After 35 years with Progress Energy, including the last nine leading the company's nuclear program, Senior Vice President and Chief Nuclear Officer Scotty Hinnant retired at the end of 2007. Jim Scarola succeeds Hinant.
Jerry L. Godwin, senior vice president of electric generation and transmission at NiSource Inc., will retire March 31. He held that position since April 2005.
Deployed: Paul Suskie, chairman of the Arkansas Public Service Commission, is taking military leave to deploy to Iraq with the Arkansas National Guard. Suskie, a major in the JAGCorps, served a tour in Afghanistan in 2005. Arkansas Governor Mike Beebe named former judge David Newbern to serve as a PSC interim member.