Deck:
Volatile markets are causing delays, but most deals are moving forward.
Volatile markets are causing delays, but most deals are moving forward.
While trouble in financial markets grabs the headlines, dozens of transactions have closed this year and many continue moving forward. These transactions involve asset sales, financing new generation and transmission, and making long-term strategic moves. (See table, showing at least 2,300 MW of power plant sales announced or closed in February.)
The industry's ability to close deals is closely related to its role as a defensive investment in troubled times. Although problems in the power business grabbed the headlines early this decade, the industry now seems fundamentally strong. In contrast to their ratings of banks, rating agencies appear to have recently upgraded more of the electric sector than they have downgraded. It remains a strong investment grade, usually BB or BBB. For an index of 68 electric utilities, the debt-to-equity ratio averaged only 55:45 and return on equity exceeded over 13 percent through January.
However, the industry is affected by difficulties in other sectors of the economy, and some aspects of financing are experiencing difficulty as a result. Market turbulence may persist for some time. But although a few deals have been destroyed or delayed, far more are getting done on reasonable terms.
Under Pressure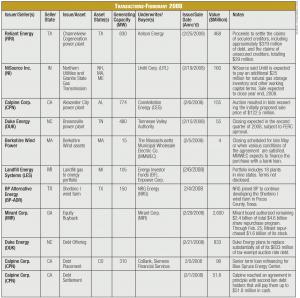 Volatility in financial markets is affecting financing activities by both regulated electric utilities and independent power companies. Since summer 2007, the aforementioned index of 68 electric utility stocks (presented by Charles Schwab) rose 10 percent, fell 20 percent and then modestly recovered. Utility bond rates were up, then down, then up again. Pressures from troubled property markets have caused some commercial and institutional lenders to pull back from energy related lending too.
In this troubled market, several transactions have run aground. In some cases, auctions of generating assets have been announced, solicitation materials distributed, bids received and then the whole effort quietly abandoned, as bids fell short of sellers' expectations and buyers' financing became more conservative. Caution, regulatory uncertainty and deal-specific issues also have cooled some efforts to sell. For example, Starwood explored a sale of its 250-MW CalPeak power-generation portfolio, and then announced during January that it had decided not to sell.
Among transactions affected by troubled financial markets, destruction is much more common than delay. Assets often take longer to sell than parties hope and expect. More careful due diligence, reticence among some lenders, efforts to "time" a market and a generally higher level of distraction have delayed several generating asset sales. Calpine announced a minor delay in the bid due date for 800 MW the company is selling in Texas. Enogex Partners LP, a subsidiary of OGE Energy Corp., planned to spin off 25 percent ownership in a $132 million initial public offering. Its reassessment of changing markets led first to re-pricing and then to cancellation of a near-term spin off.
Debt syndication markets also are coming under pressure. It used to be common for debt on power projects to be sliced up and