Deck:
Volatile markets are causing delays, but most deals are moving forward.
While trouble in financial markets grabs the headlines, dozens of transactions have closed this year and many continue moving forward. These transactions involve asset sales, financing new generation and transmission, and making long-term strategic moves. (See table, showing at least 2,300 MW of power plant sales announced or closed in February.)
The industry's ability to close deals is closely related to its role as a defensive investment in troubled times. Although problems in the power business grabbed the headlines early this decade, the industry now seems fundamentally strong. In contrast to their ratings of banks, rating agencies appear to have recently upgraded more of the electric sector than they have downgraded. It remains a strong investment grade, usually BB or BBB. For an index of 68 electric utilities, the debt-to-equity ratio averaged only 55:45 and return on equity exceeded over 13 percent through January.
However, the industry is affected by difficulties in other sectors of the economy, and some aspects of financing are experiencing difficulty as a result. Market turbulence may persist for some time. But although a few deals have been destroyed or delayed, far more are getting done on reasonable terms.
Under Pressure
Volatility in financial markets is affecting financing activities by both regulated electric utilities and independent power companies. Since summer 2007, the aforementioned index of 68 electric utility stocks (presented by Charles Schwab) rose 10 percent, fell 20 percent and then modestly recovered. Utility bond rates were up, then down, then up again. Pressures from troubled property markets have caused some commercial and institutional lenders to pull back from energy related lending too.
In this troubled market, several transactions have run aground. In some cases, auctions of generating assets have been announced, solicitation materials distributed, bids received and then the whole effort quietly abandoned, as bids fell short of sellers' expectations and buyers' financing became more conservative. Caution, regulatory uncertainty and deal-specific issues also have cooled some efforts to sell. For example, Starwood explored a sale of its 250-MW CalPeak power-generation portfolio, and then announced during January that it had decided not to sell.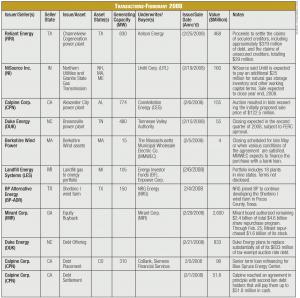 Among transactions affected by troubled financial markets, destruction is much more common than delay. Assets often take longer to sell than parties hope and expect. More careful due diligence, reticence among some lenders, efforts to "time" a market and a generally higher level of distraction have delayed several generating asset sales. Calpine announced a minor delay in the bid due date for 800 MW the company is selling in Texas. Enogex Partners LP, a subsidiary of OGE Energy Corp., planned to spin off 25 percent ownership in a $132 million initial public offering. Its reassessment of changing markets led first to re-pricing and then to cancellation of a near-term spin off.
Debt syndication markets also are coming under pressure. It used to be common for debt on power projects to be sliced up and sold off, but financings that require syndication have slowed in some cases. Hammered by subprime losses, some lenders have pulled back from participating in syndicated power-related project debt. Some are short on funds, some are tightening lending standards and some are putting all their efforts into solving real estate related problems. Transactions are taking longer and more frequently lenders are closing deals they plan to hold, rather then sell off in pieces. For example, CoBank and Siemens Financial Services say they do not expect to syndicate the recent $90 million refinancing of the 310-MW Blue Spruce Energy Center.
Deal Flow
Despite market turbulence, deals are getting done.
Numerous sales, accounting for over 10,000 MW, closed during the last six months, and many of these sales involved regulated and municipal utilities. A few examples: KeySpan completed a sale of 15 generating facilities with a combined capacity over 6,600 MW to National Grid last summer. Wisconsin Electric Power sold its interest in Point Beach to FPL Energy LLC. Alliant Energy subsidiary Interstate Power and Light Company purchased a 300-MW wind farm.
Pending acquisitions by regulated utilities include the Northern Indiana Public Service and Wabash Valley Power Association purchase of three facilities with a combined capacity of over 1,300 MW from Duke Energy, LS Power and NiSource. Jersey Central Power & Light and the City of Klamath Falls are awaiting final approvals to divest over 500 MW of assets to independent power owners Maxim and PPM Energy. Oklahoma Gas & Electric, a subsidiary of OGE Energy Corp., agreed to acquire the 1,230-MW Redbud facility for about $852 million from a unit of Kelson Holdings LLC. OG&E then plans to resell a total of 49 percent to the Oklahoma Municipal Power Authority and the Grand River Dam Authority. Several of these transactions may have closed by press time.
Recent sales and transactions underway also involve independent power companies. Calpine became an icon for the risks associated with merchant power and rapid growth. With debt over $18 billion, it filed for Chapter 11 bankruptcy protection in 2005. After years of restructuring it emerged on January 31st and its stock now trades on the NYSE. Restructuring efforts continue and Calpine recently agreed to sell the partially-completed 774-MW Hillabee facility to Constellation Energy for $155 million.
Utilities also have been busy issuing new debt and equity. Southern California Edison issued $600 million in 30- year bonds. Florida Power & Light announced its intention to sell bonds with that same total value and term at a rate of approximately 6 percent. Duke Energy Carolinas LLC issued $400 million in 10-year bonds at 5.25 percent and another $500 million in 30-year bonds at 6 percent. El Paso Pipeline raised over $500 million in its initial public offering.
Strategic Moves
Flying above the deals getting done on the ground are strategies being pursued by various utilities. Turbulence in financial markets does not appear to have caused material course changes. Delmarva Power, PNM Resources and Puget Energy Inc. are examples of companies that are continuing to implement broad strategic initiatives.
Delmarva's strategy is to focus its efforts on service in Delaware and Maryland. It sold off non-strategic assets in Virginia to A&N Electric Cooperative and Old Dominion Electric Cooperative. The co-ops paid $44 million primarily for distribution assets.
PNM Resources is rationalizing its holdings and implementing a plan to comply with state regulatory requirements. The company is in the process of acquiring electric transmission and distribution assets in Texas from Continental Energy Systems for $202 million. It also is selling various natural gas assets to Continental for $620 million. In addition, PNM Resources' regulated utility unit in New Mexico has agreed to sell to Shell various power, transmission and natural gas agreements for approximately $6 million. It also plans to sell its interests in the 72-MW Lordsburg and 190-MW Luna merchant facilities in order to focus on its regulated business.
Likewise, Puget Energy Inc. actively has acquired generation and raised capital to meet its growing load. It began years ago by purchasing both gas-fired and wind generation in various stages of development. Facing large and continuing capital requirements, Puget agreed to a buy out by a consortium of well-funded partners. Units of Macquarie, Canada Pension Plan Investment Board, and British Columbia Investment Management Corp. will pay a total of $7.4 billion, including the assumption of $3.2 billion of debt. It's a long process and Puget expects to complete most aspects of the merger later this year.
Although Puget is moving forward, it has been affected by difficult financial markets. Barclays Capital and Dresdner Kleinwort launched syndication of a $3.6 billion credit facility to support the acquisition in mid January. By mid February, the lenders had enhanced the yield on some aspects of that credit facility to make the investment more attractive to potential syndicate members.
Puget Energy's experience largely exemplifies the overall trend. Although troubled financial markets have stopped and slowed a few transactions, asset sales and issues of debt and equity still are proceeding on reasonable terms. Difficulties in other markets are causing an amble rather than a rush to higher quality in the power business.