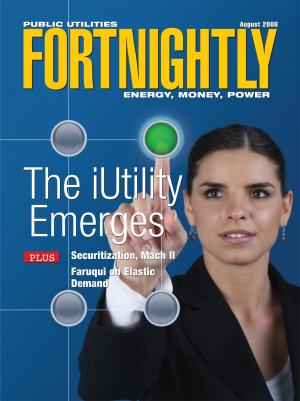 New Opportunities: Luminant (the former TXU power generation unit) announced that Texas Secretary of State Phil Wilson joined the company as senior vice president of public affairs on July 7.
NiSource named Stephen P. Smith CFO effective early August. Smith joined NiSource June 1 as executive vice president, and will retain that position. He was a senior vice president with American Electric Power.
To replace Smith, AEP named Richard E. Munczinski senior vice president, shared services. Lonni L. Dieck succeeded Munczinski as senior v.p., corporate planning and budgeting, from v.p., RTO and public policy.
Also at AEP, Venita McCellon-Allen , president and COO of Southwestern Electric Power Co. (SWEPCO), was named executive vice president, AEP Utilities West, replacing Thomas M. Hagan who retired. Paul Chodak III replaced McCellon-Allen as president and CEO of SWEPCO, from director, new plant development. Charles R. Patton became senior v.p., regulatory and public policy for AEP, from president and chief operating officer of AEP Texas. Pablo A. Vegas replaces Patton as president and CEO of AEP Texas. He was director, strategic planning for AEP.
PG&E Corp. and subsidiary Pacific Gas and Electric Co. named S tephen Cairns vice president and controller of both companies. PG&E also named Placido J. "P.J." Martinez v.p., transmission and substations. He was v.p. of operations for Entergy Louisiana.
CMS Energy and subsidiary Consumers Energy appointed Amy Sandgren Plaster executive director of federal affairs. She was chief of staff for Michigan U.S. Rep. Pete Hoekstra .
Pinnacle West Capital Corp. and subsidiary Arizona Public Service Co. appointed James R. Hatfield senior vice president and CFO. He was senior v.p. and CFO at OGE Energy. Scott Forbes , OGE's controller and chief accounting officer, was named interim CFO.
The New York Independent System Operator selected Stephen G. Whitley as president and CEO. He was senior vice president and chief operating officer of ISO New England.
Spectra Energy appointed Susan Waller vice president of stakeholder outreach. She was vice president of AMEC, Earth Environmental.
Entergy Mississippi president and CEO Carolyn Shanks is leaving that post to become senior vice president of the utility's nuclear power company, Enexus Energy Corp., created in 2008. She is succeeded by Haley Fisackerly , now v.p. of governmental affairs for Entergy Nuclear.
Ameren Corp. named Michael Moehn senior vice president, corporate planning and business risk management.
Peabody Energy promoted Michael C. Crews to executive vice president and CFO from v.p. of operations planning. Robert C. Hammond was named chief operating officer of Australian Operations from group v.p. of Southwest operations in the United States.
PPL EnergyPlus announced Robert D. Gabbard as president. He succeeds Clarence (Joe) Hopf , who left to join Public Service Enterprise Group.
Pepco Holdings, Inc. announced Hallie M. Reese , vice president, gas delivery for subsidiary, Delmarva Power, assumed the role of v.p., safety and strategic service. Mike Poncia replaces her as director, gas delivery for Delmarva Power, from process manager, customer relationship management.
Consumers Energy named Daniel J. Malone to the new position of vice president of energy operations and safety.
Elster Gas North America