Deck:
As green mandates tighten, utilities scramble to comply.
Author Bio:
William Atkinson is a freelance journalist based in Carterville, Ill.
As green mandates tighten, utilities scramble to comply.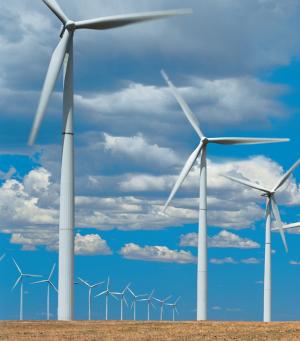 Renewable portfolio standards (RPS) have become the norm rather than the exception in the United States.
By the end of 2007, 46 percent of nationwide retail electricity sales were covered by mandatory state RPS requirements, according to research conducted by the Lawrence Berkeley National Laboratory. 1 In other words, renewable generation under a state RPS mandate served some portion of 46 percent of retail power sold last year.
As of mid-2008, 26 states and the District of Columbia enacted mandatory RPS policies. Four additional states have non-binding goals. While these standards have posed little problem for many utilities, they are causing headaches for some. And as RPS requirements become more ambitious—and the most cost-effective project opportunities get developed—those headaches will grow into migraines.
"Some utilities have struggled to meet requirements," says Ryan H. Wiser, a scientist in Lawrence Berkeley's environmental energy technologies division. "Utilities in Nevada, for example, have signed a large number of renewable energy contracts, but many of the projects that have been contracted for have failed to meet their deadlines. Some have even been cancelled."
In the majority of states with RPS programs, compliance to date has been complete or almost complete, certainly well above 97 percent. In California, for example, investor- owned utilities achieved 100 percent compliance in 2004 and 2005, and 98 percent compliance in 2006. Such success, however, won't be so easy in the future. "They are not on track to achieve full compliance (with California's 20 percent RPS mandate) by 2010," Wiser says. "No one expects them to be able to achieve this."
Mark Sinclair, executive director of the Clean Energy States Alliance (CESA) in Montpelier, Vermont, and vice president of the Clean Energy Group, agrees with Wiser's assessment. "It's important to remember that most RPS laws ramp up requirements over time," he says. During the first few years, targets are relatively modest, so it is easy for most utilities to meet them. "The challenge will come as the increasing targets kick in over the next five to ten years," Sinclair says.
Tall Orders
To achieve full compliance with existing state RPS requirements, utilities must add 61 GW of new renewable capacity by 2025, equivalent to 4.7 percent of projected 2025 electricity generation in the United States, and 15 percent of projected electricity demand growth.
Five states will require more than 5,000 MW of new renewable capacity between now and 2025: California (almost 10,000 MW); Illinois (about 7,000); Minnesota (almost 6,000); Texas (between 5,000 and 6,000); and New Jersey (about 5,000).
But even in states with less ambitious goals, hitting RPS targets won't necessarily be easy. In North Carolina, for example, the legislature recently enacted an RPS of 12.5 percent, which utilities must meet by 2025—equating to less than 2,000 MW. "We intend to meet that legislative standard," said Progress Energy CEO Bill Johnson in an interview earlier this year. "But it's a little too soon to give a definitive answer on the ultimate role