New Opportunities: Atmos Energy promoted Kim R. Cocklin to the new position of president and COO, from senior vice president, regulated operations.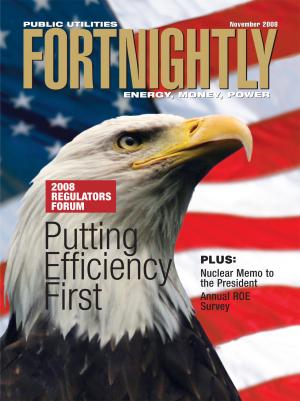 Exelon Corp. named Christopher M. Crane president and COO. Crane was executive vice president of Exelon Corp. and COO of Exelon Generation, and will retain the title of COO of Exelon Generation.
Public Service Enterprise Group elected Thomas P. Joyce as president and chief nuclear officer of PSEG Nuclear.
Northeast Utilities (NU) announced new leadership for Yankee Gas Services Co. and Western Mass Electric Co. (WMECO) as it separates the combined management of Yankee Gas and Connecticut Light & Power (CL&P) effective Jan. 1, 2009. Rod Powell, currently president of WMECO, will become president of Yankee Gas. Marc Andrukiewicz, director of construction at CL&P and Yankee Gas will become vice president, operations for Yankee Gas. Peter Clarke, vice president, shared services for NU will succeed Powell at WMECO. Ray Necci, president of CL&P and Yankee Gas will remain president of CL&P.
Southern Company named James H. "Jim" Miller III president and CEO of Southern Nuclear Operating Co. Miller is senior vice president, compliance officer and general counsel at Georgia Power and assumed the added role as chairman of Southern Nuclear when J. Barnie Beasley retired at the end of October.
FirstEnergy Corp. promoted Michael J. Dowling to vice president, communications from vice president, government affairs, replacing Ralph J. DiNicola who will retire April 1, 2009.
National Grid named Lisa Crutchfield executive vice president, regulatory affairs. She comes from PECO Energy Co. and was vice chairman of the Pennsylvania PUC.
Black Hills Corp. promoted Richard W. Kinzley to the position of vice president, strategic planning and development. He had been a member of Black Hills' corporate development team and replaced Maurice T. Klefeker, who resigned.
Northwest Natural Gas Co. hired MardiLyn Saathoff as chief governance officer and corporate secretary. She was assistant general counsel and chief compliance officer at Tektronix, Inc.
The New York Power Authority elected Richard M. Kessel as president and CEO. He served as CEO of the Long Island Power Authority (LIPA) and as chairman of the LIPA board of trustees.
Allegheny Energy named Kirk R. Oliver as senior vice president and CFO replacing Philip L. Goulding who resigned from that position October 13. Oliver was a senior executive at Hunt Power.
Chesapeake Utilities Corp. named Michael P. McMasters as executive vice president and COO. He was CFO since 1997 and senior v.p. since 2004. Beth W. Cooper, Chesapeake's vice president, treasurer and corporate secretary succeeds him as senior vice president and CFO. She was vice president and corporate secretary since 2005 and corporate treasurer since 2003.
Duke Energy named Jennifer L.Weber as chief human resources officer. She comes from Scripps Networks Interactive.
ISO New England named Anne George as vice president of external affairs and communications. She was a commissioner with the Connecticut Department of Public Utility Control for five years.
We welcome submissions to People, especially those accompanied by a high-resolution color photograph. E-mail to: people@pur.com.