Deck:
Will Congress dare to put local wires under federal control?
Will Congress dare to put local wires under federal control?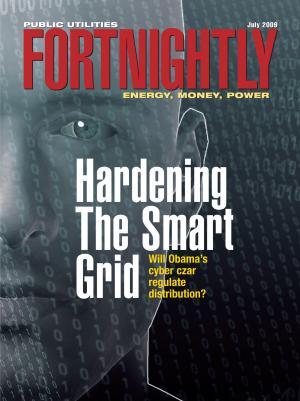 "We only have authority over the bulk-power grid. There's no authority to compel any entity outside the bulk-power system to take any action."
Joseph H. McClelland—who was then and still remains director of FERC's office of electric reliability—made that statement during an interview with Fortnightly in late 2007 (see " CIP Goes Live ," January 2008) . His statement remains true; Congress hasn't amended the Federal Power Act in any way that would change the status quo, and a bright line still separates the distribution business from the federally regulated bulk-power system.
Pending legislation, however, might change that. Congress is considering several bills that would expand federal authority to regulate distribution systems—namely to ensure they're secure. For example, the Critical Electric Infrastructure Protection Act (H.R. 2194/S.946) would authorize FERC to establish and enforce rules protecting utility infrastructure from cyber threats identified by national security agencies—including not just bulk power, but also generation and distribution systems (see " A Voice for Smart-Grid Security "). Additionally, FERC's McClelland advocates expanding such legislation to cover physical security as well.
In the past, legislation like what's proposed might've been dead on arrival in either the House or Senate. But now these provisions have a good chance of becoming law, because the industry and its policy makers are operating in a new political reality—a reality in which states' rights take a back seat to America's national security and energy strategy.
21st Century Breakdown
Pressure to regulate distribution-system security arrives at a pivotal time in America's history—just as our political leaders are feeling especially vulnerable and desperate.
A quick review: First, the September 11 terrorist attacks precipitated wars in Afghanistan and Iraq—and awakened Americans (again) to the dangers of energy dependence, as well as to the vulnerability of energy infrastructure in the modern world. The following year, Enron's collapse shone light on widespread shenanigans in corporate governance and financial reporting, and spurred Congress to enact Sarbanes-Oxley. Also it revealed the perils of partially deregulated energy markets, and sent vertically integrated utilities running back to the basics of power generation, transmission and distribution.
The Federal Reserve responded to 9/11 and the corporate-governance crisis by pumping cheap debt into the economy. In addition to over-inflating the real-estate market and making sub-prime mortgages unnaturally attractive, the Fed's actions greatly devalued the U.S. dollar. Consequently, oil prices skyrocketed, peaking last summer at $147 a barrel, with gasoline reaching $4.60 a gallon.
In the grand arc of America's history, what happened next seems inevitable. Namely, foreclosure rates spiked and the real-estate bubble collapsed, pulling the economy down with it. American car buyers, who already were turning away from SUVs, pickups and minivans, stopped buying these vehicles altogether, and GM and Chrysler went bankrupt. In a round-about way, the full consequences of America's petroleum dependence came home to roost.
Now, policy makers are desperate for solutions to America's spiraling economic woes—and more broadly, for solutions to