Deck:
Will Congress dare to put local wires under federal control?
"We only have authority over the bulk-power grid. There's no authority to compel any entity outside the bulk-power system to take any action."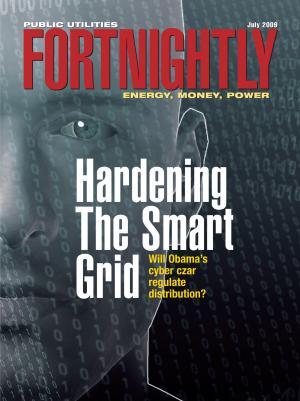 Joseph H. McClelland—who was then and still remains director of FERC's office of electric reliability—made that statement during an interview with Fortnightly in late 2007 (see "CIP Goes Live," January 2008). His statement remains true; Congress hasn't amended the Federal Power Act in any way that would change the status quo, and a bright line still separates the distribution business from the federally regulated bulk-power system.
Pending legislation, however, might change that. Congress is considering several bills that would expand federal authority to regulate distribution systems—namely to ensure they're secure. For example, the Critical Electric Infrastructure Protection Act (H.R. 2194/S.946) would authorize FERC to establish and enforce rules protecting utility infrastructure from cyber threats identified by national security agencies—including not just bulk power, but also generation and distribution systems (see "A Voice for Smart-Grid Security"). Additionally, FERC's McClelland advocates expanding such legislation to cover physical security as well.
In the past, legislation like what's proposed might've been dead on arrival in either the House or Senate. But now these provisions have a good chance of becoming law, because the industry and its policy makers are operating in a new political reality—a reality in which states' rights take a back seat to America's national security and energy strategy.
21st Century Breakdown
Pressure to regulate distribution-system security arrives at a pivotal time in America's history—just as our political leaders are feeling especially vulnerable and desperate.
A quick review: First, the September 11 terrorist attacks precipitated wars in Afghanistan and Iraq—and awakened Americans (again) to the dangers of energy dependence, as well as to the vulnerability of energy infrastructure in the modern world. The following year, Enron's collapse shone light on widespread shenanigans in corporate governance and financial reporting, and spurred Congress to enact Sarbanes-Oxley. Also it revealed the perils of partially deregulated energy markets, and sent vertically integrated utilities running back to the basics of power generation, transmission and distribution.
The Federal Reserve responded to 9/11 and the corporate-governance crisis by pumping cheap debt into the economy. In addition to over-inflating the real-estate market and making sub-prime mortgages unnaturally attractive, the Fed's actions greatly devalued the U.S. dollar. Consequently, oil prices skyrocketed, peaking last summer at $147 a barrel, with gasoline reaching $4.60 a gallon.
In the grand arc of America's history, what happened next seems inevitable. Namely, foreclosure rates spiked and the real-estate bubble collapsed, pulling the economy down with it. American car buyers, who already were turning away from SUVs, pickups and minivans, stopped buying these vehicles altogether, and GM and Chrysler went bankrupt. In a round-about way, the full consequences of America's petroleum dependence came home to roost.
Now, policy makers are desperate for solutions to America's spiraling economic woes—and more broadly, for solutions to the energy-related dilemmas that contributed so much to getting us into this fix in the first place. Desperate times often call for desperate measures, but unfortunately, desperate measures usually yield unintended consequences.
Green Dawn
To put a fine point on it, most of the Obama administration's energy policy priorities depend on the smart grid. From integrating variable, distributed and non-dispatchable power supplies, to improving efficiency and resource utilization, to serving a future fleet of electric vehicles, the smart grid promises an enabling platform for easing dependence on greenhouse-gas emitting energy sources in general, and on imported petroleum in particular. As such, the smart grid has become the ultimate green-energy gauntlet; build the smart grid, and a green day will dawn. Fail to build it, and history will blame utilities for preventing that green dawn.
In the real world, of course, it's not that simple. But from a political and strategic perspective, securing the smart grid isn't just about maintaining system reliability. It's also about making the future safe for green energy.
On May 7, FERC's McLelland told the Senate Energy and Natural Resources Committee, "As the 'smart grid' effort moves forward, steps will need to be taken to ensure that cyber security protections are in place prior to its implementation." Further, McClelland expressed support for legislation that "gives the Commission authority to issue rules or orders that are necessary to protect critical electric infrastructure from weaknesses or flaws in the design or operation of electric devices or networks that expose critical electric infrastructure to a cyber security threat." Additionally, McClelland said legislation should provide FERC authority "to address not only cyber security threats but also other national security threats to reliability."
Alarmed by the prospect of federal control over distribution systems, industry groups are scrambling to reach consensus on smart-grid interoperability and security standards, as well as peer-driven enforcement mechanisms. Such consensus remains elusive, however. A 300-page EPRI report published on June 17 by the National Institute of Standards and Technology (NIST) is notably silent on the issue of enforcement, except to reiterate that FERC's authority doesn't cover distribution systems, and to suggest that, "The standard cost-benefit analyses made by regulators need to address broader economic and stakeholder issues."
Given the smart grid's political status as the foundation for America's energy future, federal lawmakers probably won't wait for the industry to reach consensus. Instead, they'll move ahead with a new set of regulations, either with specific direction from Congress, or failing that, possibly a declaration from the White House's new cyber security czar that utility distribution systems represent infrastructure critical to America's national security.
And frankly, that's exactly what should happen, because let's face it: Electric distribution infrastructure is critical to America's national security—both in terms of keeping the lights on from one hour to the next, and also in terms of carrying America's economy into the 21st century. The fact NERC omitted distribution assets from its Critical Infrastructure Protection (CIP) standards has nothing to do with the functional importance of the wires, but has everything to do with the historic bright-line divide between federal and state jurisdiction.
On this issue, the bright line has worn out its welcome, and it needs to move—and move quickly, so the industry can get on with the business of building the smart grid.
The downside, of course, is that handing regulatory control over to the feds opens a Pandora's Box. Once the long arm of Washington begins touching local wires, can it refrain from grasping control of related regulation?
If the industry continues pretending the bright line is sacrosanct, then the answer might be "no." Given the prevailing state of insecurity and desperation in America—and the mountains of hope being heaped on the smart grid—the industry cannot win a fight against this particular change. And in truth, we shouldn't try to fight it, given the nation's real interest in seeing the smart grid built in a secure and robust way. However, to prevent a federal power grab, utilities and state lawmakers must engage with Washington on defining the new federal authority, and on crafting regulatory protections to keep federal hands from interfering in legitimate local interests. If we can't do that, then desperation will prevail, and the bright line could fade into history.
CORRECTION: In Fortnightly's July 2009 issue, an error appeared in the article "The Cost of Going Green" by Steven Fine and Elliot Roseman. The central slope section of Figure 2 on page 45 should have been labeled "Gas Gets Built" instead of "Coal Gets Built." We regret the error, and have corrected it on the PDF version of the article.