Deck:
The 40 Best Energy Companies
The industry's best companies are weathering the financial storm reasonably well, with the F40 delivering equity returns in the 14-percent range for fiscal 2008. However, falling sales and rising costs are putting heavy pressure on balance sheets—and on regulatory relationships. Companies that balance customer value and shareholder value will be most likely to thrive in the new normal.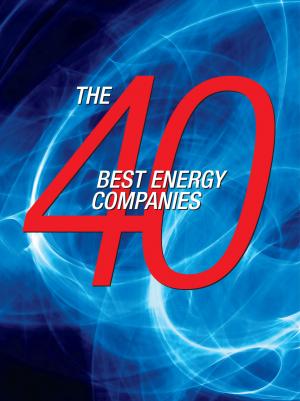 For the past five years, the Fortnightly 40 report has provided a snapshot of the industry's financial status and progress—specifically focusing on long-term shareholder value. Each year we've plumbed a gold mine of financial data provided by the C Three Group LLC in Atlanta, to reveal interesting trends and correlations. And we've interviewed CEOs and CFOs at some of the exceptional companies in the ranking, and talked to analysts to gain insights into the industry's direction.
We did the same things this year. Unfortunately, the task is vastly more challenging this year, for one obvious reason: Three-fourths of the way through 2008, Wall Street fell apart and the economy went into a tailspin unlike anything seen since the 1930s.
Many factors affect the fortunes of America's utility companies—not the least being business strategy, operational efficiency and regulatory relationships. However, these inevitably take a back seat in a financial crisis of this magnitude. As a result, this year's Fortnightly 40 survey raises as many questions as it answers.
For example, equity returns took a dive after September 2008, but most likely the magnitude of that descent isn't fully reflected in annual financial data covering the whole fiscal year. Similarly, capital spending in 2008 continued the strong upward trend exhibited in the previous year (see Figures 4 and 7), but many companies have deferred or scaled back spending—including cap-ex—since late 2008 when the F40's data window closed.
Despite uncertainties about post-2008 data, the numbers suggest most utilities fared reasonably well last year—certainly better than many companies in other industries. Equity returns for the companies ranked among the F40 inched back to 14.6 percent from last year's 15.4 percent—an impressive showing in a distressed economy. Dividends remained strong for the vast majority of investor-owned utilities, despite the market turmoil (see Figure 10). While this is a reassuring sign, it isn't too surprising considering the utility industry's annuity-like reputation for delivering stable and consistent returns.
Behind the data, however, lurk some sobering trends. Most notably, electricity sales have fallen—precipitously in some areas—putting pressure on operating margins and financial returns (see Figures 8 and 9). Whether the decline in returns is a short-term dip or a long-term trend remains unclear. In some cases, regulatory lag might be at least partially to blame, and returns will come back when newly-built assets fully enter the rate base. The decline in electricity sales, however, can't easily be explained away. Anecdotal reports suggest a substantial share of recent demand destruction might prove to be permanent—partly because of the recession, and partly because of rising conservation, demand response and greenhouse-gas (GHG) reduction initiatives.
"Studies indicate conservation could keep electricity demand depressed over the next decade," says Jean Reaves-Rollins, managing partner with the C Three Group. "Electric vehicles are a wild card, but companies that aren't earning their allowed ROE due to depressed energy sales are looking to regulators to make them whole. Going forward, rate treatment largely will determine who the winners will be."
Powering Down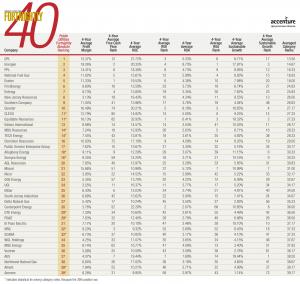 The most remarkable and important trend affecting utilities in the past year has been the precipitous decline in electricity sales—especially to industrial customers.
Of course, electricity sales are linked to broader economic trends. When America's gross domestic product (GDP) rises, then electricity sales rise as well. Contrariwise, power sales fall when the country's economy shrinks—as it did by about 6 percent late last year and in the first half of this year.
However, few analysts predicted that power demand would contract quite as dramatically as it has in the past year. Alliant Energy, for example, stated in an August 6 press release that its second-quarter 2009 residential electricity sales fell by 8 percent compared to the same period last year, with industrial sales plunging by 13 percent.
Many utilities across the country are reporting similarly alarming sales figures, apparently driven by major cutbacks in industrial production. "Companies in competitive industries are using this time to make tough decisions about permanently shutting down manufacturing, or moving it to a lower-cost location," says Robert Laurens, senior executive in Accenture's utility strategy practice. "These tough decisions have translated into the new normal. We're going to be in a rationalized demand environment for some time to come."
If true, this phenomenon will affect utility, power and gas companies in many important ways. Most obviously, lower sales means lower revenues, which puts pressure on the entire balance sheet. Companies are dealing with the decline by first deferring discretionary spending, particularly for new capacity construction, but also for plant outages and upgrades. Organizationally, companies are tightening up operational processes to gain better control over costs.
"We've consolidated spending decisions among our plants," says Paul Barbas, CEO of this year's number-one ranked DPL Inc., parent of Dayton Power & Light. "We have an engineering team for our entire business that stacks up investments on a fleet-wide basis. We have strong accountability built in with our engineering folks as well as our plant personnel."
And in some cases, utilities also have laid off employees.
"We're always looking at every aspect of the business," says Anthony J. Alexander, CEO of FirstEnergy—which ranked in the F40's top 10 for the first time this year. "We reduced staff, froze payroll and had a wage reduction. We've managed overtime more effectively. We're taking longer [planned] outages than we'd otherwise take, to eliminate overtime and contractors. With these steps, we're well on the way to capturing $300 million in savings this year."

In general, such tactics have allowed utilities to keep their financial houses in order—so far. If the economy's malaise continues or worsens, however, companies might need to make deeper cuts, and that could affect the industry's longer-term prospects.
"Companies in the sector have done well, reducing their cost structure to mitigate [reduced earnings]," says James Hempstead, senior vice president for global infrastructure finance with Moody's Investors Service. "But if you're reducing cap-ex in maintenance or T&D projects, that makes us nervous from a credit perspective. It could translate into reliability problems in the future, which is what regulators care about. That's the basic premise of our credit thesis—that the industry's solid regulatory relationships continue to hold."
Indeed, cost-cutting measures have fallen short for some companies—particularly in the darkest days of the financial crisis in late 2008 and early 2009 (see "Crisis Capital"). To avoid the specter of cash shortfalls and to ensure they could keep already-started cap-ex projects on track, some companies resorted to cutting their dividend payouts—generally considered a drastic step in this industry. Great Plains Energy cut its dividend in half, and Ameren slashed its dividend by 40 percent.
So far, such cases represent exceptions rather than the rule, but they might also serve as a harbinger of what's ahead for the industry—particularly for companies with historically high dividend-payout ratios and large capital spending plans.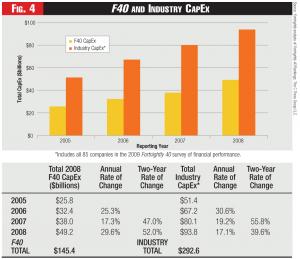 "The last thing utilities want to do is play with their dividends," Hempstead says. "But as earnings come down, your payout ratios are going up. If you have a big cap-ex program, shouldn't you be retaining more of your cash flow internally? Perhaps we'll see a change in the dividend growth rate."
Utilities must play a balancing act, preserving the attractive dividend portion of their returns, while also executing business plans that involve substantial capital investments and customer-focused service programs. That balancing act might get difficult to perform if the economy remains weak—and it might become impossible if pending GHG constraints require another wave of major capital expenditures.
"The first few examples of dividend cuts have shown what can happen if several things hit you at once," Laurens says. "It's not widespread now, but it's one of the financial levers that utilities will pull if things continue to get more difficult, and if state regulatory agencies don't respond in a positive way."
Rate Relief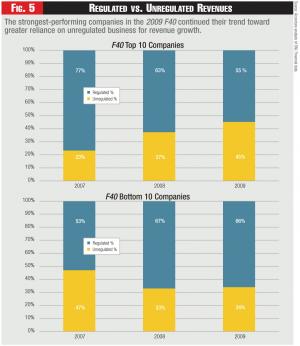 Already before the financial meltdown, the regulated utility industry was beginning a steady pilgrimage into the offices of state utility commissions across the country. Last year was a very active year for utility rate cases, and 2009 appears even busier. Further, many companies are pursuing rate cases in multiple states. According to the C Three Group's rate-case database, during the past year Avista brought two rate cases each in Idaho and Washington and one case in Oregon. Duke is pursuing rate cases in both of the Carolinas, and Xcel has cases pending before the commissions in Minnesota, Wisconsin, Colorado and South Dakota.
Such activity is typical across the country, as utilities seek rate increases for a variety of purposes. Many are proposing capital-spending projects, most commonly for smart-grid investments and other initiatives that position companies for stricter environmental and green-energy policies. In many cases, companies are seeking extra consideration for lost revenues attributable to conservation and other demand-side initiatives.
For example, this summer the Ohio PUC approved a settlement agreement that increases DP&L's residential rates by just under 2 percent on average each year through 2012, and includes a lost-revenue clause that compensates the company for up to $172 million in electric-distribution losses. The deal dovetails with DP&L's electric-security plan, mandated by the Ohio legislature under SB 221, which requires the state's utilities to implement market-based retail pricing and to invest in green-energy infrastructure.
"We're going to be putting in smart meters, which would allow our customers to use time-of-use rates," says DPL's Barbas. "Our plan over 10 years is to build out the smart grid across our service territory, not just getting meters out there, but also improving our infrastructure, reducing line losses and increasing the efficiency of the entire network." Additionally, DP&L is seeking federal grants to help accelerate its smart-grid rollout during the next three years.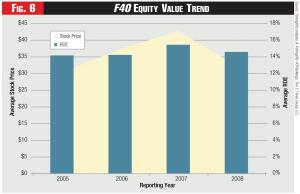 Further to the northeast in Akron, Ohio, FirstEnergy secured about $137 million in its rate case early this year—nearly 60-percent less than the $338 million it had requested. A few months earlier, the Ohio PUC approved FirstEnergy's electric-security plan, which included a rider to finance mandatory improvements in the company's distribution infrastructure—what the commission called a "reasonable approach" to smart grid and AMI technology. Now, Alexander says, the company is working to comply with the state's mandates, while making the most of its unregulated generation fleet.
"We're not relying on additions to our rate base for growth, but instead on an integrated strategy between our wholesale and retail operations," he says. "Our portfolio is very well balanced, and we see our growth primarily on the competitive-generation side of the business. Over several years we invested to make our generating plants more efficient and to add capacity. Now we're locking in that advantage and hedging our position through retail sales."
By contrast, New Jersey Resources—which rose to the 8th position in the 2009 F40 rankings, after being ranked 10th last year—is finding business opportunities in the state's policy mandates. In October 2008, the New Jersey Board of Public Utilities (BPU) approved $32.5 million in rate increases for New Jersey Natural Gas (NJNG). The company's base-rate case provided a 10.3-percent ROE and four-year amortization for the company's expected $21.1 million investment in energy-efficiency programs, recoverable through a new rider assessed on customers' bills that started in August 2009. Additionally, the company recently filed to extend a conservation-incentive program, which the BPU originally approved in 2006 as a three-year pilot, and that NJNG says reduced the average participating customer's gas usage by 9 percent. The company cited the program as one reason it raised its earnings guidance in the second quarter of this year.
"There's a lot of opportunity in energy efficiency, a lot of work to be done," says New Jersey Resources CEO Laurence M. Downes.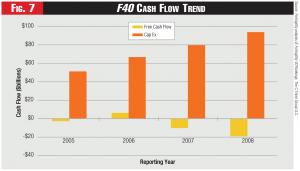 The gas utility also is pursuing opportunities to serve the state's renewable energy and GHG-reduction goals. "Plans are still being developed," Downes says. "The way the RGGI [Regional Greenhouse Gas Initiative] legislation is crafted, natural gas companies have the opportunity to invest in solar and other renewable power facilities. You won't see us in the traditional electricity business, but let's face it; this is an opportunity with momentum. The way we look at it, from a strategic standpoint, this is a non-traditional way for us to get into the electric business. It could provide a meaningful investment opportunity."
The New Normal
Not all companies are ready to bring a rate case. Southern Company's Georgia Power subsidiary, for instance, was eligible under its three-year rate order to go back to the commission this year, but instead the company decided to wait until next year when a rate review will be mandatory. Southern Company—which has maintained a consistent position near the top of the F40 for five years in a row—can wait in part because its returns have held steadier than most other companies in the industry. Southern Company shares declined about 16 percent since Sept. 15, 2008, compared to the 20-percent drop suffered by the Dow Jones Utility average. But also, the company isn't facing a sudden need for major cap-ex spending, because for the past decade Southern has been investing in new generating capacity and also modernizing its T&D network, quietly and steadily positioning itself as a smart-grid leader.
"We've spent $1 billion consistently over the last nine years on automation, SCADA and communication technology to make sure we have a self-healing network," says Southern Company CFO Paul Bowers. "We've continued to deploy the most automated platforms out there."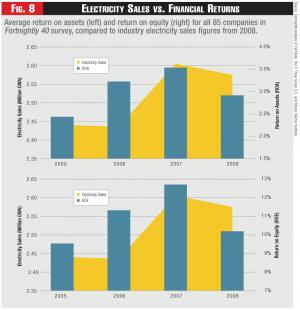 The company has deployed 1.4 million smart meters, and plans to install another 4.4 million to cover its entire territory in the next four years.
"That gives us a platform to give customers the information they need to manage energy use at their homes and businesses," Bowers says. "It will allow us to provide pricing information so customers can interact with [an energy management] platform from Google or Accenture, for example, to adjust the behavior of their appliances."
Rate orders already allow some Southern Company subsidiaries to recover costs associated with conservation investments. But in general the company isn't worried about demand destruction in its market. "We're growing significantly," Bowers says. "Our population is expected to increase 23 percent by 2020. That means we'll be making investments, even with energy-efficiency measures. We've had 3,100 MW of demand reductions from efficiency, but we've still had to build 12,000 MW of new capacity since 1999. Efficiency only affects the margin. We'll get top-quartile returns if we do the right thing by customers, and that means controlling costs."
Of course, few companies enjoy Southern Company's combination of a growing customer base and a favorable regulatory environment. For the rest of the industry, the new normal seems to include falling demand, rising costs and tougher compliance obligations.
"In a declining usage environment, there's no way utilities can cost-cut their way to prosperity and also make investments in the new generation of smart technologies," says Accenture's Laurens. "It's essential that the regulatory models adapt to the new normal, and support it early enough so utilities aren't being dragged kicking and screaming."
Conflicts seem inevitable, however, as the costs of adapting translate into higher retail rates. Financial returns increasingly will depend on utilities' ability to convince regulators and customers that rates should make utilities whole for lost revenues—and also pay the freight for the industry's strategic and operational transition.