Deck:
Realizing the benefits of a modernized system requires an integrated strategy.
Author Bio:
Todd Filsinger is global head of PA Consulting Group's energy integrated sector team. He acknowledges the contributions of Keturah Nelson, Charles Tooman and Ethan Paterno.
Realizing the benefits of a modernized system requires an integrated strategy.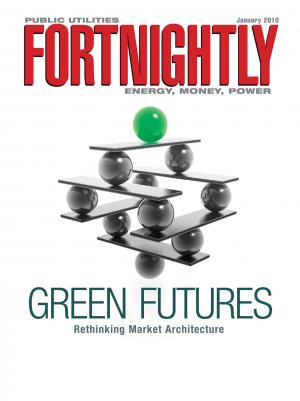 The U.S. power market consistently has displayed cyclical characteristics of boom and bust over the last two decades. Today's market environment has been directly and significantly impacted by the recent economic recession. Decreases in load growth, declining commodity prices, and lack of accessible financing have caused challenges for the industry.
Despite these challenges, policy makers have put an emphasis on three objectives for the energy industry: reduce carbon dioxide (CO 2) emissions; expand and enhance the transmission and distribution (T&D) infrastructure; and develop higher levels of renewable generation. Although pursuit of these objectives represents a significant challenge to policymakers, regulators and executives alike, success in these three areas has the potential to fundamentally change the course of the electric power industry.
However, to realize the benefits from the above priorities, it's critical to pursue each within a closely integrated program of work, focused on the interrelated objectives of facilitating environmental stewardship, building a significantly more modern electricity network, and implementing the technologies to help producers and consumers make optimal choices about the production and use of power. Furthermore, innovative methods of financing these costly programs are necessary, given the continued tight credit markets and challenges related to financing large scale capital investments.
State of the Market
Understanding today's power market environment requires an understanding of both general macroeconomic conditions, as well as the state of the power markets leading up to the deepest troughs of the economic downturn. Entering the summer of 2008, the power markets appeared to be positioned for growth. In general terms, markets across the United States were beginning to stabilize from years of overbuild, commodity prices were at near-record highs, and there was an increase in new generation development—in particular, renewable generation. However, the economic crisis that deepened by the third quarter of 2008 fundamentally changed the outlook on the power markets. Decreases in load growth projections (see Figure 1) caused a significant and systematic delay in recovery expectations across the U.S. power markets. Markets currently aren't expected to reach equilibrium levels until the 2014 and 2015 timeframe, on average (see Figure 2) . In addition, steep commodity price declines put downward pressure on margins for many types of generation assets. In the context of renewable generation, declines in natural gas prices—and subsequently power prices—can cause significant compression of margins (see Figure 3) .
The combination of depressed power market conditions and restricted financing due to tight credit markets has led to a challenging environment—particularly when considering the goals and objectives of both federal and state policy makers. Specifically, there has been an increased focus on CO2 emission reductions and renewable generation supported by T&D infrastructure upgrades at both federal and state levels. At the federal level, the Waxman-Markey bill was passed in the House of Representatives in June 2009 and intends to create a CO
2
cap-and-trade regime