Deck:
Automation technologies promise a reliability revolution.
Author Bio:
Alyssa Danigelis is a New York-based technology writer who blogs for Discovery News.
When Hurricane Ike ripped through Houston in September 2008, thousands of poles were damaged in CenterPoint Energy's 5,000 square-mile territory. Most of the utility's 2.1 million customers lost power. CenterPoint brought in 12,000 line workers from across the nation to help with downed lines, looking for where trees had fallen into primary circuits. Kenny Mercado, CenterPoint's division senior vice president for advanced metering system deployment, remembers that painstaking process. "It's like a needle in a haystack," he says. Restoration took 18 days.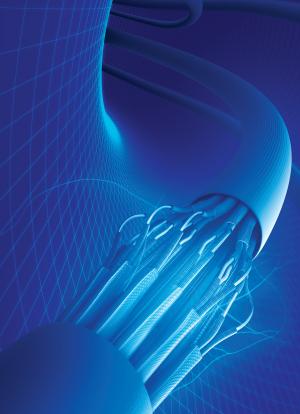 One post-storm proposal called for the whole power system to be put underground, but CenterPoint determined that would be both cost prohibitive and too disruptive. Instead, a new plan emerged, one that would make the existing grid more intelligent and responsive. Now, with help from a DOE grant, the utility is undertaking a project that promises to safely restore power faster and with greater accuracy by deploying self-healing technology within CenterPoint's new smart-grid system.
The term "self-healing grid" has an air of the magical, conjuring images of downed power lines that can repair themselves. In reality, even the most advanced technology isn't that Disney-esque. The technical and logistical components will involve high-speed communication systems, advanced sensing, and automation. The long-term vision is for utility systems to become more integrated, more fail-safe.
Smart-grid experts say the technology won't just provide more information to operators, but that the system as a whole will be able to do more of the work automatically. Some of the technological foundation has been in existence for years—faulted circuit indicators, radio-based closed loop distribution automation control. But with current advancements in grid automation and communications systems, the future of outage management looks like the difference between smoke signals and broadband Internet access.
"The electricity grid in the U.S. is extremely reliable, and a lot of that is because utilities are very experienced and very good at addressing issues before they occur," says Haresh Kamath, a strategic program manager at the Electric Power Research Institute. "We're just taking a lot of the smarts we've developed, and communications technologies, and applying them directly to the grid in an integrated system."
The ultimate goals are improving reliability and customer service. Mercado says that if self-healing grid technology had been in place after Hurricane Ike, the utility could have returned more customers to service sooner, sent line workers directly to trouble cases faster, and informed the remaining customers about wait-times more accurately. The technology might have shaved days off the recovery time.
Kicking the Tires
Self-healing isn't any one particular model or set of products, although sensors and devices at the distribution level will be necessary. Instead, self-healing encompasses a range of impressive technological advancements. The most sophisticated plans call for sensors and automated devices to be connected through high-speed communications to back office systems, transmitting data in real time. When there's a fault, these systems will go beyond detection and isolation and automatically reconfigure the flow of electricity.
Broadly speaking, there are several synonymous acronyms for self-healing applications, including fault location, isolation, and service restoration (FLISR), and fault detection, isolation, and service restoration (FDIR). Both are shorthand for applications that, like the smart- grid systems that envelop them, will mean different things to different utilities. Implementation must take into account climates, demand, population densities, and the way distribution already is organized. Advanced self-healing is tied to distribution management systems (DMS), including on-line power flow, switch order management, optimized feeder reconfiguration, and supervisory control and data acquisition systems (SCADA).
Despite all the technology jargon, however, the self-healing grid is simple at its root, says Kevin Cornish, an executive consultant at Enspiria Solutions, which offers smart-grid strategy, business, and integration consulting services to utilities. "We're taking a system that was designed to be radial and now we're going to operate it in a way that makes it much more interconnected, much more networked," Cornish says. Such upgrades can have system-wide implications—and as a result, many utilities are taking a gradual approach to adopting self-healing technology.
"Some utilities have a big appetite for big bang—they'll do everything and they'll be really aggressive," says Mike Edmonds, vice president and general manager of Siemens Energy's power distribution energy automation business. "Others are a little more conservative. They may want to start from a control center level, spool in some microgrids, and maybe connect them together."
Spurred by DOE smart-grid investment grants that were awarded last fall, utilities throughout the country now are planning pilot-scale demonstrations that include self-healing applications. The projects, which combine a range of advanced outage management technologies, are as diverse as the utilities involved.
For example, to harden its grid against inevitable tropical storms, CenterPoint Energy is first deploying an end-to-end advanced metering system that will gather real-time data. Since the Public Utility Commission of Texas approved CenterPoint's five-year metering plan in December 2008, the utility has been rapidly installing digital meters, a communication network, and back office systems. A grant from the DOE shortened the project's timeline so that every one of its customers is expected to be connected to the AMI system by mid to late 2012.
Once that phase of the project is complete, CenterPoint plans to install new line devices along the system the same way it has been deploying the metering devices. They include line sensors, switches, and microprocessor-controlled electronic devices that can relay data. Simultaneously, the utility will be installing its advanced distribution management system, ADMS, so that the devices communicate at the same frequency as the meters.
"Our ADMS system will be the brains," Mercado says. "It will have the intelligence to take outage, legacy, and customer information, bring it all together, and create the algorithms that enable the self-healing and functional benefits we expect to deliver to customers with the smart grid."
Further east, in the Carolinas, Progress Energy already has capabilities that some utilities might envy. When there's a breaker lockout in its service territory, its SCADA system can locate the fault within two poles 80 percent of the time, says Becky Harrison, general manager of the utility's smart- grid program. With help from a DOE grant, Progress Energy's distribution system deman-response (DSDR) initiative includes plans to refine its fault-locating capabilities, add reclosers, and automate them so they can be operated remotely. "We're overlaying the power grid with an information and control system," Harrison says.
And to the west, in Boulder, Colo., Xcel Energy's SmartGridCity project has become a proving ground for system-wide changes. "They're doing a huge push to apply technology in every way—from the meter to the feeder to the substation—everything they can do to make power more reliable, more controllable, and more responsive to the consumers all the way down," says Roy Moxley, R&D marketing manager for Schweitzer Engineering Labs protection group. SEL is among the project's multiple vendors.
SmartGridCity is testing numerous technologies and processes that will make its grid self-healing, says Randy Huston, program delivery executive for Xcel. That includes adding new processing and monitoring capabilities to four main substations, reconfiguring key feeders, as well as adding distribution transformer monitoring and underground fault detection.
"We selected goals that were a significant stretch but still achievable," Huston says. "For example, we didn't try to modify all of the feeders to the segment model but only the number needed to obtain the data we were looking for."
Gaining Confidence
The major challenges to adopting advanced self-healing grid applications don't necessarily stem from a lack of available technology. DMS vendors say the technical components already exist. The problem seems to be getting to the point where utilities can integrate them into intelligent systems and then comfortably rely on the processes to work smoothly and safely.
To put advanced self-healing grid systems in perspective, last year some utilities still were using paper maps, says Gary Rackliffe, vice president of smart grids for ABB in North America, which produces smart grid relays, reclosers and switches, as well as logic for automatic fault restoration. "Going from paper maps to saying, 'I'm going to sit here and watch the computer make the decision and start throwing switches'—that's a significant leap forward," he says.
For utilities in the early stages of smart-grid demonstration projects, it makes sense to have concerns about taking the next step. Vendors argue that current data limitations should motivate utilities to come up with solutions, rather than allowing those limitations to paralyze them. Jonathan Piel, product director for substation and distribution automation at Cooper Power Systems, says that some decentralized approaches have made it hard for utilities to determine whether their plans will work the way they intend them to.
"I fear that utilities are still stuck in a pilot mentality for self-healing grid," Piel says. "There's a series of problems that don't engender confidence for utilities, so they are piloting it to death." One way to foster greater confidence, he suggests, is to use simulation tools that allow the utility to run constant what-if scenarios.
In a self-healing grid, tasks that were automated by a human SCADA operator who communicated via radio with line workers will be done automatically without any human involvement. Relinquishing human trust and control can make utility workers understandably nervous. It's not just a matter of resisting change, but a matter of line worker safety. The new systems should be as simple as possible, and workers will need time using simulators to get comfortable with the new approach. "When there's feeder reconfiguration in place, depending on the solution and the communications, sometimes they might have to do much more complicated things than hit one of three buttons," Piel says. The last thing a lineman needs during outage conditions is an unfamiliar or complicated interface.
Progress Energy's Harrison expresses certainty that when workers are trained on a self-healing system and understand how it will react, they will adapt. She recalls when the utility's distribution control center first started telling linemen to go to a location because the outage would be in the vicinity. At first, line workers doubted control room operators' ability to pinpoint the cause of an outage, and they'd say, "I'm going to have to ride this line out." Then the accuracy improved so much that the linemen stopped questioning it. "Today if for some reason that information isn't available," Harrison says, "they get upset. 'What do you mean you can't tell me?'"
Winning hearts and minds is one of the project goals for SmartGridCity in Boulder. Xcel's Huston says that the utility wants to take smart grid from being a pilot that could go away and turn it into business as usual. So far, he reports, the systems are performing as anticipated. "Our operations people that use them on a daily basis have become the biggest advocates for new capabilities."
Making the Business Case
High-speed Internet took years to become a reality. Likewise, self-healing grid applications will require significant investments for testing and implementation. "The industry is moving from manufacturing techniques it has known for 100 years, and a grid that largely consists of copper, to a grid that is increasingly silicon-based," says EPRI's Kamath. The overall processor power and storage capacity needed could cost a great deal, and therefore investments must deliver measurable benefits in order to win the approval of ratemaking authorities (see "SAIDI and the Self-Healing Grid").
Huston views self-healing grid not as any standalone initiative but as part of a larger picture. He compares the business case with local area networks (LAN) that originally had to be justified by a single project when they first came out. "It wasn't until it was recognized that the LANs were not a just a cost but a means to unlock much greater value that the real productivity was achieved," he says. "The same is true with the smart grid, and one benefit of that will be self-healing capabilities."
CenterPoint Energy currently collects a surcharge approved by the PUC in Texas that it uses to support a 12-year investment in its AMI system. If CenterPoint can demonstrate its advanced distribution management system works, the plan is to return to the commission to seek approval for a system-wide deployment. Mercado says the business case is clear. "We have to give [customers] a reliable delivery of electricity 24-7," he says. "We want to provide high quality information that is integrated with electricity." That means, post-storm, letting affected customers know precisely how long—or short—the wait will be.
Progress Energy, meanwhile, made a business case for its DSDR system by showing that advanced intelligence on the feeders significantly reduced the load at peak times, delivering 310 MW of demand response to the system. "That will be harder for our customers to see because when they switch on the lights it doesn't change anything," Progress Energy's Harrison says. "But they're getting tremendous value because we're not having to build plants."
While self-healing capabilities will require sizeable investments, SEL's Roy Moxley highlights an advantage to using distributed intelligence. "Computer technology can lower the cost," he says. Microprocessor devices, like retail computers, go down in price over time as their speed and capabilities increase. Installing self-healing control devices might even be a bargain in cases where it would cost more to replace old mechanical components with newer versions of the same thing.
Further, self-healing applications potentially could ease the process of integrating mandated renewable power sources into the grid, making such investments an easier sell in rate cases. Some of the same features that make the system more robust and easier to restore after an outage can make it more capable of responding to variability in renewable generation. "That's where automatic reconfiguration and other processes will come into play," explains Enspiria's Cornish.
Relying on the Smartest Grid
Progress Energy's Harrison eagerly anticipates a smart, self-healing grid that incorporates electric vehicles, battery storage, and photovoltaics, giving the industry opportunities to come up with new value propositions for customers. "For those of us who have been in it for a long time, it's really exciting," she says. "It's going to fundamentally change how we do business."
A convergence of assets on the grid will mean that utilities aren't just reacting to problems, but using technology to anticipate them. "You can look at a voltage waveform, detect anomalies in it and say 'that looks like a cable failure coming in five or six days time,'" says Siemens Energy's Edmonds. "Before a fault occurs, you've got a crew out there to fix it and replace that part of the cable." One day cables might even be able to fix themselves (see "Meet the Cable of the Future").
Edmonds adds that 10 years down the line he envisions a grid that intelligently integrates accurate real-time weather pattern data and local generation into an automatic decision-making process. "You see [the grid] becoming more flexible, being able to automatically configure or to be able to configure in such a way that it's ready for a storm and has got spare capacity and switching capabilities," Edmonds says. "It will recover itself much quicker and in much more of an automated fashion." In times of extreme stress, such as a hurricane, affected areas would seamlessly decouple from the grid and then start reconnecting—and getting reconnected—when the worst is over.
That's the long-term goal for CenterPoint Energy, which usually sees 16 to 20 major thunderstorms sweep through its heavily treed service area every year. The self-healing grid capabilities the utility is developing could mean that an advanced system will automatically reroute power to reduce outages and isolate directly affected areas before repair crews are even dispatched. That futuristic model will require time to mature and a lot of hard work, but CenterPoint's Mercado says that it will end up being stronger than a concrete pole. "What we want to do is harden our grid with technology."