New Opportunities: FirstEnergy announced that James G. Garanich is named v.p., tax, replacing the retired Gene Sitarz. Garanich was a tax partner with Ernst & Young. Ty R. Pine was hired as state governmental affairs manager for Ohio.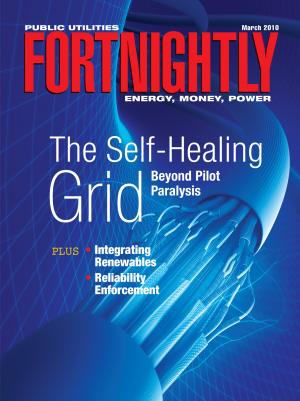 Duke Energy Generation Services appointed Tony Dorazio as senior v.p. for wind development. He helped launch London-based BP Alternative Energy's wind power business.
Bangor Hydro Electric promoted Gerard Chasse to president and COO from executive v.p. of operations. Robert Hanf, former president and COO, will serve as CEO.
Stevens & Lee announced that Linda R. Evers joined the firm's energy, regulatory and public utility practice as a shareholder. She was counsel for FirstEnergy Service.
Sempra Energy announced realignments at four subsidiaries, all effective March 29. Debra L. Reed, president and CEO of Southern California Gas (SoCalGas) and San Diego Gas & Electric (SDG&E) will become an executive v.p. at Sempra Energy. Steven D. Davis, v.p. of communications and community partnerships for Sempra Energy will become v.p. of investor relations. Michael W. Allman, president and CEO of Sempra Generation, will become president and CEO of SoCalGas. Anne S. Smith, senior v.p. of customer services for SoCalGas and SDG&E, will become COO of SoCalGas. Jessie J. Knight, executive v.p. of external affairs at Sempra Energy, will become CEO of SDG&E. Michael R. Niggli, COO of SoCalGas and SDG&E, will become president and COO of SDG&E. Sempra Generation announced the promotion of Jeffrey W. Martin from v.p. of investor relations at Sempra Energy to president and CEO of Sempra Generation.
The National Institute of Standards Development announced that John D. McDonald, general manager of marketing for GE's transmission and distribution business, was selected to head the Commerce Department's National Institute of Standards and Technology's Smart Grid Interoperability Panel Governing Board.
Constellation Energy appointed Jason M. Mullen as v.p., human resources for merchant subsidiary, Constellation Energy Resources.
The California Public Utilities Commission's newest commissioner is Nancy E. Ryan. She was deputy executive director for policy at the PUC.
MDU Resources named Doran N. Schwartz as v.p. and CFO from v.p. and chief accounting officer. Nicole A. Kivisto is named v.p., controller and chief accounting officer from controller. Douglass A. Mahowald is named treasurer and assistant secretary from assistant treasurer and assistant secretary.
The Large Public Power Council elected Jorge Carrasco, Seattle City Light superintendent, to serve as chair.
Utility Integration Solutions hired John Wambaugh as a v.p.
The Marcellus Shale Coalition appointed Kathryn Klaber as its first CEO.
Ventyx promoted Scott Spear to senior v.p. Asia-Pacific.
WorleyParsons promoted Chris Ashton to senior v.p. and general manager of U.S. eastern operations.
Enspiria Solutions named Mehrdod Mohseni, senior v.p., as general manager of its smart grid practice.
Boards of Directors: Sensus announced that Eugene (Gene) R. McGrath, former chairman and CEO of Consolidated Edison, Inc., joined its board. Louis (Lou) D'Ambrosio, former president and CEO of Avaya, also joined.
Retirements: American Transmission announced that Jose M. Delgado, executive chairman, retired. John C. Procario, president and CEO, succeeded Delgado as chairman of the board.
MDU Resources announced the retirement of Vernon A. Raile, executive v.p., treasurer and CEO.
We welcome submissions to People, especially those accompanied by a high-resolution color photograph. E-mail to: people@pur.com.